The story of HMS Venomous
Cdr D.A.R. Duff RN
"No 1" on HMS
Venomous
when it came out of Reserve in 1939
At the outbreak of war HMS Venomous was commanded by Lt Cdr G.F.W. McIntyre RN and his "No 1" was Lt D.A.R. Duff RN "a tall man with a quiet assured air" who was called Dan by his friends and fellow officers. Lt Duff did not serve on Venomous for long but he went on to have a long and distinguished naval career. He died on the 19 August less than two weeks after celebrating his hundredth birthday on the 3 August 2012.

Cdr Daniel Alexander [Wyatt] Rawson Duff RN was the eldest son of Adm. Sir Arthur Allan Morison Duff, KCB, JP, DL (1874-1952) and in June 1940 married Barbara Diana Pound, only daughter of Adm. of the Fleet Sir Dudley Pound, GCB, OM, GCVO, KCB (1877-1943). This brief account is based on the memoir he wrote for the family in 2003 and has been put together by his son, Simon Duff.

*****

Father joined the Navy in September 1926 aged 14 as a full career officer. After Dartmouth his Midshipman's time was spent in HMS Renown and then HMS Dragon. He went to Greenwich for his Subs courses and then in about 1936 became Flag Lieutenant to Dudley Pound. Simon Duff quotes from his father's memoir: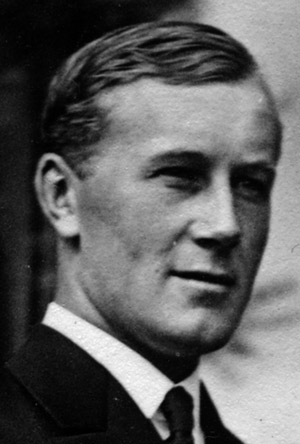 "My next appointment was to the WW1 destroyer Venomous to join on 31st July (1939) when she recommissioned from reserve. She had lain for ten years literally chained to the dockyard wall at Rosyth along with thirty other ships of that vintage. They were all being brought out of reserve to be readied for a reserve fleet review to be held in September ordered by Winston Churchill, a stroke of genius on his part as subsequent events proved. Winston had only recently taken over as First Lord in the government headed by Neville Chamberlain.

We duly commissioned with a Portsmouth crew a large proportion of whom were reservists, including some senior ratings who had only just taken their pensions.

We had one steam trial together with a practice shoot of her 4 inch guns and them steamed south for Weymouth Bay where the Reserve Fleet concentrated. By now the probability of war erupting was very evident and our time was spent at Portsmouth embarking war stores and ammunition and sporadic exercises in the Channel with any other destroyers available. Then to Portland for a crash course in anti-submarine training with the submarines there for Ospreys usual programme. It was a busy time as many ships companies were in an untrained state. Venomous was then ordered to join a flotilla of similar 'old timers' at Harwich. However the declaration of war against Germany came on Sept 3rd and we spent the first two or three weeks escorting ships ferrying the British Expeditionary Force to France during the nights and returning the following day. These escort duties were good training in station keeping at the best speed the troop carrying ships could make and without lights and, as yet no radar.

From Harwich our flotilla provided escort for east coast convoys, taking over the duty from escorts based in the Forth at a variety of rendezvous off the Yorkshire coast and handing over to Dover based escorts off the Thames.

Occasional night encounters with German E boats gave us realistic training in the basics of night action. Any aircraft heard and occasionally seen were assumed to be sneak mine-layers and we did not advertise our convoys presence by attempting to engage them with our negligible anti-aircraft capability, one three inch single mounting and a couple of machine guns."

*****

After Venomous he served in HMS Manchester, was torpedoed twice and on the second occasion when she sank he was imprisoned by the Vichy French in North Africa. He was in the POW camp until the Allied landings in North Africa when he was released.

His next appointment was to be Course Officer for the Long Gunnery Course at Whale Island. On completion of that he was appointed to be Staff Gunnery officer for a naval force being assembled prior to the anticipated D Day landings, during which he directed naval gunfire support and was awarded his second DSC (which had to be posted to him),

He was then appointed as Gunnery Officer to HMS Formidable, a carrier, preparing and then sailing for the Far Eastern theatre to assist the Americans. At the end of the war the Formidable was tasked with trooping released POWs back to UK. After this he had a staff appointment in the Admiralty for a couple of years, finally being appointed to his last job in the RN as Commander XP at Whale Island, the Gunnery School. Unfortunately gunfire induced deafness caught up with him and he was invalided out in mid 1950 as Cdr D.A.R. Duff.

He then worked for Ferranti as Works Manager at Wythenshaw until retiring in about 1975.

The story of HMS Venomous is told by Bob Moore and Captain John Rodgaard USN (Ret) in
A Hard Fought Ship
Buy the new hardback edition online for £29 post free in the UK
Take a look at the Contents Page and List of Illustrations
---
Holywell House Publishing
88 Holywell Hill, St Albans, Hertfordshire AL1 1DH, Britain
http://holywellhousepublishing.co.uk
Telephone: +44 1727 838595
contact online
---