The story of HMS Venomous
The following account of Goron Nissen's time in HMS Hecla prior to her final voyage is extracted from the memoir of his service with the South African Naval Forces (SANF) which was published by the Naval Heritage Trust, South Africa, as Naval Digest No. 18. He is aged 20 in the photograph on the left and somewhat older in the portrait on the right.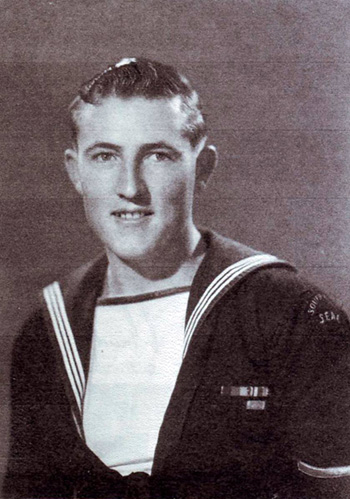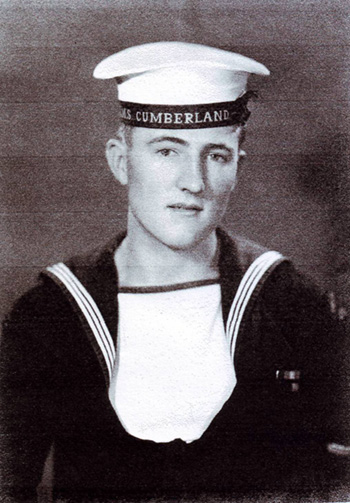 I was on watch once again and with a cool breeze blowing and my thoughts turned back to the first time I went to action stations after I had joined the service in 1942. Still wet behind the ears and barely seventeen. I had gone through my initial training at the newly commissioned HMSAS

Unitie

, the naval base in Cape Town, and was one of the first members of the of the RNVR(SA), Royal Naval Volunteer Reserve (SA), to do so together with a few Seaward Defence Force (SDF) fellows. On the 1st August 1942 the RNVR(SA) and the SDF were amalgamated to form the South African Naval Forces (SANF). Cdr W J Copenhagen was the CO at

Unitie

and was also RNVR(SA).


After few months of guard duty we were drafted to HMS

Hecla

in Simon's Town. She was a destroyer depot ship and whilst on her maiden voyage from the UK after rounding the Cape on her way to join the Eastern Fleet she had struck a mine off the Agulhas Bank on the 15th May 1942. Although the ship did not sink she was badly damaged but was able to return to Simon's Town under her own steam for repair. In this incident twenty-four men were killed and buried at sea, and over a hundred were wounded.
When

Hecla

came out of dry-dock she was looking like a new ship again and it was then that I, with some of my mates, joined her. My father would have loved to see this ship as she had all the latest machinery on board. As a fitter and turner and engineering foreman on the mines, he would have been in his element.

Hecla

was a beautiful ship and stood high out of the water, what a height for anyone to jump from, I thought, I never like jumping from a height.

However, she was due to return to the UK and just before she sailed some of us were drafted to HMS

Ceres

, a light C class cruiser that was still under refit in Simon's Town.
About a week after the

Hecla

had sailed, the

Ceres

was ready for sea.


It was early November when we sailed from Simon's Town and my first time at sea, straight into a cold South Easter. We were hoping that we would call in at Cape Town before going into the Indian Ocean. Initially we did head towards Cape Town and sailed around Robben Island straight towards Cape Town harbour, but the ship then turned hard to starboard as if we were saying good-bye to old Table Mountain. With a lump in my throat Table Mountain faded in the distance as we sailed past the Cape mountains on our way south.
Heading into the Cape rollers whilst rounding Cape Agulhas, the southernmost part of Africa, not far from the spot where

Hecla

had struck a mine, we had just sat down to supper when we heard the terrible news that HMS

Hecla

had been sunk. What a shock it was for those of us who had been taken off her just before she sailed. Did any of our friends and some of those I had joined up with survive?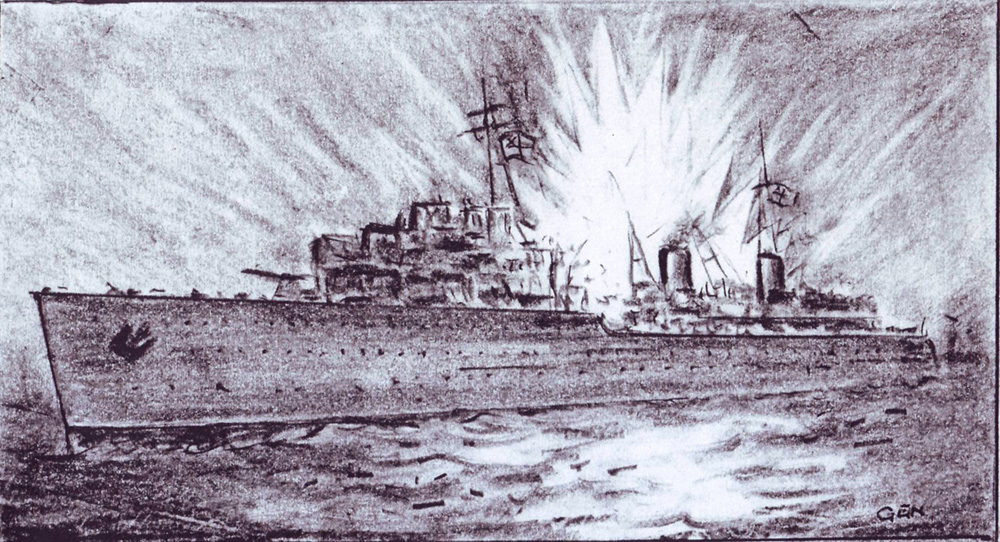 A sketch by Gordon Nissen of HMS

Hecla

, the first ship in which he served on joining the RNVR(SA) in 1942
With a heavy heart, a thought and a tear for those who lost their lives and for those who survived the ordeal, I wondered what might have happened to me if I had stayed on the ship. How would my mother and father have felt, as being so young I had to get their consent to join up and then to be on my very first ship, only to be sunk? All of us South Africans were volunteers. When we are young we don't realize how much we can hurt our parents, we were just adventurous and very full of ourselves!
Some time later when I was in England, I met up again with the Leading Seaman of 29 Mess and he gave me the following account of what happened on that fateful night of the 11th and 12th November 1942:
"It was our last night at sea and we had just rounded the bulge of Africa, west of Casablanca, and were due to arrive in Gibraltar the next day.
Though we had reports of submarines we were nearly home and dry when just as we were to change to the middle watch at about 23:30, the first torpedo struck. I had just finished a hot drink and was already on my way to my post as lookout when it happened. Many of our messmates were still asleep in their hammocks. Smoke filled the place and the air smelt of explosives, the mess deck was a shambles with everything thrown about including men in their hammocks. Though the ship took on a list action-stations was piped.


Being a supply depot ship the

Hecla

was not a fighting ship and had very little armament. Shivering and feeling cold from the night air and shock, in the confusion I made my way to my station and even though the ship had a list, it did seem to us that she would stay afloat. However it was not long before the second torpedo hit, tearing a gaping hole in her side and lifting the deck with metal, fire, water and everything else with it into the air only to rain down on us killing and wounding many as the chunks of metal hit the deck. The ship was now settling down at the stern and men were already in the water. It was every man for himself. Some of the fellows jumped over the side only to be sucked back into the hole in the side. How I made my way into the water I don't know, everything was so confusing. [Some of the things he told me I do not remember.] I had been floating around covered in oil and hanging onto a raft with some other fellows some of whom were wounded and crying. You could hear shouts and cries for help all round, some in the distance. Three more torpedoes were to hit the

Hecla

before she finally slid to the bottom.

With her bows in the air she disappeared. Though the sea was quite rough the water was warm which, however was of little comfort. There was lots of phosphorescence which made it easy to see things in the water, even though there was oil everywhere. As we bobbed about we could see one of our escort destroyers picking some of the fellows up. Then she too was hit with a massive explosion, which took part of the stern away, sending more lumps of steel to rain down on us, killing more souls, sending depth charges up and into the water, only to go off at their timing depth, taking more lives as they detonated.
Though the destroyer stayed afloat she wasn't going anywhere and would have to wait to be taken in tow. Only later did I find out that she was HMS

Marne

. Another destroyer, HMS

Venomous

of all names, was going around slowly picking men up, some too tired and black with oil, others too delirious to lift themselves up the rope ladders so they had to be helped up. When we were eventually taken on board; the ship was already overcrowded with men in a pitiful state. Oh how great it was to be out of that water and to have some warmth! Hot tea and eats, dry blankets and meeting up with some familiar faces. By now it was light and we cruised about slowly looking for more survivors until the last one was on board. Then we stayed with the

Marne

until an escort arrived and we left for Casablanca. Eventually we were shipped home. Out of a crew of about 800 or more, 230 were lost."
By the Lord's grace, I was spared that terrible ordeal. We will remember them, especially those who took our places on the

Hecla

before she left. A very unlucky ship she was supposedly the most watertight ship built at that time so it look five torpedoes to send her to the bottom. Four of the South Africans lost with the

Hecla

were: ERA J. F. Bennett, ERA G. H. Lloyd, EA I. R. Smith and AB C. V. Peers.
Naval Digest No 18 contains the memoirs of Able Seaman Gordon Nissen and Telegraphist Raymond Thwaites who joined the Royal Naval Volunteer Reserve, South African Division, the RNVR(SA), in 1939. It can be purchased from the Naval Heritage Trust, South Africa, for Rand 90 plus postage. For further details
e-mail Chris Bennett.
Hecla
: the South African Connections
Read about the 12 members of the SANF who served in
Hecla
and the four who were lost when she was torpedoed
Return to the
"Home Page"
for HMS
Hecla
to find out more about its history and the stories of other survivors
The story of HMS
Venomous
is told by Bob Moore and Captain John Rodgaard USN (Ret) in
A Hard Fought Ship
A Hard Fought Ship
contains the most detailed account of the loss of HMS
Hecla
yet published
Buy the new hardback edition
online for £29
post free in the UK
Take a look at the Contents Page and List of Illustrations
---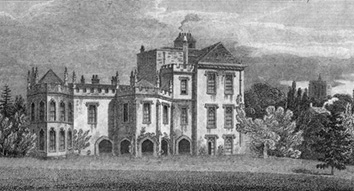 Holywell House Publishing
88 Holywell Hill, St Albans, Hertfordshire AL1 1DH, Britain
http://holywellhousepublishing.co.uk
Telephone: +44 1727 838595
contact online
---