The story of HMS Venomous
Petty Officer Kenneth Charles Collings SBA
HMS

Hecla

, his first ship, was mined and torpedoed


Bruce Collings e-mailed me on the 7 November 2012 days before the seventieth anniversary of the torpedoing of HMS Hecla on Armistice Day 1942. His father, Kenneth Charles Collings, was born on the 7 November 1909 and died in Bristol on his birthday exactly eighty years later. Bruce sent me some wonderful photographs taken aboard Hecla. He knew very little about his father's wartime service in the Royal Navy but he painted an affectionate pen portrait of his father which I shall quote from in this brief account of Kenneth Collings' life.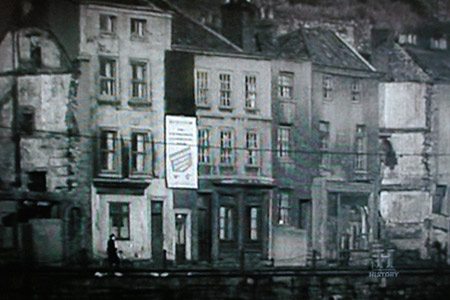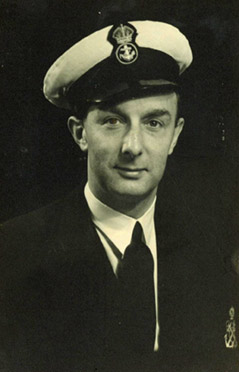 "K C Collings was a bit of a wheeler dealer from childhood and talked of selling stuff from a hand cart before he moved to his tiny confectionary and tobacco business on Hotwells Road across the road from the docks – where his Father E. T. Collings was the marine engineer responsible for the gates and bridges of the Floating Harbour. His shop is the tiny place beneath the large poster in the photograph on the left with obvious bomb damage either side.
His very best friend had been in the RAF and hobbled into Dad's shop on crutches one day, when the war was well on, having had his leg shot off. Ken allegedly said: 'The shop is tiny, you can almost reach either side without walking, so I'll go off and fight the bastards and you can stay and mind the shop.'

He was 31 when he joined the Royal Navy as a conscript and on the 6 May 1941 was sent to HMS Glendower in north Wales for basic seamanship training. Before the war this shore based training establishment at Pwllheli in Caernarfonshire had been a Butlin's holiday camp. Two months later on the 12 July he was sent to another shore base, HMS Wellesley in Liverpool. This former hospital had been evacuated in 1939 and turned over to the Admiralty for use as a training establishment. It was very close to Gladstone Dock, a target for air raids and one young seaman recalled that:

Around 4 p.m. each day, German aircraft came in, flying across North Wales. Some streets were littered with shrapnel, which 'crunched' under your shoes as you walked, and many were cordoned off with notices such as 'unexploded bomb' or 'land mine'.

Three seamen were killed in a bombing raid in November 1940 and the east wing of the building was demolished by a bomb during the heavy raids in May 1941. On the 13 August 1941 he was posted to HMS Drake II, the shore base in Devonport, Plymouth, where he underwent training as a Sick Bay Attendant (SBA). On the 22 October 1941, by now rated as an SBA, he was 'lent' to the Royal Marine Depot at Lympstone, a small village on the east side of the Exe estuary north of Exmouth, where at its peak 800 Royal Marines a month were being trained for war service as commandos.

On the 26 March 1942 after five months at Lympstone he was posted to his first ship, HMS Hecla, a new destroyer depot ship which was being refited at John Brown's shipyard on the Clyde after a year in Iceland. The leader of the Sick Bay team was Surg. Lt Cdr C. de W. Kitcat RNVR and his deputy was Surgeon Lt Stephen L. Hetherington RNVR. CPO Norman Brown, known to all as "Brownie" was next in line. Maurice Hudson and Arthur Ching, a supernumary, also joined the Sick Bay team at this time. Kenneth Collings told his son that 'I spent my time trying to help men who had had their teeth and jaws blown away' so he may have also assisted the two dentists on HMS Hecla, although they were in a separate department.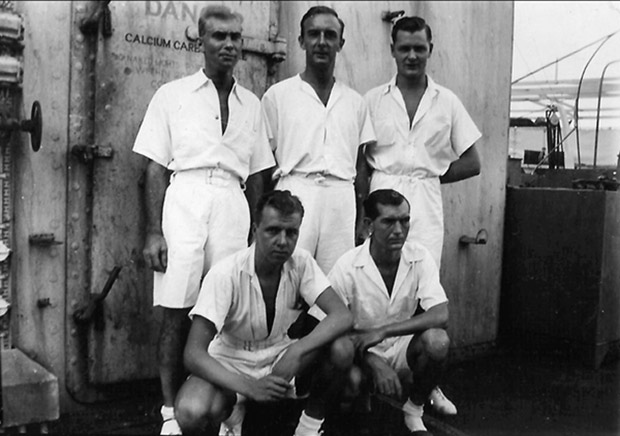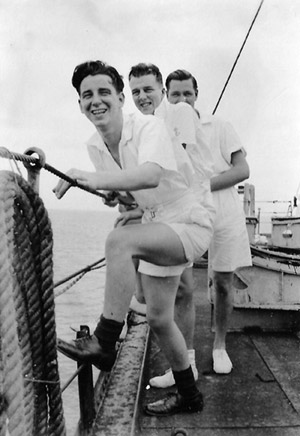 Can anybody identify the men in these two photographs taken aboard HMS Hecla on the voyage south?
Kenneth Collings is middle rear in the photograph on the left
Courtesy of Bruce Collings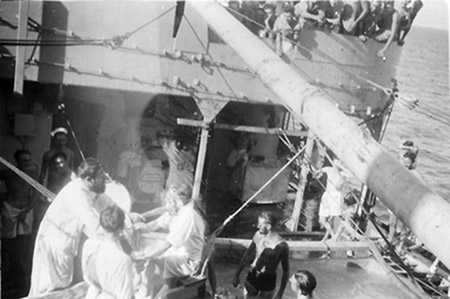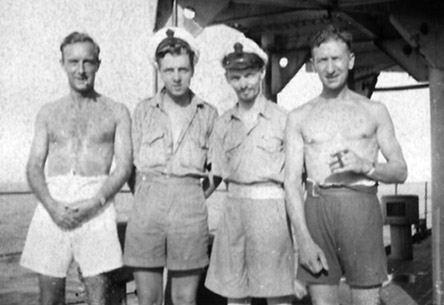 Heading south HMS Hecla "crossed the Line" and crew members received the traditional welcome to Neptune's Kingdom (left)
Kenneth Collings is on the left in the photograph on the right
Courtesy of Bruce Collings

After Hecla hit the mine off Cape Agulhas she managed to make its way under its own steam into the naval dockyard at Simons Town where she spent nearly six months under repair. South Africans were very hospitable and Kenneth and fellow SBA Brian Shaw were invited to stay on "uphomers" with the Roux family on their farm in Western Cape province. Brian Shaw was killed when Hecla was torpedoed but Kenneth Collings exchanged letters with the family who welcomed him into their home until his death in 1989. In 2017 I was contacted by Louise Duncan, the daughter of Cynthia Roux, who discovered the letters after her Mother's death and returned them to his son, Bruce Collings, in New Zealand.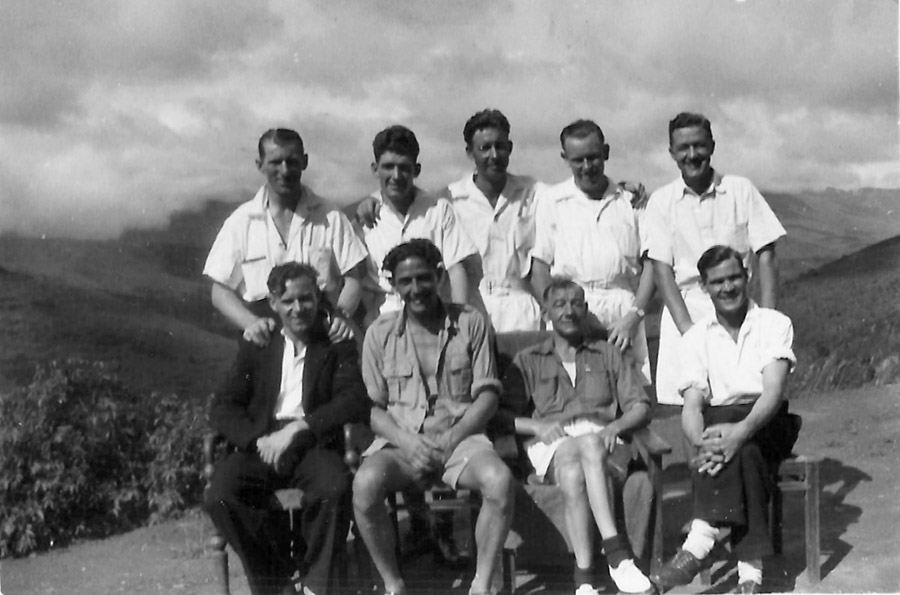 Relaxing in South Africa while HMS Hecla is under repair at Simons Town
Courtesy of Bruce Collings
Ken Collings told his family that he spent eleven hours in the water when he abandoned ship. He was picked up by HMS Marne which was towed to Gibraltar on the afternoon of the 12 November and probably returned to Britain on a troopship, the requisitioned Dutch liner, Dempo, which joined a convoy for Liverpool. After his passage home and survivors leave he was posted to HMS Drake at Devonport for three months before being 'lent' to the Army from the 28 February to the 31 March 1943. Audrey Summerell, the girl he later married, sent him this card with a press cutting about the loss of HMS Hecla in 1943.



He spent the next nine months as an SBA in the
RN Sick Quarters
at HMS

Bristol

, a 'stone frigate' (shore base) in his home town which must have been a convenient posting. HMS

Bristol

was a collection of Victorian built buildings on Ashley Down built as an orphanage by a George Muller which still exist today as a children's home next to Gloucestershire County Cricket Ground.
On the 29 December 1943 he was posted back to HMS

Drake

at Devonport for four months when he joined a former Cunard liner, RMS

Aurania

, which had been requisitioned at the outbreak of war and converted into an Armed Merchant Cruiser. She accompanied Atlantic convoys on the northern route until torpedoed by U-123 on the 21 October 1941. She was severely damaged but her cargo of empty drums kept her afloat. She was purchased outright by the Admiralty and was under conversion to a heavy repair ship, with a similar role to that of HMS

Hecla

, when Kenneth Collings joined her at Plymouth
on the 16 May 1944. She was commissioned as HMS

Artifex

in August and after trials left Plymouth on the 19 January 1945 to join the Pacific Fleet assembling at Sydney, calling in enroute at Trincomalee, Ceylon, and Fremantle. By the time she sailed Kenneth C Collings had been promoted to Sick Bay Petty Officer (SBPO). It would be nearly nine months before he returned to Plymouth and by then the war in Europe had been over for four months.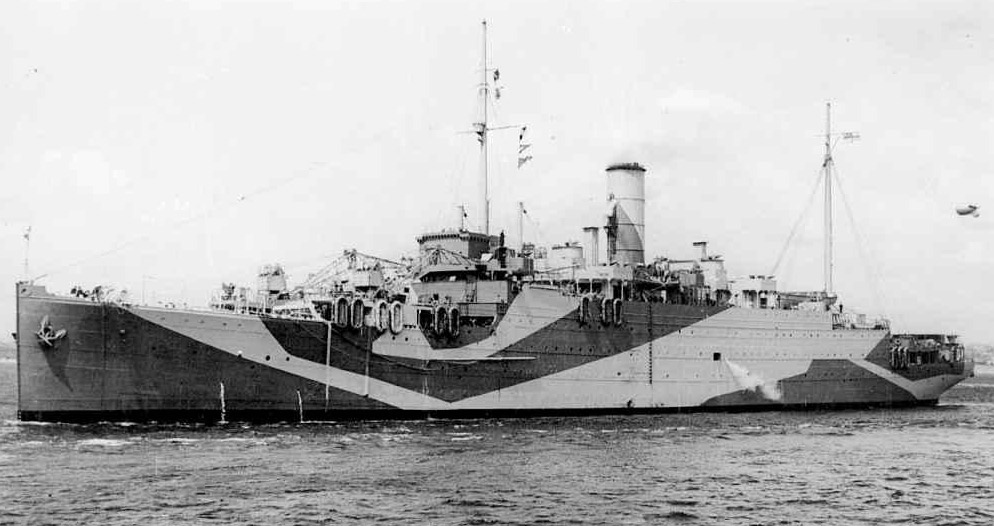 The former Cunard liner and Armed Merchant Cruiser, HMS

Aurania,

in 1944 after conversion to a repair depot ship and recommissioning as HMS

Artifex
By March 1945 she was at Manus, the largest of the Admiralty Islands to the north of Papua New Guinea. Manus had been seized by Japanese forces in April 1942 but captured by US forces in March 1944 and an allied naval base established at Seeadler where HMS

Artifex

was based in support of the British Pacific Fleet (Tak Force 57).
Artifex

took passage to the US base at Leyte in the Philippines on 19 April 1945 to repair ships attacking airfields in the Sakishima-Gunto Islands in preparation for the invasion of Okinawa, the last major campaign of the war
(Operation

Iceberg)
.
Heavy casualties must have been expected as HMS

Tyne,

an identical sister ship of HMS

Hecla

, and a third repair depot ship, HMS

Resource

, were also there.
The aircraft carrier HMS

Indefatigable

was protected by its armoured deck and repaired by

Artifex

in five hours after fourteen men were killed in a Kamikaze attack. There were more than a thousand Kamikaze attacks on US and Royal Navy warships but non of the repair depot ships were sunk. HMS

Artifex

left Leyte on the 20 May and returned to Manus where she spent the rest of the war.

There is nothing written on the reverse of the photographs below but since

Artifex

spent most of its time in the Pacific based at Manus it seems reasonable to assume they were taken there. The most likely explanation is that the Sick Bay team on

Artifex

provided basic health care to the islanders and got to know some of the families they helped.
On being released from the British Pacific Fleet in September 1945 she sailed back to Britain via Sydney and Hong Kong.
Kenneth Collings returned home from the Far East with exotic souvenirs including a stuffed koala, Chinese ceramics and a parasol.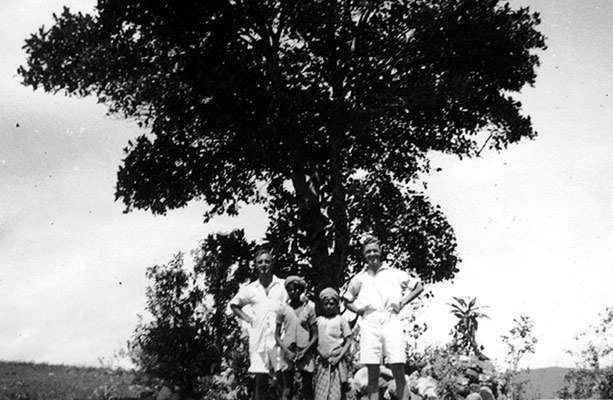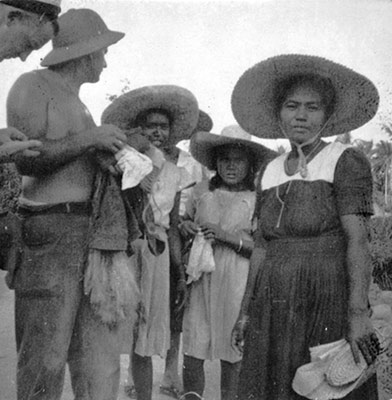 A tropical paradise in the Pacific taken during Kenneth Collings service in the Pacific after HMS

Hecla

sank
These photographs were found in a biscuit tin after his widow died and sent to his son in New Zealand
Neither the island where they were taken or the island family have been positively identified
Courtesy of Bruce Collings
After the war KCC returned to his shop, which prospered and in 1949 he married Audrey Mary Summerell, from Nailsea, Somerset and eventually went into wholesale confectionary and tobacco, until 1971 when 'cash and carrys', new regs. etc made life unprofitable as a small player. He had three children Sally, Bruce and James and lived at Bromley View, Hambrook, Bristol until his death, on his 80th birthday, the 7 November 1989.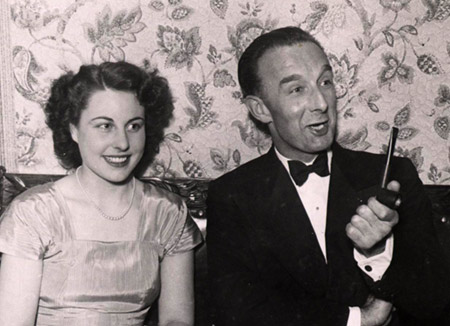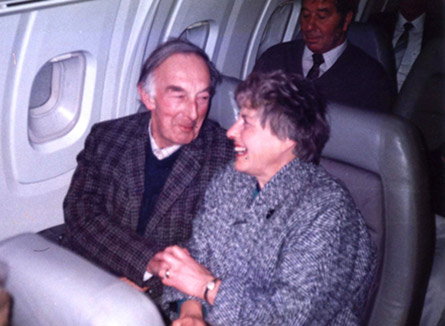 Left: Kenneth Collings and his wife Audrey at the Bristol Confectioners dinner in 1950
Right: Kenneth and Audrey take a flight on Concorde from Heathrow the year before he died
- it was bulit at Filton not far from where they lived
Courtesy of Bruce Collings
Every Christmas Day he would wear the same badly tattered, grey, woollen polo-necked jumper and nothing was ever said; it was laughed off as one of Dad's ritual eccentricities. After his death my Mother told my younger brother James that this was the garment he was given after being sunk and spending many hours in the water before rescue.




When he retired Bruce Collings emmigrated to New Zealand and lives at Golden Bay on the northern tip of South Island. I was intrigued by the photographs he sent me and Bruce was keen to see them published and is hoping that somebody will identify his father's shipmates.




---
Holywell House Publishing
88 Holywell Hill, St Albans, Hertfordshire AL1 1DH, Britain
http://holywellhousepublishing.co.uk
Telephone: +44 1727 838595
contact online
---