The story of HMS Venomous
Venomous

as a Mediterranean escort 1942-3
As told by crew members Jack Bolton and Bob Hargreaves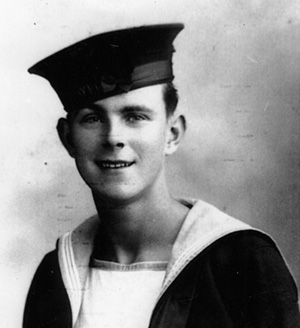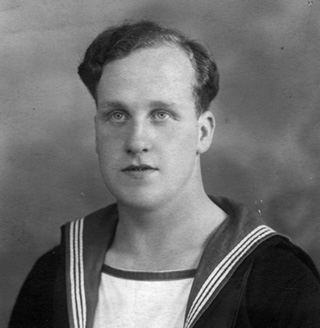 I occasionaly receive orders for

A Hard Fought Ship

from relatives of the men who served on HMS

Venomous

and this often leads to new information about events described in the book.

Ray Bolton bought a copy for his father, Jack Bolton (on right), who is now 88 but was only 19 when he joined HMS

Venomous

at Londonderry in June 1942. Linda Atkinson bought the book for her uncle, Chris Hargreaves, the youngest brother of Bob Hargreaves (left) who joined

Venomous

at Troon in March of that year after a major refit following its collision with HMS

Keppel

. Sadly, Bob died a few months ago but Chris has recalled some of the stories he told during his final illness.



Venomous

had a wartime complement of around 160 men but most only knew those on their watch or station. Jack has no memory of Bob but they served together on

Venomous

until October 1943.



Bob Hargreaves was one of nine children born in a two up two down in Bolton, Lancashire, on the 1 November 1921. He was a paper maker by trade and, like Jack Bolton, a Roman Catholic. Bob was born with a veil (or caul) over his face which the midwife removed and his Mother kept. Bob and his two brothers had fragments of the caul sewn into their clothing as a lucky charm to save them from being drowned, an old sailors' superstition. All three brothers returned safely from the war.

He volunteered for the Navy when he was only 17 in May 1939, enlisting for "7 years plus 5" (Official No. D/SSX.30219) and was posted from HMS

Drake,

the Devonport shorebase at Plymouth to HMS

Shikari

in December 1939 when he was 18. He had vivid memories of Dunkirk where he was in the ship's whaler pulling men out of the sea.

Shilkari

was the last ship to leave Dunkirk.

That Autumn

Shikari

was deployed to Atlantic convoy defences in the NW Approaches as part of the Second Escort Group at Londonderry.

Venomous

was also at Londonderry as part of the First Escort Group. In October 1941

Shikari

lost most of her bridge in the storm which swept Teddy Weeks to his death on

Venomous

as described by Sydney Compston (see page 157). Despite their poor quality Bob's snapshots of the damage give some indication of the storm's ferocity.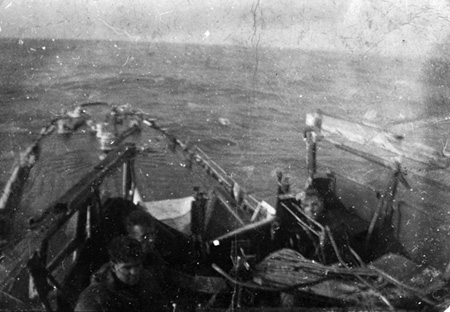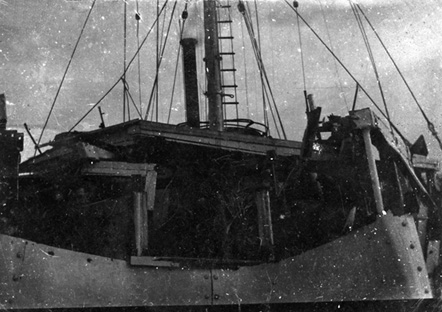 The bridge and front gun turret of

HMS Shikari

smashed by waves in a storm near Iceland, 9 October 1941
Photographed by Bob Hargeaves

Bob joined HMS

Venomous

at Troon on the 27 March 1942 in time for the artic convoy to Murmansk described in chapter six of

A Hard Fought Ship

but, understandably, did not care to dwell too much on the awful conditions he must have experienced.

"Jack" (John) Bolton (D/JX 342131) was born seventy miles from Belfast in Northern Ireland in 1923, left school when he was 14 and worked in a shop until he was 19 when he travelled to Belfast to take a medical and enlist in the Navy to avoid the square bashing he had seen soldiers serving in NI having to do.

He enlisted in January 1942 and was sent to HMS

Royal Arthur

, a former Butlins holiday camp in Skegness, for
three weeks basic training. Jack had a narrow escape when the base was bombed on the 28 February. Eight men were killed and many chalets destroyed. He
opted to be a torpedoman and was sent on a three month course at Devonport, Plymouth. He asked to be put on a draft to the next ship in Londonderry and on the 28 June joined HMS

Venomous

on its return from Murmansk as a Seaman Torpedoman, AB(ST), Official Number D/JX 342131. This posting suited Jack as the girl friend he married worked in a shirt factory across the road from the naval base.

Living conditions aboard

Venomous

were far from comfortable. She pitched and rolled in even a men.
It took too long to roll hammocks if called to action stations and they slept on the padded tops of the lockers lining the hull, the mess room table or the floor.

The "boss" of the mess was "Micky" Addis, a Bosun's Mate from Ulster who joined the ship when she came out of Reserve at Rosyth in July 1939 and lorded it over the young ratings.

A Hard Fought Ship

contrasts the wardroom and cabins where the officers lived at the stern of

Venomous

with the conditions endured by the ratings on the messdecks in the fo's'le (see appendix six).

HMS

Venomous

and its sister ships were built at the end of World War I as "torpedo boat destroyers" but throughout World War 11 they were mainly used as destroyer escorts and depth charges were their principal weapon against the U-boats which attacked the convoys. Jack was one of fifteen AB(ST) on

Venomous

but the torpedoes were never fired. They remained in their tubes (with propellers locked in harbour) apart from occasional exercises when they were taken out and reloaded. The main job of the torpedo men was looking after the depth charges. There were two sloping twelve foot depth charge rails at the stern, each with ten 350 lb depth charges, plus explosive depth charge throwers on the port and starboard sides which could hurl the depth charges 20 yards. The depth charges were winched up from a store below deck, fitted with explosive canisters containing 1.25 lbs of TNT and cigarette sized mercury fulminate detonators. The depth at which the charges exploded (from 50 - 500 ft) was set by altering the size of the hole through which seawater entered the canister. This was done in advance but it only took a minute to remove the canister and reset the depth. Charges could be released singlely or as a pattern of four, one from each rail and depth charge thrower. The torpedo men were also responsible for the two high power 240 volt AC generators and the low power DC batteries which powered the ship's wireless and telephone.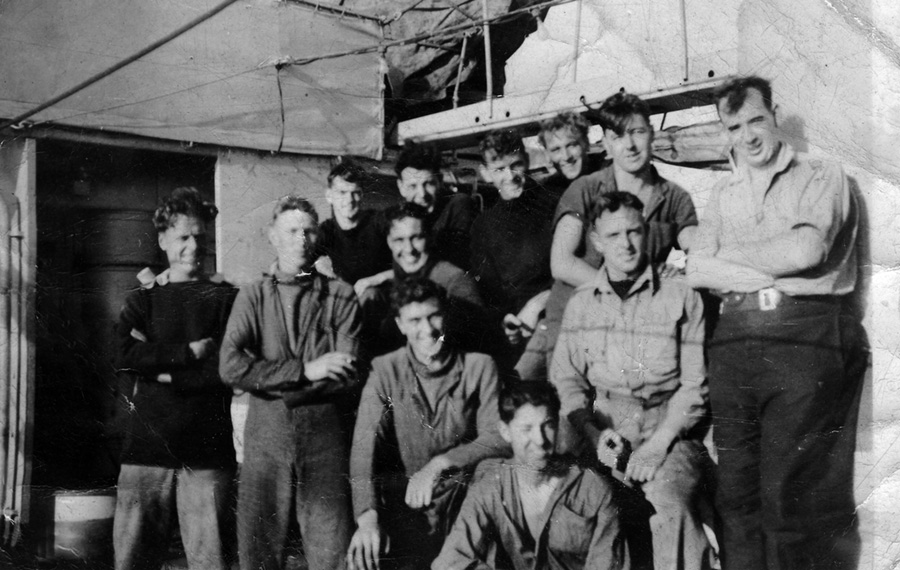 "HMS

Venomous

, 1943. I do not remember any of them", Jack Bolton
.
"I took this photograph, I had a small camera on board ship, HMS
Venomous
, HMS
Wessex
."
Courtesy of Jack Bolton

Jack remembers vividly the night the night

HMS

Hecla

was torpedoed. His action station was on the bridge where he transmitted messages from the CO, Cdr H.W. Falcon-Steward RN, to the engine room, boiler room and the depth charge crew on the after deck by telephone. He was there on the night of 11 November 1942 when HMS

Hecla

was torpedoed (see chapter eight in

A Hard Fought Ship

) and

Venomous

tried to overhaul and ram the attacking U-boat. That night

Venomous

had to fight the attacking U-boat while rescuing the hundreds of men struggling in the oily water. With

Venomous

at a standstill he was sent down on deck to help in the rescue. The men clutching the scrambling nets hung over the stern were so thick with oil it was almost impossible to haul them to safety. An officer on the bridge called out that they had a ping on the ASDIC and they should "let go". A seaman slipped from his hand, fell backwards with his feet tangled in the net and Jack heard the terrible sound of his head repeatedly hitting the ship's hull as

Venomous

accelerated away in pursuit of the prowling U-boat. This incident was by

described Les Mortimer

, who spent several hours in the water with AB Charley Stocker, the man who was killed.

Bob Hargreaves told his brother Chris that there were so many survivors on deck that

Venomous

became unstable but they were reluctant to go down below for fear that

Venomous

would suffer the same fate as the other destroyer escort, HMS

Marne

, and be torpedoed.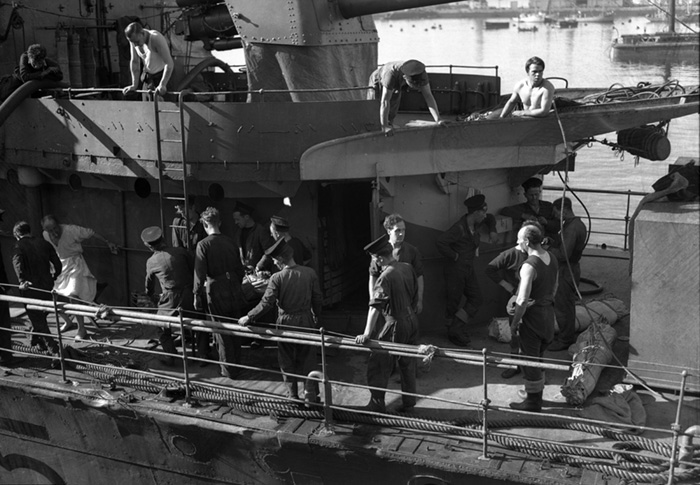 Bob Hargreaves (left, facing camera) was photographed on the deck of HMS

Venomous

while berthed alongside USS

Augusta

at Casablanca


Note the bodies of men who died after rescue sewn into the hammocks in which they were later buried at sea
Image NARA 80-G-3015 Courtesy of the National Archives and Records Administration


Venomous made it to Casablanca on its last few tons of fuel within hours of its capture by the Americans and the 560 survivors crowding its decks were taken aboard the USS

Augusta

to shower, be issued with USN uniforms and fed. The dead were sewn in hammocks and buried at sea enroute to Gibraltar. Four more died from their injuries and Jack volunteered to be part of the burial party. They were put aboard a barge and taken out to sea from Gibraltar with a padre to read a brief burial service before committing them to the depths.

The Axis forces in North Africa surrendered on the 13 May 1943 and four days later

Venomous

was picked as one of four destroyer escorts for KMS.14X, the first through convoy from Gib to Alex for two years. Jack remembered the discovery of the liferaft in the Gulf of Gabes off Tunisia holding a dead German parachutist with the rings and personal papers of men who had already died and been slid overboard (see p258

)

plus one further dreadful detail. The broken blade of a knife and the arm of a man were found with the body of the German, evidence that he had resorted to canibalism to keep alive. The dead man was sewn into the traditional hammock but was slid over the ship's side without a Christian burial.

According to a long established "custom of the sea" cannibalism is justified in these circumstances but murder in order to preserve life by cannibalsim is not and is a crime in English Common Law. See the shipwreck of the

Mignonette

(1884) and the case Regina v Dudley (1885).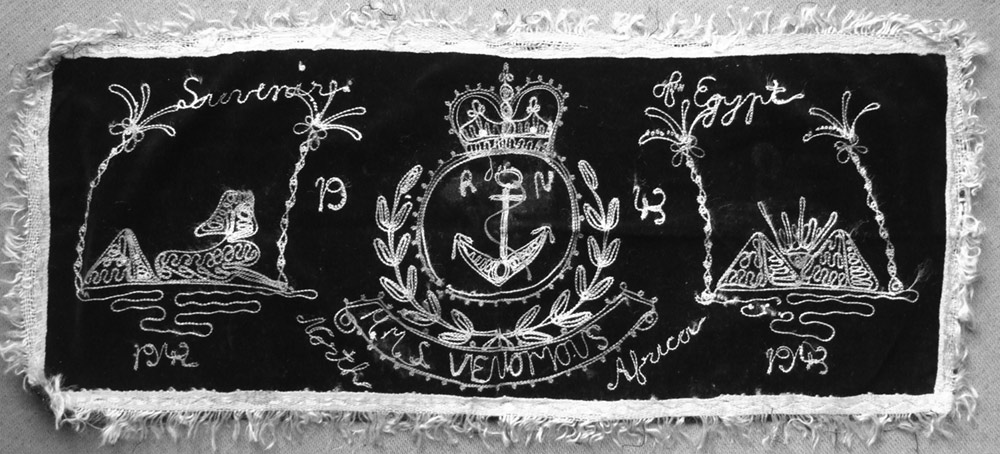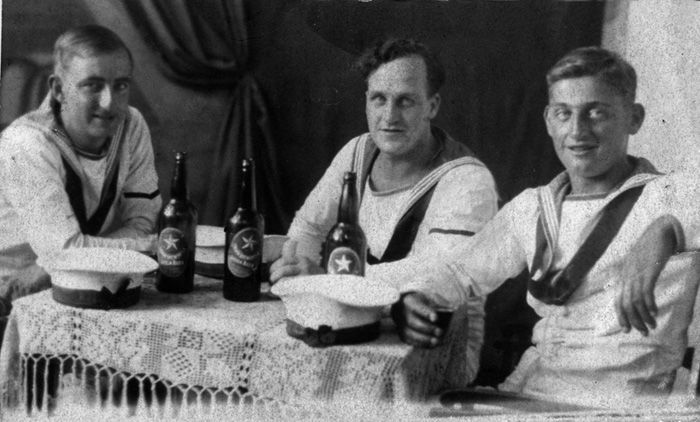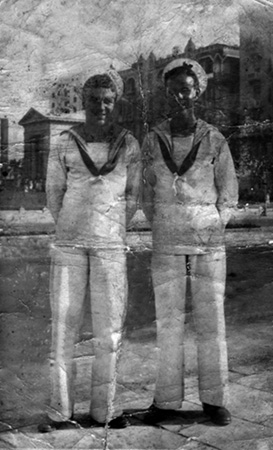 Top:
The "Souvenir of Egypt" brought home by AB John Dumville who joined the ship at Gibraltat in February 1943 in time for the first through convoy from Gib to Alex

Left:
Bob Hargreaves is centre in this typical photograph taken in a bar in Alexandria.
Right:
Jack Bolton and his "Oppo, 'Don' from Cardiff" on a run ashore in Alexandria.

The crew took the opportunity to go ashore at Alexandria in July before escorting the cargo ships used as troop carriers for Operation

Husky

, the invasion of Sicily. Jack Bolton recalled that each of the fourteen cargo ships carried some two thousand men and had barrage balloons at bow and stern to discourage attacking aircraft. The Mediterranean was rarely rough but the convoy ran into a violent storm and the troops suffered so severely from sea sickness (Jack could see them leaning over the rail being sick) that they had to turn back for twelve hours while they recovered, all the ships lost their barrage balloons and the landing at Augusta had to be delayed by twenty four hours. After the succesful landing

Venomous

nosed its way into the large outer harbour at Syracuse where Jack saw women medical staff, Wrens, disembarking.

Jack and Bob had served under three commanding officers of HMS

Venomous

: Cdr H.W. Falcon-Steward RN, Cdr D.H. Maitland MacGill-Crichton RN and Lt H.D. Durell RN. Jack said the crew were in awe of their COs and saw little of them.

Venomous

was on its last legs when it limped back home to Falmouth, its engine "shot" for the major refit which reduced it from a fighting ship to towing targets in the Irish sea for Barracuda air launched torpedoes. Bob Hargreaves and Jack Bolton left

Venomous

at Falmouth in October 1943.


*****

Jack Bolton

was sent to Govan on the Clyde to join a new W Class destroyer, HMS
Wessex
, which "had refrigeration and fewer cockroaches than
Venomous
". He was at Leyte in the Pacific and at Nagasaki after the atom bomb was dropped. After being demobbed in May 1946, he studied, and joined the REME at the Central Ordnance Depot in Donnington, Shropshire, as a civilian employee and worked there for 42 years until retirement. He had three boys and four girls, lives in Telford and still leads an active life.
Bob Hargreaves
served on two River Class frigates, HMS
Nadder
from December 1943 to September 1945 and its sister ship, HMS
Lossie
(which had been transferred to the RN under the 1940 US/UK Lend Lease Agreement) as part of the "steaming party" which returned it to the USN in January 1946. He left active service on the 14 January 1947 but remained in the Royal Fleet Reserve until the 31 October 1951 when his "engagement expired". Bob was a GPO engineer after the war, became blind after a stroke and
for the last eighteen months of his life
was totally dependent on his brother Chis who lived seven doors away.
---
Holywell House Publishing
88 Holywell Hill, St Albans, Hertfordshire AL1 1DH, Britain
http://holywellhousepublishing.co.uk
Telephone: +44 1727 838595
contact online
---