The story of HMS Venomous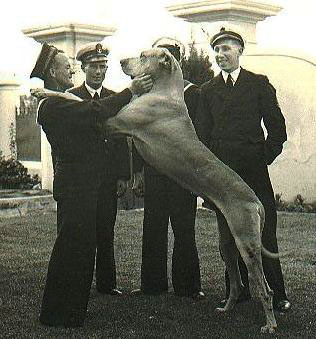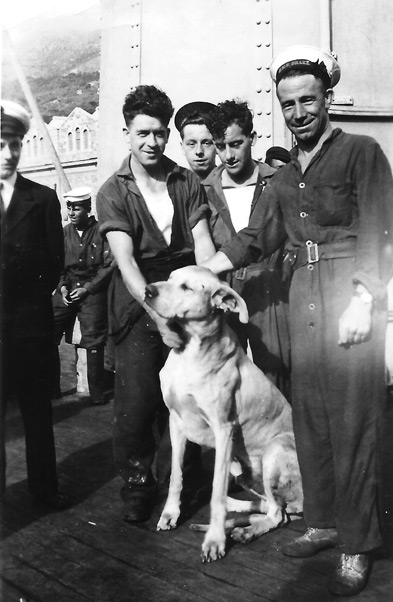 "Just Nuisance" was the only dog ever to be officially enlisted in the Royal Navy. He was a Great Dane who from 1939-44 served at HMS Afrikander, a Royal Navy shore establishment in Simon's Town, South Africa. He died in 1944 and was buried with full military honours.

He was enlisted on 25 August 1939: his surname was entered as "Nuisance" and rather than leaving the forename blank he was christened "Just". To allow him to receive rations and because of his longstanding unofficial service he was promoted from Ordinary Seaman to Able Seaman.
**********

Ted Coleman observed his character and personality first hand while his ship, HMS Hecla, was under repair at Simonstown after hitting a mine:

"He was a very remarkable dog, his tactics in any pub were those of a born scrounger, he would lie peacefully on his side under a table until customers arrived. I saw him on several occasions when some matelots walked in. He would casually role onto his front, nonchalently wriggle from under the table, straighten his front legs, then his hind ones, stretch all of them before padding slowly up to the bar. There he would insinuate himself between the two lads and look expectantly at first one and then the other, finally concentrating on whichever one put his hand in his pocket! If the men were regulars an extra pint would be forthcoming and placed on the edge of the bar, Nuisance would put his forepaws on the bar counter and, usually down the pint without stopping for breath. After a polite thank you lick at the hand of the donor, he would either resume his recumbent position and wait for another likely opportunity or go to the door, open it, and make his way to the railway station.

On his way he liked to join up with one or more matelots, receive his customary pat on the head from each of them and wait with them until the train arrived. Once onboard he would curl up as inconspicuously as a Great Dane possibly could, as if to avoid the attention of a ticket collector. No one ever paid his fare, as the ticket collector, with his tongue in his cheek, would always fail to see him. (I have read recently that the Navy did eventually finance a season ticket for him, which is quite likely true!) This enormous dog usually then slept until the train arrived in Cape Town, though he was known at times to visit one of the intermediate towns. He was renowned for his unfailing concern for tipsy matelots. He would roundup matelots in Cape Town in time for the last train to Simonstown and either return with them or stay and occupy his own pusser's bed in the Fleet Club in Cape Town."

Les Proctor, Ted Coleman's shipmate on HMS Hecla, also had a story to tell about Just Nuisance:

"The Simonstown base mascot was a large Great Dane officially enrolled in the Royal Navy as Just Nuisance 1. He ranged over every ship and one night came into our hut and ensconced himself in a bunk. When the owner of the bunk arrived, very late and rather inebriated, Nuisance refused to budge and the fellow had to sleep without comfort of a mattress."

Bob Campbell, Petty Officer Robert R Campbell Ship Writer, also got to know "Just Nuisance" and took the photograph of him on the deck of HMS Hecla with some of his shipmates (left) and wrote in pencil on the reverse:
"On the deck in dry dock at Simonstown Able Seaman Nuisance, the only canine AB in the Navy. This bull mastiff
[wrong, he was, of course, a Great Dane]
was going to be destroyed because it was creating a nuisance in the trains between Simons Town and Cape Town. He had been a great friend of the sailors, very often he would lead drunken matelots back to their shps and he would do anything a matelot told him. Strictly a lower deck dog he only on very rare occasions condescended to associate with officers. When the Navy heard he was going to be done away with they raised such a howl."


Nuisance was involved in a car accident which caused thrombosis which was gradually paralysing him, so on 1 January 1944 he was discharged from the Navy. His condition continued to deteriorate, on 1 April 1944 he was taken to Simon's Town Naval Hospital where on the advice of the naval veterinary surgeon, he was put to sleep. The next day he was taken to Klaver Camp, where his body was draped with a Royal Naval White Ensign and he was buried with full naval honours, including a gun salute and the playing of the Last Post. A simple granite headstone marks his grave which is on the top of the hill at the former signals centre.

A statue was erected in Jubilee Square in Simon's Town to commemorate his life. The Simon's Town Museum has a room dedicated to his story, and since 2000 there has been an annual parade of Great Danes from which a lookalike is selected.

The first hand description of this artful scrounger is taken from Edward Coleman's book Navy Days (Andrew Books, 1999).
Coleman joined HMS Hecla during its short refit on the Clyde in April 1942 and spent almost five months in Simon's Town while it was under repair after detonating a mine.
The anecdote by Les Proctor is from his privately published My experiences in the Royal Navy 1939-45. Les Proctor was 94 when he passed away on 9 September 2016.
If you want to get to know Just Nuisance better visit the Simon's Town web site.
Find out more about HMS Hecla at Simon's Town in May to October 1942
---
Holywell House Publishing
88 Holywell Hill, St Albans, Hertfordshire AL1 1DH, Britain
http://holywellhousepublishing.co.uk
Telephone: +44 1727 838595
contact online
---