The story of HMS Venomous
Thomas 'Yorkie' Russell
Stoker on Venomous
Thomas Arthur Russell was born in 1920 and earned 2/6 a week when he signed up as a a stoker in the Navy for 12 years. He was interviewed by Community Service Volunteers (CSV) Sheffield for the BBC Peoples War website. I was able to trace him and he gave his consent to the use of this material in the second edition of A Hard Fought Ship (2010) and attended the book launch at the Royal Navy Museum in Portsmouth in April 2010. Sadly, these interviews are no longer available on the BBC Peoples War website and I decided to add the description of his time in HMS Venomous to my web site.
In this short passage 'Yorkie' outlined his service in the Navy before he joined Venomous in December 1944:

"My first ship after joining on a 12-year engagement was the battleship HMS Ramillies. I joined her in Alexandria. We operated in offensive sweeps in the Mediterranean and bombarded Fort Cappuso. We had a run in with the Italian Battle Fleet off Cape Spartivento, but could not bring them to a decisive action. I remember being in the forward damage fire and control party, and being near the forward 15" gun barbette on the seamen's mess deck, we fired a salvo at extreme range. We thought that we had been hit, but it was the concussion of our own main armament, which rolled the ship slightly on to her beam-ends.
I remember the Italian bombers flying at high altitude, being pretty good but not good enough, I remember the old HMS Eagle who carried Gloucester Gladiators Bi-Planes, vanishing behind a wall of spray, raised by these bombers with no damage caused.
We left the Med. and I went on leave for 4 days to Sheffield, just after the Sheffield Blitz, I remember the smoke and steam rising from the bomb damage, streets blown in causing the bus home to go on a round about route.
I served in the North Atlantic on convoy duty, where the German heavy cruiser 'Hipper' tried to intercept one of our convoys, she slunk away in the fog before we could bring our main armament to bear. This was in February 1941, well this is just a small part of my service, I served in the Indian Ocean, was torpedoed in the Madagascar campaign, served in destroyers, in operations in the Sicilian and Italian campaigns, loosing many comrades in the mining of HMS Quail. I was in the destructive bombing of Bari Harbour, Eastern Italy when we were unarmed, having been stripped of AA response due to the mining, I was on skeleton crew.
The USS John Harvey carrying mustard gas bombs blew up, so we were exposed to smoke carrying chemicals. Not many know of this, and I can prove it, the harbour next morning was covered in oil with bodies floating in it, some just torsos, a terrible sight, I could tell you so much more.
My war did not really finish in 1945, I went to Norway in May 1945 in HMS Venomous, to take the surrender of the Germans at Kristandsand, I have a scroll from the Norwegian Government, giving thanks for the liberation."
The Venomous was powered by oil burning steam turbines. The engine department of HMS Venomous comprised 14 stokers (including a Petty Officer Stocker and 2nd and 3rd Class stokers) and 6 Engine Room Artificers (ERAs), from 1st to 5th Class ERA. The stokers wore bell bottomed trousers and tunics but the ERA were 'square rigged' with jacket, straight trousers and peaked cap. The stokers and ERA had separate mess decks. The Chief Stoker, Charles B Weeks (K.54729) and Thomas Henry Poole (K.62202), had served in Venomous from coming out of Reserve in 1939 to paying off and decommissioning.
The Chief ERA, Arthur 'Wiggy' Bennett, reported to my father Lt(E) William Redvers Forster RNR. The Lt(E) did not take a watch but made unscheduled visits to the engine room, filed reports on engine performance, etc and kept the Captain informed of all relevant matters relating to the ship's engine.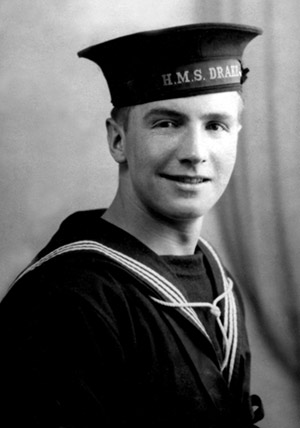 "After weeks of waiting back at the barracks, my luck took a turn for the better and I eagerly scanned the small white slip of paper with my name on. I had to report to the D.F.D.O. office. I had been put on draft to HMS Venomous, a destroyer. It was April 1945. It wasn't a new destroyer like the Quail but an old V and W class of World War 1 vintage, I believe. Still, it was a destroyer and it would be a relief to leave the routine of R.N. Barracks, Devonport.

When I finally arrived at the ship, she looked ancient. I didn't realise at the time but she was used mostly as a target ship for the Barracuda torpedo bombers to practice on. She was slightly turtle backed and seemed far narrower in the beam. She had two funnels, one thin, the "woodbine" type and one a bit wider with a single set of tubes. The stokers' mess deck seemed smaller than the Quail's. You could tell she was aged by the thickness of the paint below decks, the rivets didn't stand out as sharply as on a ship of younger years. Down below, the stokers' mess deck was far narrower; we were more crowded together. Her paintwork and overhead corking was tinged a dirty yellow from the thousands of cigarettes that must have stained it over the years of service. It smelled of a certain amount of dampness and paint.

I got to know my messmates over the days ahead and I found them a great crew. It was April and the days were often cold and grey. We would go down the Forth to the practice range and then afterwards, the exercise came alongside. Sometimes, the torpedoes fired would take some spotting and at times they must have given our captain a lot of anxiety, for to lose a "fish" entailed the loss of around a £1000, a large sum in those days. The sea boat's crew and the cutters would curse at the time taken to spot the nose of the torpedo as it bobbed in the troughs, especially if rain had set in.

My war did not really finish in 1945, I went to Norway in May 1945 in HMS Venomous, to take the surrender of the Germans at Kristansand, I have a scroll from the Norwegian Government, giving thanks for the liberation.

When we got ashore on our usual beer laced binges, I found a substitute for my mother's bread. As we arrived back outside the naval base, we found women selling paper bags containing bread rolls, six for a shilling. The boys went mad for them and if your chums went ashore, you usually got someone to bring a bag back for you.
I did manage to get a bit of cod fishing when we anchored off Grantham. It helped the cook vary the diet. One day we sailed out further than usual, in fact, we ended up off the most northern tip of Scotland and a bout of some of the worst weather that I've ever experienced. The signs came as the ship's company was ordered to secure everything that was loose and make ready for heavy weather that was imminent. It wasn't long coming and it was said to be of hurricane force. The old ship heaved her fore foot up, rearing up like a startled horse, then came crashing down her bows, to be buried under an oncoming wave. One whaler was smashed to matchwood in the davits and I was told that even the for'd gun shield had been sprained. Items of food and vomit sloshed on the deck, we had reached the depths of misery. I don't think we would have cared if she had sunk. The ship showed her age more, it had made the rust streaks more obvious, it needed a lot paint and the chipping hammers would have to work overtime to restore the ship to something of naval tidiness.

We carried out our usual routine until one day a buzz originated that we were sailing on some unknown mission; this was early in May 1945 and we were all eager to know what it was we were going to do. The Germans surrendered in Europe and some wit said that we were going to join the Pacific Fleet against Japan. We saw a uniformed officer who was wearing the regalia of the German Navy. He was accompanied to the wardroom by one of our officers and the German was carrying a large briefcase. It eventually transpired that we were going to Norway and our destination was Kristian Sands, where we were to accept the surrender of the German forces in Norway. The German officer had come aboard to act as a pilot through the German minefields. To make doubly sure, we were accompanied by a couple of minesweepers.

I felt very uneasy; I remembered the Quail and the causalities and damage that we had suffered. There was a crackle of small arm fire and an occasional oerlikon burst. Mines had been swept and the sweepers were firing at them to sink or to explode them. I heard no heavy explosions but I did see on one occasion, a mine coated in red lead bobbing up and down in the choppy sea. This did nothing for my peace of mind.. Soon I saw another amazing sight; small craft that I can only describe as smaller than cobbles which used to take anglers out of the east coast ports. They were Norwegian fishing boats and I noticed that in them were kids looking about nine or ten years of age and they were fishing with hand lines.

The Norwegian coast came into view and the usual talk of getting ashore and wondering what the "Norwegian" parties would be like. Everyone seemed to be expecting to be swamped by a lot of busty blondes. It is funny how fantasy can build a picture in one's mind of different races and how they should look. We came to anchor in Kristian Sands; to starboard was a large building that someone said was a brewery. It was unmarked. Then I saw some hills with German AA batteries situated on the crest and sides. It would have been sticky if they thought they wouldn't surrender after all but I need not have worried. We were piped ashore leave and my leave would be next day so I was eager to hear what it was like when the boys came back aboard. Not one drunk came aboard. Apparently there was a beer of a sort but the boys said that it tasted like onion water and if you 'd drunk gallon, you couldn't get drunk.

I did get ashore eventually after we had tied up alongside a sweeper. I got a surprise when the bosom's mate shouted down the mess deck hatch, "Anyone here by the name of Bill Russell?" A chorus of voices shouted, "There's a stoker called Tommy Russell, maybe its him." "Well tell him there's a stoker, Tony Harding off the sweeper here." What a surprise, Tony is the wife's brother. I knew that he had joined the navy as an H.O. but never knew he was on the sweeper alongside; my wife must have told him that I was aboard the Venomous. I went aboard the sweeper and sampled his tot and wished him well. They had swept the mines up and had been firing at them, and here he was now. I'd have to write home to Magdalena; she would be surprised that her husband and her brother had met like that. In a way he was helping to keep me safe; such is fate.

I got ashore next day and wasn't impressed at all. The people seemed few and far between and not so talkative either. They seemed in a state of shock, as they couldn't believe that they had been liberated. Then to be fair, they had never had the chance of seeing many of the goods in the shops that even we in rationed Britain had seen. The kids had never seen chocolate and I expect fruit like oranges and bananas either.
What struck me was a squad of German sailors marching past, still armed and we had not so much as a knife between us. Maybe they were happy that the war was over, maybe they were having a little joke at our expense. We went back aboard early, an hour or two was long enough in that lifeless place. While there, I suffered a bit of embarrassment. My pal and I decided to have a bath down in the narrow washroom situated just below the mess deck. This compartment had only one hatch into it and you had to bath in a large round bowl. There were only two of these bowls and you didn't always have enough hot water anyway to fill the two.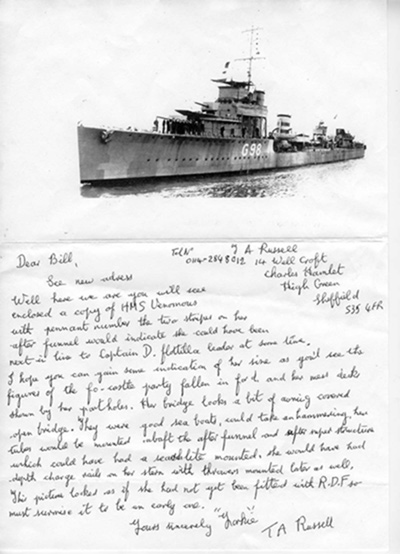 This day we were in luck; we took our washing down and with it, the usual bar of pusser's soap and a knife to shave some onto the washing. I had got one of the metal tubs and as I was filling it, I decided to kill two birds with one stone and I would wash my clothes and bathe in the same water; my mate decided that it was a good idea. There we were both in the nude, perched with our buttocks on the edge of our respective tubs, rubbing our washing in the lather the soap shavings had created. My back was towards the washroom entrance and I was concentrating on the job in hand. Suddenly, I heard a clattering of feet on the hatchway's steel ladder, nothing wrong with that but then I heard the unmistakeable sound of female laughter. "Cor Yorkie," my mate said, "Look behind you." I turned and it must have been one of the few times that a sailor has blushed. There, laughing and pointing, were several Norwegian girls; what do you do in such a situation? We just carried on with our washing. I'd never felt so embarrassed. The b******s on the mess deck had actually directed the girls down to the bathroom and had had a good laugh at our expense. The girls had been invited aboard on a good will trip; they certainly had something to tell their folks. The boys on the mess deck, said, "Did you give them a flash, Yorkie?" But as luck had it, my back was towards them.

One day as some of the boys were returning aboard, they came across a stranger in a uniform that they had never seen before. He wasn't German and he had only a very slight knowledge of English. He managed to get across that he was very hungry, doing this mostly by sign, pointing to his mouth and to his stomach. His uniform was a green shade, nearly the so-called Lincoln green of Robin Hood. He was escorted off the dockside, down to the mess deck and was seated while someone went off and brewed the mess deck tea urn to the half way mark. A large tin of baked beans was opened and half a large loaf was cut up into thick slices and liberally coated with butter. This repast was placed in front of him as he literally drooled at the sight. I think he would have kissed us all if we had let him. His thanks were embarrassing; I'd never seen anyone starving like this man. He wolfed the food down and we just sat and watched him. His words were Russian sounding and he did claim that he was a Russian prisoner of the Germans and said that the Germans had shot some of his mates before we arrived. We made sure that he had his fill and then we packed him off before any officers arrived on the scene and kicked a stink up. We had after all, managed to get him aboard unbeknown to the officer of the day. I often wonder about this man and his eventual fate, for since the war, we have heard reports that the Soviets didn't treat returned prisoners of war very well, saying that they should have fought to the death and they looked on the prisoners as traitors.

After this, we sailed soon for Grangemouth, Scotland where we expected a shore leave would bring us a chance of some celebrating and maybe a pint or two of free beer. We need not have bothered. You might have thought that the war was still on. I reckon we could have been in a better place than this. The Scottish seemed to be tight fisted as was often said. Still, the war in Europe was over now and everyone hoped that the Pacific war with Japan wouldn't be long. I stayed with Venomous a few more months, just the usual exercises with the Fleet Air Arm and a few training patrols. I returned to barracks on July 7th and I got seven days' leave granted. I was in heaven back with my wife and daughter again looking as beautiful as ever.


Having signed on for 12 years 'Yorkie" was not discharged at the war's end but served on as summarised below:
"Along came the Palestinian troubles. I was in the flotilla leader
HMS S

aumares
. We patrolled and captured Jewish immigrants trying to get into Palestine. Then the
Saumares
was mined in the Corfu Channel again. I lost 32 of my shipmates; this occurred October 22, 1946. Our next in line 'Volage' lost 12 to another mine, as she tried to take us in tow, so my war wasn't really over. The Albanians laid the minefield. So much more I can say but I could write a book I guess."
Ex-Stoker Mechanic D/KX100469 Thomas Arthur Russell holds the following awards:
1939-45 Star, Atlantic Star, Africa Star, Burma Star, Italy Star, Defence Medal, Victory Medal, Naval General Service Medal, And Malta Medal.
Also the Greek War Medal and the Diploma Norwegian Scroll.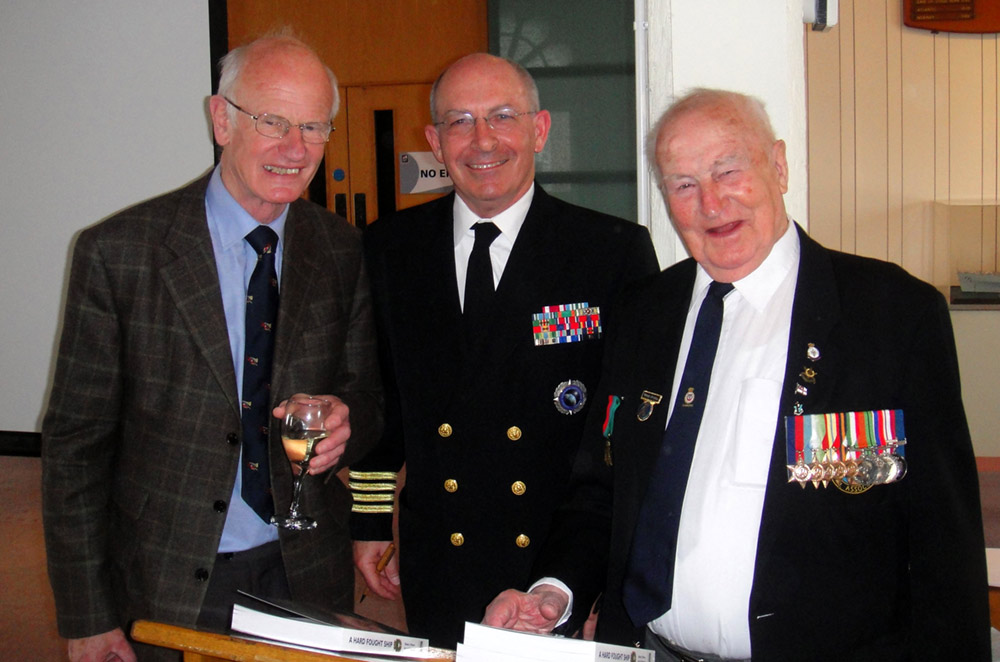 Bill Forster, son of Lt(E) William R Forster RNR, Capt John Rodgaard USN and Thomas 'Yorkie' Russell
Taken at the launch of the second edition of

A Hard Fought Ship

at the Royal Navy Museum, Portsmouth, April 2010
Courtesy of Geoffrey D. Forster

---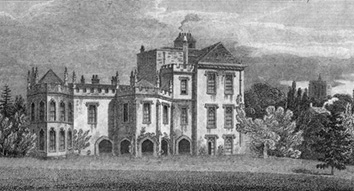 Holywell House Publishing
88 Holywell Hill, St Albans, Hertfordshire AL1 1DH, Britain
http://holywellhousepublishing.co.uk
Telephone: +44 1727 838595
contact online
---