The story of HMS Venomous
The

Hecla

Scrapbook
Can you provide more information?
Have you items for the Scrapbook?


These fragments have been sent to me over the years and I thought it worth creating a space for them on the web site about HMS Hecla in case anybody recognises a face or name and can provide further details. Get in touch if you can.

A Debt Repaid - as told by the Daily Mirror

Harry Langley and James Gow shared a Carley float - one died and the other lived.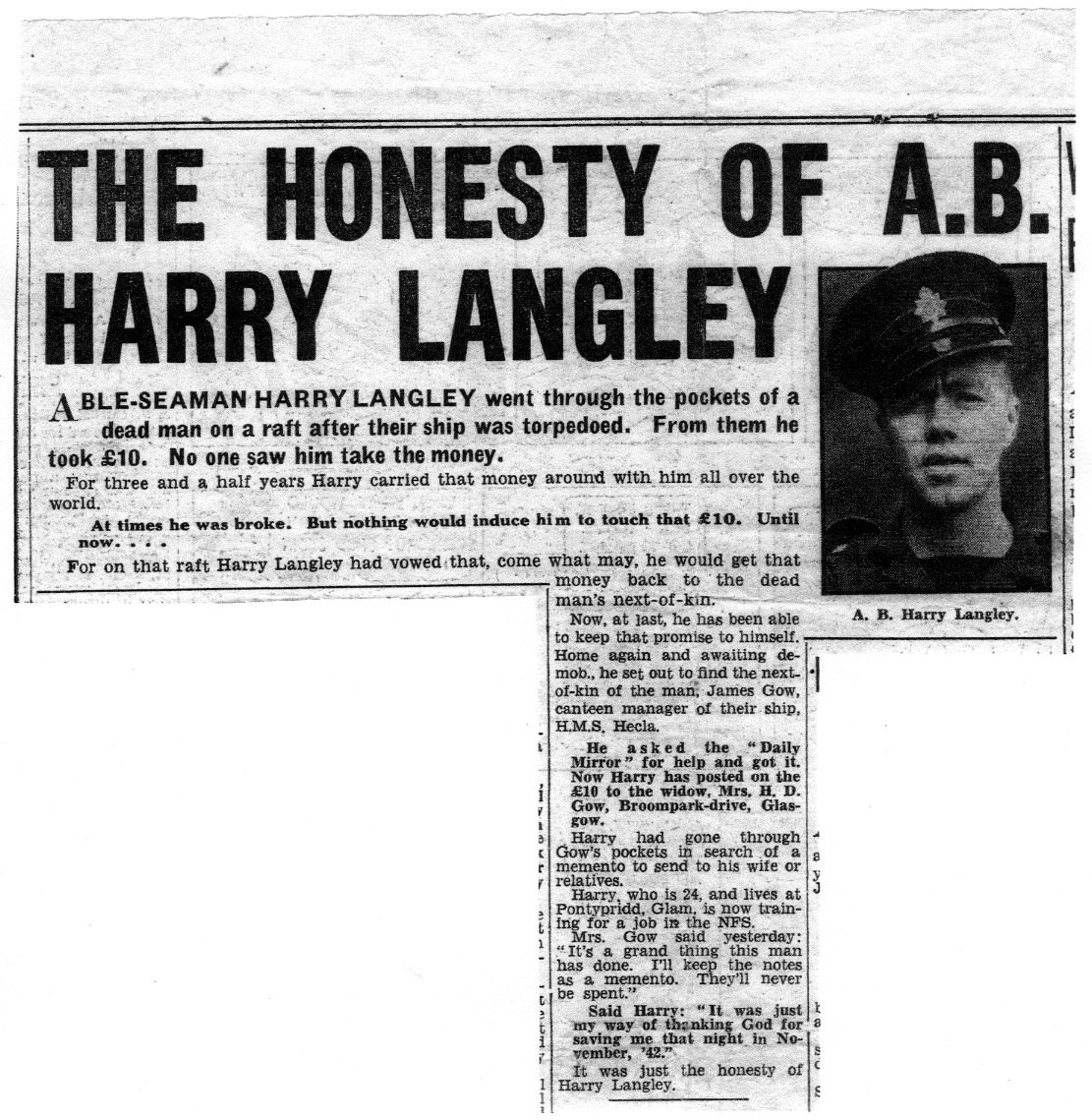 James Gow was 42 when he died and his name is recorded on the Chatham Naval Memorial. He and the four canteen assistants were civilians and consequently their dates of service were not recorded in the Pay and Victualing records from which the crew list for HMS Hecla on the 12 November 1942 was compiled:
George Hardingham, Canteen Assistant
Raymond L Lilley, 1st Canteen Assistant
Ronald R Holile, 2nd Canteen Assistant
Frank A. Smith, 3rd Canteen Assistant

James Gow would have been known to most ratings on Hecla and non of his four assistants are listed as "Missing Presumed Killed" and if still alive might be able to add something more to this story. I would like to hear from them and the families of AB William H. ("Harry") Langley (JX219770) and James Alexander Gow (CN/X2722), the Canteen Manager on HMS Hecla. This cutting from the Daily Mirror was sent to by David Holmes Golby, the son of Electrical Mechanic, Norman Holmes, one of those who died that night.

Daniel McLoughlin (1922-71)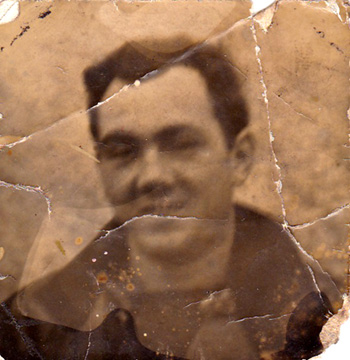 Jim McLoughlin is a retired chemical plant operator (ICI Runcorn) living in Ireland whose father was on HMS

Hecla:




"My father Daniel McLoughlin (JX212871), a single man at the time (He married my mum in 1944) and a lagger by trade from Liverpool, Lancashire, joined the Royal Navy in July 1940 aged 18. He was an able seaman when assigned to the Hecla for the total period of its rather short service life. He was aboard Hecla the night she was sunk, and the story passed down through the family was that he was aboard one ship when it was torpedoed, was rescued by a second ship, only to find himself swimming for his life again when that one too was torpedoed, so he may well have been one of the few men who managed to swim to the Marne just prior to her being torpedoed, but I don't know that for certain. He got his head burnt at some stage in the proceedings, I don't think it could have been too serious a burn, although his hair never ever recovered properly."


He spent the rest of his time in the Navy, after the sinking, training in one 'Combined Operations establishment' or another until finally being transferred to the army in August 1944. He found himself serving with the Black Watch Battalion based at Malir in NE India where he got his 'Airborne' wings. He won medals for boxing and rifle shooting in the Army, I don't know if he boxed for the Navy, although he had been involved in amateur boxing in Liverpool from a young boy. He was discharged from active wartime duties in July 1946, and relieved from reserve TA duties in June 1959.





He died aged 49 in March 1971 after several years of ill health which started after cutting a toe in work which did not heal properly (poor circulation to his feet after years of smoking) and eventually turned gangrenous. This led to a series of operations involving several amputations of his lower limbs

.


Jim would like to hear from anybody who served with his father on HMS Hecla or afterwards in Combined Operations or in India.


Do please get in touch - see contact details at the foot of this page.





Survivors with USN men on USS

Augusta

at Casablanca after rescue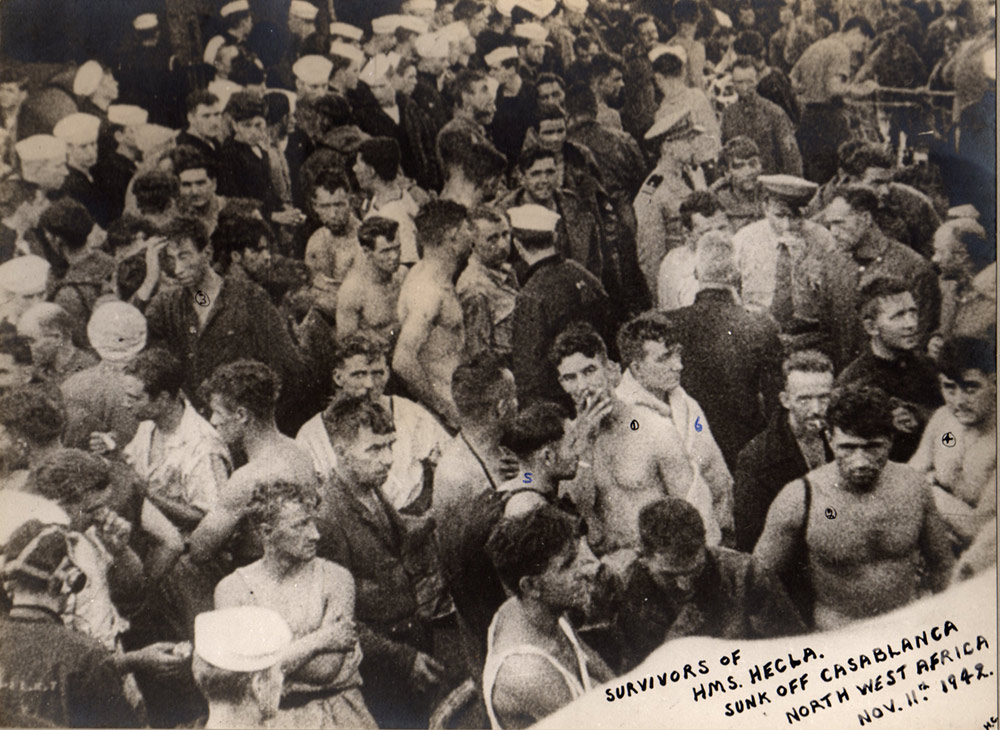 Does anybody know their stories? And whether they are alive today?
Harry Cliffe
identified some of the survivors in this photograph taken on USS
Augusta
at Casablanca on the 13 November 1942
The key: (1) Harry Cliffe AB; (2) Charlie Brierley Sto; (3) T J Chambers Sto; (4) R Hoile; (5) Harold Howells Sto; (6) G W Vaughan Sto; (7) Harry Wareing AB (Waring)
Courtesy of Marie Cliffe
The hero who helped save his shipmates but died hours later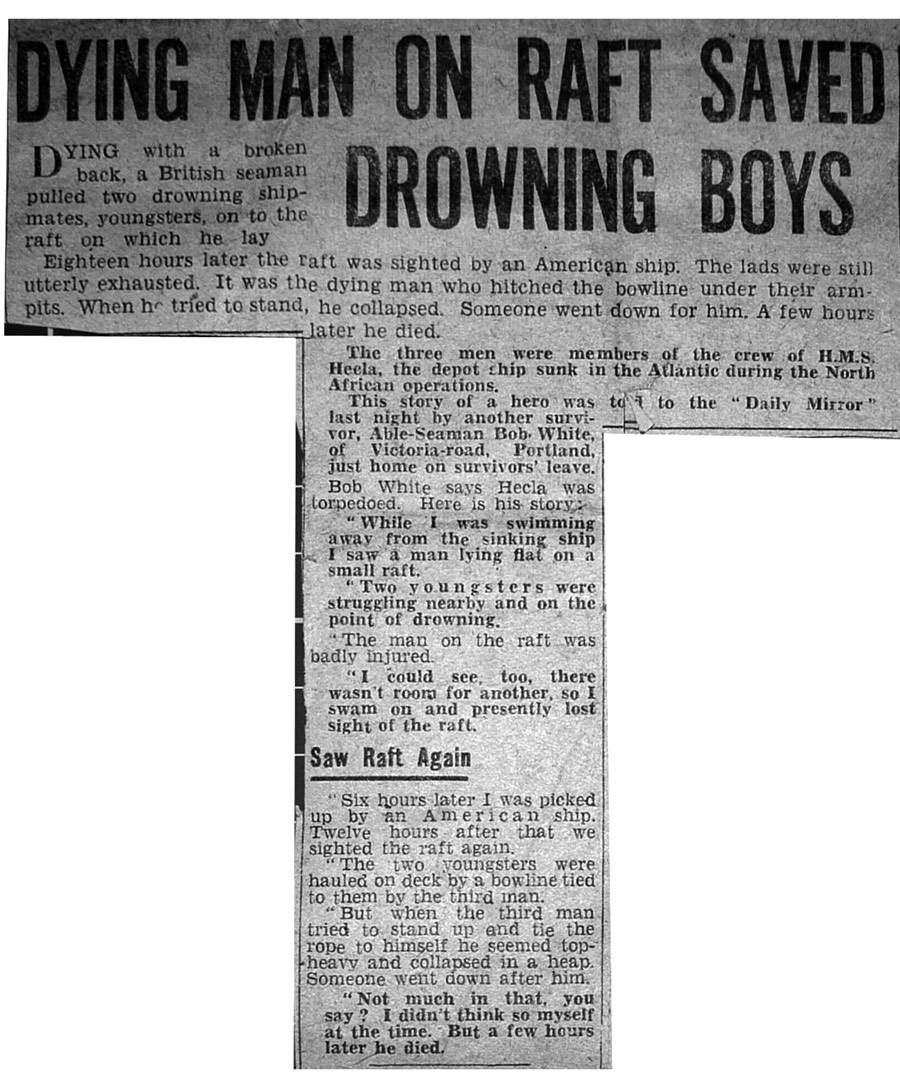 Did the

Daily Mirro

r get it wrong?


The survivors were picked up by HMS

Venomous

and kitted out with new clothes aboard USS

Augusta

in Casablanca the following day.
Is Bob White still alive? Do you know the "story behind the story" as reported here in the

Daily Mirror

?
Get in touch if you think you can
Phone: +44 1727-838595


Return to the "Home Page" for HMS Hecla
to find out more about its history and the stories of other survivors


---
Holywell House Publishing
88 Holywell Hill, St Albans, Hertfordshire AL1 1DH, Britain
http://holywellhousepublishing.co.uk
Telephone: +44 1727 838595
contact online
---