The story of HMS Venomous
Cdr Eric Erskine Campbell Tufnell RN (1888-1979)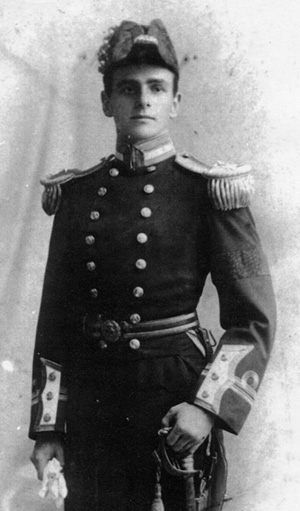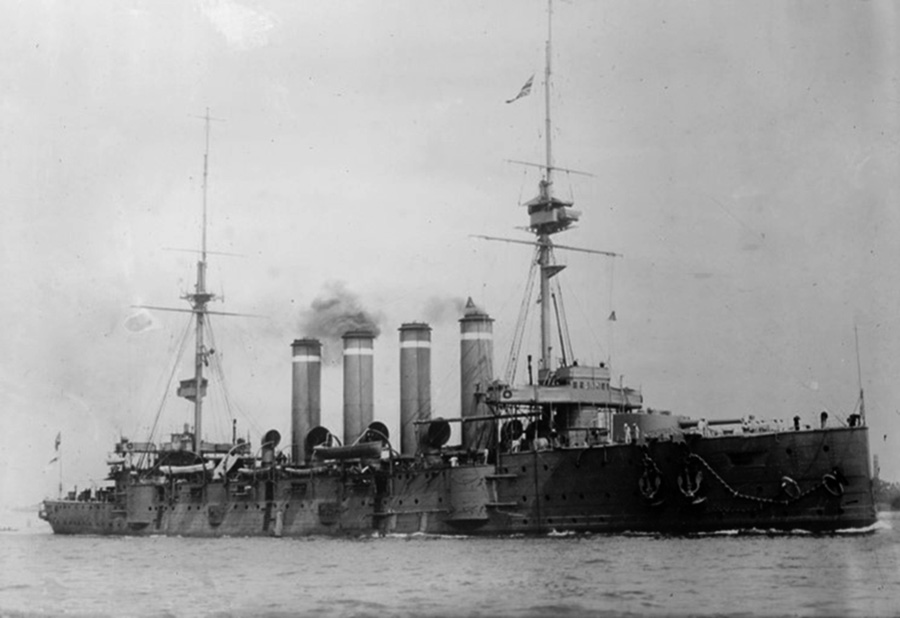 Eric Tufnell as a young man in dress uniform
The Cressy Class armoured cruiser HMS
Euryalus
on which he served from 1908-9
Courtesy of Michael W. Pocock and
www.maritimequest.com
© Copyright Reserved
Eric Tufnell was born in Bangalore, India, where his father, Major Robert Hutchison Campbell Tufnell (1852-1908), who fought in the Afghan wars was stationed. The family were sufficiently important to have their history recorded in Burke's Genealogical and Heraldic History of the Landed Gentry. His mother, May Anne Luard Tufnell (neť Smith), was born in Madras, the youngest daughter of Judge Alexander Smith. His uncle was Admiral Lionel Grant Tufnell RN (1857-1930). By the time of the 1901 Census the family had returned to England and were living at Lackham House, Spring Grove, in Isleworth, which was built around 1860 by Eric's grandfather, Thomas Robert Tufnell (1822-98), the Chairman of the Royal Mail Line Steam Packet Company. He named his new house after the Manor of Lackham on the River Avon between Chippenham and Laycock, where he was born in 1822. Thomas Tufnell had retired to fashionable Hove near Brighton leaving Lackham house empty for the family of his eldest son when he returned from India. In 1901 his grandson, twelve year old Eric Tufnell, was a boarder at Devonshire House, Bexhill, in East Sussex. With only one master and thirty three pupils ranging in age from eight to fifteen it is unlikely that he received a particularly good education. Eric's father was born in April 1852 at the North Kent Dockyard, Northfleet, near Gravesend on the Thames estuary, where many of the Royal Mail Line's ships were built at Pitchers Yard in Northfleet.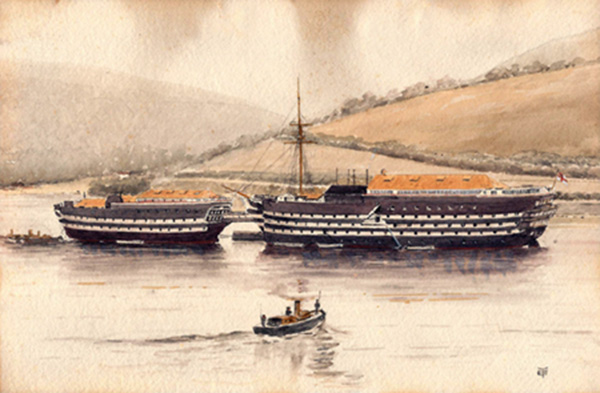 Eric's future was settled for him in 1903 when at the age of fifteen he became a cadet at HMS Britannia. This early painting (courtesy of Simon Kesley) signed with the superimposed ET he used at the time, shows HMS Hindustan (left) and HMS Britannia, the two hulks moored on the River Dart, where cadets were trained before the building of the Royal Navy College at Dartmouth in 1905.

He "gained 7 1/2 months time on passing out of Britannia" and in September 1904 joined the twin screw battleship, HMS Albion, shortly after it recommissioned at Wei-Hai-Wei on the China Station. It may not have been a coincidence that his uncle, Rear-Admiral Lionel Grant Tufnell RN was also on the China Station. He was appointed Midshipman on 30 November.

All midshipman were required to keep a logbook but Tufnell's leather bound Naval Log and Journal covering the years 1904-7 and illustrated with sketches, maps, sectional drawings of ships, photographs and newspaper cuttings is now in the Surrey County Archives. Its arrangement and entries were dictated by what was expected from a young "snotty" at the start of his career but the dull chronicle of routine aboard ship is enlivened by drawings, maps and sketches.

He had made a good start to his career but seems to have quickly become disillusioned with the profession his parents had chosen for him. When he left Albion in February 1905 his commanding officer reported that he was satisfactory but "lacked interest."

He spent a few weeks on HMS Tamar, the receiving hulk at Hong Kong which housed sailors before they were assigned to a ship, and on Torpedo Boat No 35, before joining the twin screwed armoured cruiser HMS Sutlej. On the 11 April 1905 while on passage from Hong Kong to Singapore Sutlej passed the Russian Baltic Fleet nearing the end of its 18,000 mile voyage to its decisive defeat by the Japanese fleet at Tsushima on the 27 May.The Straits Times reported that it greeted the Russian Fleet with a fifteen gun salute and nearly seventy years later when interviewed by the Sunday Telegraph Tufnell recalled that he:

"leaned on a stanchion and sketched the Russian ships as they passed. He sent the completed picture to the Daily Sketch and they paid him a guinea for it. He was 16. It was the first money he had ever earned from his hobby, and on a midshipman's pay of one and ninepence a day, a guinea was very good news" (Sunday Telegraph Magazine).

His journal describes a naval visit to Japan, Britain's friend (but future enemy), including photographs of the Imperial Naval Review at Yokohama in October, but when he left Sutlej at Portsmouth in May 1906 after a year's service on the China Station his CO merely noted that he "was good socially".

HMS Sutlej (left) and HMS Montagu "on the rocks" (right)
Courtesy of Gordon Tufnell
© Copyright Reserved
After three weeks leave he joined a three year old battleship, HMS

Montagu,

at Portland on the 20 May 1906, and noted in his log that on the 22 May "we dressed ship and fired a salute of 21 guns for the Royal Yacht which had arrived the day before with the

Berwick

in escort". Shortly afterwards he noted that ""Owing to the accident we were unable to write up our journals between the 25th and the 31st." This "accident" was a major disaster for the Royal Navy which ended the career of the Captain of the

Montagu

. I shall let Tufnell describe events:


To test the efficiency of the wireless instrument the fleet were distributed along the coast, the
Montagu
leaving Portland early on Monday morning for Lundy Is. - how literally we little thought at the time. All went well for the first two days but at about 10 past 2 on Wednesday morning I was waken up by a series of tremendous bumps & crashes & someone shouting 'Everyone one up from below'. Hastily donning a monkey jacket and a pair of trousers and rushed on deck to discover fog like soup and a line of breakers showing dimly on the starboard bow and the men on the Quarterdeck. What had happened was this - We were steaming at 6 knots N 58E and at 1.30 soundings gave 30 fms sand. At 2 am fresh soundings gave 19 fms but hardly had they commenced afresh when breakers were heard on the Starboard bow; the helm was instantly put hard a starboard and the engines rung down to 'full speed astern' but before she had stopped we had grounded by the bow and the stern crashed onto the rocks as she swung round. The boats were hoisted out with great difficulty owing to the sea running but by 2.45 they were all out and employed laying out a bower anchor. Both propellors had gone at the first concussion so we were absolutely helpless. We fired guns and as soon as it was light hoisted our ensign reversed and International NC. A tug was sighted about 5 am and Smith took a telegram to her for the C in C. The foremost stokehold and Port Engine Room rapidly filled & we had to let the water into the Starboard one to keep the ship trimmed. In a few hours time more boats were sighted and by the time the
Duncan
and
Aeolus
arrived at about 4.30 there was a small fleet of trawlers etc. At 8.30 we sent our chests and hammocks over to the
Duncan
and followed them ourselves about 9 pm. We had a very good dinner on arrival but we were all jolly glad to get turned in. At about 8.15 next morning the Flagship arrived with the
Dido
and the same evening having spent the day in the
Montagu
we turned over to the latter ship.

When HMS

Montagu

ran aground on Lundy in the Bristol Channel on the 30 May 1906 Captain T.S.B. Adair thought "

Montagu

was stuck at Hartland Point on the mainland of England, sent a party on a rowing boat to the north, instructing them to contact the Hartland Point Lighthouse. They instead got to the North light on Lundy Island, where officers asked the lighthouse keeper to inform the British Admiralty that they were aground south of Hartland Point. An argument ensued with the keeper until he pointed out he knew what lighthouse he kept" (Wikipedia).

Tufnell continued his account in his Log:


"On board the
Montagu
we hoisted out the four upper-deck 6" guns with all spare parts and our starboard nets into a lighter which we attempted to tow off with two picket boats. On getting clear of the ship the bow-ropes broke and the lighter drifted through the rocks and with 5 holes in her bottom she foundered about 1/2 mile down the coast losing about £100,000 of gear.
Divers went down under control of the Salvage people in the afternoon and discovered a hole 90 ft long amidships and numerous smaller ones.
We also got our first newspaper accounts of the accident the only accurate one being that of the
Daily Telegraph.
"

Tufnell and the rest of the crew spent the next nine weeks helping in the efforts to salvage the

Montagu

but all to no avail. The Cammels, designed to lift the ship free when inflated at low tide, broke loose, sank and had themselves to be salvaged. On the 9 August "the last day at Lundy, the hands went over at 5.15 and by the time they left there was not much left, either in the way of Salvage gear or curios." Captain T.S.B. Adair and his navigating officer were dismissed the service and all efforts at salvage having failed it was broken up where it lay for scrap. Tufnell received a fairly positive report. Under the heading "special knowledge and acquirements" French and drawing were noted and he was described as "a smart young officer."

On the 3 September 1906 he "Joined HMS Ocean at Portland in company with the rest of the Montagu's except those kept back for the Court Martial." Service in the Channel on the battleship HMS Ocean was interrupted during its three month refit at Chatham from January to March 1907 by time on HMS Hannibal followed by manoeuvres on the armoured cruiser HMS Hogue. In January 1908 he was an acting Sub Lieutenant studying Seamnaship, Navigation, General Subjects, Gunnery and Torpedo at Portsmouth for nine months before being posted on the 29 September as a Sub Lt Eric C.E. Tufnell RN to the 12,000 ton twin screwed armoured cruiser, HMS Euryalus. Three days after Christmas a terrible earthquake at Messina in the toe of Italy killed at least 100,000 in the city and the surrounding region of Regio Calabria. HMS Euryalus and seven other warships of the Royal Navy plus merchant ships were among the ships of many nations which assembled to help rescue survivors. Tufnell received one of the commemorative medals awarded by the Italian government but when he left Euryalus in May 1909 the assessment of his CO was damming, "good judgment but takes little interest in his profession."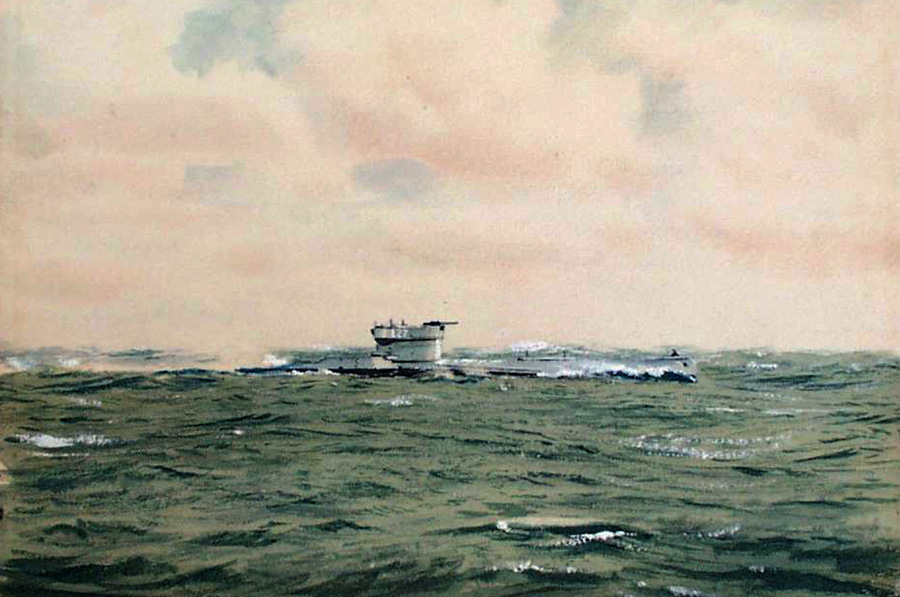 Submarine L27 displaced 1,071 long tons when submerged and was built at Barrow in Furness in 1918
This painting by Eric Tufnell (Accession No. B13/04/68a) is reproduced courtesy of the RN Submarine Museum at Gosport
© Estate of Eric Erskine Campbell Tufnell

This must have led to the decision to move him from the big ships of the Royal Navy to service in submarines. This fresh start began with six months instruction at the submarine depot ship, HMS Mercury, at Portsmouth before he was posted in November 1909 to the submarine, HMS C7, attached to the submarine depot ship, HMS Thames, at Harwich. He served on HMS C7 for nearly three years and was promoted to Lieutenant in October 1910 before being sent to HMS Bonaventure for two months instruction prior to his first command. In February 1913 he was given command of the submarine HMS A8 which was attached to the depot ship HMS Forth.This may have seemed an inauspicious appointment. Not only was A8 a member of the first class of British designed submarines but it sank in 1905 while leaving harbour at Plymouth with the hatch open, standard practice at the time. Fifteen of its crew were lost with only the four on the conning tower platform being thrown clear and saved. It was salvaged and brought back into service but could not have been a popular posting.

In October 1913 he took passage to Gibraltar to take command of B8 working from the submarine depot ship HMS Rapid. On the 30 October 1914 he married Sigrid Dagmar Wolseley but would have known that a lieutenant in the navy was in no position to support a family.

One year later in October 1915 B8 was transferred to HMS Adamant (1911) as part of the 8th Submarine Flotilla at Mudros for special duties. Mudros, was a small port on the Greek island of Lemnos, within thirty miles of the strategically important Dardanelles straits. Allied naval forces had failed to seize control of the Dardanelles in February and the Turkish forces contained the bloody land assault at Gallipoli in August. By October inertia had set in and evacuation of the troops was being seriously considered and the "special operations" for which B8 was required may have been related to this.

Submarines were small, cramped and their range was limited and they spent a lot of time between patrols berthed alongside their depot ships. Eric Tufnell was commissioned to paint all four Royal Navy ships named Adamant, possibly by former officers who served on the submarine depot ship or its submarines.

On left: Lt Eric Tufnell RN with his young wife, "Siggie", on holiday in Co. Donegal, Ireland, in 1916

O
n right: With fellow officers on submarine depot ship, HMS
Rapid
, at Gibraltar in 1913-4; from left, Gray, King, Holbrook and Tufnell
Lt Gordon Evelyn Elliot Gray RN died on HMS
Good Hope
on 1 November 1914 at the Battle of Coronel off the coast of central Chile.
Lt Cdr Norman Douglas Holbrook RN was awarded the VC for sinking a Turkish battleship in the Sea of Marmara in December 1914.
Courtesy of Royal Navy Submarine Museum, Gosport
© Copyright Reserved
In June 1916 he was appointed CO of D4 which had HMS
Vulcan
as its depot ship on the Firth of Forth and was part of the 3rd Submarine Flotilla. He also became a father when his daughter Peggy was born. He was described by a senior officer as "having an artistic temperament but does not appear to mind discomfort", a judgment which reveals as much about naval attitudes at the time as it does about Tufnell. Despite having left the Mediterranean he was placed on the list of interpreters in Italian and, surely not a coincidence, was made a Cavalier of the Italian Order of St Maurice and Lazarus. In February 1917 Tufnell moved D4 to HMS
Hebe
(2nd Submarine Flotilla) and a month later to HMS
Platypus
. All three submarine depot ships were on the Firth of Forth and it is difficult to understand the reason for these moves. The move to
Platypus
delayed repairs and took D4 out of action for two months which incurred the displeasure of senior officers. He was accused of being inefficient, relieved of his command and discharged to General Service on 21 June 1917.
It must have looked as if his career was at an end but once again a change of direction offered an opportunity for a fresh start. He was posted to HMS Victory at Portsmouth for "special services in motor launches of hydrophonic flotilla." Instead of commanding a submarine he would in future be working to counter the threat of enemy submarines. There were still some doubt as to his commitment as witnessed by this note on his service record in 1918: "Not yet settled down to any particular form of work. Appears to prefer changing from one thing to another too frequently."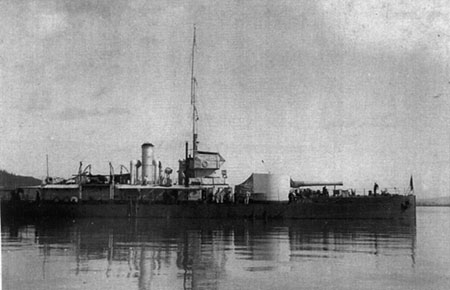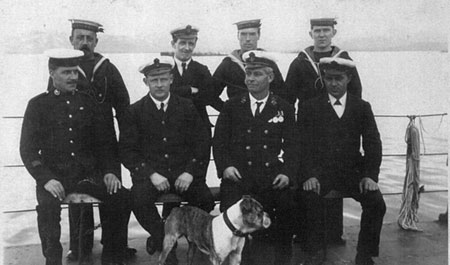 M18 Monitor with 9.2 inch Gun (left) and its Petty Officers - with the ship's mascot
Reproduced courtesy of Gordon Tufnell
© Copyright Reserved

Despite this in June 1918 he was posted to HMS Pekin, the shore base at Grimsby, and in September promoted to Ltd Cdr and given command of the James Dinton, a new 275 ton Clyde built naval trawler. It was sent to the Black Sea as part of a fleet of British warships assisting the White Russian army in their fight against the Red Russians, the Bolsheviks. It was a strange war in which Red aircraft dropped propaganda leaflets asking "Why do you fire on us? We are working class men and peasants like you" and General Borovsky, the White Russian Commander, sent a printed letter to every sailor who served with the Royal Navy during the campaign thanking them for their assistance. In December 1918 he was given command of M18, a shore bombardment Monitor with a huge 9.2 inch Gun which served in the Baltic from April to June 1919. Tufnell was "mentioned in Despatches" (MID) for "services to Russia" in the 12 December issue of the London Gazette and a year later, to the embarrassment of the Foreign Office, was awarded the Order of St Stanislaus (2nd Class, with swords) by the defeated White Russian Army (the announcement had to be censored from the London Gazette). His ships were getting smaller but his career seemed to be back on track. And he had a growing family to support, his son Dennis C Tufnell, always known as "Cuffy" (his father was "Tuffy") was born at Portsmouth on the 17 September 1918.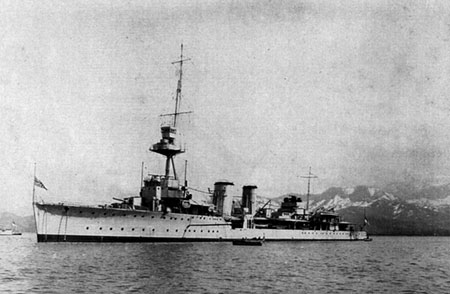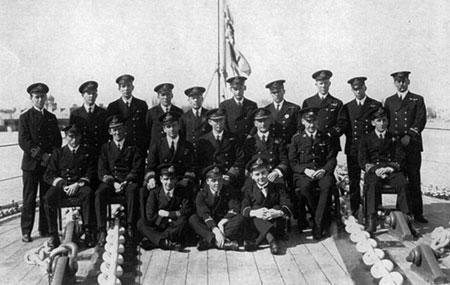 HMS Caradoc at Batum on the Black Sea (left) and its crew (right) in 1920
Lt Cdr Eric C.E. Tufnell RN is third from left seated
Reproduced courtesy of Gordon Tufnell
© Copyright reserved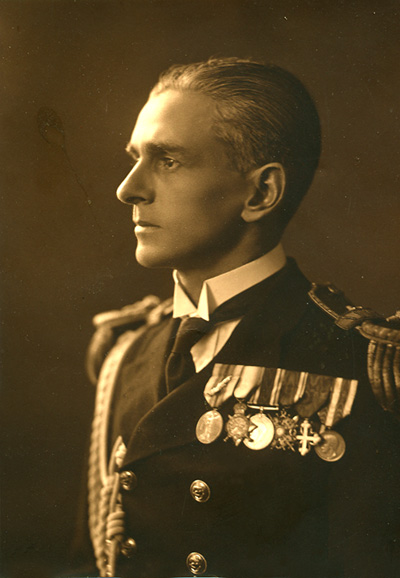 He left M18 in September 1919 to take command of HMS Tuberose, a Flower Class sloop, but confusingly also the name adopted by the Navy for the requisitioned RMS Mauretania when used as a troop carrier. He was not given another post after leaving Tuberose but after six months "unemployment time" at HMS Victory was put in charge of a draft to Hong Kong. He was on HMS Caradoc at Batum on Black Sea coast of Georgia in 1920 when it was governed by Britain but a telegram from the Commodore Hong Kong on the 10 September 1920 reported "Returning home, 2.9.20 adverse report from CO Caradoc." No reason was given but the following action was noted: "Relieved. Officer informed. He will be placed on half pay" (Caradoc's log may explain why he received the "adverse report"). He was given another appointment at Hong Kong but on the 5 March 1922 he arrived in Britain as a passenger on the PO liner Delta. How would he recover from this latest setback?

His career appeared to 'mark time' for the next two years with a six month posting to the depot ship HMS Blenheim at Sheerness (and as acting interpreter in Italian) followed by courses in Signals (HMS Victory) and Gunnery (HMS Excellent) and a posting to the aircraft carrier HMS Argus while training under the RAF at Lee-on-Solent as an Observer where he seemed to have done rather well, "has a sound knowledge of observer subjects."

This fresh start in a new field as an Observer was interrupted in April 1925 by a year long posting to the British Naval Mission in Greece. By the mid twenties Britain, France, Italy and the United States were all keen to increase their influence over minor powers by sending naval missions to any state which would accept one. These not only increased a country's prestige but might induce them to buy their warships. Admiral Tufnell, Naval Adviser to the Greek Government from 1911-3 and described as the "Father of the Greek Navy" may have helped secure this appointment where his nephew's social skills might serve his nation better than his naval skills. It must have been a pleasant posting and his wife and two small children accompanied him there. His success is evidenced by the Greek government making him an Officer of the Order of the Redeemer. He returned to six months unemployment time at HMS Victory, by now a familiar and no doubt depressing experience.

In December 1926 he was sent as "acting Observer" to HMS Furious with the Atlantic Fleet and in April 1927 to Farnborough for a course at the RAF School of Photography: "Result of a photographic course at RAF School of Photography. Did not complete course, but did very well." The outcome, a transfer to the RAF: "Exceptional as Observer for photographic duties. Commenced duties with RAF, 1 June 1927." He was promoted to Cdr and retired from the Royal Navy at his own request on the 30 December 1929.

It would appear that the Royal Navy had nothing further to offer him and although his promotion to Commander would give him a higher pension he had a wife and three children to support. His service record ends with a note on the 21 December 1929, "Particulars of service to Colonial Office", but it appears that he did not join the colonial service and returned to Britain with only his small service pension and had to depend on his talent as a marine artist to top up his pension. The Saville Row naval outfitters, Gieves and Hawkes, helped secure naval officers as customers. They commissioned him to paint meticulously accurate water colours of the ships on which they served. He lived near Portsmouth, was active in the local dramatic society - and painted. His charges were modest and his output large.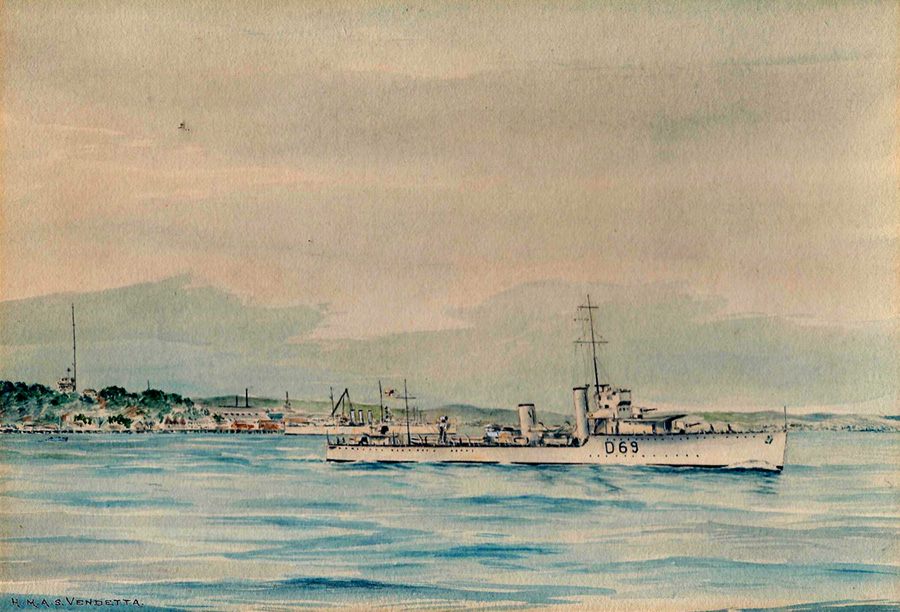 HMS Vendetta (D69), a V & W Class destroyer, off Garden Island navy base, Sydney
HMS Vendetta was commissioned into the Australian Navy on the 11 October 1933
Reproduced courtesy of Simon Kesley, the photographer and current owner
© Estate of Eric Erskine Campbell Tufnell
When war seemed imminent in the Autumn of 1938 he offered his services to the Royal Navy and on the 12 September, two weeks before the Munich Agreement brought the promise of "peace in our time", was posted to HMS President in London and sent on a meteorological training course. In December he was posted as a Single Observer Forecasting Officer on the staff of the Commander in Chief, East Indies Station, in Colombo, Ceylon, a solitary job involving "just me and a barometer". He soon got himself invited to give a series of fifteen talks for the Colombo Broadcasting Station about anything to do with ships which were published in 1941 by the Ceylon Branch of the Navy League as "Spun Yarn". He also met a twenty two year old nurse, Vera Jane Clark, married to a fellow officer. Vera had married to escape an unhappy home and despite Tufnell being thirty years older they fell in love, she became pregnant and returned to England to have their child.

In July 1942 he returned to Britain to take up an appointment as Executive Officer at HMS Minos, the shore base in Lowestoft responsible for Harbour Defence, small escort and other craft. The east coast convoys shuttled back and forth between Rosyth and the Thames estuary and the small boats at Lowestoft helped repel attacks by marauding E-boats on the defenceless merchant ships. In March 1943 he was moved to nearby HMS Myladon, a combined operations based in a disused silk works on the River Waveney. His next appointment seems more likely to have made good use of his skill as a communicator. He was posted to HMS President in London on the Staff of the Chief of Naval Information at the Ministry of Information with responsibility for publicity, a role which involved working with the press and radio.

Lt Cdr Angus A. Mackenzie RNR was also stationed at HMS President. Mackenzie was "No 1" to John McBeath on HMS Venomous at Boulogne and Dunkirk and went on to command HMS Vimiera, Liddlesdale and Undaunted. This could have been where they met which would explain why Mackenzie commissioned Tufnell to paint four of the five ships on which he had served, the exception being HMS Vimiera, the loss of which along with most of its crew haunted him for the rest of his life. Tufnell remained at HMS President until he left the Royal Navy for the second time some months after the war ended.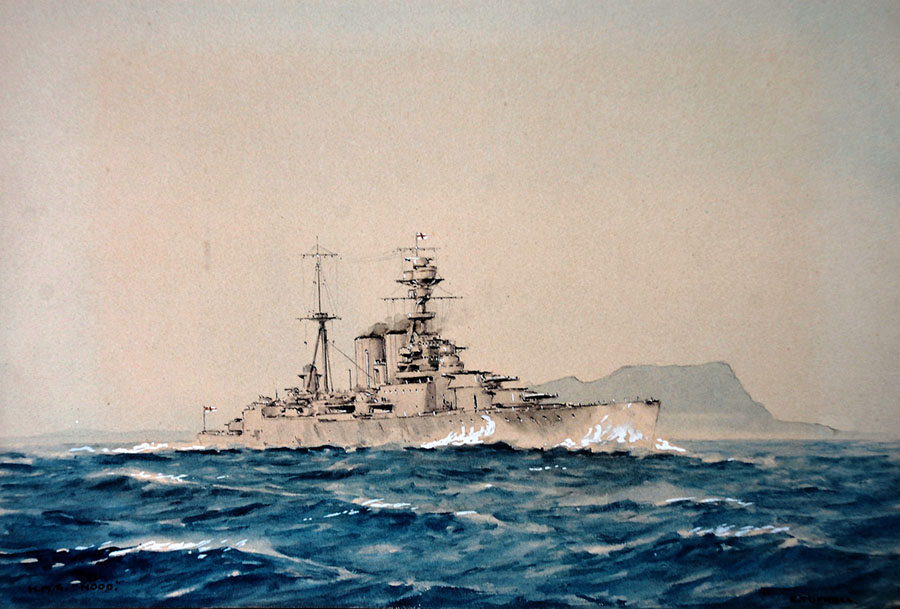 HMS
Hood
with Gibraltar in the background
Angus Mackenzie
commissioned this painting by the marine artist, Eric Tufnell, after the war (water colour, 11" x 8")
Reproduced courtesy of Sheena Mackenzie, the photographer and current owner
©
Estate of Eric Erskine Campbell Tufnell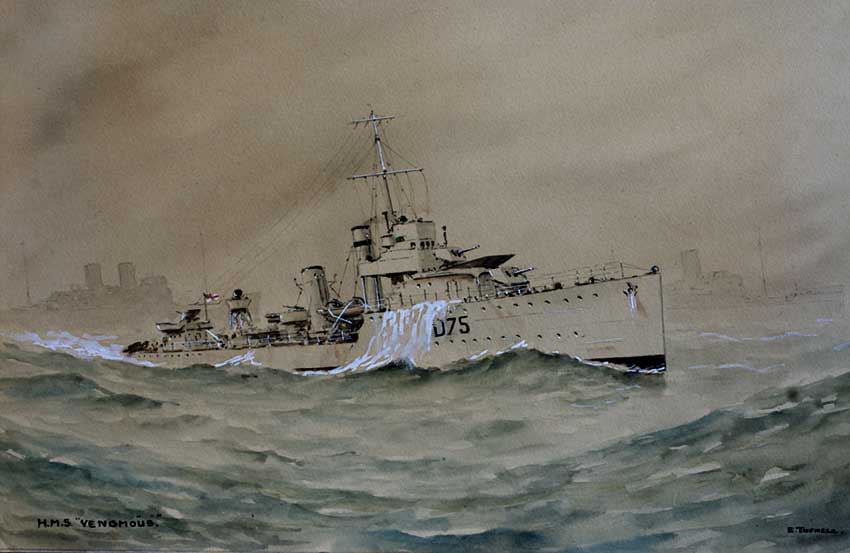 HMS
Venomous
as an Atlantic escort
Angus Mackenzie
commissioned this painting by the marine artist, Eric Tufnell, after the war (water colour, 11" x 8")
Reproduced courtesy of Sheena Mackenzie, the photographer and current owner
©
Estate of Eric Erskine Campbell Tufnell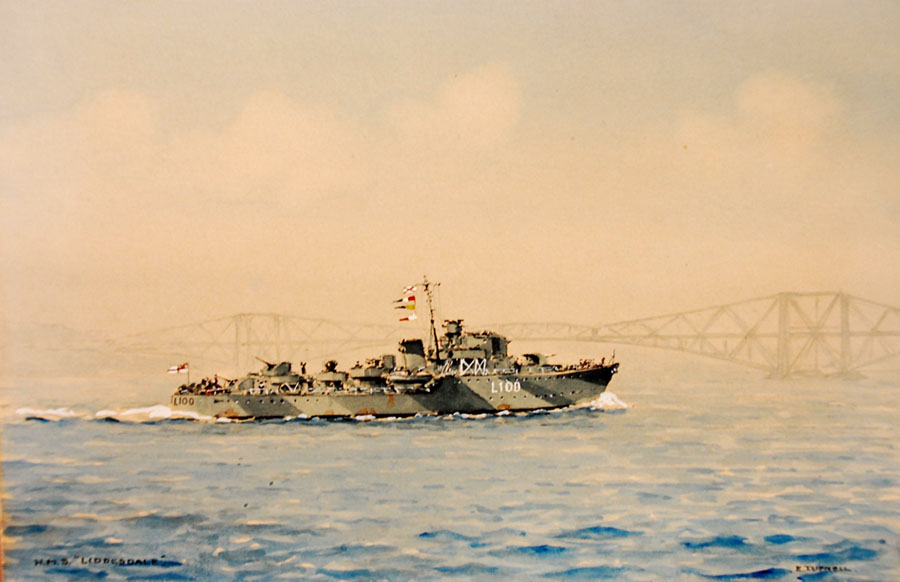 HMS
Liddesdale
on the Firth of Forth
Angus Mackenzie
commissioned this painting by the marine artist, Eric Tufnell, after the war (water colour, 11" x 8")
Reproduced courtesy of Sheena Mackenzie, the photographer and current owner
©
Estate of Eric Erskine Campbell Tufnell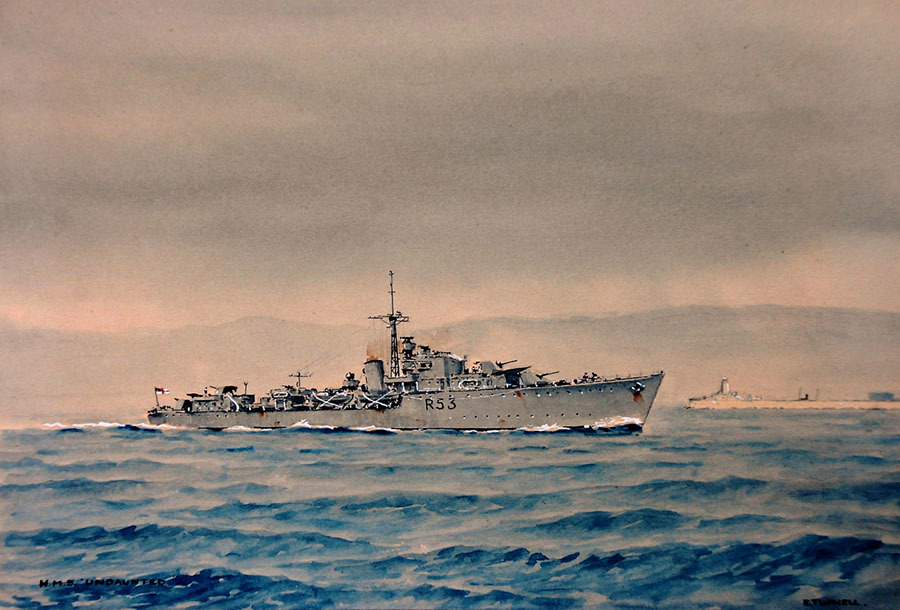 HMS
Undaunted
in the Mediterranean
Angus Mackenzie
commissioned this painting by the marine artist, Eric Tufnell, after the war (water colour, 11" x 8")
Reproduced courtesy of Sheena Mackenzie, the photographer and current owner
©
Estate of Eric Erskine Campbell Tufnell

Eric Tufnell was divorced in 1946 and married, Vera Jane Shapland, the young nurse he had met in Colombo (she was one year older than his daughter) at Hendon in September and they set up home together at Farnham, Surrey, where they had two children, Lynne and Alan Tufnell.

The Parker Gallery in Albermarle Street, London, handled sales of his paintings, "they weren't very keen on the idea at first, I don't think they thought it was quite the thing, but they were very polite about it". When interviewed by the

Sunday Telegrap

h in the 1970s Mr Newbury of the Parker Gallery said he charged £10 a picture and "we had to use a lot of persuasion before 'Tuffy' would allow us to put it up to £15". They developed an extensive trade in his paintings of clippers and whaling ships in the United States and the Whaling Museum at Cold Spring Harbour. New York, and the American Clipper Museum have many of them in their collections.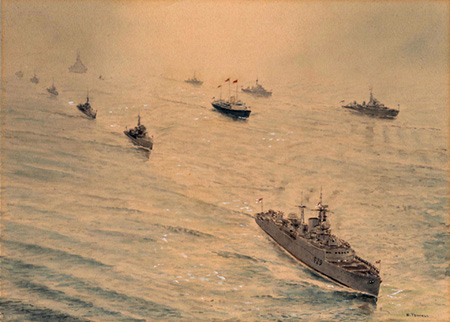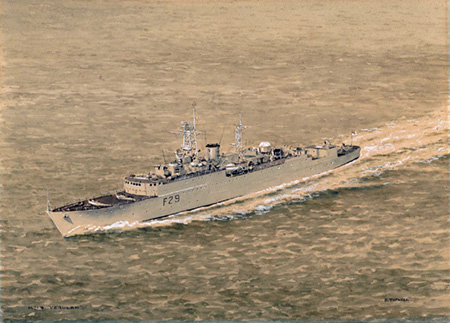 HMS

Verulam

(F29)
leading the escorts for the Royal Yacht,
Britannia
, circa 1953-4
These two painting were commissioned by
Cdr Edward Maurice Usherwood RN
, the CO of HMS
Verulam
at that time
Reproduced courtesy of Simon Kesley, the photographer and current owner
©
Estate of Eric Erskine Campbell Tufnell

This fine painting of HMS

Anson

was bought by Mike Dobson when he was a trainee officer in the submarine HMS

Onslaught

based at HMS

Dolphin

in Gosport. In November 1979 they were carrying out sonar tests in Scottish waters and spent a weekend at the Clyde Submarine Base, Faslane, and:


"I got a lift into Helensburgh with the intention of strolling around the town. I walked up Sinclair Street, the road running steeply up the hill that divided Helensburgh into west (posh) and east (not posh) sides of the town. There was a second hand shop along there. Not an antique shop, but a junk shop. Hanging on the side of the window was a picture of a battleship that caught my eye. "That's good!" I thought. I went in and paid the asking price of £2 (equivalent today to £10.20 according to the Bank of England inflation calculator)."

Yes, he got a bargain, a fine painting by a skillfull artist who knew his subject well from long service in the Navy but charged very little for his work and produced large numbers of paintings which can still be acquired for quite modest prices today despite hanging in museums and archives in Britain and the United States.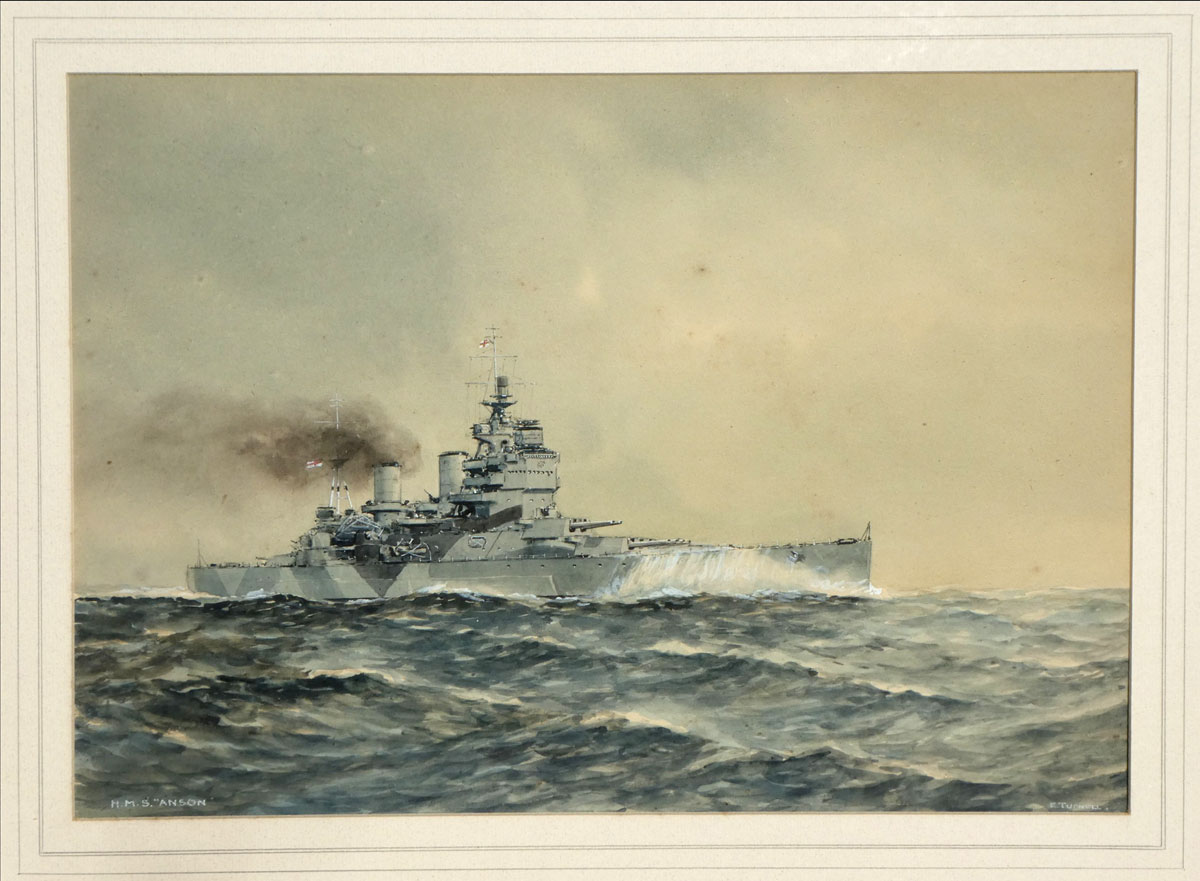 The Battleship, HMS

Anson

(1942), is the property of Mike Dobson
,
bought it while serving in submarines
Who commissioned the painting and who will be its next owner?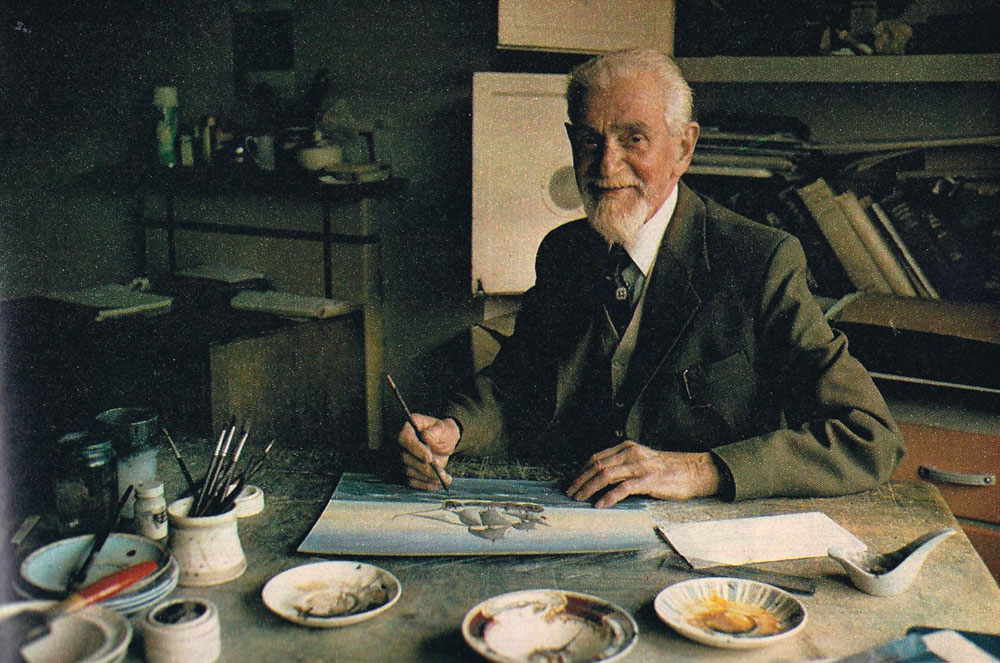 Eric Tufnell at work in his studio in the 1970s
©Copyright Reserved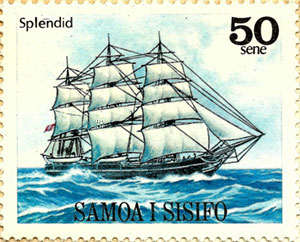 A few months before his death the Pacific island of Samoa issued a stamp with his painting of a three masted sailing ship, the

Splendid

.

Eric Tufnell had been married to his second wife for thirty-three years when he died aged 91 on the 18 July 1979. His widow married a clergyman, lived another thirty years and saw out her third husband before she died in July 2010 aged 93.

He is a highly regarded marine artists whose paintings can be found in galleries and private collections around the world but since he was so prolific they can still be bought at quite affordable prices.




References
Commander E.E.C. Tufnell Naval Log and Journal, 1904-7. Surrey History Centre Archive Ref. 1226
The Art of Naval Contemplation, an interview with Commander Eric Tufnell by Diana Winsor

. Sunday Telegraph Supplement,

29 November 1974
Service Record, National Archives Ref. ADM 196/5

1;

downloadable from the NA site (caution: part record only - balance available from TNT, £30 charge).


The paintings of Eric E.C. Tufnell are
©
Lynne Dodson

Where paintings and photographs are not credited their present ownership and copyright is not known.
If you can assist please contact the publisher
---
Holywell House Publishing
88 Holywell Hill, St Albans, Hertfordshire AL1 1DH, Britain
http://holywellhousepublishing.co.uk
Telephone: +44 1727 838595
contact online
---