The story of HMS Venomous
Cdr Eric Erskine Campbell Tufnell (1888-1979)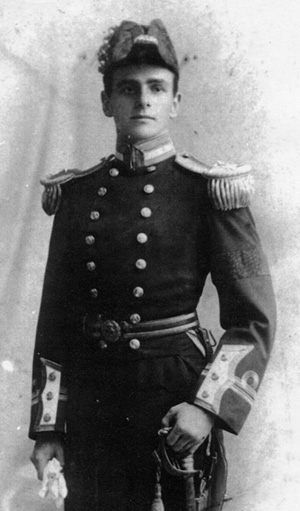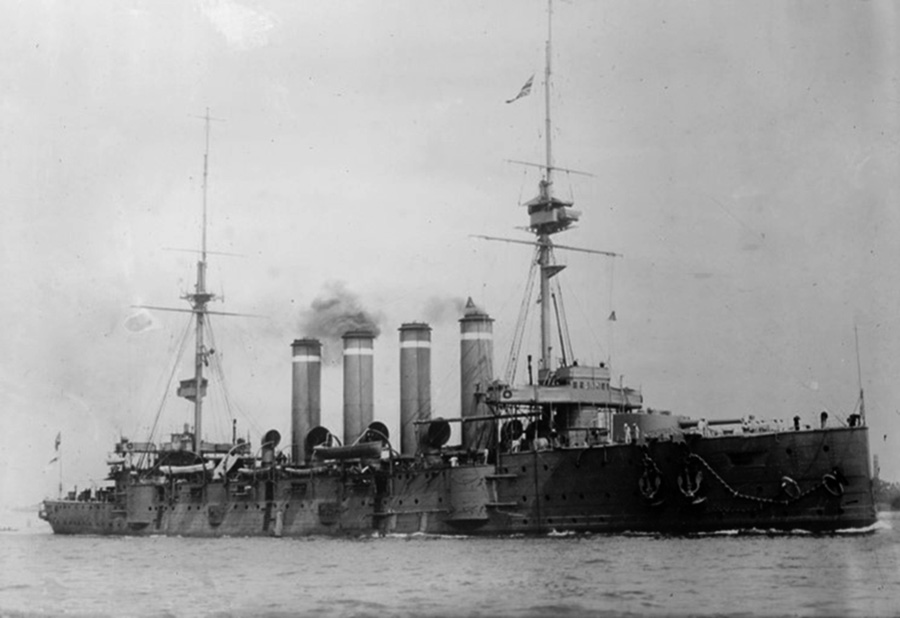 Eric Tufnell as a young man in dress uniform
The Cressy Class armoured cruiser HMS
Euryalus
on which he served from 1908-9
Courtesy of Michael W. Pocock and
www.maritimequest.com
Eric Tufnell was born in Bangalore, India, where his father, Major Robert Hutchison Campbell Tufnell, was stationed. By the time of the 1901 Census his father had returned to England and was living in Isleworth and his son was a twelve year old boarder at Devonshire House, Bexhill, in East Sussex. With only one master and thirty three pupils ranging in age from eight to fifteen it is unlikely that he received a particularly good education.

His future was settled for him in 1903 when at the age of fifteen he became a cadet at HMS Britannia, the Royal Navy College at Dartmouth. He "gained 7 1/2 months time on passing out of Britannia" and in September 1904 joined the battleship, HMS Albion, on the China Station and was appointed Midshipman on the 30 November. He had made a good start to his career but seems to have quickly become disillusioned with the profession his parents had chosen for him. When he left Albion in May 1905 his commanding officer reported that he was satisfactory but "lacked interest." For the next five years he served on the 'big ships' of the Royal Navy but the comments by his commanding officers on his service record continued to be mixed. After a year's service on the China Station in the cruiser HMS Sutlej his CO merely noted that he "was good socially" but when left the battleship HMS Montagu in September 1906 after five months service in the English Channel the comments were rather more positive. Under the heading "special knowledge and acquirements" French and drawing were noted and he was described as "a smart young officer." Service in the battleship HMS Ocean and the armoured cruiser HMS Hogue was followed by service HMS Euryalus.

On the 28 December 1908 at least 100,000 were killed in Messina and the surrounding region of Regio Calabria at the toe of Italy when it was struck by a terrible earthquake. HMS Euryalus and seven other warships of the Royal Navy plus merchant ships were among the ships of many nations which assembled to help rescue survivors. Tufnell received one of the commemorative medals awarded by the Italian government but when he left Euryalus in May 1909 the assessment of his CO was damming, "good judgment but takes little interest in his profession."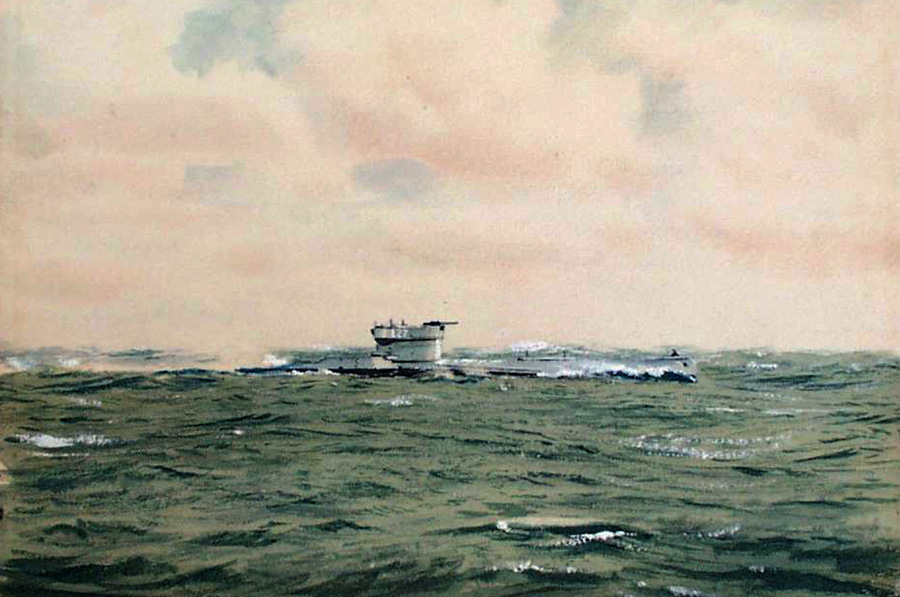 Submarine L27 displaced 1,071 long tons when submerged and was built at Barrow in Furness in 1918
This painting by Eric Tufnell (Accession No. B13/04/68a) is reproduced courtesy of the RN Submarine Museum at Gosport

This must have led to the decision to move him from the big ships of the Royal Navy to service in submarines. This fresh start began with six months instruction at the submarine depot ship, HMS Mercury, before he was posted in November 1909 to the submarine, HMS C7, attached to the submarine depot ship, HMS Thames, at Harwich. He served on HMS C7 for nearly three years and was promoted to Lieutenant in October 1910 before being sent to HMS Bonaventure for two months instruction prior to his first command. In February 1913 he was given command of the submarine HMS A8 which was attached to the depot ship HMS Forth.This may have seemed an inauspicious appointment. Not only was A8 a member of the first class of British designed submarines but it sank in 1905 while leaving harbour at Plymouth with the hatch open, standard practice at the time. Fifteen of its crew were lost with only the four on the conning tower platform being thrown clear and saved. It was salvaged and brought back into service but could not have been a popular posting.

In October 1913 he took passage on the M Class destroyer HMS Rapid to Gibraltar to take command of B8 working from the submarine depot ship HMS Cormorant. On the 30 October 1914 he married Sigrid Dagmar Wolseley but would have known that a lieutenant in the navy was in no position to support a family. One year later in October 1915 B8 was transferred to HMS Adamant as part of the 8th Submarine Flotilla at Mudros for special duties. Mudros, was a small port on the Greek island of Lemnos, within thirty miles of the strategically important Dardanelles straits. Allied naval forces had failed to seize control of the Dardanelles in February and the Turkish forces contained the bloody land assault at Gallipoli in August. By October inertia had set in and evacuation of the troops was being seriously considered and the "special operations" for which B8 was required may have been related to this. Submarines were small, cramped and their range was limited and they spent a lot of time between patrols berthed alongside their depot ships. HMS Adamant (1911) must have had a special place in the affections of Eric Tufnell since he painted all four Royal Navy ships named Adamant.

In June 1916 he was appointed CO of D4 which had HMS Vulcan as its depot ship on the Firth of Forth and was part of the 3rd Submarine Flotilla. He also became a father when his daughter Peggy was born. He was described by a senior officer as "having an artistic temperament but does not appear to mind discomfort", a judgment which reveals as much about naval attitudes at the time as it does about Tufnell. Despite having left the Mediterranean he was placed on the list of interpreters in Italian and, surely not a coincidence, was made a Cavalier of the Italian Order of St Maurice and Lazarus. In February 1917 Tufnell moved D4 to HMS Hebe (2nd Submarine Flotilla) and a month later to HMS Platypus. All three submarine depot ships were on the Firth of Forth and it is difficult to understand the reason for these moves. The move to Platypus delayed repairs and took D4 out of action for two months which incurred the displeasure of senior offices. He was accused of being inefficient, relieved of his command and discharged to General Service on 21 June 1917.

It must have looked as if his career was at an end but once again a change of direction offered an opportunity for a fresh start. He was posted to HMS Victory at Portsmouth for "special services in motor launches of hydrophonic flotilla." Instead of commanding a submarine he would in future be working to counter the threat of enemy submarines. There were still some doubt as to his commitment as witnessed by this note on his service record in 1918: "Not yet settled down to any particular form of work. Appears to prefer changing from one thing to another too frequently." Despite this in June 1918 he was posted to HMS Pekin, the shore base at Grimsby, and in September promoted to Ltd Cdr and given command of the James Dinton, a new 275 ton Clyde built naval trawler. It probably operated in the Baltic where the Royal Navy was seeking to counter the threat of the Soviet Navy and offer support to the fledgling Baltic States since he was "mentioned in Despatches" (MID) for "services to Russia" in the 12 December issue of the London Gazette. His ships were getting smaller but his career seemed to be back on track. And he had a growing family to support, his son Dennis C Tufnell, was born at Portsmouth on the 17 September 1918.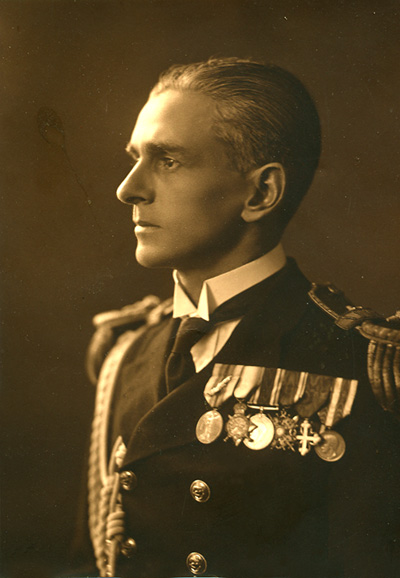 At the end of a nine month posting to M18 in Aegean he was given command of HMS Tuberose, the name adopted by the Navy (but not Cunard) for the requisitioned RMS Mauretania when used as a troop carrier. He was not given another post after leaving Tuberose but after six months "unemployment time" at HMS Victory was put in charge of a draft to Hong Kong. A telegram from the Commodore Hong Kong on the 10 September 1920 reported "Returning home, 2.9.20 adverse report from CO Caradoc." No reason was given but the following action was noted: "Relieved. Officer informed. He will be placed on half pay." He arrived back in London as a passenger on the PO liner Delta on the 5 March 1922. How would he recover from this latest setback?

His career appeared to 'mark time' for the next two years with a six month posting to the depot ship HMS Blenheim at Sheerness (and as acting interpreter in Italian) followed by courses in Signals (HMS Victory) and Gunnery (HMS Excellent) and a posting to the aircraft carrier HMS Argus while training under the RAF at Lee-on-Solent as an Observer where he seemed to have done rather well, "has a sound knowledge of observer subjects."

This fresh start in a new field as an Observer was interrupted in April 1925 by a year long posting to the British Naval Mission in Greece. Bt the mid twenties Britain, France, Italy and the United States were all keen to increase their influence over minor powers by sending naval missions to any state which would accept one. They not only increased a country's prestige but might induce them to buy their warships. This was an appointment where Tufnell's social skills might serve his nation better than his naval skills. His success is evidenced by the Greek government making him an Officer of the Order of the Redeemer. He returned to six months unemployment time at HMS Victory, by now a familiar and no doubt depressing experience.

In December 1926 he was sent as "acting Observer" to HMS Furious with the Atlantic Fleet and in April 1927 to Farnborough for a course at the RAF School of Photography: "Result of a photographic course at RAF School of Photography. Did not complete course, but did very well." The outcome, a transfer to the RAF: "Exceptional as Observer for photographic duties. Commenced duties with RAF, 1 June 1927." He was promoted to Cdr and retired from the Royal Navy at his own request on the 30 December 1929.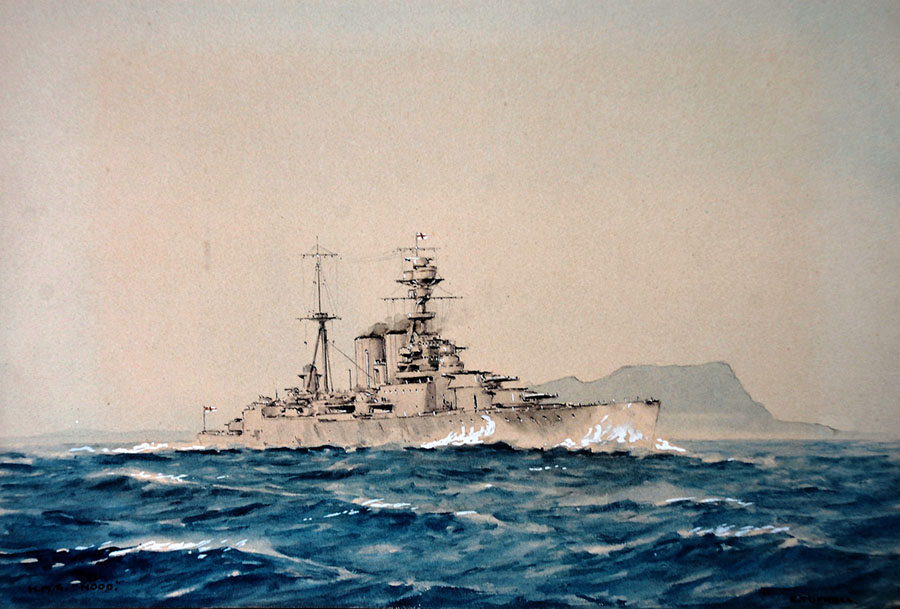 HMS

Hood

with Gibraltar in the background


Angus Mackenzie commissioned this painting by the marine artist, Eric Tufnell, after the war
(
Courtesy of Sheena Mackenzie)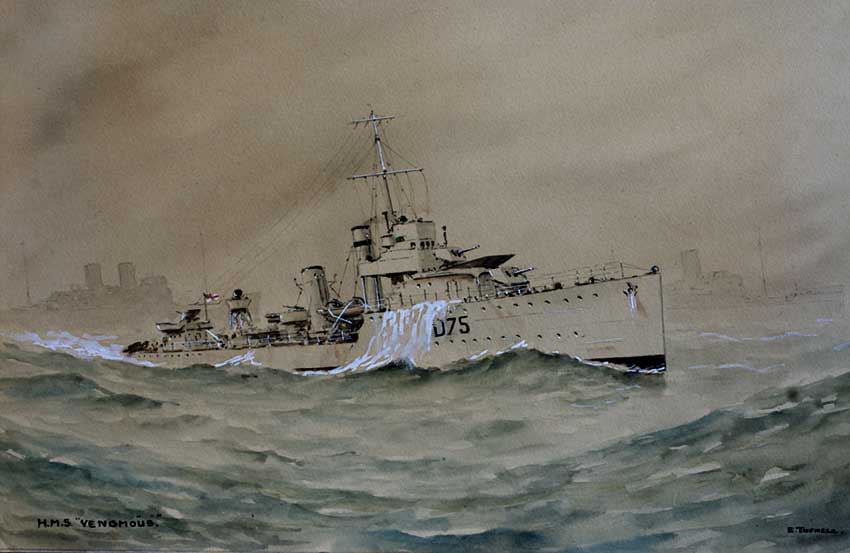 HMS
Venomous
as an Atlantic escort
Angus Mackenzie commissioned this painting by the marine artist, Eric Tufnell, after the war
(Courtesy of Sheena Mackenzie)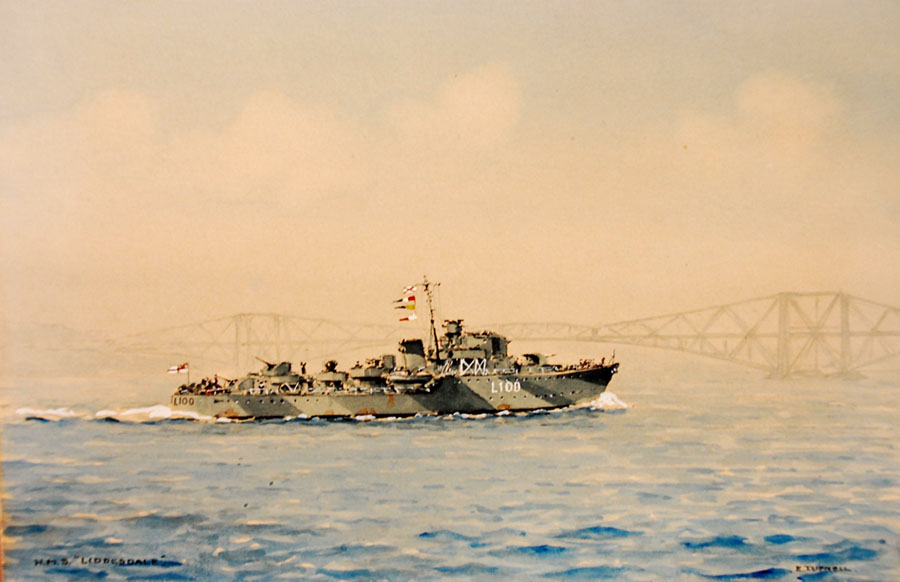 HMS

Liddesdale

on the Firth of Forth
Angus Mackenzie commissioned this painting by the marine artist, Eric Tufnell, after the war
(Courtesy of Sheena Mackenzie)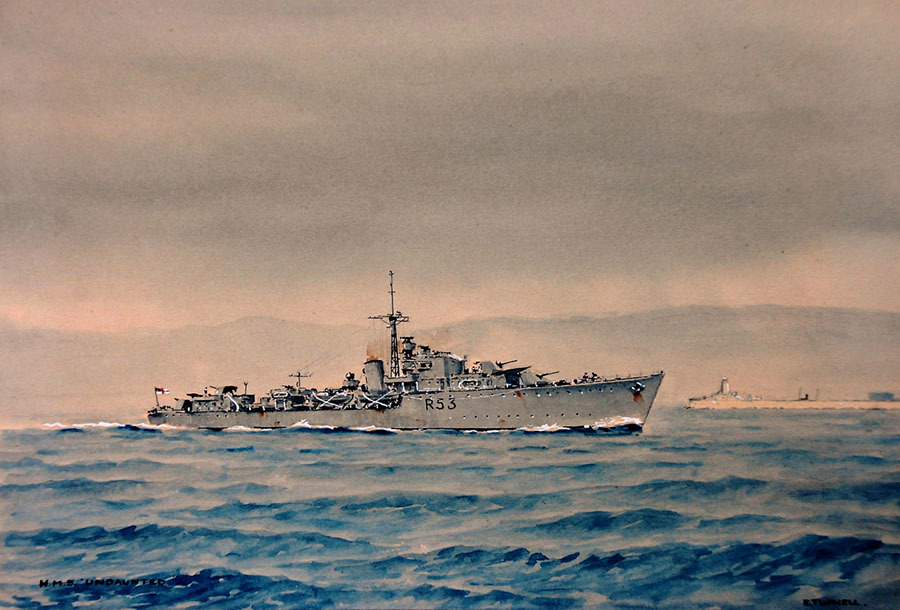 HMS

Undaunted

in the Mediterranean
Angus Mackenzie commissioned this painting by the marine artist, Eric Tufnell, after the war
(
Courtesy of Sheena Mackenzie)
He was commissioned by Lt Cdr Angus Mackenzie to paint the ships on which he served:
HMS

Hood

, HMS

Venomous

, HMS

Liddesdale

and HMS Undaunted.


Where paintings and photographs are not credited their present ownership and copyright is not known.
If you can assist please contact the publisher.
---
Holywell House Publishing
88 Holywell Hill, St Albans, Hertfordshire AL1 1DH, Britain
http://holywellhousepublishing.co.uk
Telephone: +44 1727 838595
contact online
---