Passing the time ...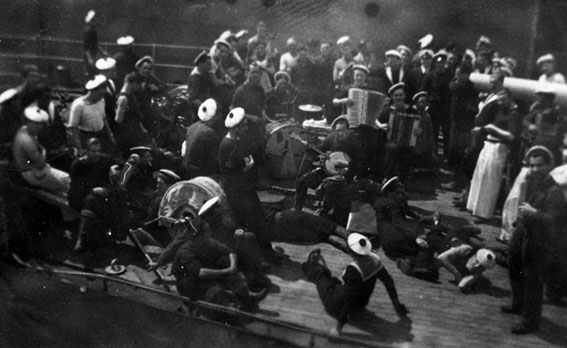 Cyril wrote on the reverse:
"Free French sailors tied up alongside us, note the band, they played all the latest songs in the dinner hour"
The band was on a French destroyer which berthed alongside
Venomous
in Gibraltar.
As a 15 year old
Harry Haddon
had played the drums professionaly at the Capital Cinema in Cardiff and with Cyril's encouragement he took over on the drums in the "froggy band".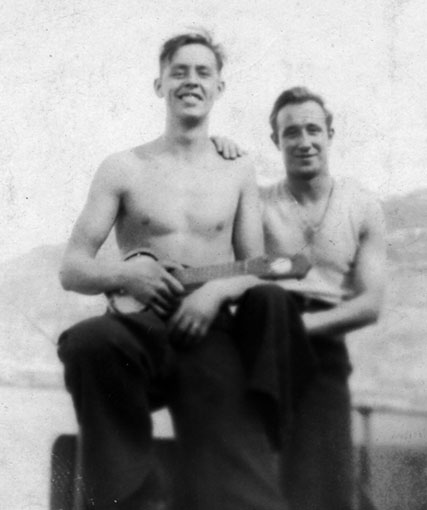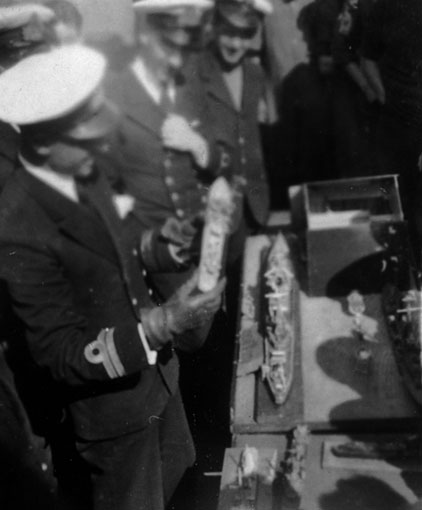 Left:
"Dolly Gray (IRA) and myself. Dolly
[on right]
comes from Belfast (killed 1943)"
Harry Haddon recalled Dolly Gray as a likeable Irishman with strong political oppinions.
Right:
"We had a model competition aboard, this is the skipper
[Lt Henry D. Durell RN]
judging them."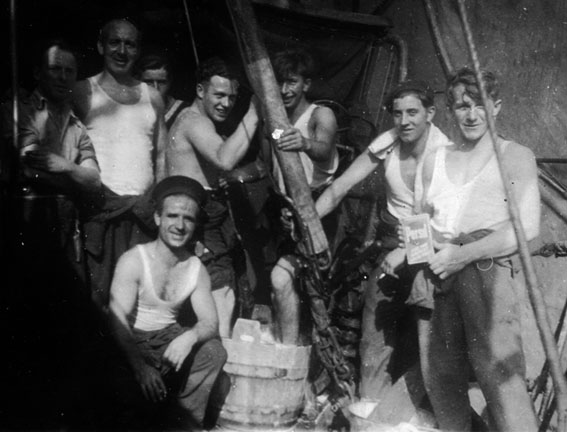 Written on the reverse:
"Dhobying blankets in a tub, note the Persil in Yelland's hand"
They had one blanket each and Harry Haddon recalled that a Scotsman lost his when they were hung over the ship's side to rinse in the sea.
Cyril Hely took several photographs of
AB William "Bill" Philip Yelland, JX160524 (1922-96)
who lived at Lower Sticker near St Austell, Cornwall.
to see more of Cyril Hely's photographs
The story of HMS
Venomous
is told by Bob Moore and Captain John Rodgaard USN (Ret) in

A Hard Fought Ship
Buy the new hardback edition online for £29 post free in the UK
Take a look at the Contents Page and List of Illustrations
---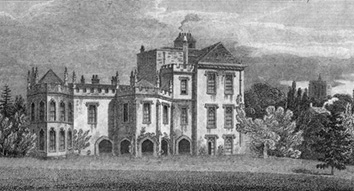 Holywell House Publishing
88 Holywell Hill, St Albans, Hertfordshire AL1 1DH, Britain
http://holywellhousepublishing.co.uk
Telephone: +44 1727 838595
contact online
---