The story of HMS
Venomous


Warrant Officer H.J.B. Button DSM RN
the hero who lost his life saving the lives of men on HMS
Hecla
when it sank on Armistice Day 1942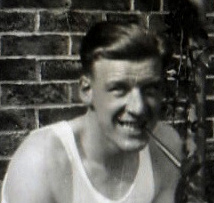 Herbert James Brown Button was born at Leister, Suffolk, the son of Louisa Ellen Button on 2 May 1915. The father's name was not recorded on his birth certificate and one wonders whether he was killed in the trenches before he could marry the mother of his unborn child. Brown may have been the name of his father since "Jimmie" Button always
gave his surname
as Brown Button
(unhyphenated)
.

His mother died when he was very young and he was in a children's home until his adoption by an Aunt of Gladys Kimber who lived in Suffolk. Gladys Kimber knew him for 14 years and he often visited Gladys and her husband at Glebe Farm, Froxfield. He was known as "Punch" and she wrote in a poignant letter to his widow on 11 February 1943 that "he led a lonely life".

He joined the Royal Navy as a boy sailor at HMS

Ganges

on 11 November 1930. He met his future wife, Florence Mary Nunn, while visiting relatives of his mother in Baldslow Road, Hastings, who lived across the road from Florence and her parents.
Florence was two years older than him and was born at Barton, Lancashire. When they married at Hastings on the 2 March 1940 he entered his father's name on the wedding certificate as Herbert James Brown Button, and gave his father's occupation as a Guide in the Indian Civil Service.
Jimmie Button, as he was always known (he did not like being called Bert), was a petty officer on HMS

Antelope

and
Florence moved to Portsmouth to be near him when his ship was in harbour.


The photograph of him smoking a pipe on the left is the only portrait I have been able to trace.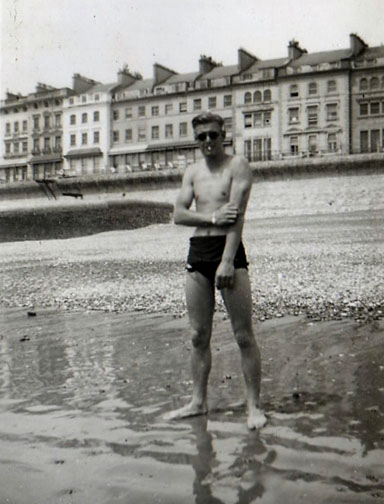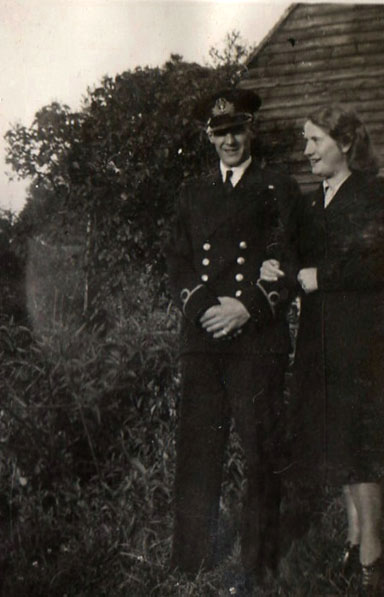 Jimmie Button, a strong swimmer, was photographed with his wife Florence Mary Nunn on Hastings beach (left) and newly married on the right
Courtesy of Jane Wilson (left) and Ken Nunn (centre and right)

He won his DSM while serving as the senior Anti Submarine Detector (ASDIC operator) on HMS

Antelope

which sank U-41 in February 1940. The navigating officer, Lt Michael Marwood DSC RN, described the action on the BBC Peoples War web site. On the 17 March 1941 he was promoted to Warrant Officer and posted to HMS

Tyne,

an identical sister ship to HMS

Hecla

. In April 1942 he was at HMS

Egret

, Western Approaches HQ in Liverpool, and may have met and impressed Cdr H. Falcon-Steward the CO of HMS V

enomous

. He joined

Venomous

at Londonderry later that month.

HMS
Antelope
in 1941
IWM Image FL735 - Crown Copyright expired
Harry Haddon, an AB on HMS

Venomous

, described what happened when an overcrowded and very unstable whaler from the destroyer escort, HMS

Marne

, attempted to come alongside

Venomous

. Jimmie Button dived in with a rope to bring it within reach of the scrambling nets. The men on the near side lunged at the ropes and the whaler capsized trapping those on the other side. Jimmie Button dived beneath the overturned whaler to pull them free but many drowned.

Lt Tony Sangster RN described the bravery of his cabin mate:


"We had most of the survivors aboard thanks to some incredible swimming feats by my cabin mate the anti-submarine bo'sun Herbert James Brown Button. He was a strong swimmer and used to dive out from the quarter deck and take heaving lines out to rafts and wreckage to which oily survivors clung."


The next day he took to his bunk but on the 13 November whilst en-route from Casablanca to Gibraltar he summoned the strength to don his uniform and attend the burial at sea of those who died and was photographed glancing down with his hat off by AB Cyril Hely. Jimmie Button was liked and respected by the men on

Venomous.

Cyril Hely wrote on the back of his photograph "The officer in foreground is the one that died a few days afterwards, he was a fine bloke too."
"Jimmie" Button can be seen glancing down as the last of the men who died after rescue is buried off the stern of HMS
Venomous
The notice on the right was posted o
n the ship's notice board
by Lt H.D. Durell RN,
Cdr Falcon-Steward's successor as CO of HMS
Venomous
, and retrieved as a souvenir by Cyril Hely
Courtesy of the widow of Cyril Hely
Tony Sangster continued his account:


"Herbert James Button did not live. After his rescue efforts he was exhausted and stayed in the bunk next to mine. After several hours he started groaning and seemed to be in a coma so I got our Surgeon Lieutenant Maxwell to examine him. We put into Algiers and he was lowered in a special stretcher and then taken ashore and by ambulance to hospital, and death through meningitis. Great sadness to us all, and certainly not the way to end a story."


Jimmie Button died at Algiers on the 27 November most likely from swallowing oil and is buried in the Dely Ibrahim War Cemetery. H
is young widow married Tom Wilson (1910-82), an army officer, in 1948.
Ken Nunn told me that they visited the grave of her first husband
while on a Mediterranean cruise
.
In 1962 they emigrated to Australia with their three children, a son Beverley, born at Milford Haven in 1950 and twin daughters, Jane and Anne born at Bangor in 1953. Florence died on the 19 October at Adelaide in 2000 but their three children are alive and living in Australia.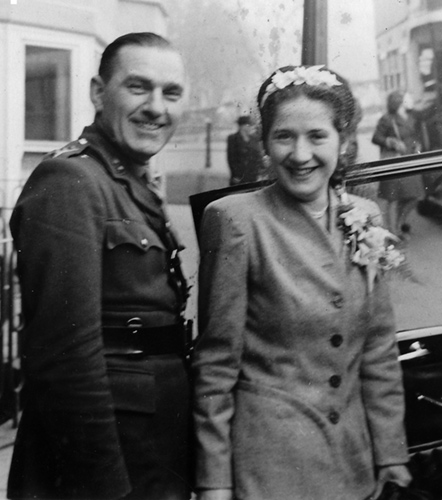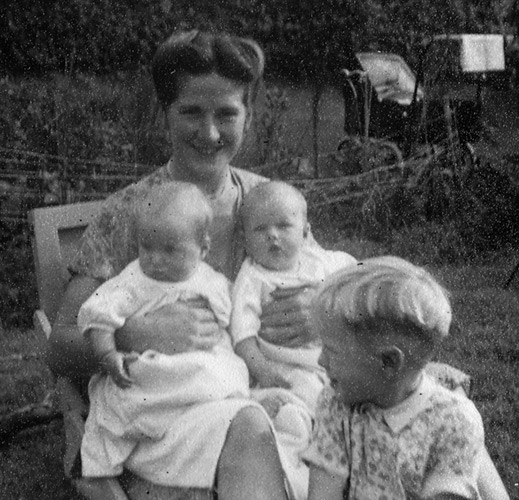 In 1948 Florence married Thomas Wilson, an army officer and they had three children
Courtesy of Jane Wilson
Warrant Officer H.J.B. Button DSM RN
(click on the link to see his service record) was the only person on
Venomous
to be killed when HMS
Hecla
was torpedoed and his sacrifice was remembered by the survivors and his shipmates at the 50th anniversary dinner of the
HMS

Hecla

, HMS

Marne

and HMS

Venomous

Association
in 1992. The Association had tried unsuccessfully to trace his family in order to invite them to their anniversary dinner.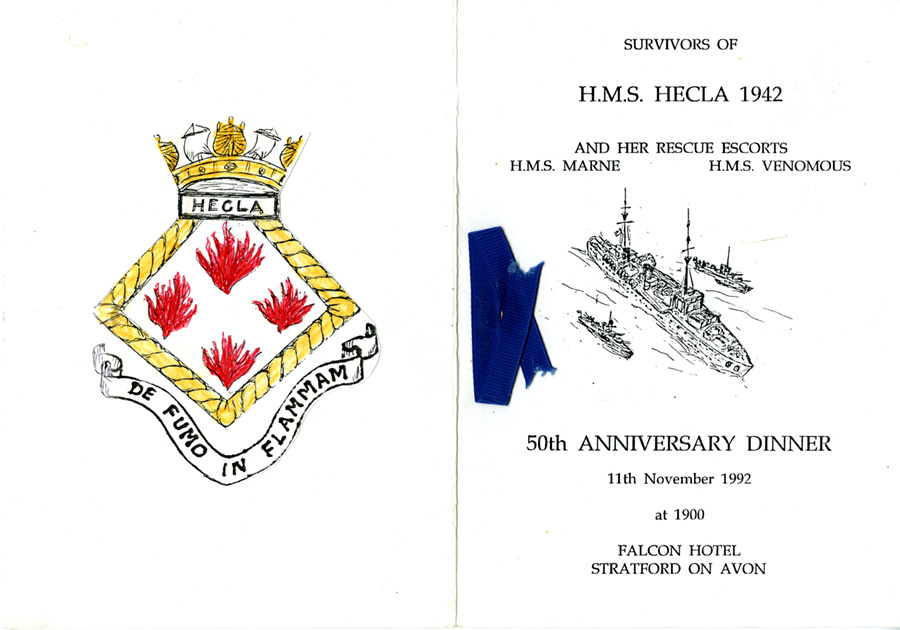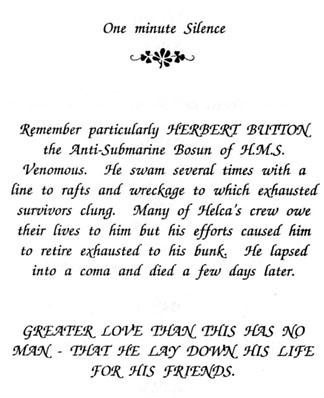 The menu was designed by George Male whose life was saved by Jimmie Button
Courtesy of George Male
I would like to acknowledge the assistance of the
Hastings Observer
which published three stories about my search for the family of Jimmie Button which led to me being contacted by Ken Nunn, the son of Florence's brother Cyril. Ken was given a Russian fur hat which Jimmie brought back from Murmansk in 1942 after
Venomous
escorted Arctic Convoy PQ.15 to Northern Russia. Florence's family by her second marriage to Thomas Wilson who live in Australia have also been very helpful. Florence Wilson gave his medals and papers to John Bird in Adelaide and his scans and photographs of these helped tell the story of his early years but the precise identity of Jimmie Button's father remains a matter for speculation.
The story of HMS
Venomous
is told by Bob Moore and Captain John Rodgaard USN (Ret) in
A Hard Fought Ship
A Hard Fought Ship
contains the most detailed account of the loss of HMS
Hecla
yet published
Buy the new hardback edition
online for £35
post free in the UK
Take a look at the Contents Page and List of Illustrations
Return to the
"Home Page"
for HMS
Hecla
to find out more about its history and the stories of other survivors
---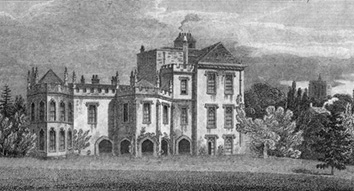 Holywell House Publishing
88 Holywell Hill, St Albans, Hertfordshire AL1 1DH, Britain
http://holywellhousepublishing.co.uk
Telephone: +44 1727 838595
contact online
---