The story of HMS Venomous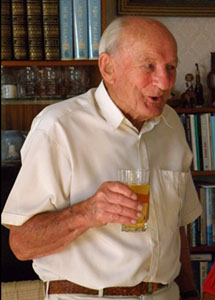 The only New Zealand Officer on HMS

Hecla

, Cdr(E) O.J. Gerard RN (1902-83), was commended by Captain E.F.B. Law RN and awarded an OBE for helping to save the ship when it was mined south of Cape Agulhas on the 17 May:

"This officer, by his intimate knowledge of, interest in and devotion to the ship, in which he has served since the keel was laid, was primarily responsible for saving her and I cannot speak too highly of him."

A brother in the RNZVR was killed at the Battle of the Java Sea in March 1942 but Cdr(E) Gerard survived the sinking of HMS

Hecla

and the
war and retired to New Zealand where his other two brothers became an MP and a Bishop.
Fred Lemberg was one of eleven Kiwi
ratings
who joined
Hecla

on the Clyde after its return from Iceland. He e-mailed me this account from his home in Nelson, New Zealand, shortly before

A Hard Fought Ship

went to the printers and since he is only briefly mentioned in the book I thought it worth publishing his story on the web site with some of his photographs.
"New Zealand commenced training ratings in 1941 on an island near Auckland, our own NZ division being formed later. With training complete twenty five of us were drafted for overseas service, rumour had it that we would join the

Neptune

in Singapore but that was not to be - instead we ended up in "Guz", HMS

Drake

, Plymouth. Japan had entered the war and we requested a draft to the Far East. Eleven of us joined the

Hecla

in dry dock at Glasgow, we were to take the place of Newfoundland ratings who were leaving the ship.

We felt so proud as we stood at attention on the focsle as we sailed down the Clyde midst the resounding noise of riveting hammers from the ship builders' yards. We grouped up with a large convoy and sailed out into the Atlantic. A few days later we reached Neptune's domain and had a canvas bath rigged mid-ship's and we all went through the ceremony of crossing the line, a first for the

Hecla.
We pulled in our paravanes prior to approaching the Cape of Good Hope but ran into a mine field several hours later. I had the first dog watch and was down in the mess deck having tea when all hell broke loose. There was a thunderous upheaval, total darkness as all the lights went out and the noise of air escaping through the vents followed by gas from the explosion; damage control closed the escape hatches but we were able to crawl up on deck to fresh air.

Gambia

stood by until we were able to make way and we ended up in Simonstown Naval Dockyard next morning. The dead and injured were taken ashore by cutters while we awaited entry into the dry dock.

It took nearly six months to repair

Hecla

and we spent our time in training and playing rugby. The South Africans made the men of the

Hecla

very welcome, inviting them into their homes ("Uphomers"). Fred stayed with Mr and Mrs Wannerton of Kelinworth a village near Whynberg, Cape Province and visited them many years later and was pleased to find they remembered his visit all those years ago.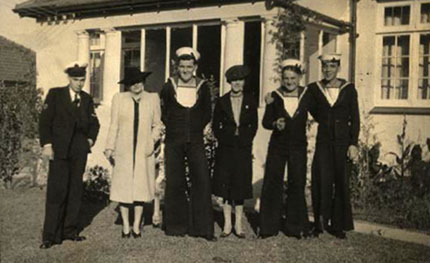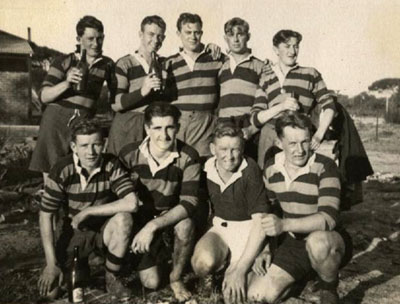 The plans were changed and we were ordered North to take part in Operation

Torch

, destination Algiers. On the night of the 11 November I was on watch as lookout on the port side of the bridge when a torpedo struck the starboard side. I scanned the darkness with binoculars and saw a white line approaching and immediately informed the bridge with as much volume as my vocal chords would allow. The torpedo struck directly below me and I was blown backwards into the W.T. caboose, fortunately since when I came to the wing of the bridge was littered with debris from a whaler swinging from davits below.
Roland Fitzgerald was supposed to have been on duty with me but was off sick. When the first torpedo struck he was in his hammock, slung outside the engine room vent in the starboard waist, and was covered in oil when he joined me on the bridge. He had left his lifebelt behind so went to get it and that is the last time I saw him. He was the only one of the eleven Kiwis aboard

Hecla

to be killed.
The third torpedo hit the starboard side and we were ordered to abandon ship, every man for himself. The ship was by now well over to port and I tied a rope to the guardrail on the starboard side and slid down over the barnacles into the briny, blew up my life belt and made my way out into the darkness. The current seemed to be going aft and I was not far from the ship's side. I eventually found a round floating object to hang onto. It was a very dark night and there was a heavy swell but the phosphorescence in the water lit up my arms. The red lights of our life jackets stood out in the darkness and I made my way to a group hanging onto a carley float. It was full and two rows of men were hanging onto the sides. Depth charges were being dropped but if I kept my body flat on the surface it was not too bad. The bow wave of

Marne

slowly approaching in the darkness increased in size and a terrific explosion lit the sky; she had been torpedoed in the stern and the magazine and depth charges blew-up.
I remained with the raft through the night, the swell got a little heavier and there was more oil on the surface. The raft capsized several times and each time there were fewer of us and as dawn broke there were only a dozen of us left. Those on the raft had a better view than we had in the water and could see

Venomous

in the distance. We waved our arms and shouted as loud as we could, she came towards us with nets hanging from the foc's'le, and as she pulled alongside the skipper called out that he had only seconds to pick us up. I managed to grab the end of the net as

Venomous

pushed off and became entangled in it so they were able to pull me aboard. I came to being rubbed down on the mess deck table and was put into a nearby hammock.
Venomous

was running short of fuel and against Admiralty orders made for Casablanca tying up alongside the USS

Augusta.

The crew made us most welcome, we had hot showers and were fitted out with clothing. We bedded down for the night on a nearby aircraft carrier and next morning were transferred to

Venomous

and we made our way along the coast to Gibraltar and on the way committed to the deep several casualties who had passed away during the night.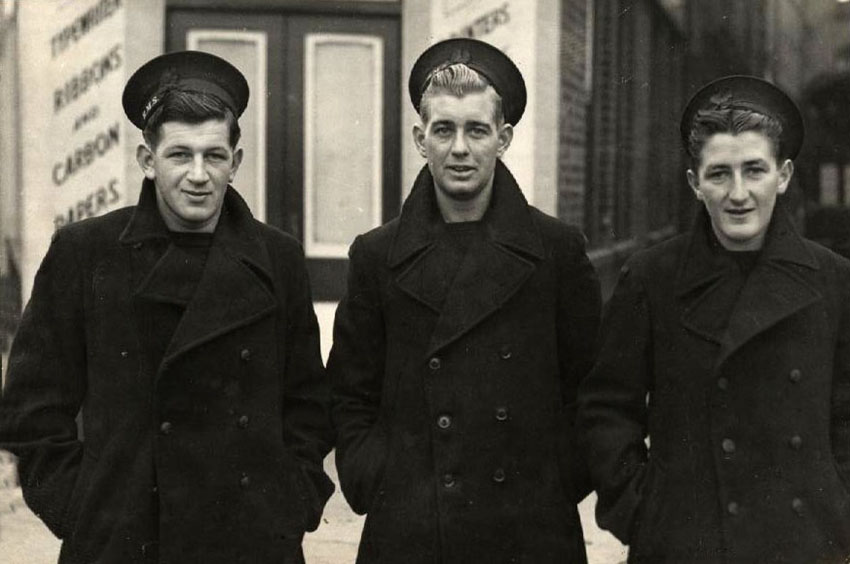 On survivor's leave in London

From left: Able Seamen James E. Curry (NZD3402), John Donkin (NZD3424) and Alan C. Cherry (NZD3400)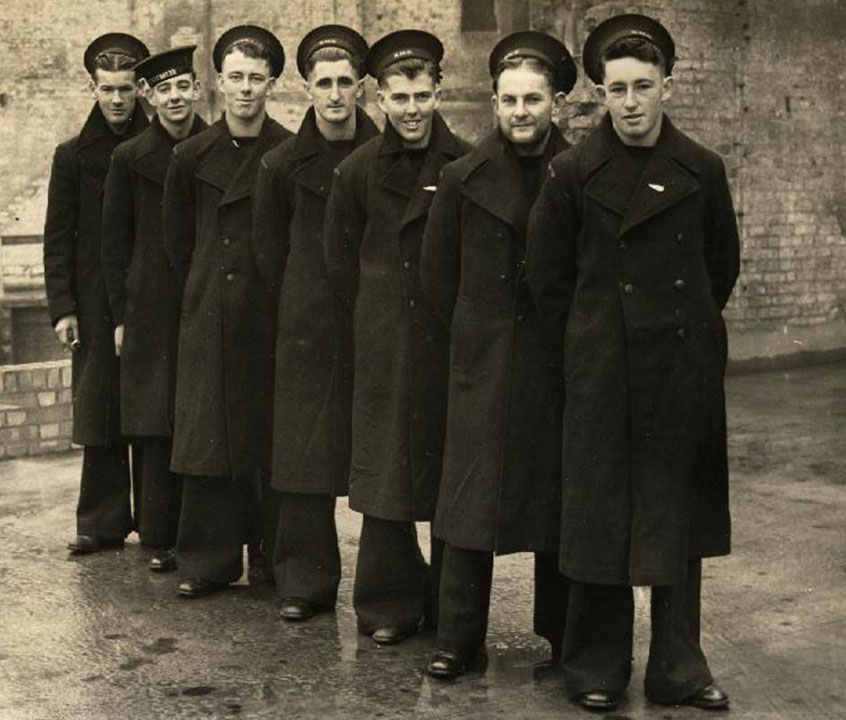 From left: AB's Thomas J. 'Tom' Galvin (NZD3406) , Donald W. 'Dick' Dowman (NZD3425), Robert A. 'Bob' Fulton (NZD3478), Peter A. 'Pete' Fearon (NZD3477),
Brian D. McOnie (NZD3490), Frederick J. 'Fred' Lemberg (NZD3486) and Vincent F.L. 'Frank' Narbey (NZD3491)
On arriving in Gibraltar we were assembled on the deck of the battle ship

King George V

, but she got immediate orders to proceed to sea, and we were transferred to the

Rio Del Pacifica

, an empty ship which had taken part in Operation

Torch

. We were given a blanket and made fire watchmen. Eventually we arrived back in Greenock and were issued uniforms and went by train to Plymouth. We spent the night on a mattress in the gunnery school and next morning were issued with pay books and travel warrants for survivors leave.

We then split up as a group and I was drafted to the Med for a further twelve months where I served on HMS

Scarab

, a River Gunboat of the

Insect

class, whose CO was a fellow New Zealander, Lt Ewan Cameron RNZNVR. With our shallow draught we were able to attack close inshore and we were used for invasion purposes. Many stories have been written about our exploits one being 'Armed with Stings' by A. Cecil Hampshire. After twelve months I was granted leave to go home to NZ."
After the war Fred returned to the engineering workshop in Palmerston, North Island, where he did his apprenticeship and remained with them for nearly fifty years:
"We manufactured stainless steel equipment for the dairy, wine, brewery and freezing works industries, now I try to do the same in my small workshop only in art form. The
Hecla
crest in St Alphege in Solihull is one of my efforts."
Fred Lemberg spent the last ten years of his life with his family in Nelson, South Island, New Zealand and was 95 when he died there on the 4 February 2015.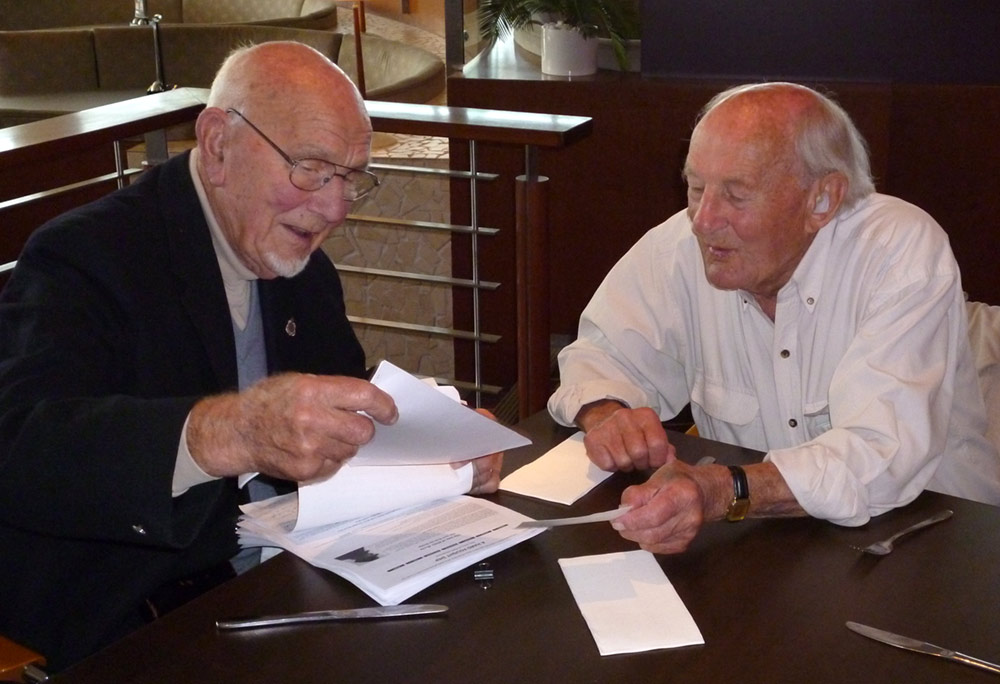 Fred Lemberg (on right) and former LSBA (D) Fred "Slinger" Woods who met in Australia
in August 2013
to reminisce about HMS
Hecla
Courtesy of Jeni Lemberg
Return to the "Home Page" for HMS Hecla
to find out more about its history and the stories of other survivors
A Hard Fought Ship
contains the most detailed account of the loss of HMS
Hecla
yet published
Find out more
about the book
and read
reviews of the book.
---
Holywell House Publishing
88 Holywell Hill, St Albans, Hertfordshire AL1 1DH, Britain
http://holywellhousepublishing.co.uk
Telephone: +44 1727 838595
contact online
---