The story of HMS Venomous
Petty Officer Arthur Ching, Supernumerary SBA on

Hecla




remembered the friends he made in South Africa




Arthur Ching described his memories of HMS Hecla in a long letter he wrote from his home in Plymouth to Isobel Margerrison in Glencairn, Simon's Town, on the 26 February 1979. Her husband, John Edward Margerrison, known as Joss, was the Captain of HM Tug Dogmael which assisted HMS Hecla into harbour at Simon's Town after the mining. Arthur Ching was their guest on several occasions and got to know the family well. Audrey was the Margerrison's daughter who helped in the Simon's Town Museum when she was older. "Hildasime" was a hotel at Sea Point owned by an aunt of Joss Margerrison. "Brownie" is Chief Petty Officer Norman Brown SB who was killed when Hecla sank. He was stationed at the Simon's Town Hospital in the 1930s and became a friend of Mrs Margerrison and her husband. "Brownie" was a distant cousin of Arthur Ching. All of this was explained to me by Audrey Read, the Margerrison's daughter, and Kenneth Brown the son of Norman Brown who was 13 when his father died. I would also like to acknowledge the assistance of Margaret Constant of the Simon's Town Museum who sent me scans of Arthur Ching's letter.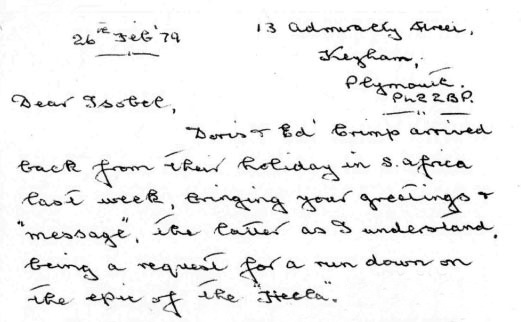 "I joined the Hecla in Glasgow early in April 1942. She was in dry dock, nearly all the ship's company were on leave. I surmised that we were bound for distant parts! We joined a convoy of ships at the Tail of the Bank, which is at the mouth of the River Clyde, in mid April. We then sailed Westward to the mid Atlantic, then South, arriving at Freetown, West Africa, where we stayed for a few days, refuelling, taking on stores, relaxing for a few hours on the beach and, incidentally, meeting my younger brother, Howard, who was serving aboard HMS Philoctetes, the base ship which, as I remember, was not a very happy ship. On leaving Freetown, we headed south towards the Cape. We had the usual crossing the line ceremony, which employed the talents of "Brownie" who wrote up the certificates of many of us in old English script, which subsequently earned him a large hangover!

We were rounding the Cape of Good Hope on a lovely sunny afternoon while I was sitting in the mess, had just finished tea and about to light a cigarette when there was a loud explosion, smoke and flame. We all raced to the upper deck. The ship had stopped but everything was quite calm, the sea, the people, etc. We set about ascertaining the extent of the damage (caused by a mine); there were twenty-four killed and approximately two hundred and forty injured. The medical staff, doctors etc., were marvellous, they worked throughout the night as we steamed towards Simon's Town, where we arrived in the early hours and dropped anchor, subsequently docking and spending six months under repair.

One of the sad events, which I supervised was the preparation for burial at sea of our late shipmates; the ceremony was performed by the cruiser Sirius. Our injured shipmates were accommodated at the naval hospital where thy all made good recoveries from their various injuries.

During the six months of our stay, a lot of Hecla's people, through the good offices of the Women's Voluntary Service enjoyed the hospitality of homes, hotels, farms, etc., it was all very heart warming. I personally met and made friends who have endured through the passing years. I remember the Sunday evening, you, Joss, Brownie and I visiting "Hildasime" for the first time, having first taken Audrey back to the Star of the Sea Convent. I remember how the boys tried to manoeuvre the way to the platform to Simon's Town but you quietly insisted on catching the Cape Town train; and the visit when we first met Mrs Hopwood; it was just one of those pleasant days we spent with you during our sojourn in South Africa. I remember well the walks to "Boulders", a very pleasant place and a favourite of Jose's, as I remember.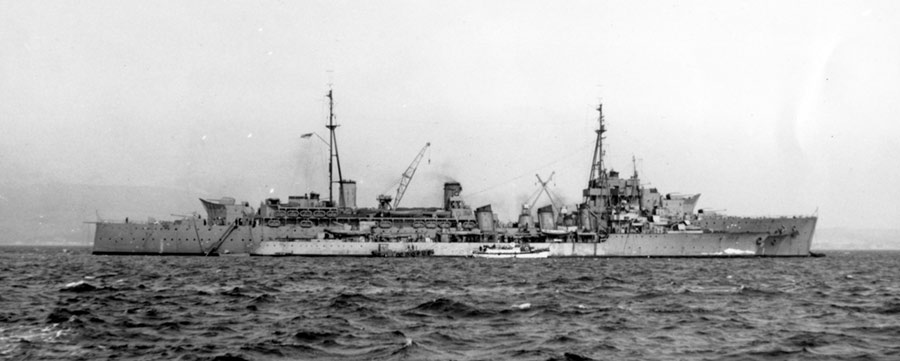 HMS

Hecla

with
a French C

hacal

Class
destroyer berthed alongside
Courtesy of Christina McCarthy
To continue with the story of the Hecla. We completed repairs to the ship in mid October when we sailed to Saldhana Bay where we got ourselves organised for future activities, the end of a pleasant interlude. We went to Cape Town where our new Captain joined us. We anchored off Simon's Town for some hours while we awaited our sailing orders, which, to my surprise, meant going back up north through the Atlantic. We arrived at Freetown on about the 6 November where we stayed about three days while a convoy formed. We moved out into the Atlantic and headed north. We saw ships of the American forces the day after we left port, battleships, cruisers and auxiliary vessels, so we guessed there was something brewing; it was in fact the opening chapter of the North Africa landings. We were intended to play a part in that operation, however, man proposes?

We moved north with two destroyers, HMS Marne and Venomous, as escorts. On the 11 November, early afternoon, there were reports of U-boat packs in our vicinity, we continued, apparently shadowed by the U-boats, the convoy was ordered to disperse after dark, to minimise the targets for the U boats. At 11 pm on the 11 November 1942 Hecla was struck by the first of five torpedoes, in a boiler room beneath the sick Bay where Brownie and I were sleeping, we immediately dressed and got the sick patients to the wardroom ante-room, after this, two more torpedoes struck the ship, which cut off power to the boat hoists. The captain gave the orders to "abandon ship", which necessitated lowering of all the rafts etc with no lights; there was bound to be some confusion and I believe that some people were struck by falling life-rafts and sustained fatal injuries. My last sight of Brownie was in the wardroom prior to "abandon ship". I was a supernumerary in the ship, a relief for casualties in the fleet, as such, I didn't have an abandon ship allocation. I simply walked back to the stern of the ship and jumped. I swam around for a few hours with a plank of timber for company. In the interim out two escort destroyers, Marne and Venomous, were trying to track the U-Boats down, stopping to pick up survivors at intervals. The Marne had her stern blown off by a torpedo during these rescue bids, so they were of short duration and speedy.

When dawn came I was in company with fourteen other survivors on a small Balsa raft, I still kept my plank however. The sole survivor on the Balsa raft and myself were picked up by Venomous at 1400 hours on 12 November, fourteen hours after leaving Hecla. Venomous steamed into Casablanca harbour with 500 survivors, we were berthed alongside the American cruiser USS Augusta, where we received medical attention, food, clothing etc. Unfortunately I was unable to enjoy the food and drink provided, the aftermath of Hecla's sinking had covered the sea with fuel oil, which I had unwittingly partaken of. We spent the night lying on the deck of a hangar on a fleet auxiliary ship. I can still feel the warmth and luxury of that hard deck to this day. The following day, the 14 November, we sailed for Gibraltar; we buried two [should be four] of our number who had died in Casablanca, due to injuries, en route to Gibraltar. We arrived at Gibraltar on the 15th where we tied up alongside one of our cruisers, HMS Aurora, where we were well looked after. The next day at 4 am, we were taken on board the battleship Duke of York where they provided us with toilet gear and other creature comforts. Later that day we boarded the P & 0 liner Strathnaver, but after one meal - tea - we left and boarded the liner Reine Del Pacifico.


After a scrumptious dinner and a night's rest, I was sent to join HMS Lowestoft, a sloop which had earlier been rammed by the French cruiser, Leopard. The Lowestoft could only steam at 6 knots and we had to steam her home to Falmouth; our crew comprised forty survivors of Hecla, one hundred from a sloop sunk by air attack in the Mediterranean plus twenty-nine of the Lowestoft's original crew. Fortunately, as far as I was concerned, Commander D'Oyly of Hecla (on right) was in command; to be turned loose in the Atlantic with the top speed capability of 6 knots made one feel a little apprehensive, if that is the right word to use? However, after a few scares, aircraft sightings and U-Boat alarms we arrived off the Bishop's Rock lighthouse and two hours later we were tied up alongside in Falmouth Harbour. The day we returned to the Naval Barracks, we met other survivors of Hecla returning from their survivors leave …
Hecla carried a complement of 800, of which we lost about 300 the night she was torpedoed."



Capt George V.B. Faulkner RN was appointed CO of HMS

Hecla

a week before it left Simon's Town for north Africa. He survived the sinking of his ship and along with his senior officers was rescued by HMS

Marne

. He died at Knysna, Cape Province, South Africa in 1962. Arthur Ching mistakenly referred to Cdr D'Arcy being in command of HMS

Lowestoft

on the long slow journey from Gib to Falmouth but this must be a mistake as
there is no record of a Cdr D'Arcy having served on

Hecla

but there was an
A/Cdr J.R. D'Oyly RN and he also commanded HMS

Lowestoft

on its voyage from Gib to Falmouth.
His photograph was kindly provided by his daughter, Jill Creighton, who lives in Singapore.

Ching is an old Cornish name but Arthur (he was baptised as Frederick Arthur Ching but was always known as Arthur) was born in Devonport in 1907, the son of a naval pensioner serving behind the bar in a pub. Arthur was an errand boy when he decided to follow his father and enlist in the Royal Navy in 1925. By the time he joined

Hecla

on the Clyde in April 1942 he had been in the Navy for sixteen years and was 35 years of age. Arthur does not mention it but "Petty Officer F. Ching D/J 109869" was the only rating in the Sick Bay on the "Detailed List of Commendations" in Appendix One to Captain Law's "Report of Damage to HMS

Hecla

" following the mining (ADM 199/802).

After HMS

Hecla

sank he spent the "remaining war years on a Hunt Class destroyer, HMS

Cattistock

, mainly on the East Coast and North Sea and then on the occasion of the invasion of Europe we were in the front row of the attack, a marvellous experience when one looks back, and awesome too!"
Audrey Read, the daughter of Isobel and Joss Margerrison, described Arthur Ching as "a very active Freemason, a very upright and godfearing man". Frederick Arthur Ching was Initiated into the Lodge of Fortitude (No. 105) in Plymouth on 12 August 1940 and was elected Master of the Lodge in 1962 and made an Honorary Member after fifty years continuous service in 1990. The Margerrisons visited him at his home, 13 Admiralty Street in Keyham, Plymouth, on several occasions when on family visits to England. After the war Arthur Ching worked for Tecalemit which employed over 6,500 people making it the largest employer in the City next to the Dockyard. Sadly, it has not been possible to trace a photograph of him for adding to this page. Arthur Ching never married and was 84 when he died at Plymouth in January 1992.
Return to the
"Home Page"
for HMS
Hecla
to find out more about its history and the stories of other survivors
---
Holywell House Publishing
88 Holywell Hill, St Albans, Hertfordshire AL1 1DH, Britain
http://holywellhousepublishing.co.uk
Telephone: +44 1727 838595
contact online
---