The story of HMS Venomous
Norman Reeves Brown SBCPO - "Brownie"


29 April 1902 – 12 November 1942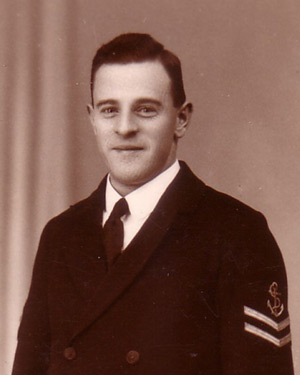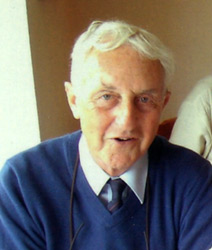 Norman Reeves Brown joined the Royal Navy in 1921 and spent very little time at home with his wife and two sons. Kenneth Brown, the oldest son,was 13 when his father died and describes below the father he lost when when Hecla was torpedoed. Kenneth Brown is on the left and his father on the right.


"The written accounts of the events of 11-12 November 1942 are mostly from and about the survivors and so I think it appropriate to write what I know of my father who lost his life on that night and who also deserves a place in the recorded history of HMS Hecla.

My Dad was one of six children. He grew up in Liverpool where his ex-Navy father was a Customs Officer, and joined the Navy at Devonport on the 13 May 1921. He met his wife, Kathleen Trevillion, known as Nita, in Plymouth and they married in 1927. They set up home at St Budeaux, within the city boundary, and I arrived on the scene in July 1929 and my brother seven years later. The studo photograph on the right was taken in 1931. During our childhood he spent two and a half years in China and a similar period in the RN Hospital at Simonstown, South Africa. He and mother wrote to each other daily and posted the missive once a week. I think he quite enjoyed Simonstown and regularly took the train to Cape Town and climbed Table Mountain. He returned to Britain on the Llandovery Castle and and was at the RN Hospital Stonehouse, Plymouth, in the late thirties but at the outbeak of war was at sea on HMS Norfolk."

CPO Norman Brown joined Hecla at Greenock in 1940 in time for its commissioning and most of the photographs the family have of him were taken while Hecla was the destroyer depot ship for Atlantic escorts at Havelfjord in Iceland. Hecla was a Devonport ship and most of the crew came from Plymouth and the surrounding area. While they were safe and secure in Havelfjord their families were living through the Plymouth Blitz and their children being evacuated to neighbouring towns.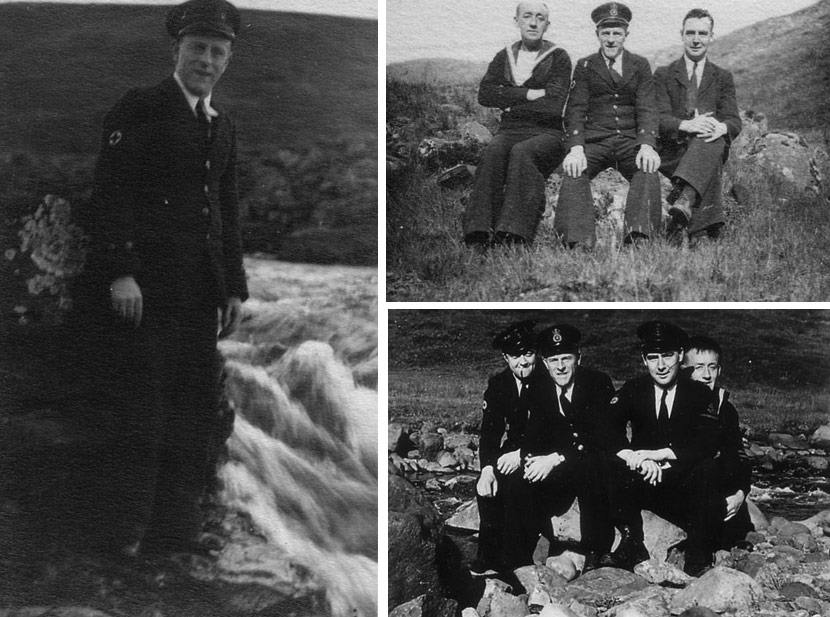 Three photographs of CPO Norman Brown ashore in Iceland with members of the Sick Bay team on HMS Hecla.
He is in the centre in the photograph on the upper right and second left in the photograph on the lower right
Courtesy of Kenneth Brown

HMS Hecla retuurned to the Clyde early in 1942 for a short refit and then headed south via the Cape to join the Far Eastern Fleet. After Hecla was badly damaged by a mine off Cape Agulhas on the 15 May 1942 it was guided into the harbour at Simon's Town by HMS Tug St Dogmael, skippered by by Joss Margerrison. Norman had got to know the Margerrison family while stationed in Simonstown during the 1930s. He met Joss after they docked and the story goes that they went to a pub somewhere, over celebrated and Joss was in trouble for getting home late.

I knew about Dad's frienship with the Margerissons from his letters and have been to Capetown twice. When I revisited the Simon's Town Museum I was put in touch with Joss Margerisson's daughter, Audrey, who helped in the Museum. She told me that the crew of Hecla were so grateful for the hospitality received, that they threw a party for the locals at the Muizenberg Pavillion which was a very grand affair. Audrey was brought home from the convent school for the occasion and attended in specially purchased new shoes. I also found out that my Dad's 'Uphomer' was a Mrs Anne Hopwood who it turns out was Audrey's courtesy Aunty. Norman introduced Arthur Ching to the Margerissons during the five months Hecla was under repair in the naval dockyard and he described his memories of them and "Brownie" in a long letter to Mrs Margesson in 1979. There is so much around Capetown associated with memories of my Dad."
Audrey recalled that "Norman Brown worked for the first two weeks in the operating theatre on the ship with Surgeon Lt Cdr Hetherington trying to patch up casualties and seeing them safely to the RN Hospital in Simon's Town". This was the same hospital (below left) where he had been based in the 1930s, high on the hill above Simon's Town Harbour and accessed by cable car from the shipyard.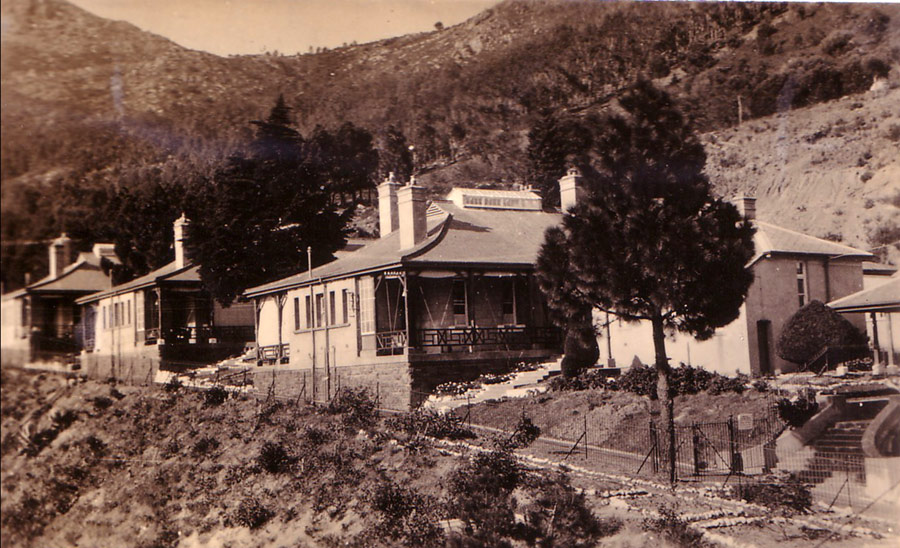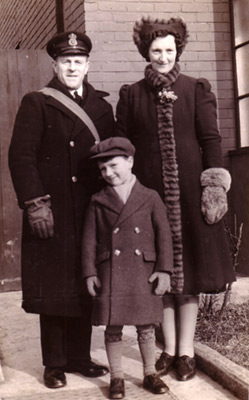 Left: The Royal Navy Hospital on the hill above Simon's Town
Right: Norman Brown with his wife, Nita, and youngest son, David, outside the family home in St Budeaux in 1940 before joining HMS

Hecla

on the Clyde
Courtesy of Kenneth Brown
Ken continues, "I did not have much time with my Dad and rely on information from family and most of all from his shipmates to get to know him. In particular to George Male who wrote this to me in December 1993:
'I did try to convey to you the high esteem and affection we had for your Father. Like Nelson he was a small man but we were left in no doubt where authority lay – and that applied to the medical officers as well – like me they were "civvies" in for the duration. As you know service life is strictly hierarchical and the Chief should have messed separately. It is a measure of the man that Norman Brown was able to live with his men 24 hours a day and still maintain his authority.'

Ken knows very little about what happened to his father on the night of the 11 - 12 November when Hecla was torpedoed. Arthur Ching, a supernumary SBO, described what happened and recalled the last time he saw "Brownie":

'At 11 pm on the 11 November 1942 Hecla was struck by the first of five torpedoes, in a boiler room beneath the sick Bay where Brownie and I were sleeping, we immediately dressed and got the sick patients to the wardroom ante-room, after this, two more torpedoes struck the ship, which cut off power to the boat hoists. The captain gave the orders to "abandon ship", which necessitated lowering of all the rafts etc with no lights; there was bound to be some confusion and I believe that some people were struck by falling life-rafts and sustained fatal injuries. My last sight of Brownie was in the wardroom prior to "abandon ship".'

George Male described his final memory of "Brownie" before they abandoned ship:

'My last memory of your Father is that late that night I was with him, the Medical Officers and other Sick Berth Staff when we mustered aft in the Quartermaster's lobby. We had by then done what we could for two men, badly burned, who had come up from the boiler room. I know your Father got off the Ship but did not see him again.'
"I gather from other survivors that he made it to a Carley Float, hung on as long as he could and then let go. He was a relatively old man of forty with twenty one years service in the Royal Navy and the probability is that exhaustion overcame him and his body would take no more. Who knows?

I missed the love, affection, guidance and company of a fine man who gave of his best and earned the respect and affection of his peers. My Mum had to go to work to bring up two boys, the war widows pension was little, and she had a tough time. When I think of his short time at home with his family in comparison with the 54 years I have enjoyed with mine, I realise how he was robbed."

Kenneth explained how the family fared after his father died: "Mother did voluntary war work typing for an institution for the blind until father was classified as presumed dead when, I imagine, she was paid as a war widow and had to get paid employment to support herself and two children. I was an evacuee living near St. Austell and attending Sutton High School for Boys which was evacuated from Plymouth following the Blitz of April 1941. My mother had to work from that time onwards until she was 65 years old in 1972. I was not much help as I was articled to an Accountant and earned a pittance. My articles expired Feb 1951 and I was called up to do my National Service and commissioned into the RAF Regiment. My brother trained as a Quantity Surveyor before being called up for National Service so was also unable to contribute to the family purse. Mother devoted the rest of her life to raising the family, only giving up when she died in 1989 when the family home in St Budeaux was finally sold. I became an accountant in Helston, Cornwall, where I live today. By reason of my efforts Dad had three granchildren and, by their efforts, ten great grandchildren."
Return to the "Home Page" for HMS

Hecla
to find out more about its history and the stories of other survivors
The story of HMS
Venomous
is told by Bob Moore and Captain John Rodgaard USN (Ret) in
A Hard Fought Ship
A Hard Fought Ship
contains the most detailed account of the loss of HMS
Hecla
yet published
Buy the new hardback edition
online for £29
post free in the UK
Take a look at the Contents Page and List of Illustrations


---
Holywell House Publishing
88 Holywell Hill, St Albans, Hertfordshire AL1 1DH, Britain
http://holywellhousepublishing.co.uk
Telephone: +44 1727 838595
contact online
---