The story of HMS Venomous
Part 3: HMS

Vimy


My father's first - and last - command
November 1939 to May 1940


Lt Cdr Colin G.W. Donald RN had served on HMS

Venomous

in the Mediterranean in 1926-8 and was appointed CO of its sister ship HMS

Vimy

in November 1939. His son, Frank Donald, followed his father into the Royal Navy and has written an account of his father's life based on the diary he kept intermittently throughout his service career.

This, the third and final part, describes events from November 1939 to his death on the bridge of HMS

Vimy

while taking part with HMS

Keith

and seven V&Ws including

Venomous

in the evacuation of the Welsh and Irish Guards from Boulogne on the 23 May 1940.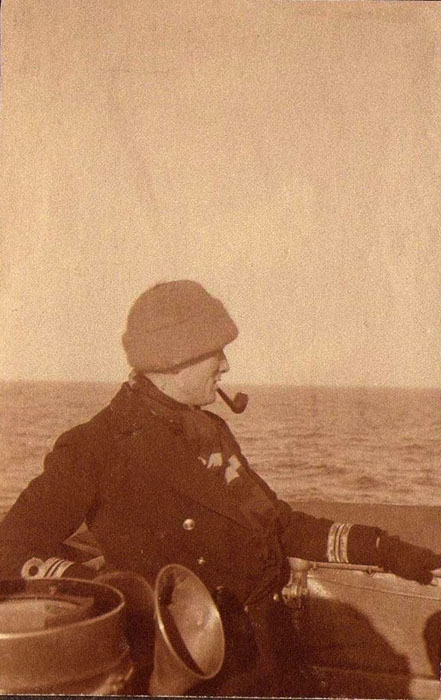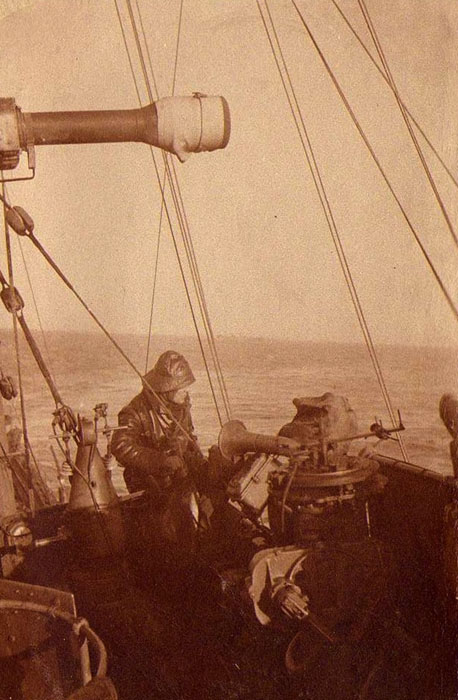 Lt Cdr Colin Donald RN on the exposed open bridge of HMS

Vimy
Left: taken by the pelorus (compass stand) and wheelhouse voicepipe
Right: taken on the port after corner of the bridge with end of rangefinder visible above
Courtesy of Frank Donald

My father joined the

Vimy

in early November. She was initially part of the 22nd Destroyer Flotilla, Nore Command, based at Harwich. The leader was HMS

Keith

(Captain Simson) and comprised three Polish Destroyers and HMS

Gypsy, Gallant, Worcester, Vimy

and

Boadicea

. However the

Vimy

was actually running from Liverpool escorting convoys to and from the South Western Approaches. The day he assumed command on 8th November he was off to sea for the next seven days.

During that stage of the war the U Boat did not have the range to be a threat in mid Atlantic and convoys were only escorted as far as Longitude 15 degrees West. Gibraltar convoys were escorted to Latitude 45 degrees North. This plot shows daily positions for the

Vimy

for December 1939 to January 1940, after which small ships' logs were no longer retained by the Admiralty.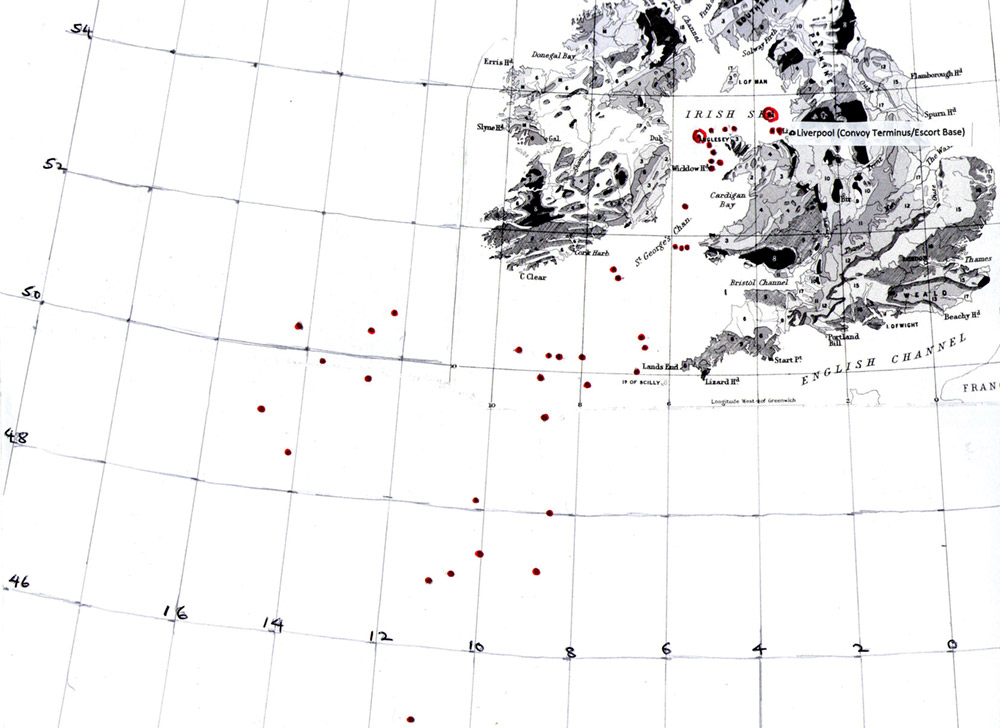 The large red circles denote depth charge attacks, on 31st November and 19th December. There was another in Liverpool Bay itself on 11th January. The

Vimy

went for a welcome rest in dry dock in Birkenhead in mid January, having carried out six convoy escort missions under my father's command. She had also patrolled Liverpool Bay, and made an excursion to Loch Ewe with salvage gear for HMS

Nelson.





Letters home ...



My father's letters home were subject to censorship, so there is no information on ship movements. A lot of the earlier letters dealt with the costs of running the family home in Stirling under wartime conditions, with a number of extra residents and increased income tax. Naval officers' pay was inadequate and they all needed private means or an allowance from parents. My father initially offered to return half his allowance from my Grandfather and in the end was preparing to relinquish it all.

My anticipated arrival in March was another topic. It appears that there must have been some sort of child allowance as I was expected to bring in two shillings a day and a tax rebate. Plans for my future were discussed, and my father took out an insurance policy for me which is still running. He paid the initial premium with the £10 "pilotage money" he earned for taking

Vimy

up the Mersey without embarking a pilot. Letters to his mother expressed thanks for his upbringing and 35 happy years of life, and his Christian faith.


16 December – to Father
Your flying helmet is now proving most useful and keeps my ears beautifully warm, and the grey woolly is my constant companion. It never leaves me from the moment we go to sea until I scrape my clothes off on return to harbour. War is a dirty business in more ways than one!
Now I must climb into my many clothes to go on the bridge to look for a lighthouse. My senior officer and I disagree by twelve miles in our longitude and I want to see who is right. We had sights tonight for the second time in six days, so anything may have happened to the reckoning!
In February

Vimy

was back at sea, resuming convoy duty as part of Western Approaches Command:
February 8 Escorted inward Convoy HG17 for final stage of passage in SW
Approaches to Liverpool from Gibraltar
February 11 Detached from HG17 on arrival and took passage to Plymouth
12 February – to Mother
Life goes on much as usual with us here. Certain aspects of the war are inclined to be monotonous, but I can't complain really. The life is strenuous at times, but one can't fight a war for one's life without going without sleep sometimes, and on the whole things are quite all right.
Soon the summer will be here and the weather will improve. Unfortunately it will also be better for the U-Boats, but by then I hope that our efforts will have made their trained crews less numerous. I am really beginning to work up a hate against them now, and I shall have little compunction in sinking any that I can.
14 February – to Mother
I cannot understand how Hitler allowed himself to be forced into a position from which no retreat was possible. He may have thought that we would not fight, but I cannot imagine that he was quite so stupid. I really think that with him the alternatives were "war or go bust" and he chose the former, which will, in the end, "bust" him completely. At all events we must go on until the dragon is killed, and then reconstruct our lives in a world which will be different from the one we have known before. However I do not doubt that with God's help we shall make a success of it.
To us war is a very impersonal thing. Travelling in England you would hardly know that there was a war being waged at all. That is one of our dangers. Perhaps the terrible stories from Poland will make our people understand the dangers of Nazi German domination. Let us have done with all cant. We are fighting the German people, for it is they who have invented the Nazi doctrine and it is they who are carrying out these atrocious crimes. Naturally we are not at war with our friends – that is something quite different.
I am interested in the change in myself. At the start of the war I said I must learn to hate. Now I have learnt to do so. I don't like it but it has to be. I would now have no compunction in dropping depth charges on a U-boat. Earlier I regarded it as an unpleasant duty. Now I am avenging hundreds of our own and neutral seamen who have been done to death in the most cold blooded way. The Germans are certainly dirty fighters, particularly their Navy I am ashamed to say. A German victory would be the triumph of Antichrist, and God will never permit that to happen I am sure.
March
Passage to Gibraltar to join escort for inward Convoy HG21

March 4
Sailed from Gibraltar as escort for HG21 with HM Destroyers

Active, Velox

and

Vidette

during passage to Liverpool.

March 10
Detached from HG21 and joined HM Destroyer

Winchelsea

and two French Destroyers in escort of Outward Convoy OG21 during passage in SW Approaches to Gibraltar

March 12
Detached from OG21 and returned to Plymouth

April
Resumed service in North Sea for defence of east coast and Channel Traffic


Operational information is from

Service Histories of RN Warships in World War 2

, by Lt Cdr Geoffrey B Mason RN (rtd)


The invasion of Denmark and Norway
On the 9 April the "Phoney War" ended when Hitler invaded Denmark and Norway and
my father wrote at length on the strategic situation, taking a cheerfully optimistic view of our prospects.
9 April – to Mother
My complaint that nothing is happening seems to have no further justification. What on earth are the Germans up to now? I cannot imagine that this fresh act of wanton aggression can do them any lasting good, and I would think that it would turn world opinion more against them than ever. I can only imagine that they are very short of iron ore and are prepared to go to any lengths to get it. I wonder what effect this will have on the USA? With their very large Scandinavian population, added to many Poles and Czechs, I should think that it would not be long now before they enter the war. I am sure that Roosevelt is in favour of doing so, and is merely biding his time to put himself forward as Presidential candidate for the third time and then bring the country into the war.
I can't see that the Germans can go on like this much longer. They now have so much alien territory under their heel that they will want an enormous part of their army for police duties only. I suppose that the next act will be for the Russians to go into Sweden.
14 April – to Mother
What now, what next? The war has really started now, and I do so much wonder what the next step will be. Doubtless we still have much in front of us before the end, but I cannot help feeling that the end is now in sight. No country has ever started on a war with such a precarious economic system as Germany, and I do think that this latest effort is more of a sign of weakness than of strength. Of course I assume that we shall manage to bring help to the Norwegians, and this I imagine we are now able to do, as I suppose that Narvik must now be in our hands. If we have that town we can stop the shipment or iron ore, which is, I suppose, the most important factor in the case. Let us hope, however, that we shall manage to capture Bergen, which would be a dangerous submarine and aircraft base if left in German hands. Once we are established in those two places I think we can say that Hitler's Scandinavian adventure has failed.
What an almighty hiding the German fleet has taken. Our Navy has really done wonders, and I only wonder what the real cost has been. Naturally the wireless and the newspapers have been very reticent about the whole thing, but I cannot imagine that our losses have been negligible. From all I can make out the German submarines have done very little up to date. This may be due to the weather conditions, or may equally due to the fact that their morale has been considerably shaken by the heavy losses they have suffered since the war began. They must have lost a great many trained crews, and the newer ones may well lack the experience and enthusiasm of the earlier ones.
This stage of the war sounds a much more personal note than has been noticeable up to date. Before we were all merely parts of an enormous machine, but now individuals can be distinguished in the system. It seems so strange that de Villiers, whom I can naturally remember as a small cadet, should have taken the "Hunter" into Narvik to meet an unknown fate. Buzzard, whom I also know well, seems to have fought the "Ghurka" splendidly, and I am very thankful that he was rescued. I can only pray that I may do as well as they did if and when my time comes to go into action. Of course that moment may never come – not everyone has the privilege of taking his ship into action, but please pray that I may do my duty if the time should come for me to fight my ship.
Note


HMS

Ghurka

was sunk by a Stuka dive bomber en route Narvik on 9 April having slowed down to improve her anti aircraft accuracy in the prevailing heavy weather. Most of the ship's company were rescued by the cruiser HMS

Aurora

. HMS

Hunter

was sunk in action with German destroyers on 10 April. There were fifty survivors who were rescued by a German destroyer and subsequently allowed to cross the border to Sweden on 13 April .

(Narvik

by Donald Macintyre, Pan Books).
23 April – to Father
Thank God the summer is coming. I have had enough of cold weather and gales to last me for some time, and shall welcome some sunshine. The only curse is the early dawn. We go to Action Stations before daylight every morning until sun up, and it means getting up so infernally early. Still I have to be up to try to take stars as well – I am still extremely bad at them – so it does not matter much anyway.
The flotilla organisation changed frequently and in May 1940

Vimy

joined the 19th destroyer flotilla based at Dover, again with

Keith

as leader. On the 4th of May however she was almost certainly in Liverpool as in a letter to his Mother, after a discussion of whether Italy would join the war, he reported that the

Vimy

had been adopted by the Wellington Hotel in Bebington, Cheshire. The landlady, Miss Hilda Facer, was coming to tea next day. He thought this might lead to having large numbers of well wishers onboard to see over the ship and promised to give an account of the visit in his next letter, but alas he never did. (The Wellington Pub still exists).
The German
Bltzkrieg

On the 10 May German forces invaded the Netherlands and swept on into Belgium and nothern France.

5 May - to me
I am sending you this Bible as a Christening present, and with it comes my very best love to you.
When I was a little boy, in more peaceful times, I was given a King Edward Coronation Prayerbook. You, born in war, receive an Active Service Bible. I hope that you will read it when you are older, because, in this world, everyone is always on Active Service in the fight against Evil.
Your loving father, Colin Donald
10 May – to Mother
Now the gloves are really off and this summer will see this business settled. God knows what we shall go through before we attain the victory, but right must triumph in the end. Hard times are ahead of usual, but God will give us his strength and I know that you will always pray that I may be granted grace to do my duty.
I cannot say that I view Churchill's appointment with enormous confidence. It may answer, but I fear that he will interfere. Perhaps alliance with the Dutch will inspire him, as it did his great ancestor.
16 May – to Mother
The war has really started now, and I think that the issue will not be long in doubt, even though we will probably have an unpleasant time ahead of us. Up to now Hitler has fed his Army and Air Force on cheap successes, which are, of course, good for their morale, but the real test is now coming and they will find things very different when they meet the French and us. We can hold them and we will, and the discovery that they are not invincible will damage their morale and assist towards our ultimate victory. It really does seem that the Germans are putting everything into this effort, and the fury of their onslaught must diminish as our forces come into action in greater numbers. The spearhead of their attack, their picked shock troops, must have lost heavily, and their casualties will increase every day. Once the onrush is checked, as I am sure it will be, victory is ours. As I have said before, I am convinced that God will not allow Evil to triumph, and that he will send the Heavenly Host to our aid rather than see a German victory.
20 May - A final letter to his sister Barbara, who had trained as a nurse
... By now I fear that you will have been called up, but I know that you will do well in your new job, as you have always done in everything which you have undertaken. Until this war started I never fully understood the blessings of a religious upbringing. Now I see that if one did not have Faith life in wartime would be much harder. At this moment the news might be better, but we went through a worse time in 1914 and 1918 and I am confident we shall hold them in this attack, and that once we have done that the end of this war is well in sight.

The practice of making biblical or prayer book associated signals was still going strong. The late Rear Admiral George Thring recalled that when he was Escort Senior Officer in the sloop HMS

Deptford

my father's last signal to him before proceeding back to the Channel as described below was "Nunc Dimittis".



Able Seaman Don Harris joined HMS

Vimy

from hospital after surviving the sinking of the

Royal Oak

at Scapa Flow and left a graphic account of events in May 1940:
"One particular day whilst in the Atlantic guarding a convoy we received a message to return to Dover at high speed. After arrival there and refuelling we headed for the Hook of Holland. The Germans has swept through Belgium and Holland but we onboard had no idea of the severity of the situation. On arrival at the designated destination we picked up the most disreputable old rusted merchant ship that appeared as though it should have been sold for scrap many years ago. Ahead of us a British J class destroyer had slipped out of the harbour shortly before us and signaled to us to keep close station on our merchant ship. It was not long before the Luftwaffe attacked, their main aim very obviously directed at the J class destroyer ahead of us. That type of destroyer at that particular stage of the war was ultra modern and its Captain's evasive high speed tactics were superb. The pressure was off when our own air cover arrived and we sailed into Sheerness without further incident. And so our task was completed, imagine our surprise when later we were informed, without confirmation of course, that the J class destroyer had just carried the then Queen Wilhelmina and Princess Juliana of the Netherlands to freedom from their over-run country, whilst we in the
Vimy
had escorted the bulk of all the gold in Holland which had been stowed away onboard that disreputable old tramp steamer."

This took place on the 13 May and the "old tramp" steamer was the SS

Perseus

carrying the Dutch gold reserves. The identity of the J class destroyer and its passengers is unknown but there seems no doubt that Princess Juliana and her two infant daughters left Holland aboard HMS
Codrington
as described by AB Ted Morgan who remembers helping to look after the young princesses during the cross channel crossing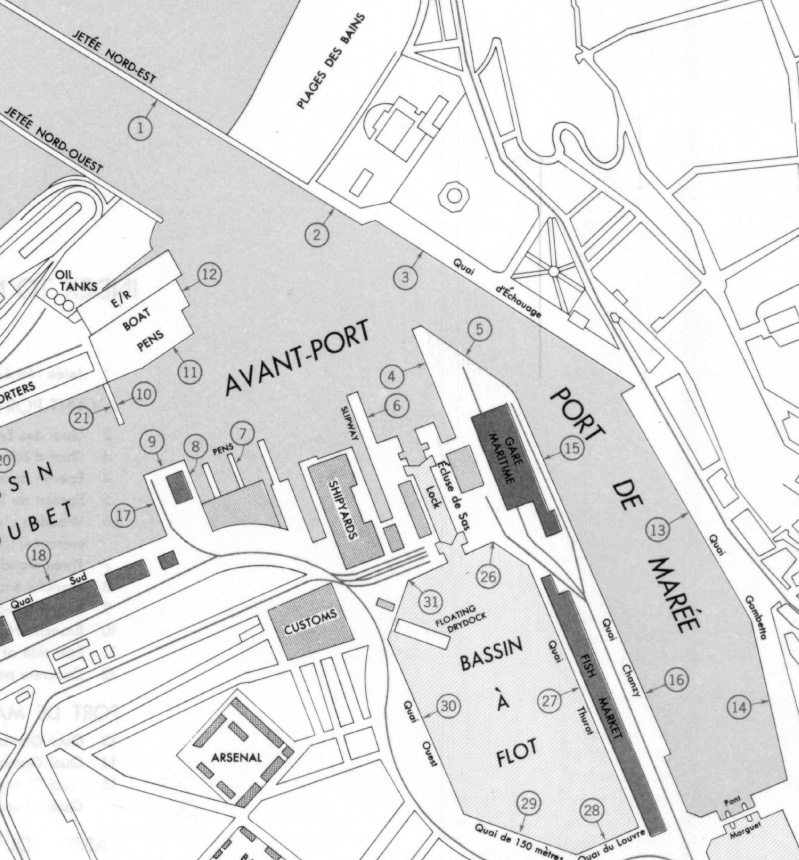 The inner harbour of Bologne showing the Gare Maritime where

Venomous

(15) and

Wild Swan

(4) berthed on the 23 May 1940
Published by the United States Office of Strategic Services, Research and Analysis Branch, 1944
Courtesy of the Lewis Map Library, University of Princeton

AB Don T.W. Harris continues his account of his time on HMS

Vimy

with Lt Cdr Colin Donald in command:
"Immediate, next stop Dover, refuel, then full speed to Boulogne. On arrival there (23 May) we could clearly see large numbers of German Army advance units swarming down the high ground approaches leading to the city. They were being bombarded from offshore by four French destroyers of the "Le Terrible" class, then the most modern of the World's destroyers. We signaled a request for one or two to accompany us into the port to evacuate as many troops, UK and French, plus numerous female nursing staff. Their reply was a definite refusal "no it is suicidal to go in there, we will continue to bombard". And so we proceeded (following Captain Simson in the
Keith
) into the narrow harbour."
At Dover the
Vimy
had embarked elements of Force
Buttercup
to defend Boulogne Harbour. It comprised a Naval Company from Chatham Barracks, two platoons of Marines and a demolition party. One of the Platoon Petty Officers was "Jackie" Vinter, a former shipmate of my father's, and they had a brief conversation which Sub Lieutenant Vinter recalled when I met him in 1957. At 1600 PO Vinter's Platoon was about to fall back on Company HQ. To quote the Platoon Commander's report
"A man dressed in the uniform of a Sergeant of the Welsh Guards had attempted to lure the Platoon into manning a barricade which had been erected. Petty Officer Vinter, Gunner's Mate, however, noted that he was carrying a Mauser pistol, with which he, Vinter was being covered when he went forward to inspect the position where the Sergeant said his men were. Petty Officer Vinter shot him, and on examining him discovered a German uniform underneath his battledress. By his action, Petty Officer Vinter undoubtedly saved his Platoon from falling into a trap. He was wounded later, when attempting to lead some stragglers to safety."

For these sterling actions he was awarded the Distinguished Service Medal.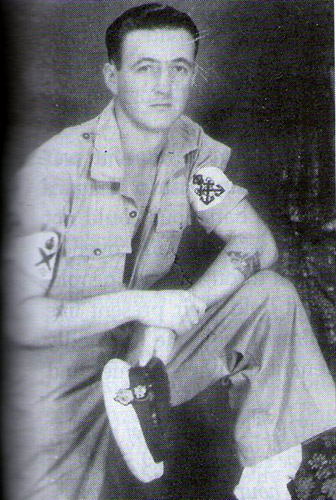 AB Don Harris (on left) continues his narrative:
"The wharf and railway station on our starboard side was packed with those hopeful of being evacuated. On our port side and in close proximity were hotels and other business establishments . The advance German army units were beginning to pick up our range and soon casualties from their light calibre shells were mounting at an alarming rate. However we managed to embark some 700 plus evacuees before being forced to withdraw.
(Don Harris was mistaken, the actual figure was150, consisting of Rearguard GHQ and some wounded, 70 stretchers).


While this operation was proceeding, three of us, the Captain, a Sub Lieutenant (Webster) and myself had remained at key communication links on the open bridge common to the V&W destroyers. Spasmodic automatic rifle fire distinct from the shell fire had been heard from the bridge before I noticed our Captain, Lieutenant Commander Donald, train his binoculars on a hotel diagonally opposite but quite close to our ship. I heard another burst of firing from the snipers located in the hotel and then saw our Captain struck down. He fell onto his back and as I leapt to his aid I saw that a bullet had inflicted a frightful wound to the forehead, nose and eyes of his face. He was choking in his own blood so I moved him onto his side, and it was then I received his final order. It was "get the First Lieutenant onto the bridge urgently". As I rose to my feet more shots from the hotel swept the bridge and the Sub Lieutenant fell directly in front of me. I glanced down at him and saw four bullet holes in line across his chest. He must have been dead before he hit the deck.
On the upper deck I located the First Lieutenant and appraised him briefly of what had occurred. He immediately assumed command and ordered all securing lines cast off and full speed astern. He consulted me on the approximate location of the snipers in the nearby hotel and after I had given my opinion he ordered A gun's crew up forward to bear on that target and fire a four inch shell at point blank range, no more than one hundred yards; the result was devastating. I trust, to this day, that that shot accounted for the cowardly French fifth columnists as they were claimed to have been by one of the evacuees onboard, a UK Army major. Still at full speed we reached the outer limits of the harbour and then had to contend with German light bombers.
Our new temporary Captain performed a magnificent feat of seamanship as he manoeuvred his top-heavy destroyer away from each attack. The planes soon broke away from us to attack the four French destroyers still at their task of bombarding beyond the port. The first attack brought immediate results; the leading ship of that contingent suffered direct hits and disappeared in a gigantic mushroom of flame and smoke. And so to Dover to unload our human cargo, refuel, await a replacement Captain and try very hard to get some precious sleep. Thus ended an episode which the following day the London
Daily Mirror
reported under the banner headline, "THE HELL THAT WAS BOULOGNE".
This vivid first hand account is from a letter written by former AB Don T.W. Harris to Richard Hough on the 5 February 1985.

Lr Cdr Colin G.W. Donald RN died in hospital that night and was buried at sea off Dover on the 27 May. His parents had travelled by sleeper from Edinbugh the previous night to be present when their son was buried at sea from an auxilliary. Colin Donald was awarded a posthumous Mention in Dispatches, as was Captain Simson of the
Keith
. His No 1, Lieutenant Adrian Northey DSC, received a Mention in Dispatches and the DSC was awarded to Sub Lieutenant Godden.
Letters of condolence
From the First Lieutenant, Adrian Northey and my father's Servant, Able Seaman T Fawcett:
Lieutenant Adrian Northey, 25 May 1940
This is just a short note to express my and the ship's company's wholehearted sympathy with you in your great loss.
We all had a great admiration for your husband and he was greatly respected by us as a man who knew his job, never spared himself and had a lot of consideration for his men. I who of course was most in contact with him personally, feel for you rather more, especially as I know that his one wish was to be able to get home for the christening.
I hope this letter will ... console you in knowing that he died on the bridge doing his duty while conferring with his Captain (D).
Again I should like to say how much the whole of the ship's company join with me in expressing our sympathy. I hope it will please you to know that the Admiral under whom we were working at the time expressed a very warm appreciation of the gallant way in which the destroyers carried out their job.
Able Seaman T Fawcett
10 June1940
This is the first opportunity I have had to offer my deepest sympathy to you in your sad and sudden bereavement. I do hope that the shock has not been too great for you. I was speaking to my Captain (I was his servant) a few moments before it happened and he was so brave and cheerful. With great courage and resourcefulness he took his ship into that Port which was full of danger.
Please do not think me forward, writing these few lines, for my Captain and I often chatter of the progress of your baby and yourself and of mine too, and somehow I cannot feel content until I have expressed my sympathy. I feel his loss I assure you, he was so good and kind to me in particular, and to my wife who has been so much grieved too at the news of his death.
1 August 1940
... I am sorry, the Captain did not speak again after he was hit. He was attended to immediately by the doctor, who made him quite comfortable. I was at the time closed up at my gun just under the bridge where the Captain stood and was fortunate to survive myself as a sniper's bullet hit the gun shield close to my head, but luckily a rivet proved too hard for it to pierce.
All I can tell you of after he was hit is that we made him comfortable between decks and the steward (sick berth attendant) and myself took turns in watching him until we reached Dover. Then my duty took me away again to the bridge and from there I saw him being taken away ashore. His last words personally to me were that we would both "soon be home to see our sons and wives" and have a nice quiet time.
I am now serving the third Captain since Lt Cdr Donald left us and I find him in the same category, forgive the phrase, but he is so much like him, cheery and resourceful, and I only hope that he is as good a Captain to work under as Mr Donald ...
***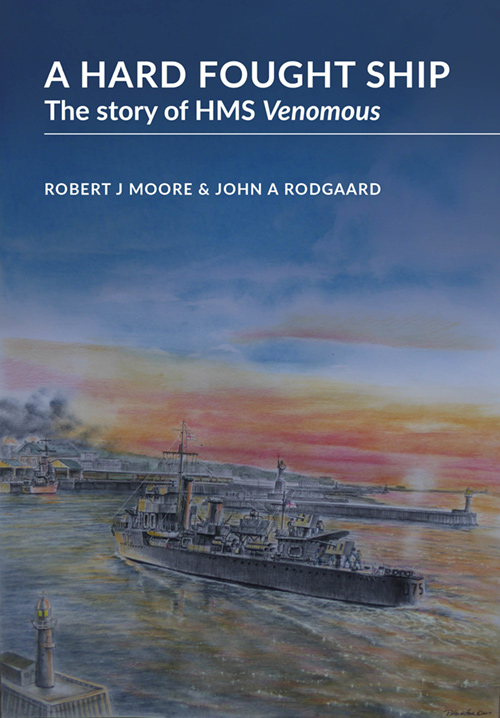 Keith and

Vimy

were first to enter the narrow inner harbour (
both commanding officers were killed)
followed by

Whitshed

and

Vimiera

. When they left

Venomous

and

Wild Swan

entered and berthed either side of the Gare Maritime, on the west side of the harbour. Lt Cdr John McBeath RN made the wise decision to berth HMS

Venomous

on the east side of the Gare Maritime, his starboard side, where he could bring his 4.7 inch guns to bear on the German tanks and troop carriers descending the steep slope to the jetties on the opposite side of the harbour.


When CPO Hugh McGeeney returned home to Plymouth he told his wife that

Venomous

had nearly been "bottled" when the German forces almost succeeded in sinking HMS

Venetia

as it entered the harbour trapping

Venomous

and

Wild Swan

inside. With all the officers on the bridge of

Venetia

severely wounded or killed a young sub lieutenant took command and proceeded out of harbour stern first. McBeath with 500 troops aboard and his ship's rudder jammed
used
his ship's engines to steer

Venomous

backwards through the narrow harbour entrance whilst guardsmen and crew fired on the advancing German forces.
HMS

Windsor

then berthed and took on board a further 600 guardsmen while Conder, the senior officer after the death of Captain Simpson on HMS

Keith

, continued to direct operations from HMS

Whitshed

in the outer harbour.
That night
Vimiera
returned to Bologne, berthed unnoticed at Quai Chanzy alongside the Gare Maritime and by 0245 on the 24 May when it slipped had 1,400 men aboard leaving only 200 behind on the quayside to become POW.

The following description is taken from the

Report of Proceedings:




24 May
0140 Proceeded into harbour and secured to outer jetty, starboard side to. This left the ship fully exposed to the shore batteries on the northern ridge, but with a straight run down the channel in case it became neccessary to leave abruptly. In any case my previous position (1921 - 2025 23 May) no longer gave much security as the tide was now high.
The silence in the town was eerie, the only noise being from a burning lorry a few yards away across the channel, from which came periodically the sound of exploding ammunition. The flames from this and a full moon gave plenty of light, but failed to disclose any sign of life. Twice I hailed the dockside without result and was just about to leave when a voice answered. I was appalled to learn that no ship had been in for about five hours and that more than 1000 soldiers were still waiting to be evacuated, I said I could not take back so many but would do my best, nor could I wait long.
As soon as the ship was firmly alongside there was a rush from the station buildings and a voice shouted that the Germans had ambushed us. It was probably during that rush that a considerable number of French and Belgian soldiers and some refugees found their way onboard. If this had not been so I think I should probably have been able to evacuate all the British units that remained.
Periodically army officers hailed me and stated that further contingents of troops were in hiding at various distances from the station and could I wait another twenty minutes.
In this way time drew out until it was after 0230. My First Lieutenant then informed me that no more men could be accomodated due to the lack of space. In order to provide room and to keep the weight down in the ship, I had opened up all lower messdecks and the tiller flat, all of which and my day cabin and the wardroom were crowded. Only around the guns and the supply parties and on the forecastle was space left. On the rest of the upperdeck men were lying jammed so closely that it was impossible to proceed along it.
During this time enemy bombers had been patrolling overhead and firing machine guns at the lighthouse about 50 yards astern of the ship. Apparently they could not distinguish the ship from the dockside cranes and buildings in spite of her being silhouetted against the full moon.
0245

Slipped and proceeded astern out of harbour, regretfully leaving about 200 men still on the jetty. I told them that another destroyer would be in, though I realized that by now there was little of no chance of WESSEX arriving.
0250

Shore batteries suddenly opened fire, apparently at position where the ship had been lying for the past hour and which had been so recently vacated.
0255

Enemy bombers passed close overhead and heavy bombs exploded about 20 yards away under water. The attack was not repeated for which I was thankful as avoiding action was impossible. Using only 5 degrees of of wheel made the ship list and hang in the most unpleasant manner due to the additional 100 tons of top-weight.
The evacuation of 4,368 of the Welsh and Irish Guards from Boulogne by HMS

Keith

and seven V&Ws (

Vimy, Whitshed, Vimiera, Wild Swan, Windsor, Venomou

s and

Venetia

) is one of the most dramatic events described in
A Hard Fought Ship: the story of HMS
Venomous
. The story is told by the men who were there and illustrated with photographs taken during the action. But you can also follow events as they happened on this web site by reading the naval signals received and sent by HMS

Venomous

on the 23 May 1940.
The dramatic events of 23 May 1940 are described in the new hardback edition of
A Hard Fought Ship: the story of HMS

Venomous
which was published on 9 May 2017
Buy the new edition
online for £35
post free in the UK
Take a look at the Contents Page and List of Illustrations
---
Holywell House Publishing
88 Holywell Hill, St Albans, Hertfordshire AL1 1DH, Britain
http://holywellhousepublishing.co.uk
Telephone: +44 1727 838595
contact online
---