Naval Signals recording events during
the evacuation of troops from Boulogne on the 23 May 1940
The ships which entered Boulogne's narrow inner harbour to bring back the troops
Apart from HMS Venomous the ships evacuating the troops from Boulogne were all members of the 19th Destroyer Flotilla based at Dover and apart from the Flotilla Leader, HMS Keith, they were all V & Ws. HMS Venomous, commanded by Lt. Cdr John McBeath RN, belonged to the 16th Flotilla at Portsmouth but was transferred to Dover after her refit on 2 May 1940 and was ordered to join the 19th Destroyer Flotilla off Boulogne by Vice-Admiral B.H. Ramsay RN, Vice Admiral Dover (VAD). This explains why Ramsay wrote to Captain D16 (Capt Thomas E. Halsey RN in HMS Malcolm) thanking him for the part played by his flotilla. The eight destroyers in the 19th DF and their Commanding Officers are listed below.

HMS Keith - Capt D J R Simson RN, Captain (D)
Succeeded by Capt E.L. Berthon RN (23 May - 1 June when HMS Keith was sunk off Dunkirk)

HMS Whitshed - Cdr E.R. Conder RN, 2nd Senior Officer 19th DF, took over when Capt D.J.R. Simson, Captain (D), on HMS Keith was killed

HMS Wild Swan - Lt. Cdr. John L. Younghusband, RN

HMS Windsor - Lt. Cdr. Peter D.H.R. Pelly, RN

HMS Vimy – Lt. Cdr Colin G.W. Donald RN
Succeeded by Lt Crd Richard George Kirby Knowling RN (23 to 28 May when he was lost overboard during the Dunkirk evacuation).
Lt Adrian Paul Northey RN (28 - 30 May)
Lt Cdr retd Michael Wentworth Ewart-Wentworth RN (30 May - 20 July 1940)

HMS Vimiera – Lt. Cdr Roger B.N. Hicks RN (15 Jan 1940 - 26 February 1941)
Succeeded by Lt Cdr Angus A. Mackenzie RNR ("No 1" to McBeath on HMS Venomous at Boulogne) until 9 Jan 1942 when Vimiera was mined and sunk in the Thames estuary with the loss of most of her crew.
HMS Venetia - Lt. Cdr. B.H. de Clegg Mellor, RN (from 27 March – 25 May 1940)
Succeeded by Lt Cdr Desmond L.C. Craig RN (25 May - 19 October 1940, killed when HMS Venetia was mined and sunk in the Thames estuary)

HMS Verity - Lt. Cdr. Arthur R.M. Black, RN (until 29 May 1940)
Succeeded by Lt Cdr Robert H. Mills RN
(Arrived at Boulogne in the early hours of the 23 May as guardship and left for Dover before dawn with General Brownrigg, the Adjutant General of the BEF and his staff, to report on the situation).

Although two of their CO's were killed and HMS Venetia badly damaged no ships were lost at Boulogne but HMS Keith was sunk a week later at Dunkirk and Venetia, after extensive repairs, detonated a mine and sank in the Thames estuary in October 1940.
Naval Signals
Eric Pountney was a Wireless Telegraphy Operator on HMS Venomous from August 1939 to October 1943. He kept copies of signals received or sent during the evacuation of the Welsh and Irish Guards from Boulogne on the 23 May 1940, one of the most dramatic events described in A Hard Fought Ship, and during the first of five trips to evacuate the troops from the North Mole and beaches near Dunkirk on the 31 May.
There was no need to preserve radio silence as the destroyers were in close contact with the enemy and their positions were known. Most of the signals are from ship to shore where, Bertram Ramsay, Vice Admiral Dover (VAD) was directing operations from Dover Castle. They record events as they happened while the outcome was still in doubt. The time at which signals were sent was given using the 24 hour clock (without punctuation) followed by the date if this could be in doubt.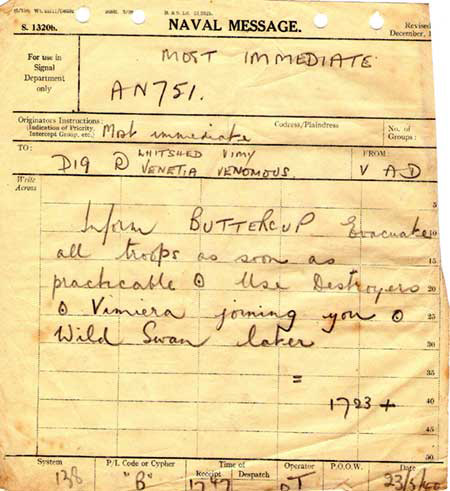 It is important to note the difference between the time at which a signal was sent and the time it was received. For example, the signal shown above sent by Vice Admiral Bertram H Ramsay RN ordering the evacuation of the troops from Boulogne was released by Vice Admiral Dover (VAD) at 1723/23. It then went to the Dover WT office and was transmitted in morse code, probably on a broadcast read by all ships. The messages were encrypted before transmission and decrypted on arrival which explains the delay before the signal was received by HMS Venomous at 1747.

In Lt Cdr George Stitt's
fictional account of HMS

Whitshed

published as

HMS

Wideawake

: destroyer and preserver

(Unwin Hayman, 1943) to conform with wartime censorship rules
this was done by the Doctor who "had a first aid bag over one shoulder, a weighted bag with cypher books in one hand and a bottle of morphia and syringe in the other".
The crypto would not have been nearly so sophisticated as Enigma.
German forces had reached the coast near Abbeville and were sweeping north east towards the Channel ports. Boulogne was the last major town barring their way to Calais and Dunkirk. On the 22 May the Welsh and Irish Guards were taken to Boulogne on requisitioned peacetime ferries to reinforce the defence of the harbour city. Their escorts were HMS Keith, the Flotilla Leader with Capt D.J. R. Simpson in command, and six V & W destroyers. Venomous escorted the Mona Queen to Boulogne and returned with close to one hundred refugees including twenty-six orphan children, their teachers and the nuns responsible for their welfare. The Mona Queen remained at Boulogne unloading stores.


The destroyers shelled the coast before entering the harbour at Boulogne to evacuate the troops
The V&W on the left is probably HMS
Venetia
(D53) which almost sank and "bottled" HMS
Venomous
and HMS
Wild Swan
within the inner harbour
"the vessels were subjected to a severe attack from about 60 Junker 87 dive bombers", Lt Cdr John McBeath RN
See the
painting of the attack
on the front cover of
A Hard Fought Ship
Courtesy of Richard Kershaw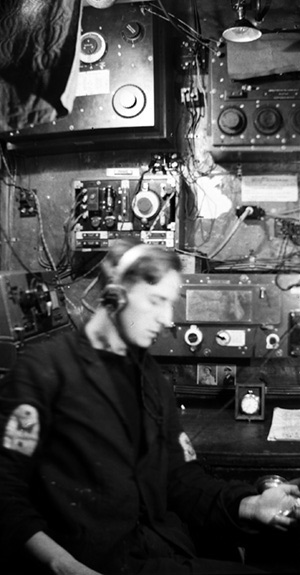 On the afternoon of 23rd May HMS Keith, the Flotilla Leader, Venomous and the six other V&Ws of the Dover Flotilla were ordered back to Boulogne to stand by to evacuate the troops they had taken there the previous day. Keith and Whitshed were the first to enter the narrow harbour, and Vimy followed when Whitshed returned
to Dover with stretcher cases. After the order was given to evacuate the troops an air attack developed, and the commanding officers of both Keith and Vimy were killed by sniper fire. Once Keith and Vimy were clear Whitshed and Vimiera took their places in the harbour.
When they left Venomous and Wild Swan entered and berthed either side of the Gare Maritime, on the west side of the harbour. Lt Cdr John McBeath RN berthed HMS Venomous on the east side of the Gare Maritime, his starboard side, where he could bring his 4.7 inch guns to bear on the German tanks and troop carriers descending the steep slope to the jetties on the opposite side of the harbour.

German forces almost succeeded in sinking HMS Venetia as it entered the harbour trapping Venomous and Wild Swan inside. With all the officers on the bridge of Venetia severely wounded or killed a young sub lieutenant took command and proceeded out of harbour stern first. McBeath with 500 troops aboard and his ship's rudder jammed used his ship's engines to steer Venomous backwards through the narrow harbour entrance whilst guardsmen and crew fired on the advancing German forces. HMS Windsor then berthed and took on board a further 600 guardsmen while Conder, the senior officer after the death of Captain Simpson on HMS Keith, continued to direct operations from HMS Whitshed in the outer harbour.
Eric Pountney (on left) retained copies of the signals received from Vice Admiral Destroyers (VAD) at Dover and her sister ships taking part in the evacuation. They tell a dramatic story - italics are added for emphasis.

1155
Most Immediate
From: Vimy To: ??
"Enemy force estimated 1 Tank Battalion and regiment of infantry attacking north sector. BUTTERCUP has been ??"
(Remainder of signal indecipherable – owing to having gone on a different line)
Date: 23/6 [must be an error]
A demolition party (Operation XD(G), under Lt Cdr AEP Welman, DSO, DSC, RN (Retd) was despatched in the destroyer

Vimy

, to Boulogne, together with a force known as "Force Buttercup", to restore control of the dock area and cover the demolition party; Major CFL Holford RM was in command of this force, and it consisted of 4 platoons of seamen, 2 Marine platoons with a section of guns and a medical party
(The evacuation from Dunkirk: Operation Dynamo, 26 May-4 June 1940
; W. J. R. Gardner, Great Britain. Admiralty. Historical Section). After landing the demolition party and Force Buttercup at 1100 Vimy had proceeded to bombard the German forces advancing on the town.

1345/23 (est)
From: VAD To: D19, Whitshed
"Proceed Boulogne with utmost dispatch, Captain(D) in Keith with orders to follow"

1422/23
From: Admiralty To: D19, Whitshed Rept VAD
Instruct Buttercup as follows.
From War Office begins. "No armed men are to be embarked Boulogne. They are to stay and fight it out."
When "Force Buttercup" arrived, the town was under shell fire and being attacked by enemy tanks and infantry, and the army forces were being withdrawn to the jetty in readiness for evacuation, although the War Office sent orders during the afternoon that the troops were to stay and fight it out.
The evacuation from Dunkirk: Operation Dynamo, 26 May-4 June 1940; W. J. R. Gardner, Great Britain. Admiralty. Historical Section

1537
From: VAD To: Venetia, Venomous
"Join D19 off Boulogne with all dispatch"
1625
From: Venomous To: VAD
"Expect to arrive 1735"

1644
Immediate
From VAD To: Vimiera, Windsor
"After motor transport ships berth Vimiera join Windsor off Calais. Object of both ships to destroy by gunfire any enemy obstructions (?) attempt to advance on Calais by road from West."
NB Vimiera does not appear to have received this as she left Calais for Dover at 1600

1723+
Most Immediate AN751
From: VAD To: D19 [19th Destroyer Flotilla] & Whitshed Vimy Venetia Venomous
"Inform BUTTERCUP Evacuate all troops as soon as practical. Use destroyers. Vimiera joining you. Wild Swan later."

1825
From: ? To: VAD
"Am being attacked by enemy aircraft in Boulogne Harbour"

18.33
Immediate
From: Whitshed To: Dover W/T
"Fighters must be sent"

1636 [an error, must have been 1836, see below]
From: Venomous To: Dover W/T
"HELP – BOULOGNE HARBOUR"

In company with other British and French Destroyers, H.M.S. "VENOMOUS" was cruising off BOULOGNE at 1830 on 23rd May 1940, when this force was subjected to an intense dive-bombing attack by about sixty Junker 87 dive-bombers. This attack was delivered with the apparent intention of discouraging the bombardment of the coast.
Action off Boulogne on 23rd May 1940
, Lt Cdr John McBeath's Report of Proceedings, 26 May 1940.
18.50
Most immediate
From: Whitshed To: VAD
"Being bombed by 60 bombers. Capt D wounded."

19.05
Most immediate
From D19 To: VAD
"We had to withdraw heavy machine gunning from north side of harbour many casualties ? gone."
At 1915, on receipt of orders from H.M.S. "WHITSHED," the remaining destroyers in the order WILD SWAN, VENOMOUS, VENETIA proceeded into BOULOGNE Harbour to evacuate our military forces.
Action off Boulogne on 23rd May 1940, Lt Cdr John McBeath's Report of Proceedings, 26 May 1940.
19.20
Most immediate
From: Whitshed To: VAD
"Enemy holds North bank of Whole town. Intense bombing
- - QUAICH only if Buttercup is to be rescued. Captain (D) Dead." [Capt D.J.R. Simpson aboard HMS Keith]
Note: QUAICH was a secret operational code word, whose meaning is not now known

A signal was received from H.M.S. "WHITSHED" to the effect that the enemy were holding the left bank of the harbour. On entering H.M.S. "WILD SWAN" proceeded alongside the south west side of the railway jetty but although Army officials called to H.M.S. "VENOMOUS" to secure alongside her, I decided to use the North East side in order to keep all guns bearing on the left bank.
Action off Boulogne on 23rd May 1940
, Lt Cdr John McBeath's Report of Proceedings, 26 May 1940.
19.35
Most immediate
From: Whitshed To: VAD
"Welsh Guards still in woods on North side of Harbour."

19.35
Most immediate
From: Whitshed To: VAD
"Am carrying out evacuation of Welsh Guards anticipate further bombing shortly."

Whitshed and Vimiera left at 2025, to be succeeded by Venomous and Wild Swan:

"After thirty-five minutes alongside when H.M.S. "VENOMOUS" had embarked approximately 500 troops, I decided to leave harbour. To get out astern as quickly possible 18 knots was ordered. Soon after slipping, the wheel jammed a hard-a-starboard and for the remainder of the passage out through the narrow channel, the ship had to be steered by the engines. H.M.S. 'WILD SWAN' followed H.M.S. 'VENOMOUS' out of harbour. Action off Boulogne on 23rd May 1940, Lt Cdr John McBeath's Report of Proceedings, 26 May 1940."
In his damage report McBeath stated that "VENOMOUS was hit several times by machine-gun bullets. These caused the W/T set to be put out of action. There were two casualties - slightly wounded. This latter action occured between 2040 and 2055."
2123
From: Naval Officer in Command (NOIC), Dover To: Wild Swan, , Venetia, Windsor, Venomous
"SO Destroyers take charge and use discretion as to appropriate action. Wessex to join."

2145
From: NOIC Dover TO: Wild Swan, Venetia, Venomous, Windsor, Wessex
"You have complete freedom of action to act as you think fit, and withdraw if opposition too strong. Dark may help you."
2334
From: Wild Swan To: VA Dover
"Destroyers should not enter Boulogne without covering fire and further evacuation considered impracticable"

That night

Vimiera

returned to Bologne, berthed unnoticed at Quei Chanzy alongside the Gare Maritime and by 0245 on the 24 May when she slipped had 1,400 men aboard leaving only 200 behind on the quayside to become POW.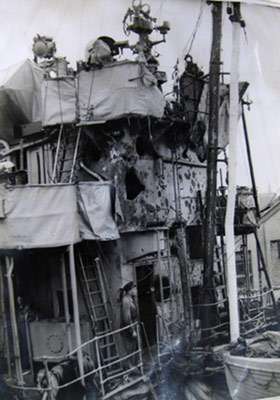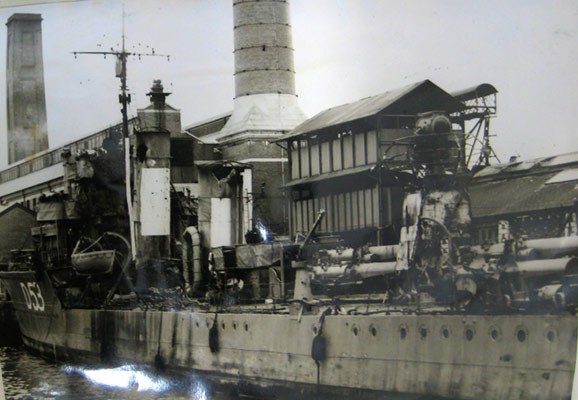 HMS

Venetia

, photographs from damage report after evacuation of troops from Boulogne

The Germans nearly succeeded in blocking the entrance to the narrow harbour by an all out assault on HMS
Venetia
trapping HMS
Venomous
and HMS
Wild Swan
inside
The photographs are from the Damage Report for the Director of Naval Construction (DCN), Bath
National Archives ADM 267/101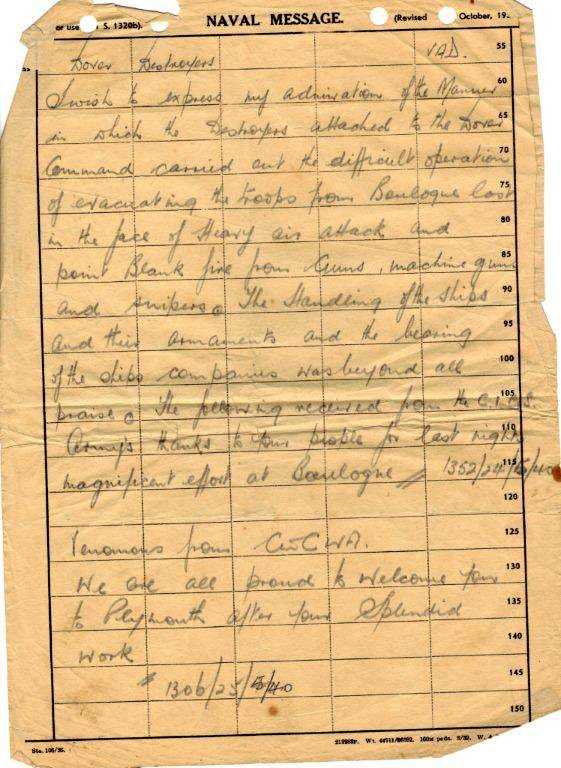 25 May 1940
From: Vice Admiral Destroyers (VAD)
To: Dover Destroyers
I wish to express my admiration of the Manner in which the Destroyers attached to the Dover Command carried out the difficult operation of evacuating the troops from Boulogne both in the face of heavy air attack and point Blank fire from Guns, machine guns and snipers. The handling of their ships and their armaments and the bearing of the ships' companies was beyond all praise. The following received from the CIGS [Chief of the Imperial General Staff] Army's thanks to your people for last nights magnificent effort at Boulogne. 1352/24/5/40
Venomous from C in C WA
We are all proud to welcome you to Plymouth after your splendid work.
1306/25/5/40
From the private papers of Lt Cdr Angus Mackenzie RNR

After repair at Devonport
Venomous
made five trips from Dover to Dunkirk to bring back the troops
See the naval signals received and sent by Eric Pountney on the 31 May 1940