The story of HMS Venomous
Lieutenant Guy Henry Garrett-Cox RNVR
13 June 1911 – 12 November 1942

"My grandfather Lieutenant Guy Garrett-Cox was aboard HMS Hecla. It is not known whether he was killed or one of those missing. My grandmother was in touch with certain of the survivors up until her death in 1985."
Jeremy Garrett-Cox knew almost nothing about his grandfather, a young RNVR lieutenant on HMS Hecla, when he ordered one of the last remaining copies of A Hard Fought Ship but was curious to find out more. Hans Houterman was able to trace the bare facts of his short life and service career and create an entry for him on his unithistories.com web site and by chance I was able to send Jeremy a first hand description by a fellow officer on HMS Hecla of events leading to his grandfather's death.
Guy Henry Garrett-Cox was born in Berkshire on the 13 June 1911, the son of George Samuel Henry Reuben Garrett-Cox, a music professor and organist at St Luke's Church in Maidenhead. Guy was the manager of a tea estate in Ceylon when he married Rosemary Simpson-Hayward at Colombo on May Day 1939. She grew up in Stow-on-the-Wold in Gloucestershire, the daughter of Hayward Thomas Simpson-Hayward (1875-1936), a cricketer who toured with the English Gentlemen and was the last lob (underarm) bowler for England. She must have expected to be in Ceylon for several years when she went there to be married but the outbreak of war brought their time in Ceylon to an abrupt end only a few months later.

Jeremy told me that his grandmother "spoke very fondly of her life in Ceylon. Guy must have been an accomplished horseman as there are pictures of him riding standing on his horse's back! They had two pet mongoose and a pet bear (which I think lived in an old swimming pool). My grandmother had a real way with animals .."
Jeremy's father, Martin Hayward Garrett-Cox (1941-2003), an insurance broker, was their only son and Jeremy's enquiry led to the creation of this web page in his grandfather's memory.

**** **** **** **** **** ****
On returning to England later that year Guy Garret-Cox joined the Navy and after gaining his necessary sea time and demonstrating that he possessed what the Navy called "officer like qualities" was sent to HMS King Alfred (RNVR officers' training establishments, Hove & Lancing, Sussex). Sub Lt G.H. Garret-Cox RNVR was posted to the destroyer depot ship, HMS Hecla on the 5 February 1942 while she was undergoing a short refit on the Clyde after returning from Havelfjord in Iceland before leaving for the Indian Ocean via the Cape.

Hecla was never to reach her destination. On the 15 May Hecla rounded the Cape and as she crossed the Aghulhas Bank just east of False Bay struck a mine at 15.59 hours killing 21 of the crew (with 3 missing and 116 injured). She limped into the Simonstown naval base and remained there for several months under repair. A detailed description of the mining can be seen elsewhere on this web site. What is clear from the "Report of Damage to HMS Hecla by Underwater Explosion and Casualties to Personnel" (ADM 199/802) by Capt E.F.B. Law RN on the 17 May two days after the mining that the four young sub lieutenants who joined Hecla on the Clyde were amongst the officers and ratings singled out for praise.


The names of the four young sub lieutenants who distinguished themselves when HMS

Hecla

was mined on the 15 May 1942
From Capt E.F.B. Law's "Report on Damage to HMS
Hecla
by Underwater Explosion and Casualties to Personnel
" (
ADM 199/802)
Guy Henry Garrett-Cox was promoted to lieutenant back dated to the 5 May and received his second stripe. The only photograph of him in naval uniform (on right) was taken at Simonstown and shows him standing by the seashore supporting himself with a walking stick which suggests that he may have been convalescing after being injured during the mining.
HMS

Hecla

was under repair in the Simonstown naval dockyard for five months and most of its officers and crew were entertained by South Africans in their homes on holidays ashore, known as "up-homers", and some corresponded for years afterwards with their generous hosts.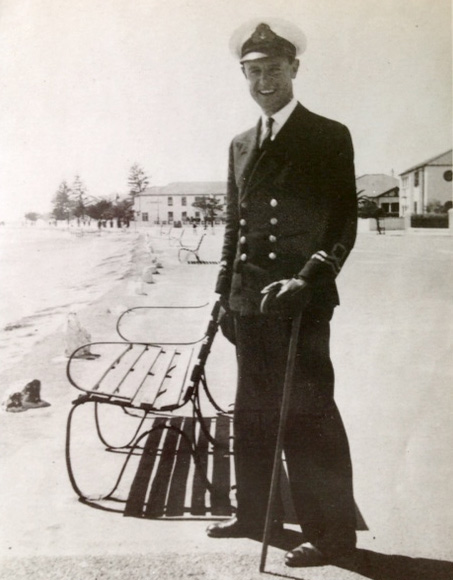 When HMS

Hecla

finally left the naval dockyard on the 20 October she headed north to support the invasion of North Africa, Operation

Torch

. A young South African, Lt Herbert H. McWilliams SAN, joined the ship. He was an architect by profession, a keen sailor and a gifted artist who had served on the lower deck of the cruiser, HMS

Shropshire

, before being sent for officer training at

King Alfred

. McWilliams and Cox became good friends.

On arrival at Freetown on the 2 November they joined the destroyer depot ship HMS

Vindictive

as part of Convoy CF.7A whch left with a strong escort on the 4 November for Liverpool.
The two destroyer depot ships, HMS

Hecla

and Vindictive, were met by the destroyer escorts, HMS

Venomous

and HMS

Marne

, near the Canaries on the 8 November and soon detached for Gibraltar to support the ships taking the troops to the invasion of north Africa, Operation

Torch

. The first torpedo struck

Hecla

at 11 pm on the 11 November when she was 400 milese south west of Gibraltar. The Navigation Officer on

Hecla

,
Lt Cdr H.C.R. Alexander RN
, attributed the disaster to the decision of Captain H.G.D. Ackland RN, the CO of HMS

Vindictive

and senior officer of the convoy, to ignore a report relayed from

Hecla

that a U-Boat had been observed by a spotter aircraft on their present course. HMS

Venomous

was returning to its station escorting Hecla after diverting to chase an echo detected on her RDF (sonar) when U-515 launched the first of five torpedoes to hit HMS

Hecla.

Herbert McWilliams took the afternoon watch on the 11 November feeling weak after two days in bed with flu and was glad to be excused the middle watch from midnight to four so that he could have "all night in". He had been asleep for an hour when the first torpedo struck at 11.16. After dresssing and going to his action station McWilliams "went up to the bridge to find out what was happening. I found that we were to prepare for being taken in tow, and that our motor launch would probably be needed, for the evolution, so I decided to make my way to the boat deck, in my capacity as second Boat Officer, to see if I could help my friend Spring, who was in charge of all boats." Spring asked McWilliams to check that power was available for the ten ton crane to haul out the boats and then as "Poor old Spring was shivering with cold; he only had pyjamas and lifebelt and sea boots on, I offered to go back to his cabin and get him some clothes, and as there was nothing to be done till the boats were ready to be hoisted I dashed off again to do this." McWilliams also retrieved some of his own belonging before returning and "no sooner had Spring put on his clothes than we spotted the track of another torpedo coming for the port side, apparently due to hit the ship not far from where we stood. We ran inboard, covered our heads with our arms and ducked under one of the motorboats."

This explosion destroyed the boats and it was obvious that the ship was sinking but "it was quite useless to attempt to organise any sort of 'abandon-ship' drill; it was just a case of every man for himself." McWilliams "climbed to the highest part of the shelter deck, next to the after funnel, which was tottering drunkenly over, and leaning against the tripod of the mainmast."


"I had lost Spring, but at this stage I found him standing next to me, also Cox, one of the officers I liked immensely, and who, alas, was eventually lost. We were all quite calm, Cox and I giving a few extra puffs at our pneumatic lifebelts when another torpedo - which we didn't see coming - struck somewhere below where we were standing. Up till this time I had this time I had a sort of idea that the ship might float, probably almost awash, until daylight at least. But now I couldn't help being overcome with a feeling of helplessness, mainly at not being able to get boats over the side to help some of those less able to help themselves than I felt myself capable of doing. But I was not scared – certainly not at this stage, much to my surprise. But after this last torpedo I felt that perhaps it would be wise to leave: I had visions of getting entangled in stray lines, or being laid out by falling structures. The wireless aerial fell down in leaping coils, and as the ship took on a greater list there were ominous rumblings and crashes between decks as heavy objects broke loose and slid to port.
For some reason there was not the shower of falling fragments after this explosion, and I did not see the flash. There was a blast of air and spray, however, that nearly blew me overboard, and as the torpedo had struck the after magazine there were other muffled explosions. Spring and Cox climbed over the side and went down one of the many ropes. I rather hoped they would suggest that we stick together, but they didn't even say goodbye. I reckoned, however, that we would meet in the water, and prepared to go over after them."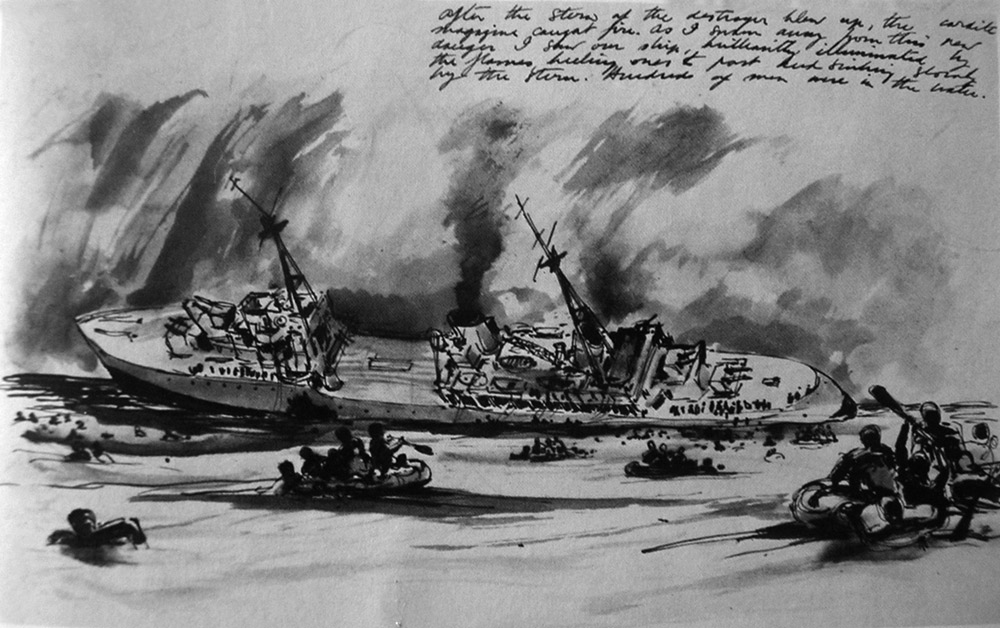 "I saw our ship brilliantly illuminated by the flames listing to port but slowly sinking by the stern"
The point where McWilliams, Spring and Garret-Cox assembled near
"
the after funnel, which was tottering drunkenly over, and leaning against the tripod of the mainmast" can be clearly seen
Sketched by Lt Herbert H McWilliams SANF within hours of his rescue by HMS Venomous

Lt Geoffrey N. Spring RNVR and Lt Herbert H. McWilliams SAN were both rescued by HMS

Venomous

but nothing more is known of Jeremy's grandfather, Lt Guy Henry Garrett-Cox RNVR. His name is on the "Official Admiralty Communique" of casualties as "missing presumed killed" which means that his body was not recovered.



**** **** **** ****

The loss of their son was a second terrible blow for his parents. They had already lost his younger brother, Anthony Montague Garrett-Cox.
He had been attacked and left for dead three years earlier while serving with the Army Intelligence Corps in Mauritius, had never fully recovered and shot himself in the head on the 4 August 1941.
Guy's widow was left to raise
her one year old son

,
Martin Hayward Garrett-Cox,
on her own until she remarried in 1953.
Jeremy Garrett Cox was born in 1968.
Return to the
"Home Page"
for HMS
Hecla
to find out more about its history and the stories of other survivors
The story of HMS
Venomous
is told by Bob Moore and Captain John Rodgaard USN (Ret) in
A Hard Fought Ship
A Hard Fought Ship
contains the most detailed account of the loss of HMS
Hecla
yet published
Buy the new hardback edition
online for £29
post free in the UK
Take a look at the Contents Page and List of Illustrations

---
Holywell House Publishing
88 Holywell Hill, St Albans, Hertfordshire AL1 1DH, Britain
http://holywellhousepublishing.co.uk
Telephone: +44 1727 838595
contact online
---