The story of HMS Venomous
The loss of HMS

Hecla


The view from the Bridge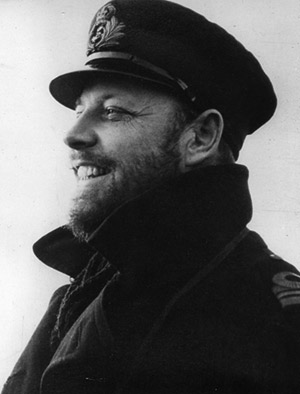 The officers commanding HMS
Hecla
, HMS
Marne
, HMS
Venomous
and HMS
Vindictive
, the other destroyer depot ship being escorted to the invasion beaches in north Africa were required to write Reports of Proceedings giving their account of the loss of
Hecla
. These
have all been located and with the Report of the ASW Division, the U-Boat Assessment Committee and Admiral Cunningham's report on the disaster (sometimes casually dismissed as "the
Hecla
incident") formed the basis for the analysis by Captain John Rodgaard USN in
A Hard Fought Ship.
The son of the Navigation Officer on HMS
Hecla
, Lt Cdr H.C.R. Alexander RN, has sent me a typescript of his father's memoir of his time on HMS
Hecla
which describes its loss and is outspoken in its criticism of the judgment shown by Captain H.G.D. Ackland RN, the senior officer. This is not an official report and may have been written in retirement though it ends with his own short three point "submission to the Admiralty". It is the only such document by an officer on
Hecla
known to exist and is a far more vivid account than the somewhat formalistic RoP of the Commanding Officers of the ships in Convoy but should be read alongside them if one is to have a balanced view of the events of that long night off the north African coast.
Unsigned report by Capt G.V.B. Faulkner RN
"Report of the loss of HMS
Hecla
under my command", dated 16 November 1942 (ADM 199/869)
Commanding Officer, HMS
Vindictive
Report of Proceedings, 15 November 1942, to Naval Commander, Expeditionary Force (in ADM 199/869, case folder on Operation Torch).
The Commanding Officer of HMS
Marne
, Lt Cdr H.N.A. Richardson RN.
Report of the Proceedings leading to the torpedoing of HMS
Marne; dated 17 November 1942 (ADM 1/14272)
The Naval Commander Expeditionary Force, Algiers, Admiral A.B. Cunningham RN
Loss of His Majesty's ship
Hecla, dated 13 December 1942 (ADM 199/2068)
Anti-submarine Warfare Division (ASW)
Analysis of attacks by a U-boat on HMS
Hecla at 23.15 on 11 November 1942; dated 25 January 1943 (ADM 199/2013)
DTASW Proceedings of U-boat Assessment Committee
Precis of two reports by the CO of HMS
Venomous
of attacks on the U-Boat at 0139 and at 0550 on 12.11.42 with the Decision of the U-boat Assessment Committee on the 1 February 1943 as "probably damaged B" and its re-assessment on the 2 March 1943 as "insufficient evidence of damage" (ADM 199/184)
Lieutenant Commander Henry Cerda Ryrie Alexander Royal Navy
Navigating Officer on HMS

Hecla
"Harry" Alexander, as he was known to his friends and family, was born in 1904 in Florence, which at that time had 30,000 British residents. His father was Lt Col. Charles Henry Alexander of the 36th Jacob's Horse, an Indian Cavalry Regiment. His mother, Donna Ippolyta "Lyta" Alexander, was the daughter of the Marquis of La Cerda, a noble Spanish and latterly Sicilian family. She divided her time between Florence and India, leaving Harry in the care of his Scottish grandmother (who called herself Contessa) when she was away from home. Harry lived in Florence until he was eleven, growing up trilingual in English, Italian and French.

The family returned to England at the outbreak of the Great War and he began the fulfillment of his childhood ambition by attending the naval preparatory school at Osborne on the isle of Wight. Two years later he became a cadet at HMS

Britannia,

the Royal Naval College, at Dartmouth. He joined the battleship, HMS

Benbow

, as an eighteen-year-old Midshipman in 1922. After a promotion course at Royal Navy College, Greenwich, he was posted to the cruiser, HMS

Emerald,

on the China Station as Sub Lt H.C.R. Alexander RN, but soon got his second stripe.

In 1929, after a four-month-long navigation course at HM Navigation School, Portsmouth, he was given his first appointment as Navigating Officer, a modest one on a sloop, HMS

Clematis.

He served as Navigation Officer for the next ten years on ships which increased in size with his seniority. By 1935 he was a Lt Cdr on HMS

Keppel,

leader of the 8th Destroyer Flotilla on the China Station and in 1938 he was appointed Navigating Officer for the 2nd Battle Squadron. In the late 1930s he spent time on the battleships HMS

Royal Oak

and HMS

Royal Sovereign

. In May 1941 Admiral Lancelot Holland arranged for his transfer to HMS

Hood

because of the respect he had for Harry's capability as a navigator. However, Hood sailed without Harry when news broke that the

Bismarck

and the

Prinz Eugen

had left port to attack Allied convoys in the North Atlantic. After these ships made contact, HMS

Hood

was blown out of the water and sank in three minutes, with a loss of 1,418 crew, including the admiral, and with just three survivors. Harry's family kept up with Admiral Holland's widow Phyllis, who was the godmother of his son Simon.

In April 1939 Harry married Marion Cicely Robinson whose parents lived in Hindhead, Surrey, and they had two sons, Colin, who emigrated to Canada in 1963, who sent me his father's memoir, and Simon who was only twenty when he died.

Harry joined HMS

Hecla

at Clydeside in time for its launch, sea trials and commissioning, in October 1940. It is at this point that his memoir, written in a neat clear longhand, begins.


HMS

Hecla

was built to a very high specification by John Brown, the great Clydebank shipbuilder, and commissioned in the summer of 1940. Its first assignment was to Havelfjord, Iceland, where I made many good friends on USS

Augusta

(Admiral Connolly) and USS

Vulcan

, which formed the key to the development of this US Base.
I developed a lighting system for the harbour and with the willing cooperation of our own Engineers, designed a boat landing.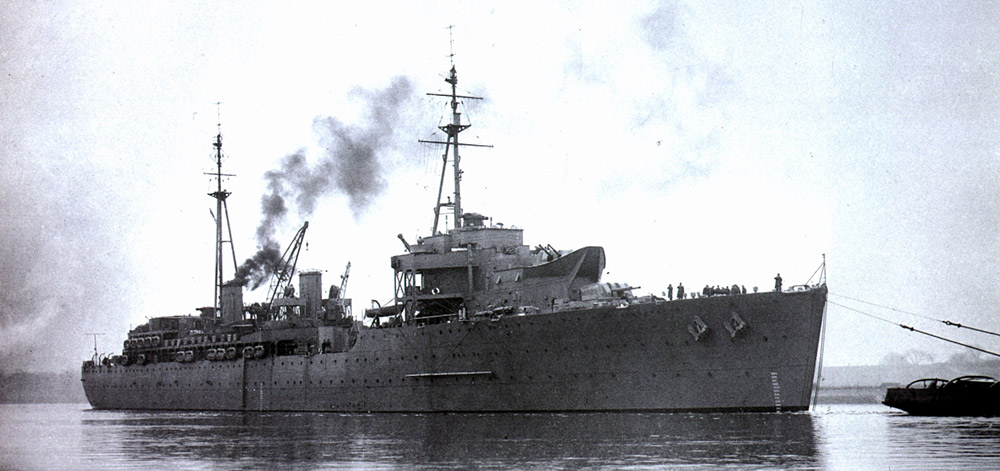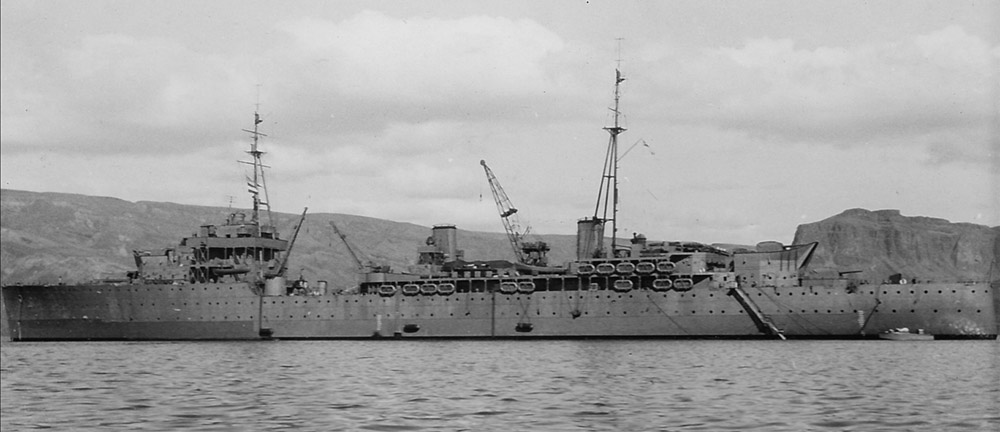 Top:

HMS

Hecla

under tow soon after its launch at John Brown's shipyard on the Clyde
(Courtesy of Colin Alexander
)
Bottom:

HMS

Hecla

at Havelfjord in the Summer of 1941

(Courtesy of Dr Peter Hetherington
)

Mined!
After a severe winter we were recalled to the UK and prepared for service in the Near East, sailing in convoy in mid April 1942. The convoy was routed around Cape Agulhas over a 100-fathom bank when at 4 pm on the 16 May disaster struck in the form of a magnetic mine, which must have gone off under the very centre of the ship.


Damage control did a superb job shoring up bulkheads and keeping the ship in perfect trim and rescue teams also saved countless lives of men trapped between decks in the poisonous fumes of the explosion. My captain wanted to go on to Durban, but I remonstrated. I knew exactly where I was and could get the damaged ship back to Simonstown, where I also knew the dry dock could easily accommodate us.
I also pointed out that our wounded were in no state to travel and many would not survive unless they received urgent hospital treatment. I assured him the weather was tolerable and we could reach Simonstown in under a day. We did not know the extent of our damage but winter was coming on and the ship might not be able to stand the 700-mile journey to Durban. This clinched the argument and I proceeded to back stern first out of the minefield and once in deep water turned the ship and adjusted course and speed to meet the westerly ocean swell in order to reduce the stresses on our tortured hull.
After an anxious night I was able to make a good landfall and proceeded up False Bay, harassed only by countless shoals of mackerel which in my anxious and weary state I had difficulty in brushing aside as irrelevant. Cape Good Hope was the first land sighted in 7,000 miles.
I anchored off the yard and divers were sent down to inspect the ship's hull but their reports were inconclusive, so it was decided to dock the ship immediately. When it was possible to walk under the hull in gumboots we were greeted by a truly astonishing sight. The entire ship's bottom from bilge keel to bilge keel over a length of some 150 feet had been lifted upwards to form a cupola resembling the dome of St Paul's. The ships sides had held but every deck right up to the upper deck was twisted and bent; it was not surprising that a five month rebuild was forecast. The amazing thing was the efficiency of the shoring, which had contained the 3000 tons of water we had taken in and from a personal point of view I marveled at my luck in having estimated our speed so accurately and kept it down within safe limits.

The Freedom of the Veld
I had no ambition to enjoy a five-month holiday and applied to the Admirals staff for an appointment, which would help the prosecution of the war. At first the staff turned down my request but later relented and that same evening I received a signal appointing me to the staff of Brigadier Poole, the Fortress commander in Capetown, who had just returned from Torbruk. Four very happy months of planning ensued and I may even have contributed to the safety of Capetown water supply since I arranged for it to be assured by sentries armed with assegais. At the end of those four months I took a weeks leave and traveled to Mooresburgh by train to spend the night with the parents of one of my fellow officers who provided me with a pony and a small sack of oats. But before sending me off next morning they had arranged a treat for me, namely a tea fight with General Smuts. This was a simple affair on the stoep and I felt greatly honoured. The great man was very kind but of course we mostly talked of family matters. Next day I set off early in a Northerly direction aiming to cover some 30 miles a day but the farmers en-route were all so friendly and hospitable that it was really impossible to disappoint them. Maybe the loop I traveled only represented a total of possibly 140 miles - mostly marginal land and lacking water. The last farm I stayed in was really primitive and when I asked for the bathroom my host waved his arms and conferred the Freedom of the Veld upon me. He spoke good English, but none of his seven sons were bilingual. On my return to Capetown I found a large box of chocolates with a picture of a horseman so posted it to my host and sons. Within a few days I received a garrulous acknowledgment, seven pages of scolding, "why do you send present", etc., etc, but ending up with "now my seven sons are all going to learn English so that they can speak with you when you come back."

People told me I should never have gone into that barren corner of Western Cape Province, because the people were Osseva Brandwoel, subversive elements. Nothing could have been further from the truth. They were all good kind people; simple yes, but high principled and law abiding.

The following weeks we were all very busy on board sorting out the replacement equipment and getting to know the reconstituted messes - and then the great day came and we sailed in convoy again but retracing our steps, for the European war was just round the corner and N. Africa our first objective.


"We should alter course 60 degrees to Port."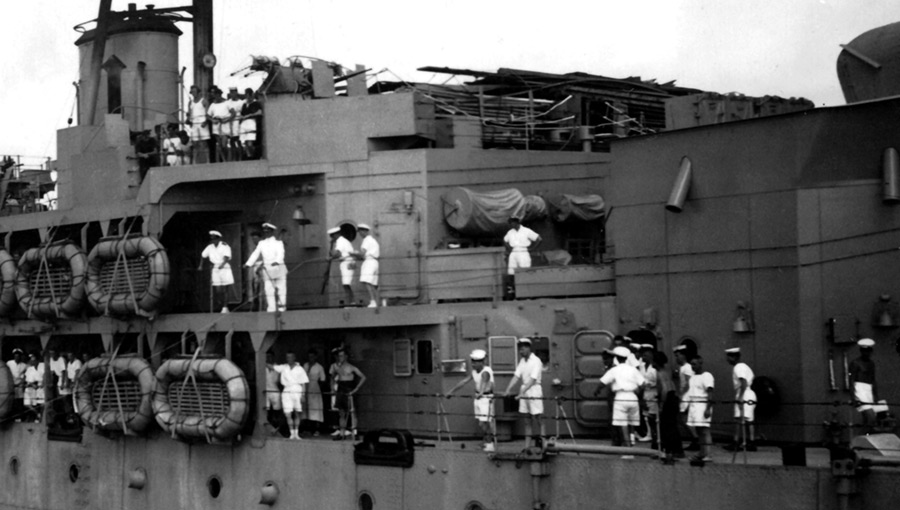 The officers and crew of HMS Hecla are photographed on deck just days before their ship was torpedoed by U-515
Courtesy of Steve Davis, the stepson of Tom Davis, the photographer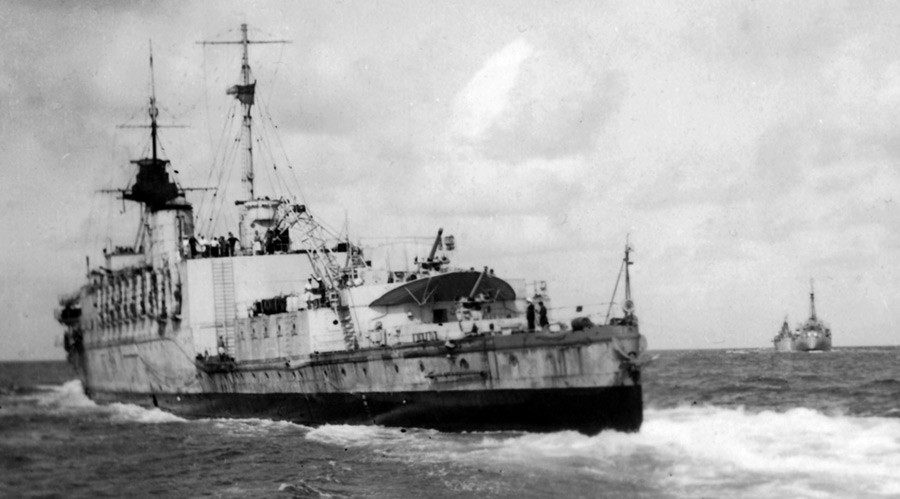 The last photographs of HMS Hecla (top) and HMS Vindictive (bottom) before they detached from Convoy CF.7A and headed for Gibraltar
Photographed by Tom Davis, a young RNVR rating on the destroyer escort HMS Active

At Freetown HMS Vindictive joined us for the next leg to Gibraltar and as her Captain was the senior officer he took command when our small group was detached, some 500 miles SW of Gibraltar. Ships were disposed as follows: HMS Vindictive leading, HMS Hecla stationed two and a half cables astern; the escorting destroyers were HMS Venomous stationed on the starboard bow and HMS Marne on the port bow. The latter was a very modern ship with plenty of fuel but Venomous probably had insufficient fuel remaining to get her to Gibraltar, the majority of this vintage class had been mothballed into maintenance reserve some fifteen years earlier.

At 3 pm on the 11 November we received an aircraft report of a U-Boat lying dead on our route and after plotting it on the chart I reported to my Captain that we would be meeting it at 11 pm. During the next two hours of daylight both my Captain and I became increasingly perturbed at the Senior Officer's singular inactivity and my Captain asked me for my opinion. I was ready for this and replied without hesitation, "We should alter course 60 degrees to Port." The chief Yeoman then came up with a brilliant suggestion, "Shall we B the aircraft report ?" In plain English, "Have you received the submarine report?".

This seemed to sting Vindictive into some sort of action but, alas, quite useless. A six degree alteration of course taken three hours earlier would have been adequate but taken at 6 pm within five hours of our encounter it merely moved our approach track some seven miles and with a full high moon we would be visible at twice that distance. By this time it was dark and we were precluded from making any lamp signals towards the senior officer, knowing any submarine lying on our route might pick them up. If we could have signalled I would have liked at this time to signal "Suggest zigzag may be started at 2200" to give maximum protection under these extremely adverse conditions but of course the time for signals was past and remembering the Venomous' fuel problem I kept my counsel. In this I was grievously wrong, it would not have mattered in the least if we had been obliged to tow Venomous the last 100 miles into Gibraltar. Those waters were excellently patrolled and U-Boats had plenty of targets farther afield without looking for trouble around one of our finest bases.


"Every man for himself"
Disaster came punctually at 11 pm when we were steaming NE for Gibraltar about 400 miles away. The sickening crash and tearing steel from a first torpedo on our starboard side immobilised our engines and electricity failure prevented our hoisting out any powerboats. After quite a short time Vindictive sent back HMS Marne to pick up survivors but unfortunately her Captain was too young to remember the Hogue Aboukir disaster of the first world war and stopped within swimming range before making a sweep for the U-Boat.

In Hecla the starboard list was easily corrected but, alas, the U-Boat then fired a torpedo into our port quarter. The Captain seeing the track said quite cheerfully "That is going to miss astern". I could not agree but kept silent. He was new to the ship and am sure did not realise the torpedo was far ahead of its bubble track and its speed probably 40 knots. Anyway the torpedo blew up abreast our mainmast on our port quarter and was probably responsible for killing our entire cypher staff including my splendid Gyro Compass Artificer. He thought one of our two gyros could be got going again but I told him I did not need either as I had a perfectly good magnetic; but he was so keen that I reluctantly let him go down for five minutes - the last torpedo must have struck near where he was working. After a very few minutes a third torpedo was audible and the bubble track seen coming straight towards our bridge. The explosion sent up a column of water like a giant fire hose and gave us all a sound blessing a second time, coming down. The situation then looked hopeless and orders were given for "Abandon ship stations" and finally, "Every man for himself".

As it had not been possible to hoist out our boats and both sea boats were damaged and most Carley Floats had been damaged or dropped from their brackets, I thought at first to take a large bridge stool to have something buoyant to hold onto. Then I changed my mind and picked up my mattress from my sea cabin and tried to get down to the upper deck with the ship listing over some 45 degrees. This delay lost me the rest of the bridge party who had gone aft. As I reached the upper deck level the ship lurched to a 90 degrees list and while I was getting over the berthing wires lugging my mattress, a torpedo struck HMS Marne in the stern which blew up in the most spectacular display of fireworks, depth charges and all. I remember thinking this destroyer was probably our last chance of survival as she would now be immobilised and ripe for just one more torpedo; I also thought "What a pity I'll never be able to tell anyone what a superb display of fireworks I've seen".

I then heard a young Lieutenant called Steavenson, asking for help from the water so I threw down a ropes end from the seaboats falls and hauled him up to where I was standing on the ship's side, just above the rolling keel. He was very exhausted and I offered to share my mattress when the moment came. The ship was soon almost exactly 180 degrees over but very deep in the water, but much rumbling going on inside as enormous weights shifted and took charge. Then suddenly a wave appeared to come up from the stern, we put my mattress on the crest and were wafted as if by a magic carpet towards the bows. I realised afterwards that the wave of course was not an ordinary wave but the result of the ship sliding down by the stern with the upending. And so we found ourselves swimming with this monstrous fore-end of the ship towering above us. We could never have swum clear if the forepeak had broken off in our direction, but no, John Brown had built as good a ship as ever, and even the immense repairs carried out in Simonstown remained faithful to the original. Almost immediately the mattress became water logged and we abandoned it to search for something better.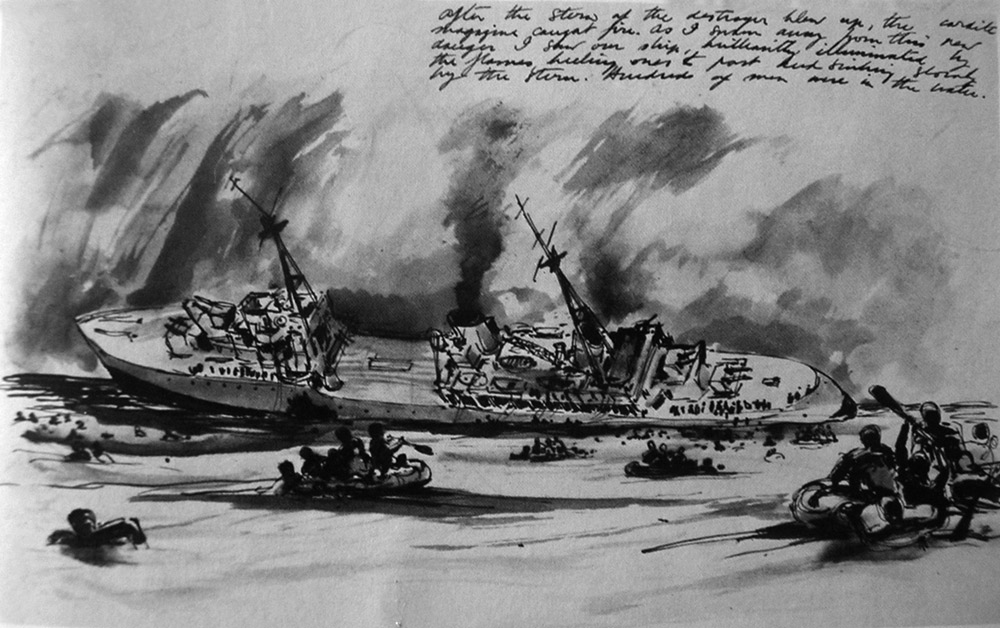 "I saw our ship brilliantly illuminated by the flames listing to port but slowly sinking by the stern"
Sketched by Lt Herbert H McWilliams SANF within hours of his rescue by HMS

Venomous
The moon which had betrayed us in the first instance had set by now but the sky was clear and one could see quite a distance and hear the vain despairing cries of various sailors calling for their mates. The first useful object we found was a launch's towing bollard, not ideal being too thick to hold but still better than nothing. Then I noted a curious dome-like dark object some fifty yards away and suggested we might go over to look at it, but Steavenson said he was too exhausted. So I went alone and to my bitter disappointment found it was an awning with an air bubble holding it up. Anywhere I put some weight simply went down and let more air out on the far side. So I went slowly back to Steavenson, rather crestfallen, conserving my strength knowing we were more than a hundred miles from the west coast of Africa.

I settled down to estimate the time by watching the slow, oh so slow, movement of Sirius. After some three hours, possibly at 4 am, a most extraordinary splash and crash coming from about a hundred yards away worried me for a moment, thinking it might be the submarine surfacing to collect evidence of its successful exploit. My next thought was could it possibly be a whale? If so would we finish up like Jonah? But when the object did not move I suggested we should swim over and investigate. Stevaenson again said he was too tired. When I reached the object I found it was one of Hecla's 25 ft motorboats - badly mangled but still floating awash to the gunwhales - but non the less extremely attractive. So I again swam back to young Steavenson and brought him to the boat and had no difficulty in getting both of us sitting on the gunnels. After a short breather I decided we might improve our chances if we bailed out the water, so carried out an underwater search for a bailer. This was made easier as I had discarded my short gumboots at some time during my various explorations. It also proved unfortunate, however, because the bottom of the boat was littered with broken glass from the cabin windows and my socks as well as my feet were cut before, at last, I found a paint pot and started bailing.

This did not last long because I quickly tired, finding the pot incredibly heavy and only removing about a cupful of water. During the short rest my hand holding the precious pot happened to go into the pot revealing the reason for its inefficiencies, namely that it was still three quarters full of paint! I was tired and that is my only excuse for doing a really stupid thing, namely flinging most of the paint over the side. It was only after I had cleaned out the pot that I realised my folly, thinking of the necessity of blocking anymore water coming into the boat I had noted that the engine exhaust pipe was broken and letting water flow into the boat. I had decided to block its passage by stuffing it with my pyjamas which I had hurriedly put into my raincoat pocket when I collected my mattress.

The moment I emptied the paint pot I realised my folly, the paint smeared on my pyjamas would have made the obstruction infinitely more watertight! By this time, only one survivor had floated past in the remains of the ships launch, up-ended, the stern being deep in the water and the bows well out of the water acting as a sail so that it quickly drifted past and went out of sight. The northerly breeze was light and there were no waves at all thanks to the oil on the surface - this made me quite sick even though I had only swallowed a few drops, but it did act as protection against the cold. Then two young motor mechanics swam to us and were hauled onboard. I kept a sharp look out as all three of my companions were very exhausted and sure enough was rewarded by the sight of a destroyer passing miraculously close at very slow speed. My shout of "Ship Ahoy!" was quickly joined by my three companions and HMS Venomous, beautifully handled, picked us up in masterly fashion. I noted here the difference between a survivor and a rescuer handling a heaving line, at my end I took a turn on a bow cleat at the other end the seaman was forced to let go. In spite of this we were all able to step on board to safety.


"Could we reach Casablanca?"
I went straight to the captain's cabin, shed my oily clothes and after a good wash left them to soak and visited the bridge in Falcon-Steward's second best battle dress! I heard the lookout shouting, "Dark object ahead!" It did not take long for Commander Falcon-Steward to decide the object was the U-Boat as it was trying to escape. With two boilers banked for economy the response to ordering "Full Speed" was painfully slow but in due course we started to catch up and then suddenly the U-Boat dived and, as we passed over him, a full pattern of depth charges went down. After turning, Venomous was unable to regain contact but fired a second pattern, which evidently was sufficient to discourage the U-Boat from further adventures. Three years later the Captain of the U-boat's report was discovered in the German Admiralty archives, dated 11 and 12 November 1942, with his claim to have sunk two cruisers and two destroyers. In both cases it was wishful thinking as Marne was towed to Gibraltar and refitted to fight another day.

When dawn came Venomous was busy picking up survivors, some still clinging to bits of timber, some dead, others lying on small planks, a very few on Carley floats of which the most heartwarming was the Sick Berth staff led by young Surgeon Lieutenant Hetherington, keeping stroke with their paddles and singing the "Volga Boat Song" together with their wounded casualties. In spite of being immobilised Marne acted as a point of reference for the search as the wind was slight and she would not have shifted much more than the scattered survivors. When full daylight came it was clear that sharks had arrived and it became necessary for marksmen to keep them at bay in case they plucked up courage to take a bite at any of the men in the water who were too weak to drive them off.

By noon it was decided that the search must be abandoned as fuel was getting desperately low and I suggested that since Marne could not use her ample supply of oil as she had no propellors we could try and get some from her. Cdr Falcon-Steward agreed and signalled, asking Marne if she could pump oil to us, we would come alongside. This was agreed and carried out. My own idea was to obtain oil by taking Marne in tow as I had done on exercises in China at speeds of up to 24 knots, earning a welcome signal from HMS Cumberland, "Manoeuvre Well Executed". But, unfortunately, the pumping arrangements were too slow and the slight swell caused unacceptable heavy bumping so we gave up the attempt and I suggested another plan. I told Falcon-Steward that at about 10 pm the previous night I had heard that Casablanca had surrendered to the US Navy so if we could reach Casablanca about 130 miles to the east we would be home and dry. Falcon-Steward then sent for the Chief and put the question straight, "Could we reach Casablanca 130 miles away?" The engineer officer demurred a bit then gave his verdict, "Yes we could cover that distance on condition that we did not exceed 8 knots". So, we waved goodbye to my recent shipmates (amongst whom I was glad to see both the Captain and Commander of Hecla) and headed east for Casablanca. It was an anxious journey, 8 knots is a loitering speed asking for trouble, especially if our U-boat had withdrawn in search of fresh prey to the East, but mercifully next morning we arrived safely.


"Who are you and what do you want?"
We entered harbour and found the quays littered with the disgusting results of Vichy handiwork. Hardly a berth was free of the forest of masts and funnels of sunken ships. One was occupied by a US destroyer with a hole in her side the size of a house another, to my immense relief, by USS Augusta on which I had established tremendous friends in Iceland earlier in the year. By megaphone they asked us, "Who are you and what do you want?". The reply was simple, "This is HMS Venomous and we have 500 survivors from HMS Hecla who need everything from washing to clothing and a hot meal". The response was terrific, "Lie off for ten minutes, then come alongside, we will have a brow [US Navy usage for gangway] aft for ratings and one amidships for officers, and there will be guides". So we really were made more than welcome and treated royally. At the bathroom entrances sailors were stationed with mountains of necessities: Toothpaste, tooth brushes towels, soap. After a good wash at the exit more sailors handed out vests and pants, khaki shirts and trousers, socks and shoes; officers even received black ties and forage caps.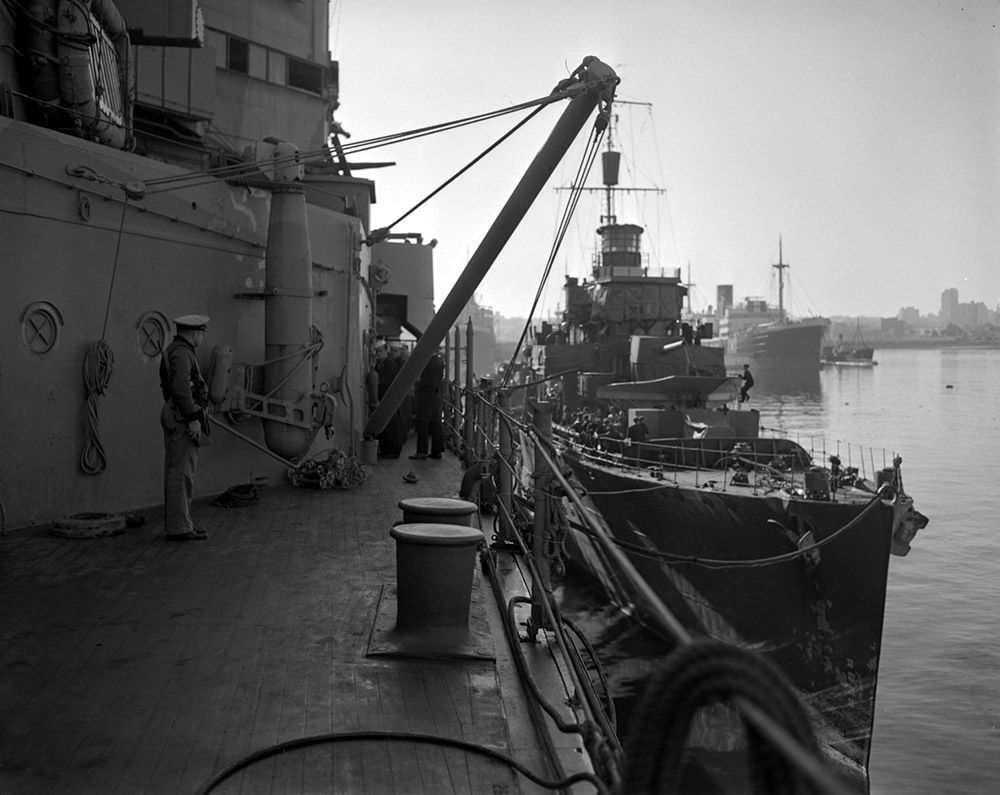 HMS
Venomous
moored alongside USS
Augusta
at Casablanca on the morning of the 13 November 1942
Note the Hedgehog grenade thrower which replaced 'A' Gun beneath the blast shield with 'B' Gun behind, and the open bridge with RDF dome and crows nest above
Courtesy of National Archives and Records Administration, Washington (Ref. NARA 80G-30471)
Then we were guided to mess rooms and served a very substantial breakfast - it was noon by this time - with plenty of hot tea or coffee. Meantime, some of our wounded were looked after in the sick bay and my cut feet were treated. The surgeon wanted to give me a shot of anti-Tetanus even when I said I had been inoculated two months earlier; he would not believe me but luckily our young Surgeon Lieutenant, Stephen Hetherington, was in the queue not far behind me and shouted I can vouch for that. Augusta's surgeon looked up and said, "And who the hell are you?". Not unreasonably since we were all in our birthday suits. Anyway, he was pacified and I was saved from an unnecessary inoculation.

After all the survivors had been fed we returned to Venomous and shifted berth to refuel from a flat-top, the makeshift aircraft carrier of those days. This was because I had pleaded that neither officers or men had slept for 48 hours and we must have a night's rest before sailing. This was particularly important as a light rain had started and Venomous could only offer cover for a small proportion of my crew. We sailed at 3 am, however, after re-embarking two seriously wounded and two who had died in the Augusta during the night. At 10 am, having made good progress on our way to Gibraltar, the ship slowed down and at the Captain's request I read the funeral service for our two shipmates and reminded the congregation that I was also reading the service for all the other brave men, several hundred of them, who had been lost in the last few days. By evening we were inside the breakwater at Gibraltar and then started a weary round of orders and counter orders and confusion.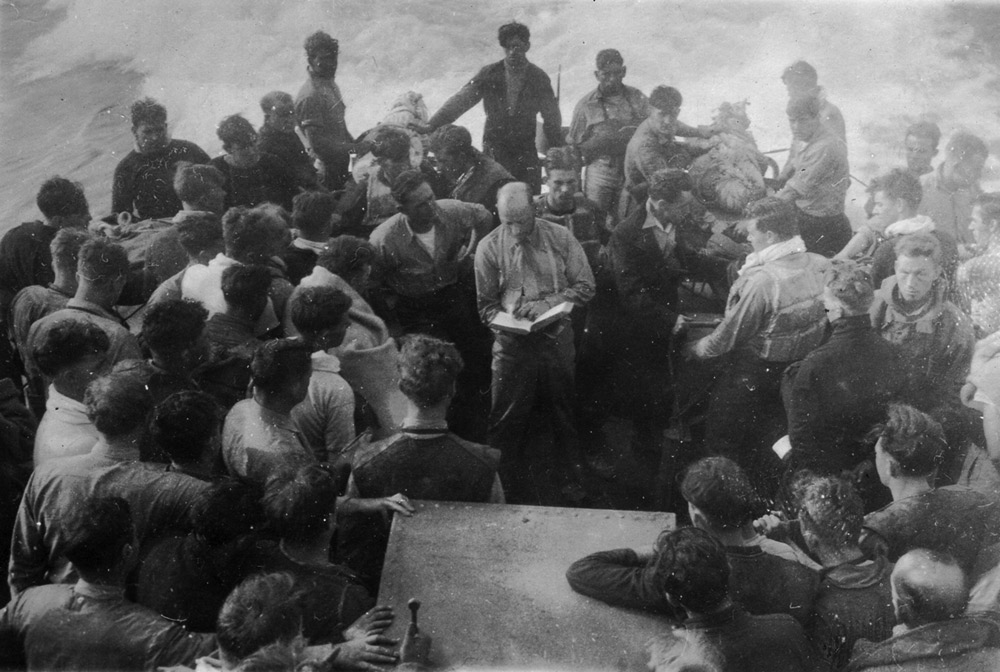 "I read the funeral service for our two shipmates"
Cyril Hely gave the names of four men buried at sea from the stern of Venomous on the back of this photograph:
"Thomas Luxton, George Taylor, Charles Odey and Alfred Dutton were buried at sea at latitude 34 degree 30 minutes North and longitude 7 degrees 30 minutes west."
Petty Officer George William Doyle Minor, 37, who died on 12 November is thought to have been buried with them
Four men who died later were buried at sea after arrival at Gibraltar on 14 November.
Photographed by Cyril Hely

Gibraltar
We lodged in the battleship Duke of York but it was not a comfortable ship to sleep in because of the irregular explosions of counter-limpet mines. These were quite small explosive charges thrown into the water from the end of the detached mole at irregular intervals. These had proved lethal to limpeteers but hardly conducive to a good nights rest for survivors!

Next day I was asked if I would volunteer to take home a sloop lying in dry dock after being rammed by one of our gallant allies. When asked why he had suddenly savaged one of his fellow escorts he produced the logical answer, "Because painted on her side was the number U57".

So I said goodbye to my fellow survivors, who were shipped home in the Reina del Pacifico, and myself lodged on board HMS Vindictive, which was lying in the big dry dock. This was to lead to a major disaster as Vindictive's captain decided this was the moment to get rid of his first lieutenant and that I, regardless of my feelings would make a much better executive officer. Quite apart from my lack of admiration for Captain Ackland, there was the question of my survivors' leave. When I had time I went to see the Maintenance Captain (McCann) and put my case most forcefully, but to no avail. I never enjoyed a single day of my entitlement as a survivor!


In command of HMS Vindictive

When Vindictive was undocked she had to take in a large quantity of Engineers stores and I personally supervised this up to 10 pm then got the ship ready for sea and reported the fact to Captain H.G.D. Ackland RN shortly afterwards. We made a peaceful passage to Mirs el Kebir but from then on the weather deteriorated steadily. The next few nights Captain Ackland chose to spend on the bridge, refusing my offer to relieve him. But on the third night I was called with the information that Captain Ackland had collapsed on the bridge and remained unconscious, so I went up there for the rest of the night and in the morning received the young Surgeon Lieutenant's report. He was quite rightly disturbed and I was glad to be able to help him by drafting a signal to Admiral Syfret who had entered harbour. "From Lt Cdr H.C. Alexander HMS Vindictive. Regret to report that Captain H.G.D. Ackland has collapsed on the bridge. Surgeon Lieutenant has requested a second opinion." This was possibly the most important signal I would ever make but time was also important so I did not delay its dispatch. Soon afterwards the Admiral's Surgeon Commander came across by tug (as the weather had deteriorated further). I handed him straight over to my surgeon and they proceeded to the Captain's cabin. Nor did I speak again to the Fleet Surgeon but as the weather was moderating I requested the Flag Lieutenant should enquire when it would be convenient for me to call upon the Admiral. I had no decent uniform and was kept lying off for quite a time and the officer of the watch apologised for my being delayed because he was expecting the Captain of HMS Vindictive. He was amazingly disconcerted by my reply, "I am the Captain of HMS Vindictive".

Captain Howson, Chief of Staff, had no difficulty in sorting out the situation. He had been a splendid Divisional leader in the 8th flotilla with me in China only a few years earlier. The necessary signal was made to Admiralty recognising and approving my assumption of command. It was not till a month later after Darlan's murder that their Lordships suddenly realised what an important position I held with regard to our relations with the French Admiral; so thinking it would be helpful they sent out a Rear Admiral to take my place. After I had turned over to him and he had accepted the confidential books he made a signal which, on the face of it, seemed to me satisfactory.

"To A M C X F (The Naval side of Eisenhower's staff in Algiers) Intend to discharge Cdr Alexander to Gibraltar for onward routing to UK." The reply may have been flattering to my ego but most frustrating to my hopes of survivor's leave. "On no account is Cdr Alexander to be discharged to UK as he is required for further service in the Mediterranean." So already Admiral Bertram Ramsey, or his staff, considered the war in the Mediterranean could not be actively and successfully prosecuted without my presence.

I could gladly have forgone the compliment but accepted the numerous and varied appointments which came my way under Flag Officer Sicily and later in western Europe. A year later I was invalided home at the time of our assault in Normandy and was offered the first vacancy in the ranks of Beach Parties. This did not materialise until the port of Antwerp was seized and I worked there until April 1945 when I was transferred to the staff of Admiral Bailey Gorman and took a convoy of 18 road vehicles to Kiel, arriving on the 8th May.

The next chapter of this saga was told to me by the young (Hostilities Only) Gunnery officer of HMS Vindictive, a few days after I had assumed command of the ship when Captain Ackland had been invalided home.


The Gunnery Officer's Account

I was on the bridge between ten and eleven pm because we knew we were likely to meet a U-Boat and it was no surprise when a look-out from the starboard side called out, "Dark object in sight silhouetted against the moonlight". I could clearly see the conning tower and brought guns and searchlights to bear on the target. The captain refused to accept this was a submarine, saying, "Clearly, it is HMS Venomous". Both the Chief Yeoman and I pleaded in vain that it was clearly a submarine and I even added I could see the bow wave foaming all the way from the stem to the conning tower. We simply must take defensive action!

Very soon after this two torpedoes passed ahead of us and a heavy explosion was heard quickly followed by Hecla reporting she was hit and the engine room was out of action.

Submission to the Admiralty

Their Lordships might like to have this brief record and consider the following points:-

I When the exact location of a U-Boat was plotted and a meeting likely at 11 pm, would it not have been prudent to make a big alteration of course, say 60 degrees to port, till daylight next morning, not withstanding Venomous's shortage of fuel, which could have been supplied to her at high speed while towing before dark by Vindictive.

II In view of Hecla's maximum speed being 15 knots would it not have been better to make her guide the fleet at her best speed, with Vindictive left with ample speed for station keeping. This was a vital consideration in view of the probable higher speed of the U-Boat and, together with a suitable evasive manoeuvre, might have left the U-Boat tailing behind unable to catch up.

III Once a small and ineffective alteration of course of 6 degrees had been adopted would it not have been wise to order a maximum protection zigzag, say from 9 or even 10 pm. In addition to the increased chance of torpedoes missing, the large alterations of course would have removed the U-Boats sheltered line of approach in the destroyers wake so that she automatically came within the destroyers sonar effective arc.


HMS Hecla Specifications
Type: Destroyer Tender

Tonnage: 10,850 tons

Completed: 1940, John Brown & Co., Clydebank

Date of attack: November 12, 1942

Postscript

The U-Boat that sunk Hecla was U 515 under the command of Werner Henke. There is information on the net regarding both him and the submarine.

*******

In January 1946 A/Cdr H.C.R. Alexander RN was appointed Kings Harbourmaster at Plymouth and remained in that post until his retirement from the Royal Navy in 1949 at the age of 45. A new phase in his long life began. He separated from his wife and moved into a lovely small house, The Dell, near the churchyard in Aldenham, an attractive village in Hertfordshire between Radlett and Watford. He was employed by the newly established Civil Defence Corps (CDC) to prepare the country to cope with the aftermath of a nuclear attack, a very real prospect during the Cold War.

In 1954 he moved to Beirut to set up civil service infrastructure there which was fully operational before the earthquake struck near Sidon in 1956 in which six thousand building were destroyed and 136 lives lost. The rescue facilities he had established helped the thousands who had been injured or had lost their homes or businesses. In recognition of his achievements the government of the Lebanon awarded him the Order of the Cedar, roughly equivalent to an OBE or a British knighthood.

In 1958 he moved with his second wife, Mary Murdoch, to Florence, where he had spent the first eleven years of his life. They returned to London in 1962 and he worked for Barbara Reynolds at Cambridge University, to help put together the University's new two-volume English-Italian, Italian English dictionary. Unusually, since he was equally fluent in both English and Italian he translated the military and nautical terms into both languages. Commander Alexander died in London in 1996 aged 92.
Acknowledgements
I would like to acknowledge the assistance of his son, Colin Alexander, in Ottawa, Canada, for supplying details of his father's life after retirement from the Royal Navy and Hugh McLintock for editing and transcribing his memoir but the details of his naval career are mainly based on his entry in the unithistory.com web site.

Officers serving on HMS Hecla
on the 11 November 1942

Survivors


Commander G.V.B. Faulkner RN
Commander J.R. D'Oyly RN
Lieut. Com. H.C.R. Alexander RN


Captain S.H.T. Arliss RN
Captain James A. McCoy RN (not confirmed)
Lieutenant John Steavenson RNVR
Lieutenant Geoffrey N. Spring RNR
Lieutenant Patrick J.G. Bernard RN
Lieutenant Roger L. Clode RN
Lieutenant David R.O. Jones RNVR
Lieutenant H.H. McWilliams SANF
Sub Lieutenant Graeme S. Knight RNVR
Acting Sub Lieutenant Bernard Spencer RNVR
Commander (E) Oswald J. Gerard RN
Lieutenant Commander (E) Hugh W. Findlay RN
Lieutenant (E) Rupert J. Doble RN
Warrant Engineer Reginald L. Kirby RN
Warrant Engineer James G. Farrow RN
Francis W. Barton, Gunner (T) RN
Acting Gunner Ledgerwood G. Porter RN
Warrant Shipwright William F.M.A. Eddy RN
Warrant Ordnance Officer Lawrence H.Farr RN
Surgeon Lieut. Com. Cecil de W Kitcat RNVR
Surgeon Lieut. Stephen L. Hetherington RNVR
Surgeon Lieut (D) Kelvin Rees LDS RNVR
Surgeon Lieut (D) Angus McPherson LDS RNVR
Schoolmaster S.G. Clark
Chaplain Rev Emlyn Williams RNVR


Killed


Paymaster Captain (S) Frank Leonard Monk RNR (1892-1942)
Paymaster Lieutenant (S) Ernest Trevor Hackett RNVR (1914 -42)


Lieutenant Guy Henry Garrett-Cox RNVR (1911-42)




Lieutenant (E) Geoffrey Sims Brettell RN

(1911-42)
Commissioned Gunner (T) William Emmanuel Hayward RN (1898-42)


Sub Lieutenant Stanley Charles Richardson RNVR




Paymaster Sub Lieutenant John McKenzie Stewart Hotchkiss RNVR

(1919-42)
Warrant Writer, Robert Hutchison RN (1900-1942)
Warrant Ordnance Officer Laurence Henry Farr RN
Warrant Supply Officer Herbert Douglas Honey RN (1907-42)
Mr H. Edmunds, Warrant Electrician, RN
Mr W.E. Hayward, Commissioned Gunner (T), RN
Mr S.C. Norcott, Temporary Boatswain, RN
Mr R.J.A. Saunders, Acting Warrant Cook, RN

Read Lt A.d'E.T. Sangster RN's "View from the Bridge" of HMS Venomous

Return to the
"Home Page"
for HMS
Hecla
to find out more about its history and the stories of other survivors
The story of HMS
Venomous
is told by Bob Moore and Captain John Rodgaard USN (Ret) in
A Hard Fought Ship
A Hard Fought Ship
contains the most detailed account of the loss of HMS
Hecla
yet published
Buy the new hardback edition
online for £35
post free in the UK
Take a look at the Contents Page and List of Illustrations
---
Holywell House Publishing
88 Holywell Hill, St Albans, Hertfordshire AL1 1DH, Britain
http://holywellhousepublishing.co.uk
Telephone: +44 1727 838595
contact online
---