The story of HMS Venomous
Jabez daughter, Rita, received a hand painted card from her Dad on her eighth birthday, the 29 September 1942. She looked forward to seeing him at Christmas and saved up her pocket money to make a handkerchief as a gift for her Dad - but he never came home. She never forgot him and as Simon Skelhorne explains,

"Every year my Mum put a small brown paper parcel tied up with string under the Christmas Tree with 'Dad' written on the front in pencil."
The small packet contains the handkerchief she made in 1942.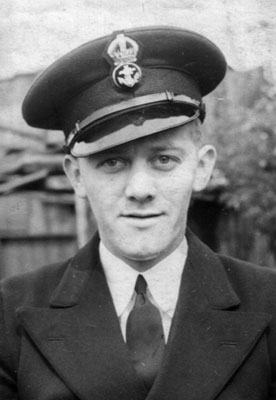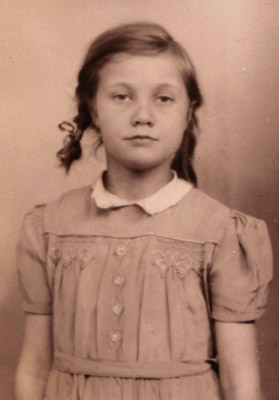 Jabez was born in Golborne, Lancashire, to John and Mary Skelhorne in 1915. He went to Newton-le-Willows technical college and became an apprentice engineer and mould maker at Naylors Foundry in nearby Golborne.
He was a keen amateur runner with Wigan Harriers.
Naylors won a contract to build a large bridge in Golborne but their yard
was not big enough and it had to be made in sections at Chepstow, transported to Golborne by rail and assembled on site.
Jabe (he preferred to be called Jabe) was a 19 year old boilermaker and plater when he married Mary Jones in 1934 and soon had a daughter, Rita.
He was too young to be considered for this large project so, ever resourceful, he "amended" his birth certificate and re-located with his family to Chepstow to work on the bridge which still stands on Helen Street, Golborne.


Jabe stayed down south and got a job at Harland & Wolff's shipyard in North Woolwich, East London, where Rita quickly picked up a Cockney accent. When war broke out his wife
was not keen on living near London with the threat of air raids and the family moved back to Lancashire. Jabe worked at
William Niell's Bold Iron Works in St Helens but
by 1940 he had itchy feet and joined the navy to "see the world". He became an Engine Room Artificer (ERA) on HMS

Hecla.
Rita (on right aged 8) remembered having dinner aboard

Hecla

on the Clyde, singing "Chattanooga Choo Choo" for the ratings in the mess and being shown around the ship by a young sailor called Harry Nelson. She often wondered what happened to him.
The Gulfoss waterfalls Jabez visited in Iceland are still a popular tourist attraction today
Courtesy of Simon Skelhorne
Havelfjord:
Jabe on the far left pretending to haul up

Hecla'

s anchor and third from left in the photograph on the right
Courtesy of Simon Skelhorne
HMS

Hecla

was stationed in Havelfjord, Iceland, as the destroyer depot ship for the convoy escorts. When

Hecla

returned from Havelfjord early in 1942 Jabe brought back tubes of German cheese and a large lump hammer salvaged from the captured U-Boat, U-570. The cheese was a welcome supplement to rations and the hammer is still in use today.

Jabe left for South Africa on

Hecla

and his hand and wrist were injured when it was mined. While

Hecla

was under repair in the naval dockyard at Simon's Town he was promoted from Petty Officer to Chief Petty Officer. Jabe enjoyed his service in the Royal Navy and was ambitous to go still further. He began studying for the exams he would need to pass before he would be eligible from promotion to Warrant Officer. He knew he would probably have to stay on in the Navy after the war to achieve this. Back home his wife proudly took Rita to Liverpool to collect his CPO hat and badge from the naval outfitters and although the badge was never mounted on the cap it is still kept by his grandson, Simon Skelhorne. Jabe sent his wife an album of photographs taken on his Brownie box camera in Iceland and South Africa many of which are on this web site.


Jabez Skelhorne ready to go ashore (left), on holiday in South Africa (centre) and his CPO badge (right)
Courtesy of Simon Skelhorne

He also sent a card to his daughter, Rita, for her eighth birthday on the 29 September 1942. It was drawn by Don Preece, the talented and popular rating who drew the amusing "Crossing the LIne" certificate presented to Fred Lemberg by Neptunus on

Hecla

's voyage south.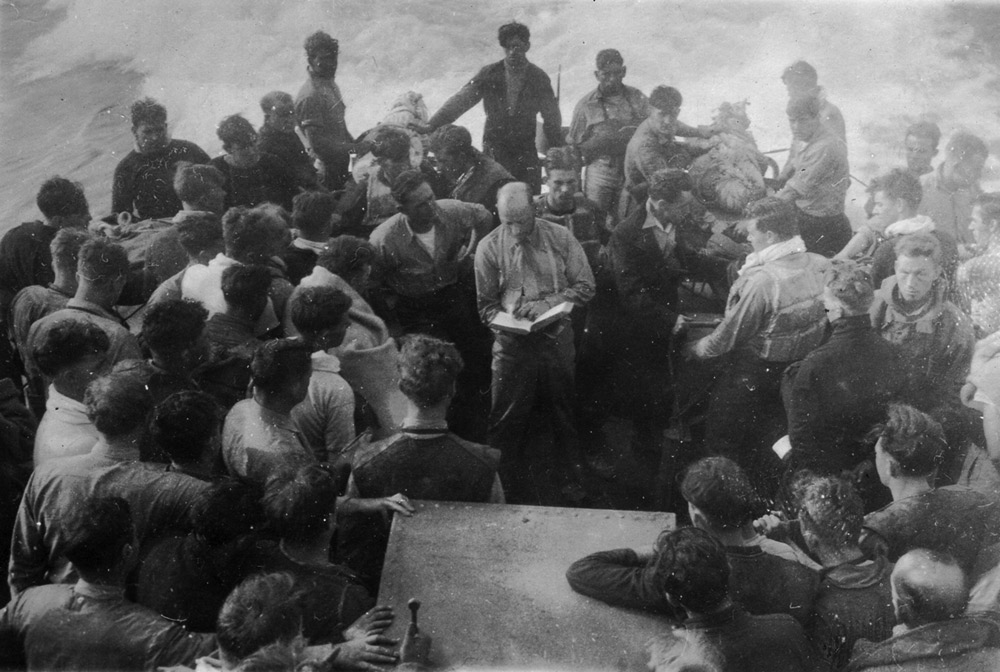 "I read the funeral service for our two shipmates", Lt Cdr Henry C.R. Alexander RN
P
hotographed by Cyril Hely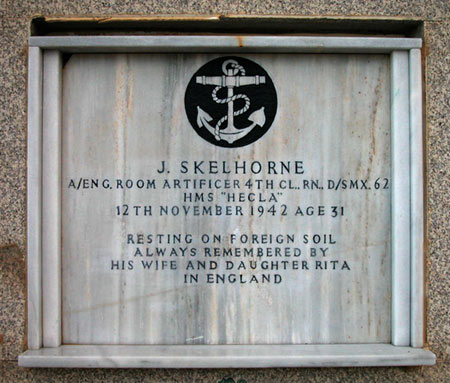 Most of those who died that night have no grave ...
Jabez Skelhorne was one of nine survivors rescued by HMS

Venomous

who died from their wounds. Five
were sewn into canvas hammocks, weighted with shells at their feet and buried from the stern of HMS

Venomous

while enroute from Casablanca to Gibraltar on the 14th November. Cyril Hely photographed the burial and wrote on the reverse of his photograph:
"
Thomas Luxton, George Taylor, Charles Odey and Alfred Dutton were buried at sea at latitude 34 degree 30 minutes North and longitude 7 degrees 30 minutes west."
Petty Officer George William Doyle Minor, 37, from Exmouth, Devon, who died on 12 November is thought to have been buried with them

After arrival at Gibraltar another four survivors who died later were taken out to sea on a barge and buried by volunteers from HMS
Venomous
. They included 35 year old Warrant Supply Officer, Herbert Douglas Honey, from Canterbury who died of his wounds on the 14 November. The bodies of Jabez Skelhorne, Charles Stocker and Albert Thick were washed ashore on the Moroccan coast and now lie in the Santa Catalina cemetery in the Spanish enclave of Ceuta.
Jabe was 27 years old when he died but the age given on his grave is 31 as a result of him having claimed to be older than his true age to work on the bridge contract at Chepstow.
The grandsons of Albert Thick and
Jabez Skelhorne
spent years uncovering the story of how they died and Simon Skelhorne arranged for their graves to be restored by the Commonwealth War Graves Commission. The photograph is of the grave in 2008 prior to restoration.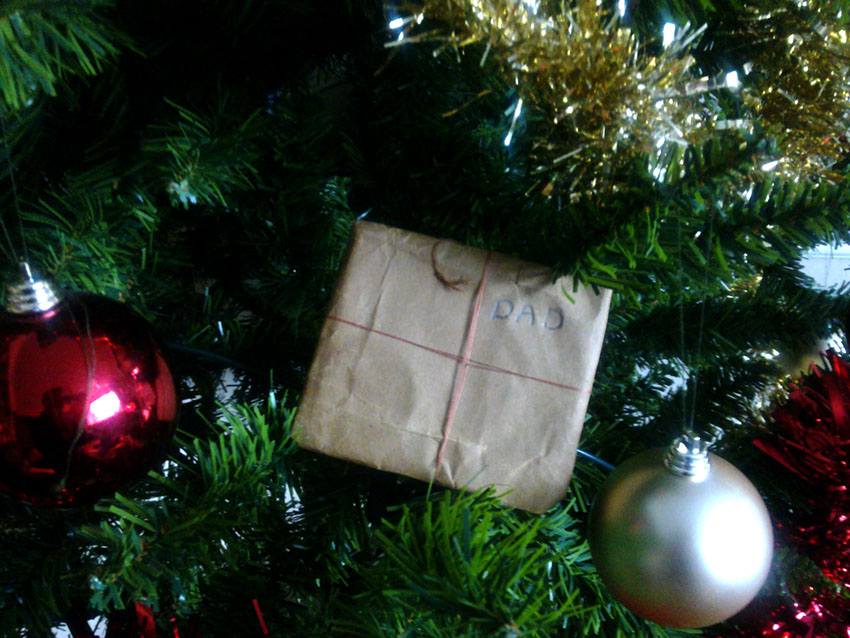 Every year Rita's Christmas present for her Dad is hung on the family Christmas tree


Rita died on the 12 September 2011 but her son Simon continues the family tradition
and retells the story of the father who never came home to his own son, named Jabez after his great-grandfather.
Rita was looking forward to Jabe's return at Christmas and saved up her pocket money to make a handkerchief as a gift for her Dad but never saw him again. His young widow could not accept the death of her husband and continued to believe he would return home one day. She turned to Spiritualism for comfort and her failure to receive messages from him on the other side merely confirmed her belief that he was still alive. Rita never forgot her Dad and as Simon Skelhorne explains,

"Every year my Mum put a small brown paper parcel tied up with string under the Christmas Tree with 'Dad' written on the front in pencil."

The small packet contains the handkerchief she made for him in 1942.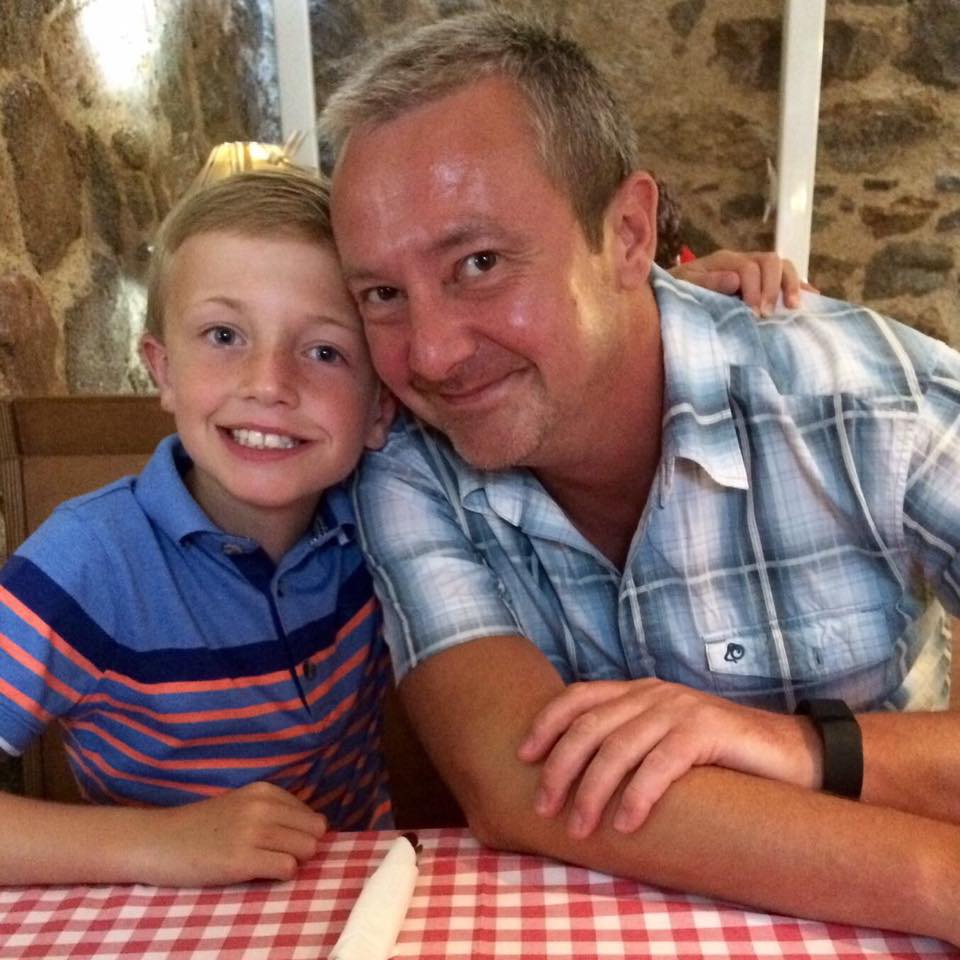 Left:

Simon Skelhorne and his son Jabe, named after his Great Grandfather who lost his life 75 years ago when HMS
Hecla
was torpedoed off the coast of North Africa.
Simon Skelhorne grew up in Earlestown at the house which his Grandfather left in 1942. Earlestown is named after Hardman Earle (1792 – 1877), the Chairman of the London and North Western Railway, who set up a "Model Town" within Newton-in-Makerfield (now Newton-le-Willows) comprising a railway station (the oldest in the world), the Manchester-Liverpool Railway line and the Viaduct wagon works. Earlestown is the small town at
the
centre of Newton-le-Willows.


Jabez Skelhorne's name is recorded
on the Earlestown War Memorial and every years
the family lays a wreath
on the war memorial in the town where he lived in 1942. "Jabe's younger sister Mary used to talk a lot about her brother, she always missed him. She was 94 when she died last year but bright as a button, and a very kind person. I miss visiting her as she used to give me a wonderful insight into life in the Skelhorne household in the 1930's and 40's. Jabe's death broke her parents heart. The house always had visitors from Jabe's mates which came to an abrupt end when he was reported lost." (Simon Skelhorne).
This Christmas the gift Simon's Mother made for her father will once again hang on the family Christmas tree.
Jabe's grandson, Simon Skelhorne, has devoted a great deal of his time to researching Jabe's life and death

He scanned the photographs from his grandfather's album and gave consent for their use on this web site.
Click on the link to see a list of the
858 men recorded
as being on HMS
Hecla
on the night she sank with links to further details of their lives
Those who died on that night and those "missing presumed killed" are marked
as killed or MPK
Return to the
"Home Page"
for HMS
Hecla
to find out more about its history and the stories of other survivors
The story of HMS
Venomous
is told by Bob Moore and Captain John Rodgaard USN (Ret) in
A Hard Fought Ship
A Hard Fought Ship
contains the most detailed account of the loss of HMS
Hecla
yet published
Buy the new hardback edition
online for £35
post free in the UK
Take a look at the Contents Page and List of Illustrations
---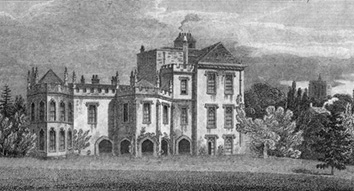 Holywell House Publishing
88 Holywell Hill, St Albans, Hertfordshire AL1 1DH, Britain
http://holywellhousepublishing.co.uk
Telephone: +44 1727 838595
contact onli
ne
---