The story of HMS Venomous
Rear Admiral John M.L. Kingwell Royal Navy


Rear Admiral John Kingwell, the Deputy Commandant of the Royal College of Defence Studies in Belgrave Square, London, kindly offered to host the book launch for the new hardback edition of A Hard Fought Ship on 9 May 2017. The book launch was an opportunity to raise funds for TSVenomous , the Sea Cadet Unit in Loughborough, which was destroyed by fire in 2014. Most of the guests attending the launch had family connections to HMS Venomous and they donated £183 to TS Venomous.
John Kingwell was a Captain in the Royal Navy when Cap John Rodgaard USN invited him to write the Foreword to the previous edition of the book on HMS Venomous (2010) written and self published by Bob Moore in 1990, the CO of TS Venomous, the Sea Cadet Unit in Loughborough. He explains in his Foreword how he came to meet Bob in 1985 while studying history at Loughborough University and joined him on the staff of the Sea Cadet Unit, TS Venomous.

Rear Admiral Kingwell joined the Royal Navy as a Warfare Officer in 1984. He has had four commands: Sussex University Royal Naval University Unit and its attached patrol vessel HMS Pursuer, the Type 23 frigate HMS Argyll and the Assault Ship HMS Albion. As Commander United Kingdom Task Group (COMUKTG) he commanded the Response Force Task Group off of Libya in 2011.

He has also served in the Ministry of Defence on four occasions. As a Lt Cdr in Operations, as a Capt as the Military Assistant to both the Vice Chief of the Defence Staff and the 2nd Permanent Under Secretary and twice within the Directorate of Naval Resources and Plans – as an SO1 and most recently as the Head of what became Finance and Military Capability (Navy). In October 2013 John Kingwell was appointed Director of the Royal Navy's Development, Concepts and Doctrine Centre (DCDC) and was promoted to Rear Admiral.
It's too late to attend the launch but you can see how successful it was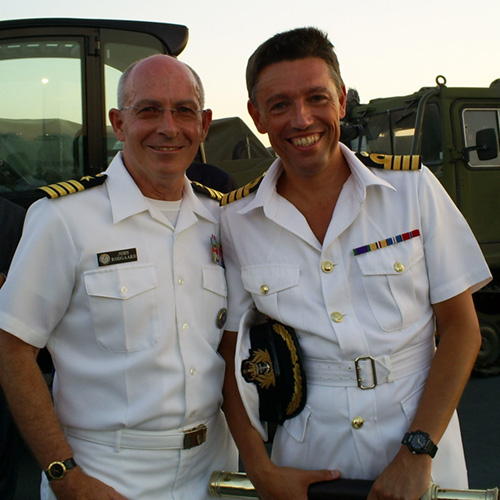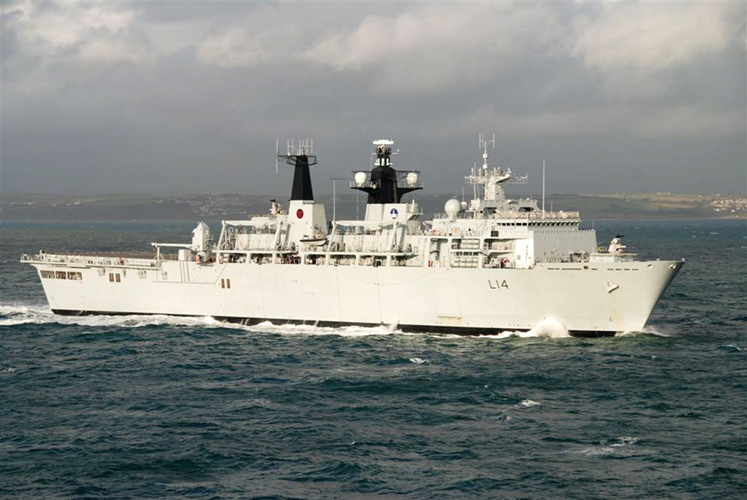 Capt John Rodgaard USN on left with Capt John Kingwell RN in 2009 (left) and HMS

Albion

,
the ship John Kingwell commanded in 2010 when he wrote the Forward to the previous edition of

A Hard Fought Ship
Courtesy of Rear Admiral John Kingwell RN
Foreword
A Hard Fought Ship:
the story of HMS Venomous

I am delighted to have been invited to write a foreword to this third and further enhanced edition of this book describing the life of the destroyer HMS

Venomous

and those who served in her. My connection with this book goes back to 1986 when as a Sub Lieutenant I was sent up to Loughborough to read History – and while at University I helped instruct at the local Sea Cadet Unit, TS

Venomous

. Whilst there I was invited by my good friend Bob Moore to proof read his initial drafts of his book on the history of the ship whose name the cadet unit shared – indeed this book remains a lasting tribute to Bob Moore whose idea and inspiration it was. As a result it is a particular honour, and indeed a real pleasure, to have been invited to write a foreword for the two most recent editions.

I have no hesitation in commending this book to you. It tells the story of one of the many Royal Navy destroyers that served throughout the inter war years and the Second World War. Perhaps most impressively the authors give us an insight to the officers and men who served in her, and who gave Venomous her characters. While the V and W class destroyers may not have had the glamour of capital ships, nor indeed the classes of destroyers that followed, they played a key role in the struggle to keep the sea lanes open, in the Atlantic, Home Waters and Mediterranean. It is clear from this account that

Venomous

served her nation well and, in the best traditions of the Royal Navy, did all that was asked of her, thoroughly deserved the description of a hard fought ship. Indeed, having had the enormous privilege of commanding three ships and, later as a Commodore, the United Kingdom Task Group, I can think of no greater compliment to the men of

Venomous

, and her sister ships, than this book and its title.

J M L Kingwell CBE
Rear Admiral
Deputy Commandant
Royal College of Defence Studies

February 2017


---
Holywell House Publishing
88 Holywell Hill, St Albans, Hertfordshire AL1 1DH, Britain
http://holywellhousepublishing.co.uk
Telephone: +44 1727 838595
contact online
---