The story of HMS Venomous
Jozef Jacob van der Laan
Journalist and outspoken critic of Nazi Germany


Lis Drew-Wynberg kick-started my research into the voyage of the Zeemanshoop and the lives of its passengers by sending me a translation of the well known account of the voyage written by the Secretary to the Dutch Lifeboat Association, the Noord-en Zuid-Hollandsche Redding Maatschappij (NZHRM) and published in 1947 as Tusschen Mijnen en GrondzeeŽn.

Her grandfather, Jozef Jacob van der Laan (known as Joop) escaped on the Zeemanshoop and she wrote this outline of his life:

"Jozef Jacob (Joop) van der Laan (my maternal grandfather) was born at Assen in the Netherlands on the 11 July 1886. Assen was a small town in the north east of the country a few miles south of Groningen and not far from the German border. His father, Marcus van der Laan, and his father before him were both butchers. Joop's parents were Jewish. He was the sixth child in a family of nine and there were also four half brothers and sisters from his father's first marriage.

Joop chose journalism as his career and after completing his high school exams began work on 15 May 1905, initially as a volunteer, at his local newspaper, the Asser Courant. He was an adventurous young man and after a few years at the newspaper he left to travel the world, including a sea voyage to New York as an apprentice cook. He kept a diary of his travels and used this as the basis for a number of newspaper articles.

When he returned to the Netherlands he resumed work at the Asser Courant but in 1911 travelled to Medan on the island of Sumatra in the Dutch East Indies (modern day Indonesia) to take up a position as Editor in Chief with the Deli Courant, a position he held for over twenty years. Joop met his future wife Maria Lydia Frey in 1917 while returning to Sumatra from leave on the SS Nikon Maru, and they married in Tokyo, Japan. The seaboard romance and marriage of the young Dutch journalist and his Swiss bride was reported in gushing terms by an English language paper in Tokyo. His wife was born in Chile and, significantly for their future life together, was not Jewish.

Both their daughters were born in Sumatra: my mother Elizabeth Amalia, known as Malie, on 27 January 1919 and my aunt Flora Marie-Louise on 24 August 1922. Joop van der Laan celebrated his silver jubilee as a journalist in Medan, Sumatra in 1930. In a speech to honour his work as Editor-in-Chief, Mr W. J. van den Bergh (the first Editor) highlighted the growth of the Deli Courant, under Joop's leadership, from "a more or less unsightly small newspaper to a vigorous paper...that has the largest circulation in the Outer Regions, with a circle of readers that has increased nine to ten times in size." Joop returned to the Netherlands with his family in October 1930 but went back three years later to give advice and leadership to the newspaper which had been doing badly since his departure.

From 1936 Joop lived in the Netherlands with his wife, Lydia, and two daughters but continued his work as a journalist and warned unceasingly of the danger from Nazi Germany. He campaigned for the Eenheid door Democratie (Unity through Democracy) party which rejected both communism and fascism and in his speeches described what was happening in Germany."

As a Jew and an outspoken critic of Germany he was worried about his safety under German occupation and on the day the government ordered the surrender of Dutch forces he decided to try to leave Holland. His wife and two daughters would be safer without him. He left their home in The Hague on his bicycle, overcoat over his arm, to cycle to the harbour at Scheveningen where he boarded the Dutch lifeboat, Zeemanshoop. He gave this brief description of the voyage in an article he wrote in 1980 for Schakel, the magazine of the Stichting Genootschap Engelandvaarders (Society of Engelandvaarders):


"It started on May 14 1940, the day the Netherlands had to surrender its defence to Hitler's Germany and to find new ways to support 'England's Resistance'. About thirty Dutchmen [in fact, forty six] left their homes and looked for a way out in the direction of Scheveningen. Lying there were many craft whose owners did not want to relinquish them. There was also the
Zeemanshoop
belonging to the North-South Holland Lifeboat Society, a vessel which had already saved may lives at sea.
Some, willing to try anything, broke the
Zeemanshoop
off its chain. It was anything but easy to start but four persistent students managed to activate one of the two engines and so the ship left port. It was only at daybreak that the numbers on board became apparent. Towards the afternoon we were spotted by an English warship which took us on board and delivered us safely to an English port. Much later these people (the refugees on board the
Zeemanshoop
) were recognised as true Engelandvaarders."

His daughter, Malie Wynberg-van der Laan, described what happened next in an e-mail from her home in Australia:


"Long before the war my parents decided that my father should leave immediately if Germany occupied the Netherlands. He had spoken regularly at meetings warning about the dangers of a Nazi invasion and we found out later that he was No 70 on a list of those to be imprisoned. A few days after he left a good friend of ours came to fetch my mother as somebody wanted to talk to her. It was a young communist who had boarded the
Zeemanshoop
with my father and the others but decided to give up his place to someone in greater need. He brought back my father's bicycle, and we now knew that my father had been able to get away. A couple of days later my school headmaster came to tell us that he had heard my father speak on the Free Dutch Radio from London and we knew that he was alive."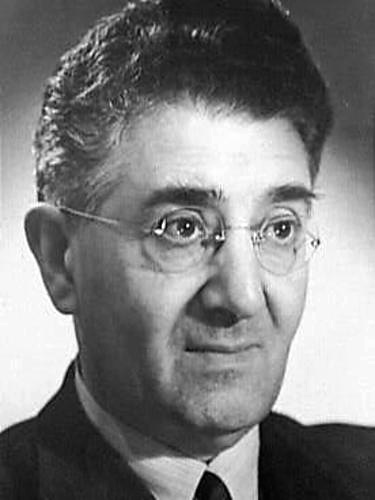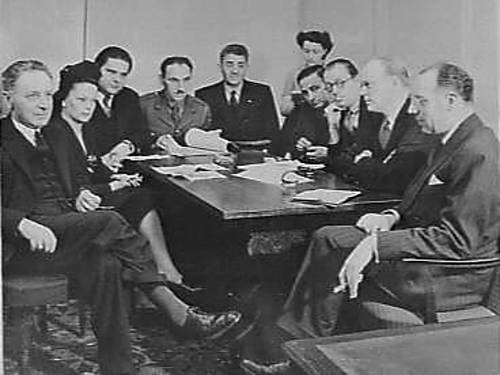 Jozef Jacob van der Laan (left) and the editorial board of
Vrij Nederland
Van der Lann is fifth from the left in this photograph from the Dutch National Archives

In London Joop van der Laan worked for the Netherlands National News Agency (ANP), spoke regularly on Free Dutch Radio, wrote articles for the London based weekly newspaper Vrij Nederland (Free Netherlands) - not to be confused with the first and best known of the underground newspapers in occupied Holland which had the same name. He travelled all over England giving lectures on the invasion and occupation of the Netherlands and he also joined the Home Guard. Joop described in

Schakel

how his family fared after he left:

"The author of this article left his wife and two daughters in the care of friends in the Netherlands. His wife was of Swiss parentage, born in Chile, and had access to three different passports but this notwithstanding, she did not get an
Ausweiss
(exit permit) to return to the country of her birth. However she kept persevering and, with the assistance of Chilean representatives in the Netherlands, finally received a permit from the Germans to return, with her two daughters, to the country where she was born."

Malie Wynberg described their adventures and how they were able to join their father in London:


"No one was allowed to leave Holland but as my Swiss mother was born in Santiago, Chile, we were able to obtain Chilean passports to travel to Chile. I still have mine. At the end of January 1941 we left Holland by train. After a short stay in Bilbao we managed to get to the Spanish-Portuguese border where we met my father who had come from London to see us.
On the 13 February 1942 we boarded the
Cabo de Hornos
from Lisbon for Buenos Aires where my mother's sister lived. In April 1943 my sister and I boarded the
Port Victor
at Buenos Aires as volunteers for the UK. On the evening of the 30 April the ship was hit by four torpedoes 400 miles south of Ireland. Captain Higgs and the passengers and crew got away in five lifeboats and three sliding rafts. We were so lucky that the message sent by the telegraphist, who went down with ship, was received. Ten crew members, two gunners and five passengers died. A Lancaster found us and dropped food parcels. Twenty hours later we were taken aboard HMS
Wren
which picked up 149 survivors and landed us at London. After four days in a reception centre where they checked up on us we met up with my father. My mother came later, by chance sailing with the same Captain Higgs."

Captain Higgs report of the torpedoing of his ship and the rescue of its crew and passengers by HMS

Wren

makes fascinating reading. It has been made available on this web site by kind permission of his grandson, Graham Higgs. The original is in the Fryer Library of the University of Queensland, Brisbane, Australia.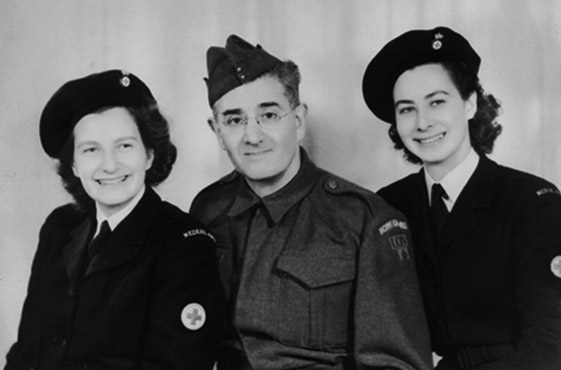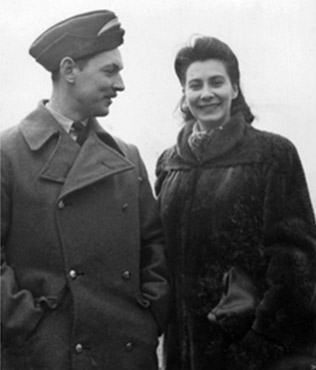 Left: Joop van der Laan and his two daughters, Marie Louise (left) and Elizabeth (right), London 1943
Right:
Ted Wynberg and Elizabeth Wynberg van der Laan, London 1944
Malie and her sister Marie-Louise (known as Pien) volunteered for the (Dutch) Women's Help Corps. Malie also worked as a nurse at St Thomas' Hospital. In March 1944 Joop's wife Lydia joined the family in London, having travelled from Buenos Aires on the Port Jackson also sailing with Captain W G Higgs.

World War II had a devastating impact on Joop and his family. Over twenty of his brothers and sisters, their spouses and children were incarcerated in concentration camps; only one nephew survived. In addition, a very large number of his extended family was also killed. Joop's escape on the

Zeemanshoop

saved his life.

In 1946 Joop and his wife left England to return to the Netherlands but in May 1947 they travelled to Australia where Joop took up a position as a press officer at the Dutch Embassy in Melbourne. In 1951 he was appointed as an officer for Press and Cultural affairs with the Dutch Consular Service in Sydney. Many people in postwar Europe were keen to create a new life for themselves in Australia and Joop was invited to write a book about the country in which he had settled which was published in 1950.

In October 1951 they returned to the Netherlands and Joop became the Managing Director of the Dutch publishing house Koch & Knuttel in Gouda. The success of his book on Australia encouraged him to write a book a book about Canada. In July 1952 he travelled to Argentina where his wife's sister lived and from there to the USA and Canada. They returned in mid November and his book on Canada was published in 1954. He retired in about 1964. In addition to his books on Australia and Canada he had co-authored with Johannes Marinus a book on economic conditions in Deli, Sumatra, which was published in 1929. Joop van der Laan was also a recipient of the Order of Oranje-Nassau.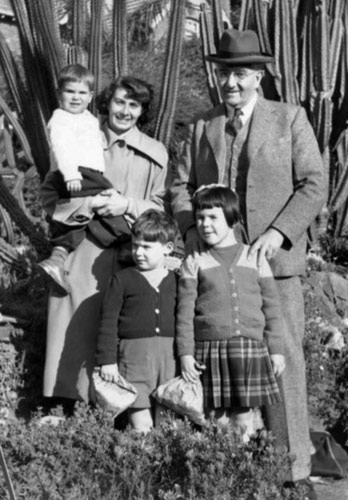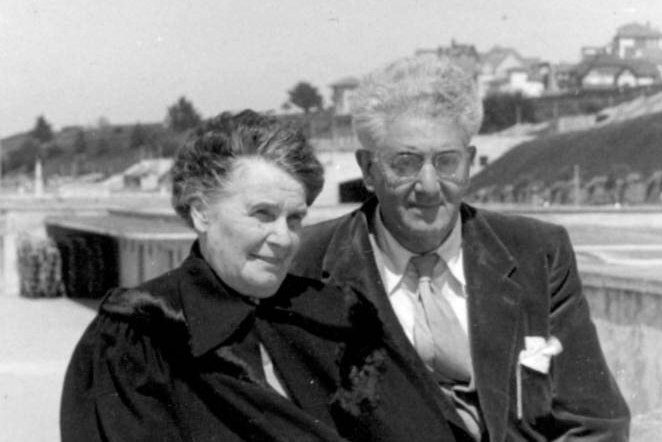 Left: Joop van der Laan with his daughter, Elizabeth, and his grand children John (in his mother's arms), Theodore (Ted) and Lis, Botanic Garden Sydney, August 1951

Right: Joop van der Laan and his wife moved to a Masonic retirement home at Bilthoven in
May 1967
and he died on 11 December 1981
Malie Wynberg described how she met her husband:

"I met my husband, Theodore (Ted) Wynberg in London in 1944. He had also escaped from Holland in August 1943 with a friend using false papers via Belgium, France the Pyrenees on foot to Spain, two prisons and then Madrid. With a group of hockey players they finally came to London via Gibraltar on the
Dempo
, a 17,000 ton Rotterdam Lloyd liner which had been converted into a troop carrier. To this day I am so grateful to the four students who stole the
Zeemanshoop
and saved so many people's lives."

Lis Drew-Wynberg explains how the family came to live in Australia:


"Both my parents were born in Indonesia to Dutch parents. My mother's family lived in Sumatra, my father's family in Java. My father, with a couple of friends, escaped from occupied Holland in August 1943 via Belgium, France and Spain. My parents met in London and were married in 1944. I was born in England (1945) and went with my parents to Holland in 1946. We emigrated to Australia in 1951."

Lis Drew-Wynberg,
Brisbane, Australia
June 2011



---
Holywell House Publishing
88 Holywell Hill, St Albans, Hertfordshire AL1 1DH, Britain
http://holywellhousepublishing.co.uk
Telephone: +44 1727 838595
contact online
---