The story of HMS Venomous
Tom Sarginson's story
Wartime Internment at Tost in Upper Silesia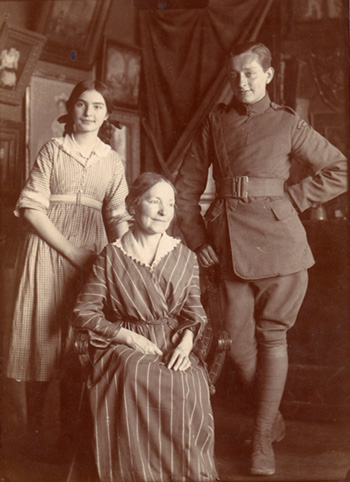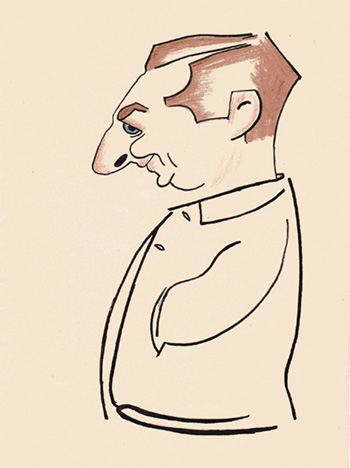 Tom Sarginson was born in Paris in 1896 and brought up in France by his French mother and English father. His father, Bill Sarginson, was a tailor's cutter and his wife Jeanne, a Giletiere (waist-coat maker). Under French law Tom took his father's nationality but grew up speaking nothing but French and only learned to speak English when he served in the Royal Flying Corps as an electrical mechanic based near Rouen, Northern France, in the Great War.

He looks very handsome in the photograph in his RFC uniform on the left with his Aunt Marie and Cousin Suzanne at their home in Paris. His parents returned to England during the war and Bill Sarginson died there in 1920 and Jeanne in 1931.

After the war, Tom completed his apprenticeship in England as an electrical engineer and came over to Calais in 1926 to help start Courtauld's factory, Les Files de Calais SA, producing rayon, Soie Artificielle (artificial silk). His English wife Nell followed him with their new baby daughter Beatrice Marie. They settled in a house opposite the factory, where a row of English style houses had been built for the factory foremen (they are still there). Irene Marguerite was born in 1928 and Jeanne Elisabeth in 1932. Tom became the chief engineer, owned a car, was respected by both the French and English and was a stalwart of the British Legion.

The caricature was drawn outside the Trocadero on a visit to Paris in 1933.

If you know where to look Tom Sarginson and his youngest daughter, Jeanne, who was born in France, can just be seen in the photograph taken on the 26 July 1936 when King Edward VIII unveiled the memorial to the Canadians who died on Vimy Ridge (he abdicated in December) and he is second from right in the photograph taken at Calais on the day King George VI and Queen Elizabeth left on the Royal Yacht after their state visit to France in July 1938.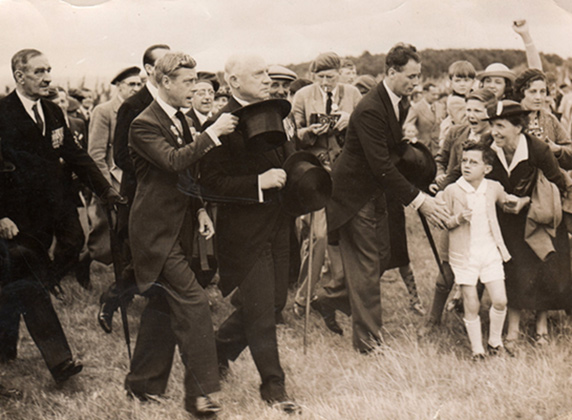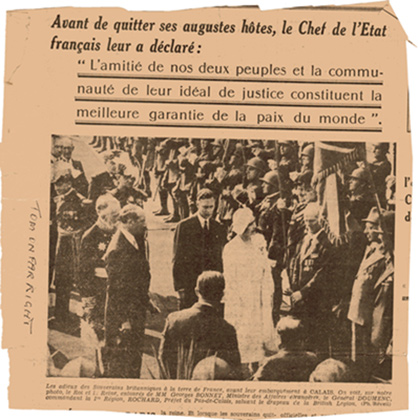 King Edward VIII at Vimy Ridge on the 26 July 1936 on his only State Visit abroad and his younger brother King George VI at Calais in July 1938
Courtesy Jeane Gask

The youngest of his daughters, Jeanne Gask, tells her family's story below and more fully in a book to be published in May 2015 on the seventieth anniversary of the end of the war and seventy five years after the Germans occupied Calais and her father was interned.
*****************

"We three girls went to the College Sophie Berthelot (I went when I was five). We were brought up as French and all our friends were French but our nationality was British. Our father hired a cottage in Sangatte every summer, and moved the family there, while he commuted to work. Our English Grandparents (our Mother's parents) came over and stayed there with us. These were wonderful days playing by the sea with my dog.
Although I was only eight in 1940, I still remember the names of some members of the British community: Mr. Allitt, Mr. Hartshorn, the British Consul and Mr. McCullagh, the church minister. Also Captain Masters, Captain of the Cote d'Azur, the ferry between Calais and Dover, who let me take the wheel when I was about six years old! The Cote d'Azur was sunk off Dunkirk in 1940, salvaged and converted into a minelayer renamed Ostmark and sunk by the RAF in the Baltic in April 1945. I must have known Johnnie Eslemont who escaped from Calais with his parents on HMS Venomous. I remember the name but he was much older than me and his father was one of Tom's colleagues.

When the German invasion was nearing Calais Tom was told that the last boat for England was leaving and that we should go too, but Tom thought everyone was panicking and that we should stay until it "blew over". A couple of days later, Tom took the dog, cat and the chickens to friends in the country, put two mattresses on the car roof for protection in case of machine-gun bullets, tied the family tent to the back bumper, packed the car boot with food and blankets, put us three girls on the back seat and said, "Come on, we'll go camping in the South of France", and off we went.

We immediately found ourselves part of the exodus of cars, trailers, carts, bikes and people on foot, all fleeing in front of the Germans. Abbeville was on fire. Tom said, "Once we're over the Somme, at St. Valery, we'll be free." But we never made it. We went round in circles at Rue and sought shelter in the grounds of a farm at Quend, near Rue, and stayed there a few days, sleeping in a barn and a cowshed, till we were over-run by the German troops. We were allowed home after two or three weeks. Tom went back to work, though he knew his days were numbered, and we girls went back to school."

The family was soon to be split up
George Gregson wrote in his Jounal on 18 July 1940

"A notice in the

Petit Calaisien

addressed to English, Poles and Tchecks says that all are to present themselves immediately to the local police authorities individually. It seems to apply to women and children?"
"I think it quite likely that I may get another day or two here now. The Gendarmerie will no doubt come to the Mairie in due course when their lists of foreigners in villages, etc. are complete and have been dealt with by the German Command, who will eventually give orders. Mr Boutroy tells me that Escalles comes under the Gendarmerie of Calais so, quite likely, I shall rejoin our Calais friends. Ratcliffe has gone, also Sarginson with Dutnall, but I do not know the others' names."
Tom Sarginson was arrested in July 1940 and kept prisoner for several days in the Salle des Marriages (where civil wedding ceremonies take place) at the Hotel de Ville, the most impressive and best known building in Calais. The British community in Calais was a tight-knit group and the men all knew each other and cheered as another one was brought in.

After a few days they left for Loos Prison in Lille and were then taken to Huy Citadel in Belgium. It's here that P.G. Wodehouse joined them. He lived in Le Touquet, in Northern France with his wife Ethel. There is a plaque on the wall of the Citadel stating that P.G. Wodehouse was held there between August and October 1940). I think they had a very rough time, Tom never spoke of it.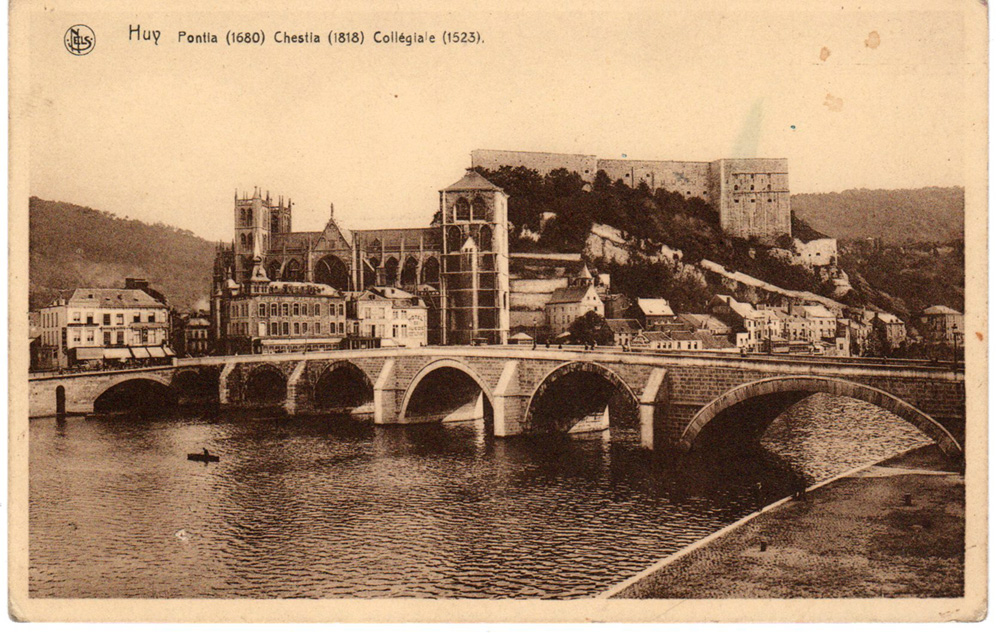 The Citadel overlooking the RIver Meuse at Huy in Belgium where British subjects in Northern France were interned in 1940
Courtesy of Jeanne Gask
They then went on a three-day train journey to Tost in Upper Silesia (now Totzak, Poland) where 1,800 men were interned at a former lunatic asylum, Illag (Internierungslager) VIII-H. Some of the Calais men managed to stay together in the same dormitory and eight of them sat together at the same table at meal times, together with P.G.Wodehouse. Tom didn't like him very much, found him effete and mannered. George Gregson gave their names in his Journal on the 2 March 1941:
"Well, I have changed my table after all and am now at the same as Wodehouse, Webb, Davies, Rainey, Sarginson, Dutnall, Youl, Pickard and Barryball. Much better in every way. Usual dreary Sunday – they are always longer than other days however."
Jeanne said "When my mother heard that George was having mental problems, she loyally refused to believe it: she said he was faking it, so that he might be returned to England and could then rejoin his unit."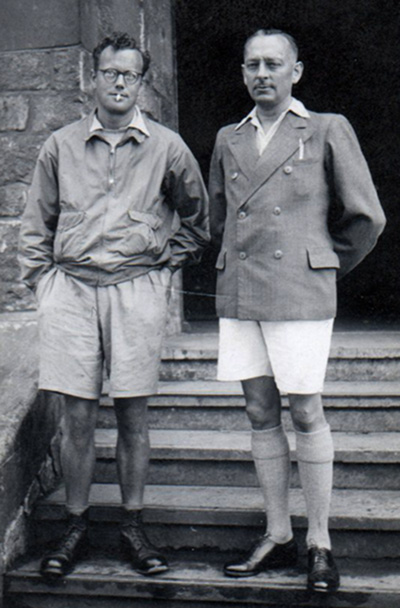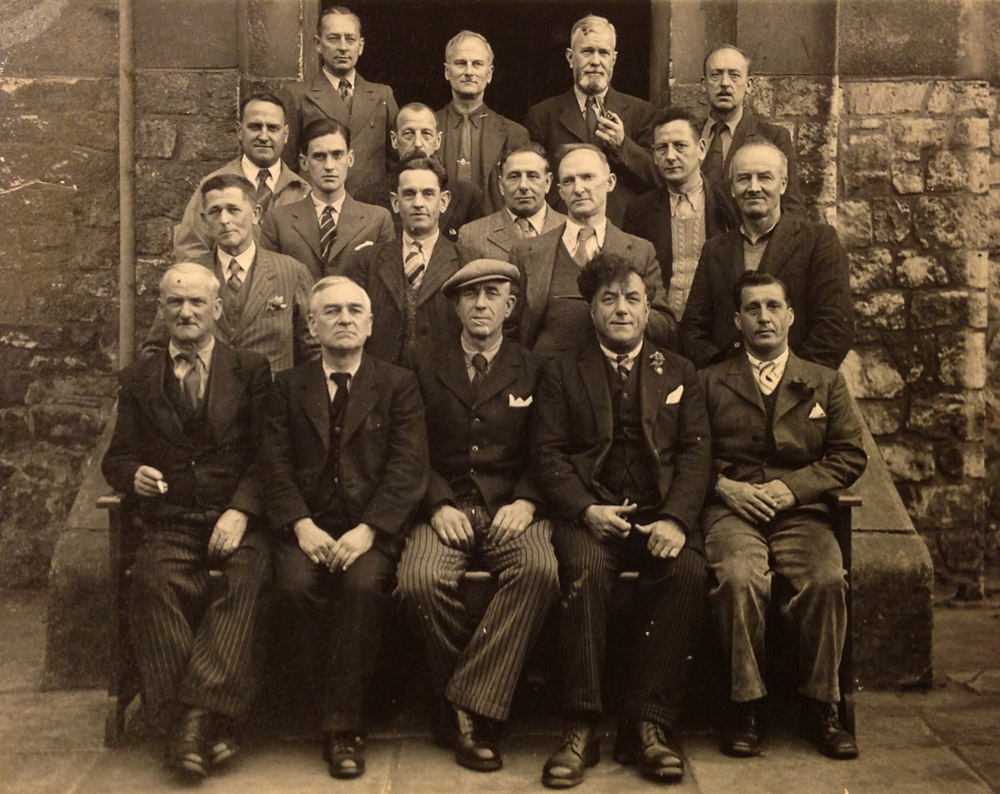 Tom Sarginson and some of his fellow internees at Ilag VIII-H, Tost, in Upper Silesia
Left: Tom Sarginson always dressed imaculately and his appearance contrasts sharply with the unidentified internee on the left who is casually dressed, hands in pocket and smoking a cigarette
Right: From left to right, back row: Sarginson, West, Gregson, Goard ; second row: Rainey, Yule, "Stock Keeper SO" (name not given), Pegrum; third row: Pauline, Ernest Dutnall, Harold Ratcliffe, Londoy
Front row: Perry, "chemist SO" (name not given), Lockwood, Larkin, Oliver Holding
Courtesy of Guy William Ratcliffe son of Harold Ratcliffe
Tom decided that he would try and keep himself fit and busy. He was at different times Deputy Camp Captain, on the entertainments committee, on the sports committee, helped to build the dam, gave French lessons, made a couple of model boats, a cabin cruiser and a sailing boat, and passed his English School Certificate, his "Matriculation" ("French excellent"). He would walk round the perimeter each evening (four circuits made one mile).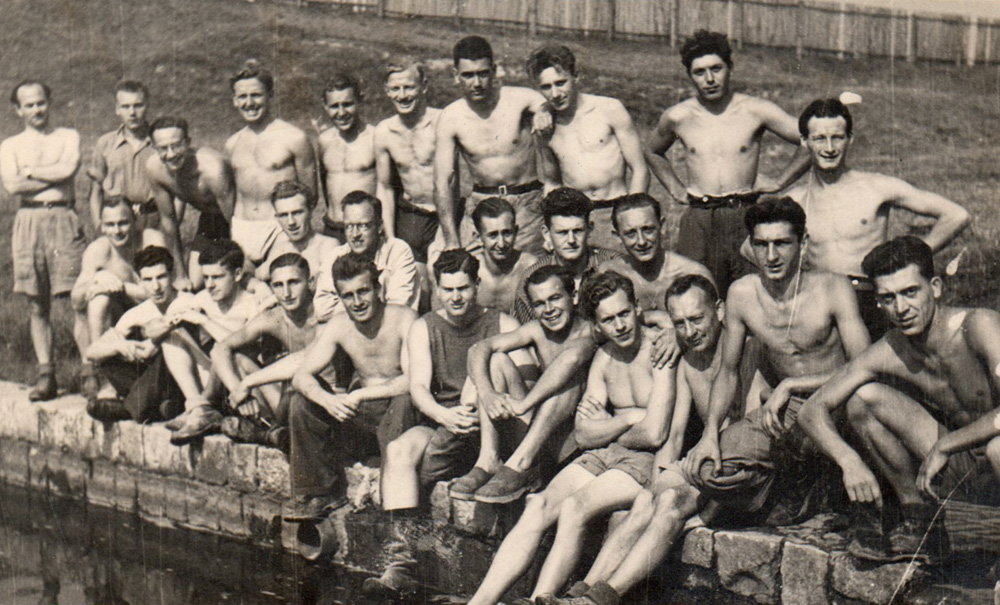 Some of the young men interned at Tost in Upper Silesis built a dam across a small river to make a swimming pool
Tom Sarginson is third from the right sitting with his feet extended over the water
Courtesy of Jeanne Gask
Apart from business men and employees of the War Graves Commission, all sorts of other people with a British passport had landed in the camp. Tom said there was even a boat-load of missionaries caught at sea! And there were actors, performers who had been touring the continent who hadn't gone home in time. Tom said that the shows they put on in the camp were every bit as good as any shows he'd seen in peacetime. Tom sang a French carol in the camp chapel at Christmas time, but on the whole preferred to see the shows rather than participate. The head violinist in the photo was very well known in Holland.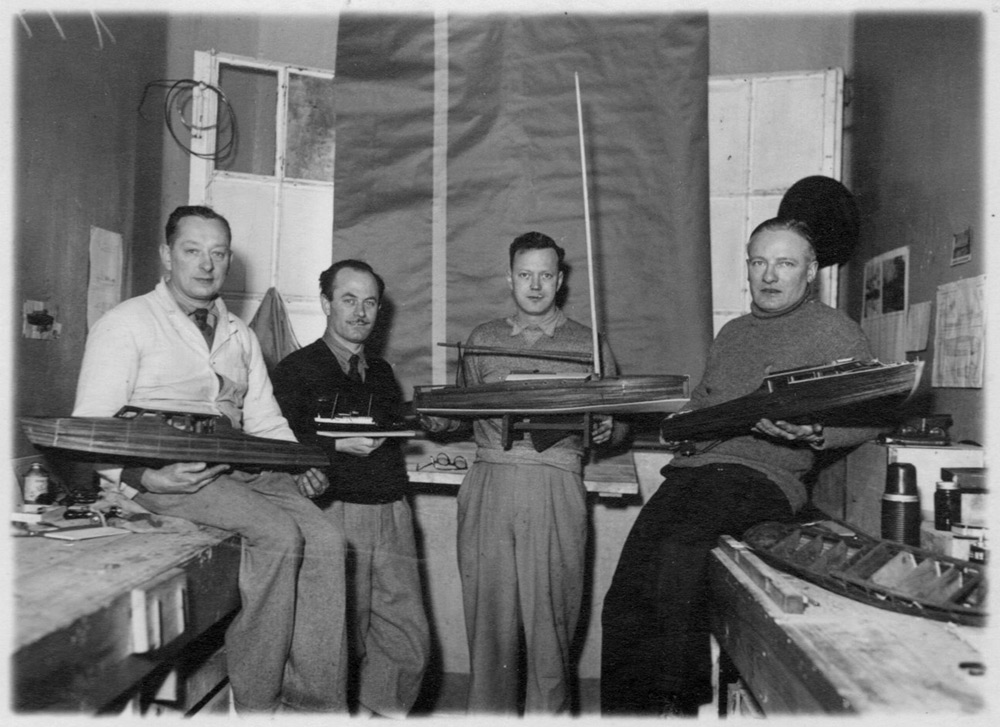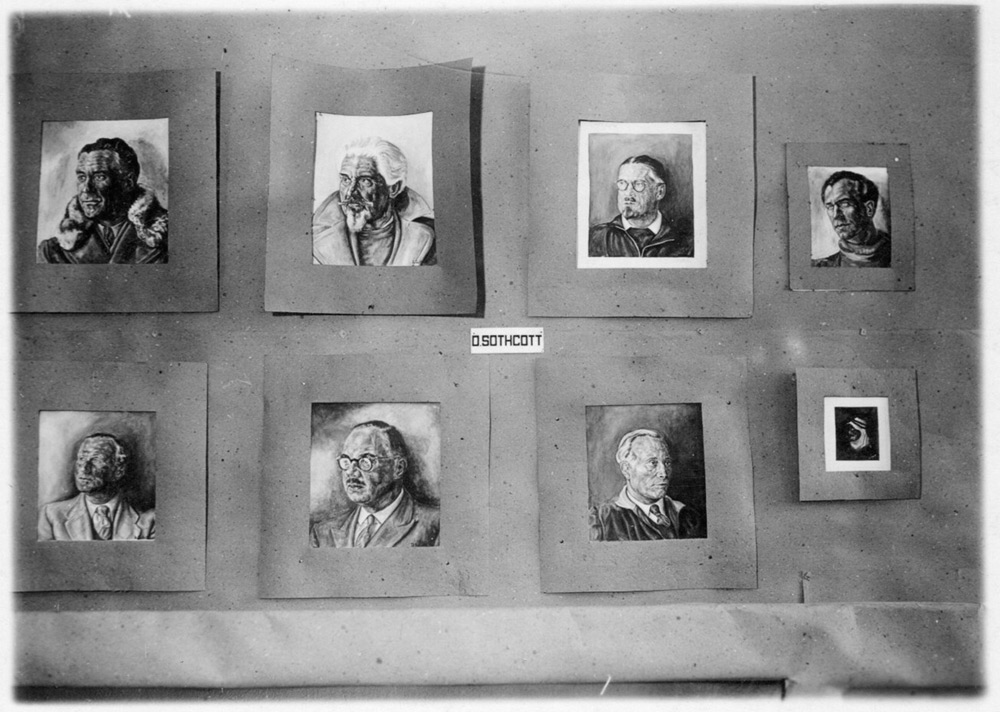 Passing the time

Top:

Tom Sarginson (left) and others posing with the model boats they made at Tost

Bottom:
Some internees were talented artists as demonstrated by these portraits
exhibited in the Camp
Courtesy of Jeanne Gask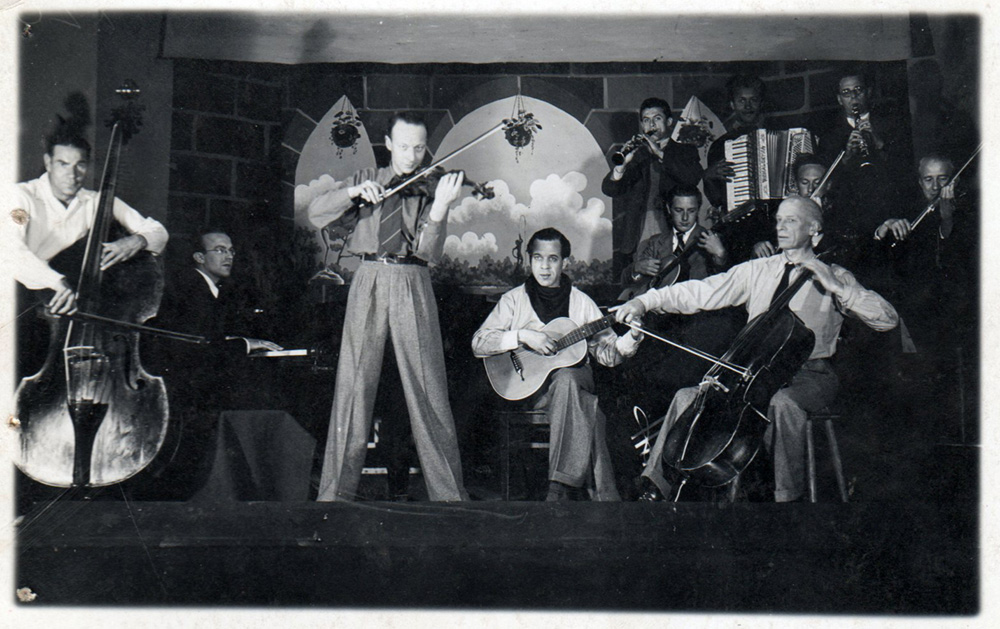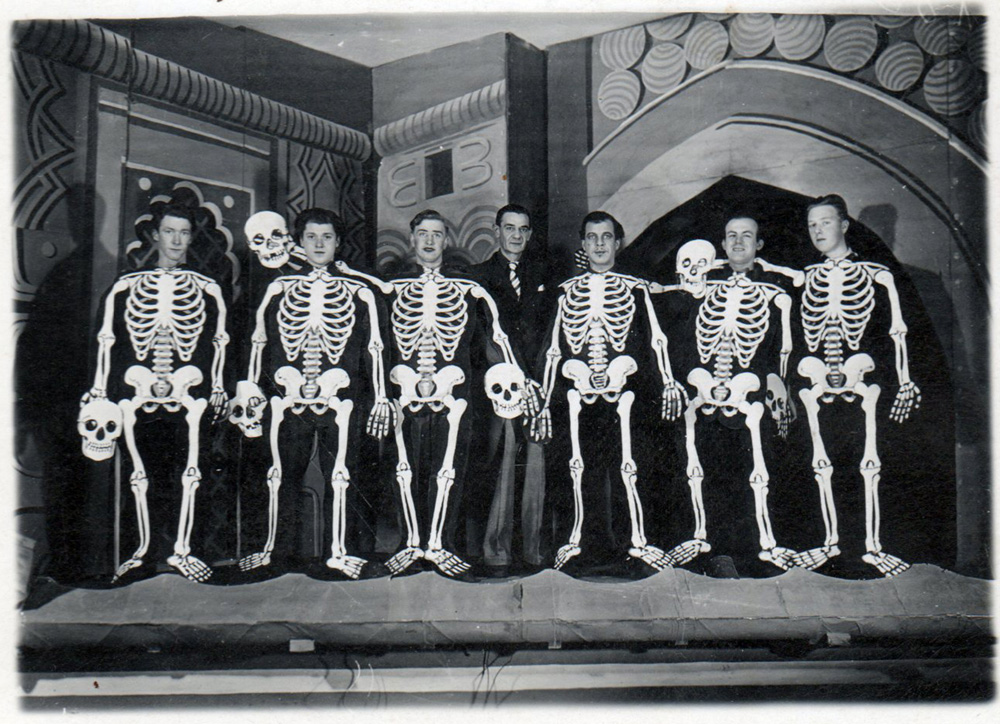 The internees at Tost kept up morale by putting on shows and theatre productions
- the violinist in the orchestra was very well known in Holland

The photographs were printed as postcards for sending home to their families
Courtesy of Jeanne Gask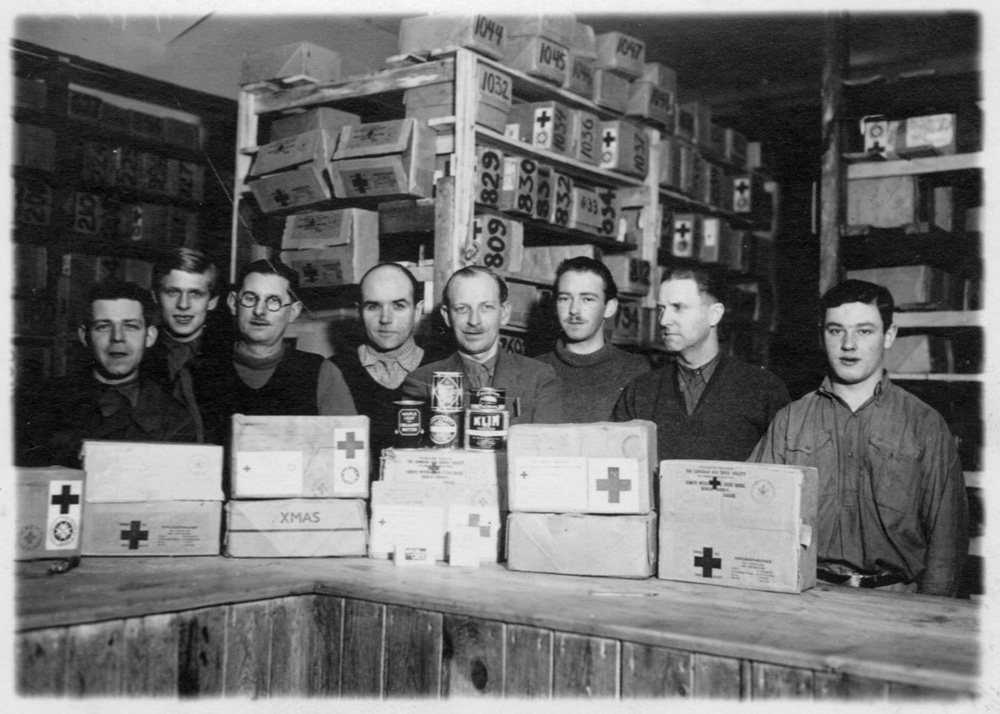 Red Cross parcels supplemented the meagre rations issued by the Camp




Courtesy of Jeanne Gask


Under the Geneva Convention,

after four year

internees had to be moved back to the country they were taken from, and in the autumn of 1943, the internees from France were moved to an old deserted French army camp at Giromagny, near Belfort in Eastern France.

Tom became a trustee and was put in charge of getting the camp electricity working again.



Tom said he went round the camp with the Reverend Austen Williams stealing wood to burn to keep warm, and what a good chap the Reverend was!

Austen Williams was a Toc-H chaplain in France when he was captured and interned in 1940 and after the war achieved fame for his charitable social work as Vicar of St. Martin-in-the-Fields, London.



Tom marked the room where he slept and the visiting room on this postcard he sent to Nell.

She was able to visit him there twice but the long journey by train from Cambrai in the north near the Belgium border was made dangerous by bombing. During one of these brief visits she managed to smuggle in electrical cable which Tom used to provide lighting in an escape tunnel beneath an alpine rock garden built by the internees to hide the excavated soil

:



"While the IWGC (International War Graves Commission) men built up their rock garden, the tunnel team led by Tom Sarginson, an electrical engineer from Calais, was constructing a sophisticated escape route supported by log beams from the woodshed and lit using cable smuggled in by Sarginson's wife during family visits. Rock and spoil were transported to the rock garden in empty Red Cross cartons. The stone mason Bernard Parsons broke up larger rocks and used them to line camp paths, prompting compliments from the Kommandant for keeping the place looking so neat and tidy. Tunnelling could only be done for an hour every afternoon and it was months before the tunnel was ready.

"

The Children who Fought Hitler

; by James Fox and Sue Elliott (Hachette, 2010).




The tunnel escaped detection and was successfully used but some detainees were caught before they could reach the Swiss border

.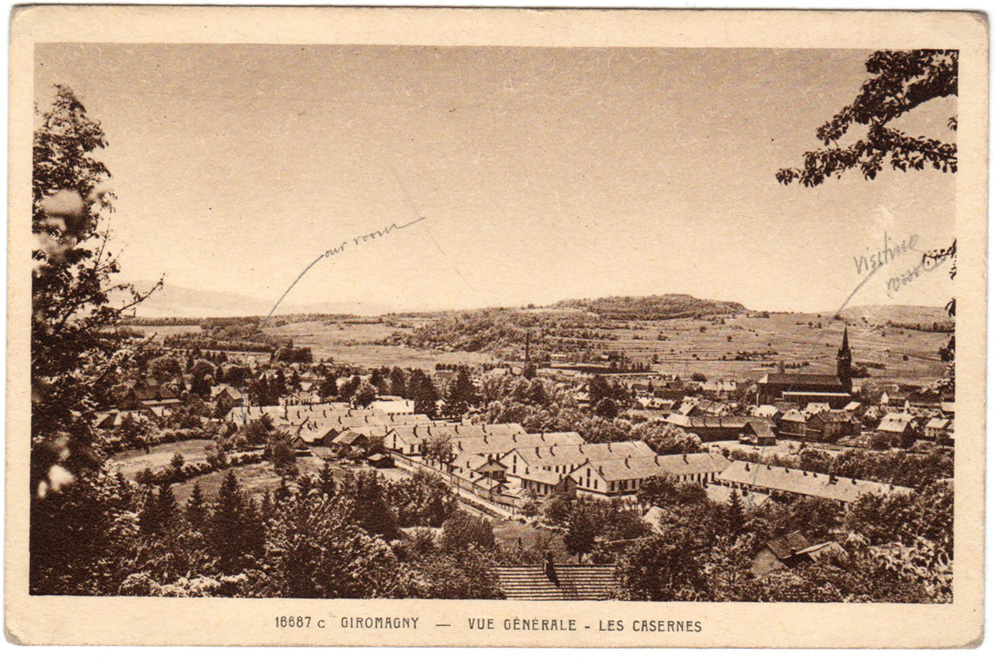 The internment camp at Giromagny near Belfort in Eastern France
Tom Sarginson marked the room where he slept and the visiting room on this postcard he posted to Nell in Cambrai

Courtesy of Jeanne Gask
Repatriation



Jeanne has kept all the letters her father wrote to Nell while they were interned at the house in Cambrai and the envelopes with his camp number Illag 544. Tom described his repatriation in September 1944 in a long vivid letter he wrote
on the
13 November 1944
after his return to England
while Nell and the children were still in France
:
"The news of repatriation came to us as a great surprise at just about the time when Cambrai was liberated and when our armies were in Besancon and Dijon. The plan was to repatriate 462 of us; the aged and sick first of all, then ex-service men with more than four years of internment, then other with four years. It was optional but we had to state definitely: yes or no. No exceptions were made, it was yes or no. I knew my own mind, having had more than enough of that life. Others were undecided for many reasons, the principal were: the likelihood of being liberated by our approaching armies, the chance of being bombed while travelling through Germany, especially after General Eisenhower's warning (Belfort and Alsace were mentioned), the chance of being left stranded in Germany due to repatriation agreement breaking down at the last moment, also leaving our dear ones in France with probably no means of communication afterwards. Others were afraid to return to England on account of matrimonial or common-law entanglements.
We left the camp at 1pm on Saturday 2 September. Had a great send off from the rest of the camp and especially the "Giromanicians". A train of 15 coaches and 7 goods wagons was waiting in the little station. I was lucky to be in a first-class compartment with seven others. At about 6pm, the rest of the camp started to arrive in small parties to join us on the train, the Jerries having decided to shift the whole camp at the last moment; of course this was rumoured before we left and many were already regretting their decision, but once the list was made up, no change was possible. Sandy [Youll] and many others really missed the boat that time. Sandy was on the priority list [he was a chronic asthmatic and had spent many weeks in and out of the camp hospital. He'd only been married a year and it was Tom's wry joke that Sandy was married one year to Mae, and four years with Tom!], but he would not listen to anything, nor Dut [Mr. Dutnall, mentioned by George Gregson], Brimble, Barriball and many others. Just imagine the wives who had come to Giromagny for safety and who are now in the real fighting zone; a jolly good job you did not decide to go that way.
It was a wonder we got away at all and if we did, it was because the F.F.I [Resistance] were warned that we were on a repatriation scheme, otherwise the train would never have left, as it was we could not leave Giromagny for nearly 24 hours, on account of a collision between Belfort and Giromagny. In passing Belfort station and marshalling yards we saw what my old mob [the RAF] could really achieve. Mulhouse was not as bad as Belfort. When we got to Strasbourg an air attack was in progress and everybody was running for shelter, the AA guns going. Our train with 1,000 men and guards was left in the middle of the line; luckily the RAF was not after the station otherwise it would have been too bad for us. We remained there over two hours during which time I really had the wind up. Afterwards we travelled
via Karlsruhr, Manheim, Hanover, Bremen. There in a little station some miles away the repatriation party was kept in the coaches on a siding, the rest going to a camp nearby, but far enough remote to be immune from bombing, if at all possible at this stage in the war.
We spent three nights in the siding before going to the port of embarcation, Sassnitz on the Isle of Rugen. Until we set foot on board the Swedish ship, no one believed that we were really off to England. Still, it did happen. Three ferry-boats made two trips between Sassnitz and Trelleborg in Sweden. We had six hospital trains with with many stretcher cases. The trains ran direct onto the boats, I was one of the walking cases, who went on board under their own power. There were two German ferry-boats and one Swedish. I was on the latter and what a feeling it was when I was counted by the Swedish Medical Corps Officers and allowed to go on board. For once, I was not backward at coming forward, I was the tenth man on board. We had a marvellous reception with all the comforts of luxury travel. It was our first decent meal for four years!


The crossing to Sweden took four and a half hours and the sea was kind to us. On arriving at Trelleborg, the Swedish Red Cross had turned up in strength to greet us and help us; military bands and everything possible, what a reception.
We left at about 11pm in first-class coaches and travelled all night arriving at Gothenburg at about 8am. No black-out in Sweden, with people lining the railway line, at level crossings and windows, waving Union-Jacks and cheering.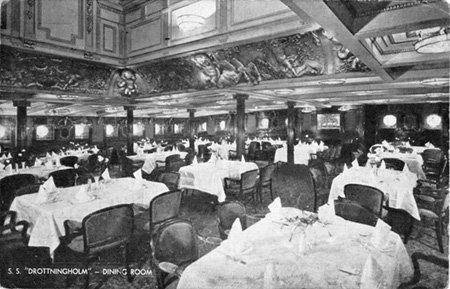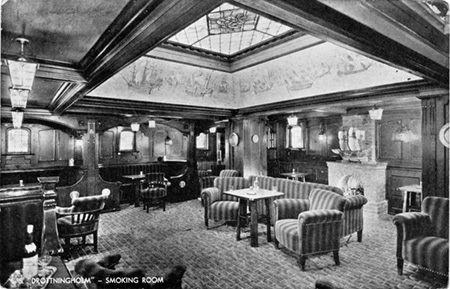 Tom Sarginson brought home these postcards of his voyage from Gothenburg to Liverpool on the luxury liner SS

Drottningholm

At Gothenburg three liners were awaiting our arrival:

Arundel Castle

,

Gripsholm

and

Drottningholm

. I was on the latter, a marvellous luxury liner of 22,000 tons: I was in the 2nd class, but dining 1st class although the same meals were served in all dining rooms. We were all very tired having not been able to lie down for a week, so we slept very sound our first night on board in Gothenburg which we left early on Sunday morning. The weather was grand all the way. We had an escort of Swedish destroyers for about 24 hours, then Germans for another 24 hours, then no one for the next day. For the rest of the crossing we had an escort from the Fleet Air Arm.
We arrived at Liverpool on Saturday 16th September
at noon
. Again, what a reception. We were not allowed to leave the ship until we had an address to go to. Dad and Elsie [Nell's father and sister] had written to me after hearing a broadcast request by the Health Ministry and their card was awaiting my arrival, facilitating my disembarcation. Some of the others had to go through a stiff examination by CID men. Buses had been laid on to take us to the station where special trains had been reserved for us. I left Liverpool at about 9am on Sunday morning and arrived at New Street Station [Birmingham] about 4pm where Dad was waiting for me. Elsie was in London at the time, and I waited for her at New Street Station the next day on her return from London.
I was wondering if you had already arrived home! What a hope! No travelling yet.

I'm a bit bewildered and dazed to be free and suddenly find that life is almost back to normal. I wrote to Courtaulds and had an appointment by return. I went to Coventry three times, saw the big bosses, they wanted to see if I had gone 'crackers'. They asked me what I wanted to do and where I wanted to go. Anyhow I am now on the monthly staff of Courtaulds which is something. I have a good salary, probably not as much as if I was on munitions, but the prospects for the future are excellent I am now at our largest and most modern works in Preston. Met Esslemont in the office."
What happened to "Nell and the Girls"?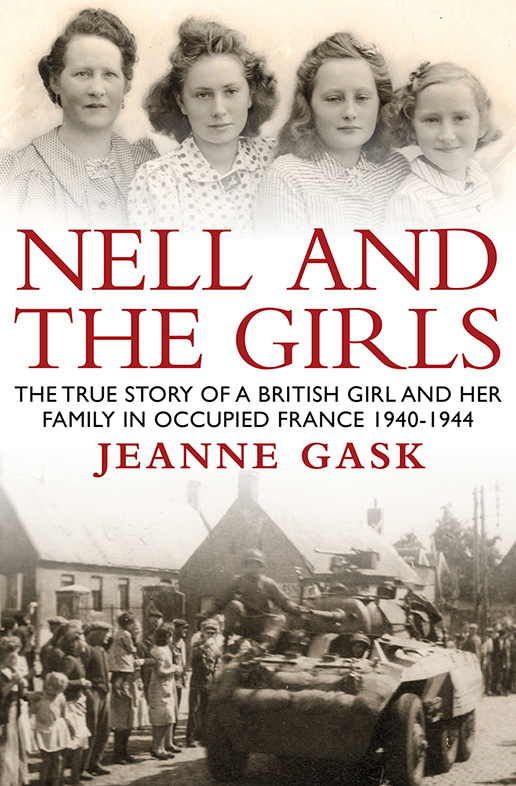 My English mother and us three girls were arrested in July and taken away by army lorry. Nell had been told that, since Irene and I were born in France we were French and could be left behind in Calais, and she and Marie, both born in England, had to go where the authorities chose to take them. Of course, Nell wanted to keep the family together and any thought of leaving half her family behind was preposterous. We stopped for the night at Les Attaques on the 27th July 1940 and George Gregson mentioned meeting us there in his journal.

"About 2pm, we all got into a lorry and were taken to Les Attaques, where we found other English. We had been joined in the morning by Mr and Mrs Wesley, each 72 years old, from Sangatte and, one way or another, our party had grown to 14. At Les Attaques, we found others from Calais, principally women and children and including Mrs Yule and Mrs Sarginson. Germans gave us some tea in the evening. Slept pretty well though feeling doubtful about the straw." George Gregson.

Mae Youll was our next door neighbour in Calais, married to Sandy. I have a vivid memory of George and Nell, my mother, sitting with their backs to the wall, having a long whispered conversation into the night, while us three girls slept on the floor.


We were held in an internment camp outside Lille for six weeks, then taken to Cambrai where the bottom half of a gloomy empty house was broken into and we were told to live there. Nell had a very difficult time with three growing hungry girls and little money but we could go to school. At first she had no idea what had happened to Tom; he wrote constantly but his letters didn't reach her until November 1940, and she knew no-one.

In his letters Tom tried constantly to boost my mother's morale and to help her with the upbringing of us girls. She, being an English woman, removed from her comfort zone in Calais, had very bad time but her indomitable spirit saw her through. After the internees were moved from Tost to Giromagny she was twice allowed to visit her husband, facing difficult journeys as there was so much bombing of railways.

The men were repatriated in September 1944 when, after an horrendous journey through Germany, they left Gothenburg, Sweden, on three cruise liners. Tom was on the SS Drottningholm, the same ship that brought George Gregson back from Portugal. When he finally arrived at his In-law's house in Birmingham, there was no news of Nell and the girls.


We were freed on the 2 September 1944 and flown home two days before Christmas to an emotional family reunion. I have tried to describe how we lived from a child's point of view in my book, "Nell and the girls".

Nell and the Girls: the true story of a British Girl and her family in occupied France 1940-44;

by Jeanne Gask.


Myrmidon Press, 7 May 2015.

240pp. Paperback, £7.99. ISBN 978-1-910183-11-3

.



What happened to Tom?

After the war Tom went back to Calais to help re-open the factory, but his heart wasn't in it. He found it very difficult to get supplies delivered and get things going again. Despite being highly respected in Calais where he was known to everybody as "Mr Tom" he thought France the country where he was born was finished and decided to return to Britain.


He sold his car and worked for Courtaulds in Coventry until his retirement. He bought a plot of land outside Rugby and inspired by reading an article in a 'Do It Yourself' magazine on "How to build a £2,000 house for £1,000" he built his house for £998 and spent his retirement growing vegetables. He died in 1964 aged 69.





*****************


Jeanne explained what happened to her Mother and sisters after their return to England:


"Marie joined the WRENS as soon as she possibly could. On her demob, she became an Air Stewardess for BOAC. She married a BOAC Flight Engineer and had three children. She died in 1981, aged 55. Nell died just before her 91st birthday in 1989. Irene became a Nurse, rising to Nursing Sister, and married one of her patients. They had one child and lived in Stroud, Gloucestershire. She is now aged 86. I never really settled down, married Tony Gask and also had three girls. Lately, I became a Blue Badge French speaking Tourist Guide and am now writing up the family history."


Read about George Gregson's service in two world wars and his internment at Tost (Illag VIII)
Return to the Evacuation of British citizens from Calais by HMS Venomous in May 1940




The story of HMS

Venomous

is told by Bob Moore and Captain John Rodgaard USN (Ret) in

A Hard Fought Ship

'Un livre captivant dont on ne peut que saluer la quantité et la qualité des recherches entreprises par les auteurs.

Un must pour tout lecteur intéressé pas l'histoire navale de cette période.'

39/45 Magazine

(Editions Heimdal)




---
Holywell House Publishing
88 Holywell Hill, St Albans, Hertfordshire AL1 1DH, Britain
http://holywellhousepublishing.co.uk
Telephone: +44 1727 838595
contact online
---