The story of HMS Venomous
Warren Elmore Smith, Ordinary Telegrapher SA330406
Warren Smith joined HMS Hecla at Simon's Town on 8 October one month before she was torpedoed


Warren Elmore Smith was born in Cape Town on 11 December 1924, the son of William Elmore Smith who worked for Johannesburg's city hall for thirty years. Warren was a local government clerk living at home with his parents in Judith's Paarl, Johannesburg, when he volunteered to join the Navy on 1 June 1942. He looks a very carefree young man in the photograph as a Sea Cadet (below right) but far more serious in the portrait on the left taken in 1943 after Hecla was torpedoed and he was rescued by HMS Venomous. His younger brother, Dennis Smith, who lives in Australia recalled that he was known for his cheerfulness and sense of humour, but the experience of that night left a dark shadow in his life.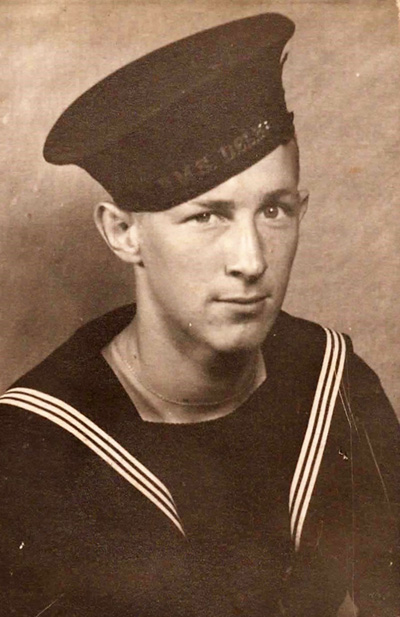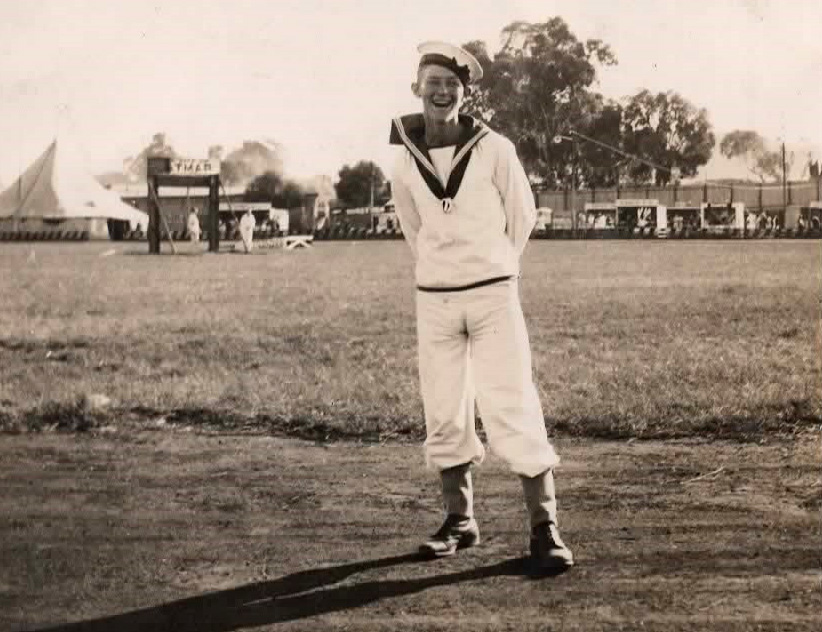 Warren Elmore Smith and his younger brother Dennis were both Sea Cadets at Wemmer Pan, a lake on the southern side of Johannesburg
They were in the band, Warren was a drummer and Dennis a buglar
Hecla left Simon's Town in late October and called in at Freetown where HMS

Vindictive

was the destroyer depot ship. The two depot ships left together and were met by their destroyer escorts, HMS

Venomous

and

Marne

. The Navigating Officer in

Hecla

, Lt Cdr
Henry C.R. Alexander RN,
wrote a vivid account of events leading up to the disaster. Warren Smith never described what happened when

Hecla

sank, all we have are a few fragmentary memories relayed to me by his son, but it appears that as

Hecla

heeled over to port and the water began to lap over the deck he decided, like many others, not to step over the rail into the sea and risk the ship topling over on top of him but climbed up the steeply shelving deck to the starboard rail and walked down the hull to the bilge and from there slid into the sea, badly scrapping his backside and legs on barnacles and other marine growth.
HMS

Marne

was standing by to pick up the senior officer from

Hecla

when she was hit in the stern and the men in the water were pummeled by her exploding depth charges as they broke loose and sank. Warren Smith in common with most survivors would have been in the water for many hours, possibly hanging onto a Carley float while
Venomous
broke off the rescue of survivors to follow Asdic and visual sighting of the attacking U-Boat. His experiences would have been very similar to that of other survivors described on this website.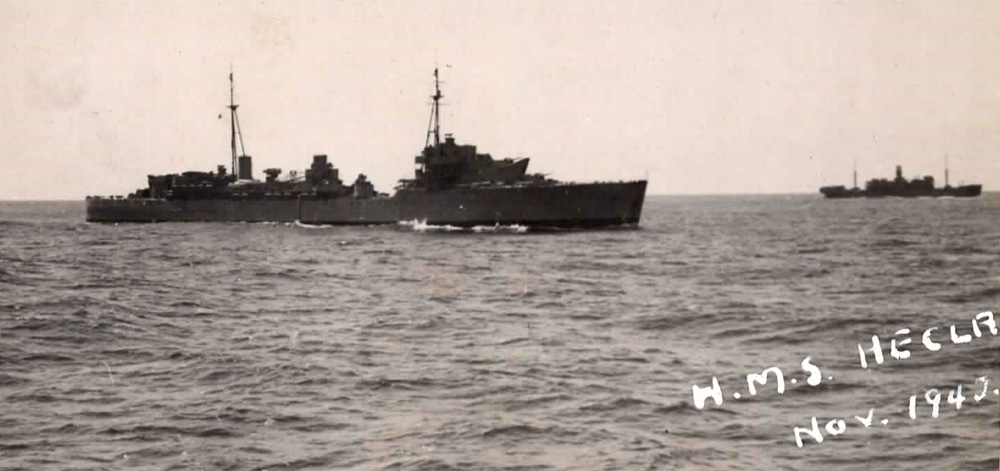 The full story of the circumstances leading to the sinking of HMS
Hecla
and the rescue of survivors by HMS
Venomous
and
Marne
is told in
A Hard Fought Ship
. Warren Smith arrived in Gibraltar aboard HMS

Venomous

on Saturday 14 November. He took no part in the landings in North Africa but most of the

Hecla

survivors returned to Britain for their two weeks survivors' leave on one of the troop carriers, the converted liner
Reina del Pacifico.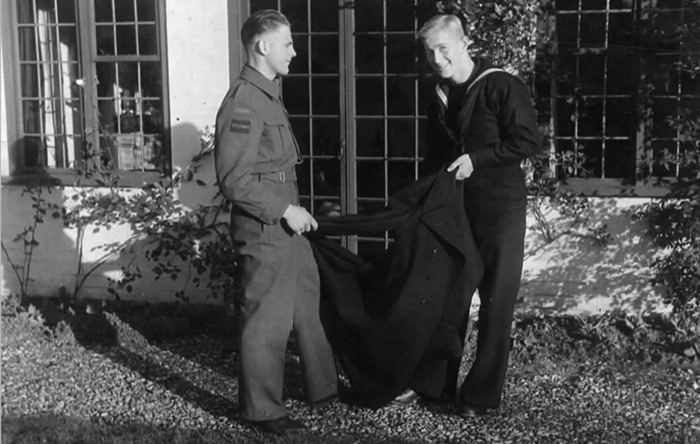 The photograph of him wearing a cap with the ribbon of the light cruiser HMS

Delhi

which was badly damaged by German bombers at Algiers on the 22nd November and limped back to Gibraltar for emergency repairs before returning to Britain in December suggests that Warren joined her for the voyage.

It seems appropriate in view of the hospitalty offered to servicemen by families in South Africa that on arrival in Britain for the first time he should have been a guest in the home of the Conservative MP Sir William "Billy" Brass in the village of Chattisham near Ipswich where he was photographed folding a greatcoat with a Canadian soldier whose name was given on the reverse as McCormick. Astonishingly, Roger Smith found the house little changed and still recognisable when he visited it some years back.

Sailors were not permitted to wear cap ribbons identifying their ships in wartime and he may have been lent the cap by a long service rating on

Delhi

so that he could have this studio photograph taken to send home to his parents in Johannesburg.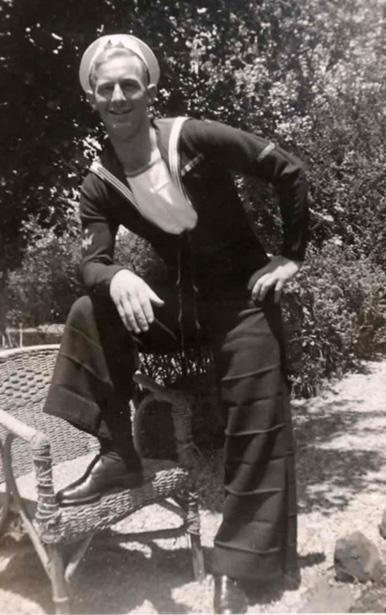 This was Warren Smith's first visit to the country his family had left at the end of the previous century. It was a country divided by class rather than colour but it was also a country at war where men were away from home in the armed forces and women were doing men's jobs. We do not know how long he stayed in Britain after his two weeks survivor's leave but we do know that during this time he met Len Ellis, a fellow South African on survivors leave from the RN after his ship was torpedoed taking amnumition to Malta. This led to Warren Smith's younger brother Dennis meeting and marrying Len's sister Yvonne. Len Ellis transferred to the South African Navy and ended up as Yeoman of Signals and Aide to Admiral Bierman. Dennis wanted to join the SAN but was told to "go back to school" so he added a year to his age and "ended up serving in Italy with the 67th SA Armoured Division".

All we have to go on in tracing Warren Smith's subsequent service in the SAN is his service record which gives dates, shore bases (for pay and administrative purposes) and reports from senior officers but little else and is often difficult to interpret. If taken at face value it would appear that from 12 November 1942 when HMS

Hecla

sank until 25 July 1943 he was attached to HMS

Assegai

, a shore base near Durban "which was a collecting point to supply personnel for naval ships of the Eastern Fleet" based at Mombasa on the east coast of Africa. He then transferred to HMS

Gnu

(formerly HMS

Africander III

), a shore base near Cape Town. The reports in his service record show he was well thought of. The report by the Lieutenant in charge of his Division at HMS

Gnu
is fairly representative,
describing him as "a good type but lacks experience, always cheerful and carries out his work to the best of his ability."


There is nothing in his service record to suggest he served on another ship between

Hecla

sinking and joining HMS

Test

,
a River Class Frigate, on 25 August 1944. H
e was a Telegraphist on

Test
on operations in the Indian Ocean
until 8 November 1945.
He might easily have been killed in an incident off the Burmese coast on 13th July 1945 when three crew members died and others were wounded. A boat sent in with a party to gather intelligence on Japanese forces at the mouth of the Tavoy River came under fire from an enemy position. The dead included a fellow South African, Able Seaman Donald Sanders. The others killed were Lieutenant Gordon Hustler and Able Seaman Raymond Allen.



The photograph on the right was taken in 1946 soon after he was released from the SANF. After the war, Warren returned to Johannesburg. He and his brother Dennis, who had seen war service with the 6th SA Armoured Division in Italy, joined the Johannesburg Fire Brigade. Warren married Doreen Scott and they had three children. Sadly he was only 36 when he died in 1960; his children grew up without knowing their father and their Uncle emmigrated to Australia. This brief outline of Warren Smith's short life is based on the few details his son Roger and his uncle Dennis Smith were able to tell me. He was lucky to survive the sinking of his first ship HMS

Hecla

and to mary and leave a family behind. His widow is now 88 and living in Johannesburg but his son Roger moved to Britain in 1989.



The story of HMS
Venomous
is told by Bob Moore and Captain John Rodgaard USN (Ret) in
A Hard Fought Ship
A Hard Fought Ship
contains the most detailed account of the loss of HMS
Hecla
yet published
Buy the new hardback edition
online for £35
post free in the UK
Take a look at the Contents Page and List of Illustrations
---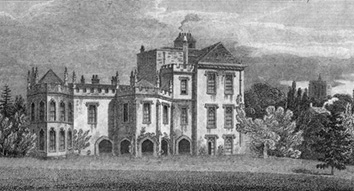 Holywell House Publishing
88 Holywell Hill, St Albans, Hertfordshire AL1 1DH, Britain
http://holywellhousepublishing.co.uk
Telephone: +44 1727 838595
contact online
---