The story of HMS Venomous
The Wartime Commanding Officers of
HMS

Venomous


1939-45

The first seven wartime commanding officers of HMS
Venomous
were regular Navy and most began their career as as cadets at Britannia Royal Naval College, Dartmouth. Donald Macintyre was unusual in having learned to fly but made his mark as as an Escort Group commander in the Battle of the Atlantic. John McBeath's background was very different; he was born in South Africa, joined the Navy as a boy sailor and served as a rating before being promoted to Warrant Officer rank and retired as a Rear Admiral. Henderson was an effective popular CO when
Venomous
was
part of the First Escort Group at Londonderrry but is remembered today for his damming portrayal by Roger Hill in his memoir,
Destroyer Captain
. Lord Teynham was a Staff Signal Officer with the Grand Fleet in the Great War, left the service in 1918 but was recalled in 1939 and commanded
Venomous
for two months during its refit in 1942. Falcon-Steward, an anti-submarine specialist, commanded
Venomous
on Arctic Convoy PQ.15 and fought the U-Boat which sank HMS
Hecla
and left to join the staff of Max Horton, CiC Western Approaches. Maitland-Makgill-Crichton, a very grand multi-lingual officer was succeeded by Henry Durell, a senior lieutenant who had swiched from the Merchant Marine to the Royal Navy. He was the only one of the commanding officers of
Venomous
to be killed in action. By now
Venomous
was on her final legs and her last two COs were peactime lawyers who had joined the RNVR, demonstrated ability in the Arctic (Lawson) and the Mediterranean (Prideaux) and were rewarded with command of this elderly V & W Class destroyer. These summaries of their "war at sea" will link to detailed accounts of their lives but only those of
Lt Cdr A. Derek A. Lawson
RNVR
and
Ltr Cdr A. Guyon Prideaux RNVR
are complete and the others link to their service details on the unithistories web site.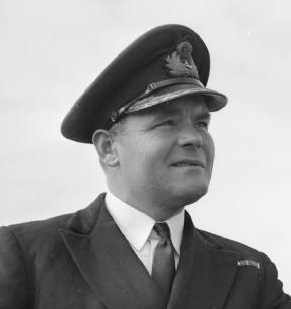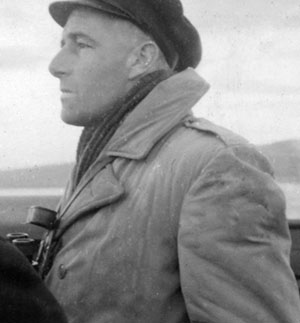 Lt Cdr Donald G.F.W. Macintyre RN (on left) was fourteen when he joined the Royal Navy as a cadet at Britannia Royal Navy College, Dartmouth, in 1917 and was not impressed when he was given command of HMS Venomous, an elderly V&W Class destroyer which had been laid up since 1930 at Chatham and Rosyth. He joined his 'new' ship on the 31 July 1939 in time to be presented to the King at the Review of the Reserve Fleet in Weymouth Bay on the 9 August but spent four uneventful months escorting troop carriers to Cherbourg, Brest and Le Havre before handing over to John McBeath. Macintyre went on to become one of the the most successful escort group commanders in the Battle of the Atlantic and wrote many books on the war at sea including his autobiography U-boat Killer (1956).

Lt Cdr John E.H. McBeath RN (right) was born in the Transvaal, South Africa, in 1907, and joined the Royal Navy at Simonstown as a fourteen year old boy sailor in 1921. He served on HMS Hood as OD and AB for three years and was promoted to Warrant Officer rank in 1928. McBeath was CO of Venomous in May and June 1940, the most dramatic period in her history when the Welsh and Irish Guards were evacuated from Boulogne under close fire from enemy tanks and shore batteries and the BEF from the beaches and north mole of Dunkirk. After four months on the Harwich patrol Venomous was ordered to the Clyde and escorted the elderly carriers, HMS Argus and HMS Furious, with fighter reinforcements for the besieged island of Malta to Gibraltar. Soon after Venomous was transferred to Western Approaches Command and joined the First Escort Group at Londonderry John McBeath fell ill and was replaced as CO by Cdr H. Pitcairn RN on Christmas Eve 1940. McBeath went on to command HMS Oribi as part of the 17 Destroyer Flotilla escorting Arctic Convoys to northern Russia. After the war he achieved Flag rank as Rear Admiral and after retirement in 1955 was Honorary Commodore of the Sea Cadet Corps and High Sheriff of Surrey.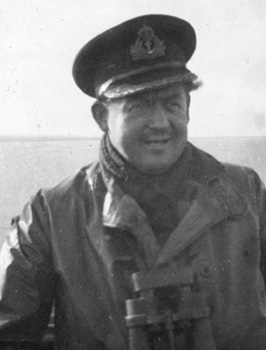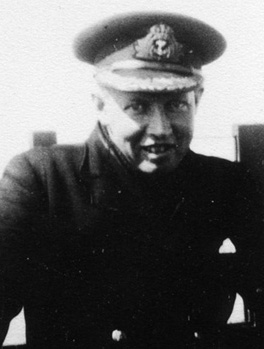 Cdr Harold P. Henderson RN (on left) was a flamboyant officer who had served on ships from battleships (HMS Malaya) to gunboats (HMS Dwarf) but may have first made his mark when appointed Flag Lieutenant to the Rear-Admiral in charge Gibraltar in 1926 and the CiC East Indies in 1929. In 1939 he was at HMS President and in May 1940 was sent to Dunkirk as British Naval liaison Officer to assist Captain William Tennant RN, the SNO Dunkirk, in the evacuation of the troops. Venomous struck a mine at the mouth of the Mersey on the 30 December, six days after Henderson took over as CO, and was under repair at Birkenhead until the end of February 1941. HMS Venomous and the First Escort Group at Londonderry escorted Atlantic convoys to Havelfjord in Iceland, and after refueling met incoming convoys. He was a popular CO and the Wardroom held a party when Cdr Hugh Falcon-Steward (on right) took over on the 2 July 1941. Cdr H.P. Henderson commanded the destroyer HMS Harvester and the destroyer depot ship HMS Philocretes before becoming CO of HMS Jervis and Captain (D) of the 25 Destroyer Flotilla. On the 23 January 1944 the bow of Jervis was blown off by a radio controlled glide bomb at the Anzio landings and Henderson swopped ships with Lt Cdr Roger P. Hill RN in HMS Grenville, a man with a reputation for evading glide bombs and was lambasted in his brilliant wartime memoir, Destroyer Captain. After the war Henderson was senior officer of the Reserve Fleet at Portsmouth and ended his career as naval attache, Cairo.

Cdr Hugh W. Falcon-Steward RN (right) was an anti-submarine specialist who had been on the staff of HMS Osprey, the anti-submarine school at Portland in 1933 and then successively Anti-Submarine Officer for the 5th, 19th and 4th Destroyer Flotillas before taking up a new post at HMS Osprey in 1938. He was far more formal in his manner than Henderson and could be stern with young officers he suspected of not taking their duties seriously. A week after taking command Venomous broke down south of Iceland and was towed 200 miles by HMS Sabre into Havelfjord for repairs alongside the destroyer depot ship, HMS Hecla. Despite a refit at Derry in August Venomous continued to have problems with its engine while escorting convoys to Iceland and, occasionally, to Halifax in Nova Scotia. While escorting the Loch Ewe section of Convoy OS.35 in poor visibility on the evening of the 11 November 1941 Venomous collided with the flotilla leader, HMS Keppell, commanded by Cdr J.E. Broome RN. HMS Venomous was towed back to Loch Ewe for emergency repairs and from there to the Clyde. Falcon-Steward was criticised by the Board of Enquiry for his failure to use his primitive Type 286 RDF radar. While Venomous was under repair and having a major refit at Troon Falcon-Steward was posted to CiC Western Approaches to conduct a course on anti-submarine tactics at the end of February 1942 and Lord Teynham took over as CO.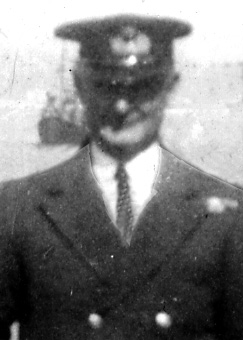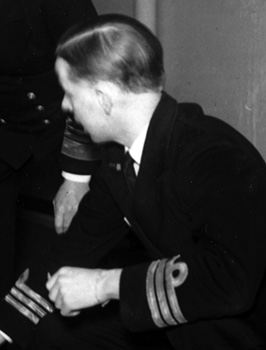 Lord Teynham, Cdr Christopher J.H. Roper-Curzon RN was photographed on the deck of HMS Venomous (left) while she was under repair at Troon. He was born in 1896 and served in the Great War as a staff Signal Officer with the Grand Fleet but left the service in 1918 and succeeded to the title on the death of his father in 1936. He was recalled in 1939 and appointed as CO of HMS Cambletown in October 1941. Cambletown, an elderly obsolete destroyer, was chosen to ram and blow up the dry dock at St Nazaire but it was thought that Lord Teynham lacked sufficient experience as CO of a destroyer and his capture would be a propaganda coup for the Germans. He was posted to HMS Venomous at Troon and the St Nazaire raid took place on the 28 March with Lt Cdr S.H. Beattie RN as the CO. Falcon-Steward resumed command of Venomous in April and Lord Teynham was appointed CO of HMS Amazon. In June 1944 he was Captain of the minesweepers for the British area of the Normandy landings when through failure of a junior officer to report a decision to reroute the flotilla two of the minesweepers were sunk by friendly fire. Lord Teynham was court-martialled but acquitted. At the end of the war he was appointed NOIC (Naval Officer in Command) Kristiansand and may have influenced the decision to select HMS Venomous for this much sought after mission.
Cdr Hugh W. Falcon-Steward RN (on right above) resumed command of a very different ship from the one he left in February. 'A' Gun had been replaced by the mortar throwing Hedgehog anti-submarine weapon and the Type 286 RDF with the improved Type 272M with rotating aerial but it remained a twin boiler short range escort (SRE) unable to cross the Atlantic to Canada without refueling. The ship's company and officers were all new. HMS Venomous escorted Arctic Convoy PQ.15 to Murmansk and returned to Londonderry via the Clyde with QP.12 on the 3 June. Despite continuing engine problems Venomous was part of the escort for Convoy WS.21S to reinforce the defence of Malta. As HMS Furious flew off its Spitfires she witnessed the torpedoing of the carrier HMS Eagle and took 500 survivors to Gibraltar. On the 21 October 1942 Falcon-Steward on Venomous was the senior officer of the escort for Convoy KX.4A, part of Operation Torch, the landings in North Africa. At Gibraltar Venomous and HMS Marne were sent to meet the two destroyer depot ships, HMS Hecla and HMS Vindictive, and escort them to the invasion beaches. The events of the night of 11 - 12 November when HMS Hecla was torpedoed five times and Falcon-Steward rescued 500 men while fighting the attacking U-boat before limping into Casablanca hours after its capture by American forces are described in A Hard Fought Ship and elsewhere on this web site. On the 18 December 1942 Falcon-Steward was succeeded as CO by Cdr D.H. Maitland-MacMacgill-Crichton RN. He became Staff Officer for Tactics to Admiral Max Horton, the newly appointed CiC of Western Approaches, at HMS Eagret, Liverpool, and contributed to the winning of the Battle of the Atlantic (photographed on right, 10 February 1945).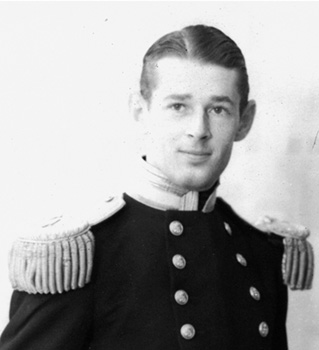 Cdr David H. Maitland-Makgill-Crichton RN, the son of a Lt Cdr James H. Maitland-Makgill-Crichton RN, was brought up in England by his South African Mother when his parents divorced and his father emigrated to Australia. He went to Dartmouth in 1924 and then served for three years on two of the Navy's big ships, the battleship, HMS Resolution and the cruiser HMS Enterprise, and in 1930 was a Sub Lt on the Royal Yacht, The Victoria and Albert. He was First Lieutenant on the destroyer, HMS Express, at Dunkirk and was awarded the DSC. His Captain was killed two weeks later when Express hit a mine off the Dutch coast and lost its bows. Crichton took command and brought her back to port stern first navigating by the stars. He was appointed CO of HMS Boreas in November 1940 and of HMS Ithuriel in February 1942 and was awarded the DSO in June for his part in Operation Harpoon, a convoy to Malta. On the 12 August Ithuriel forced the Italian submarine, Cobalto, to the surface and then sank it by ramming, a spectacular sinking not appreciated by his senior officer who thought the Italian sub was finished and there was no need to risk his ship by ramming. After repairs at Liverpool and Portsmouth Ithuriel returned to the Mediterranean in time for the landings in Algeria but on the 27 November 1942 was so badly damaged by bombing at Bone that she was beyond repair. The appointment of this senior officer as CO of the elderly V&W Class destroyer, HMS Venomous, may have been due to plans to reinforce her bow with concrete, pack her with explosives and ram the drydock of a French Vichy port in north Africa, an operation planned but canceled. His officers respected his expertise at ship handling but sensed he thought himself too good for Venomous but the men admired "four gun Crichton" and "would do anything for him". After two comparatively uneventful months he was replaced as CO by Lt Henry D. Durell RN on the 16 February 1943. For the rest of the war he was on the staff of the CiC Levant, HMS Nile, the RN shore base in Alexandria. He had a natural talent for languages, able to master one a year and eventually speaking forty. The Navy made good use of this rare ability in Egypt and during the postwar years in London and Scotland where he was Head of the Joint Services School for Linguists (JSSL) at Crail in Fife.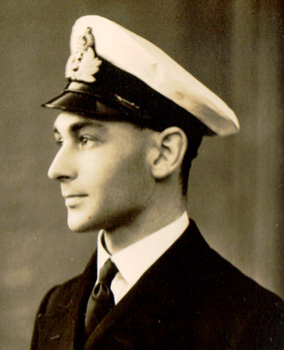 Lt Henry D. Durell RN (on right) was the exact opposite of the former CO, a senior lieutenant and a modest unassuming man popular in the Wardroom but thought by his men to be a bit of a comedown from his predecessor. His maternal grandfather was Admiral of the Fleet the Hon. Sir Charles C.J.B. Elliot, KCB but he was educated at the Nautical College, Pangbourne, a boarding school which prepared its pupils for service in the Merchant Navy. He became Chief Cadet Captain and received a commission as Midshipman RNR. He joined the New Zealand Shipping Company but during his training in the Royal Naval Reserve he served in the battleship HMS Valiant and two V&W Class destroyers, Westcott and Vanoc and in 1938 was given a permanent regular commission in the RN. When war was declared he was a lieutenant on the battleship, HMS Rodney. In November 1939 he was appointed 1st Lt on the Tribal Class destroyer HMS Tartar and took part in the evacuation of Norway, the expeditions to the Lofoten Islands and Spitzbergen, Arctic convoys and the sinking of the Bismarck. When HMS Mashona was sunk the survivors were rescued by HMS Tartar. On transference to the Mediterranean he participated in the Malta convoys. Lt. Durell was mentioned in despatches and in February 1943 he was appointed to command HMS Venomous, escorting the first through convoy from Gibraltar to Alexandria as far as Tripoli and the troop ships from Alex to the invasion of Sicily, Operation Husky. Major defects in the engine room made an immediate return to Britain essential and on arrival at Falmouth on the 20 October Durell and most of the ship's company left. In December 1943 he was given the command of HMS Isis and took part in the operations off the Anzio beach-head. After returning to England HMS Isis took part in Operation Neptune, the D-Day landings on the Normandy beaches. Henry Durell was promoted to the rank of Lieutenant-Commander on 14 July 1944 (his 32nd birthday) but six days later Isis was sunk when she detonated a mine while patrolling off the Normandy coast with the loss of her commander and the greater part of her complement. His parents were instrumental in establishing a memorial in Portsmouth Cathedral to the 155 officers and men who died. His widow was left to raise their one year old son. Lt Cdr Henry D. Durell RN was the only one of the nine wartime commanders of HMS Venomous to be killed in action.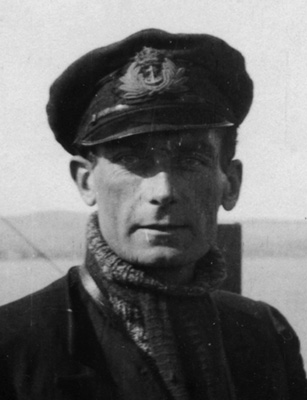 Lt Cdr A. Derek A. Lawson RNVR (1907 - 84) Venomous had no future as a fighting ship and she was stripped of one of her two boilers and all her armament (except 'A' Gun) during her refit at Falmouth. Her new role towing targets in the Irish Sea for Barracuda aircraft launching practice torpedoes had a low priority and it was nine months before she left the dockyard. She was recommissioned with a smaller crew and a new CO, Lt Cdr Derek Lawson RNVR (left), a former lawyer who needed a few months command experience before taking up a senior position in the Personal Services Department of the Admiralty. Despite this he was an experienced officer who had joined his first ship, HMS Beverley, a former USN destroyer transferred under lend-lease, at Halifax, Nova Scotia, in October 1940. He had been Mentioned in Despatches (MID) while escorting return convoy QP.11 from Murmansk when the cruiser, HMS Edinburgh carrying five tons of Russian gold, was sunk on the 3 May 1942 after attacks by U-boats, aircraft and destroyers. He joined the Hunt Class destroyer, HMS MIddleton, in November 1942 and was promoted to First Lieutenant in January 1943. He left Middleton in March 1944 during a refit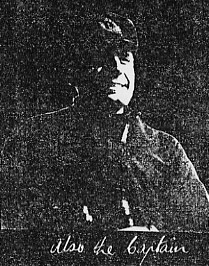 and married the former wife of the 4th Baron Revelstoke before taking command of his first ship, HMS Venomous, in August. An uneventful six months followed but in January 1945 HMS Venomous came close to being lost while anchored in Lunan Bay on the East coast of Scotland when a NE gale rapidly developed into a hurricane. The anchors dragged and the mast snapped off but Lawson took her out through the gap in the minefield to ride out the hurricane. While under repair at Rosyth Derek Lawson handed over to Lt Cdr A. Guyon Prideaux. He practised as a solicitor for a few years after the war and then retired to manage his estate, Passenham Manor, in Northamptonshire.

Lt Cdr A. Guyon Prideaux RNVR (1904- 1994) on the right was born in Colombo, Ceylon, the son of tea planter, but educated in England and practiced as a lawyer at the old established firm of Arthur Bright and Sons in London. In 1939 he walked up the gangplank of HMS President, the London headquarters of the RNVR at its berth on the Thame, and volunteered to join the RNVSR and his uneventful life suddenly changed. His humour and ability to get on with his fellow officers made up for lack of experience and after service on minesweepers and HMS Decoy he became a very competent "No 1" on the Hunt Class destroyer, HMS Beaufort, and took part in Operation Husky the landings in Sicily and in the chastening defeat in the Deodecanese, Germany's last significant naval victory. After service on HMS Lookout he became the last CO of HMS Venomous before it was scrapped and on the 12 May 1945 was sent to Kristiansand in Norway to accept the surrender of German naval forces. After the war he returned to his law firm in London. He never married and retired to the village of Longparish in Hampshire where he fished the River Test and "was an enthusiastic dancer of Scottish reels". The unpublished memoir of his wartime service is in the Library of the Royal Navy Museum at Portsmouth.


The Peacetime Commanding Officers of
HMS

Venomous

1919-29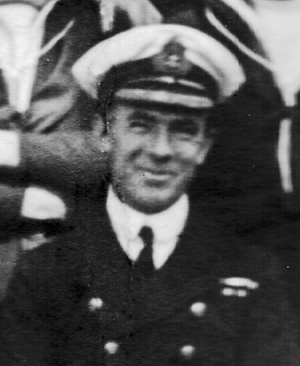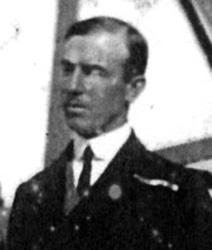 Cdr Somerville Peregrine Brownlow Russell RN (1883-1946)

The first commanding officer of HMS

Venomous

, Cdr Somerville P.B. Russell RN, took up his duties on 28 April 1919 and oversaw the completion of his ship. He was born in Wakefield, Yorkshire, where his father was the Chief Constable of the West Riding, and was only sixteen when he was appointed Midshipman in 1899. He had commanded eight ships since his promotion to Lt Cdr in 1913. His first command was a River Class Gunboat, HMS

Teal

, on the Yangste river in China but most had been destroyers including HMS

Wakeful

, a sister ship of

Venomous.

He married Eileen Frances Kelly at St Marys Church, Dover, on the 7 March 1917.

Cdr Russell took

Venomous

to the Baltic in 1919 where she supported the newly independent Baltic states from the twin threats of the Bolshevik Republic and a renegade German general trying to regain control of a region where Germans had lived for centuries.

He left

Venomous

on the 14 July 1921 and was appointed to the depot ship, HMS

Hecla

, "additional for TBD's in reserve". Each destroyer (TBD) in reserve had a skeleton crew supervised by Commander Russell and twenty additional officers supported, when required, by staff from

Hecla

. This Reserve Fleet post might have been a holding position to allow him to prepare for retirement. He retired on the 1 January 1923 seven months before his 40th birthday, with the promise of promotion to Captain on the Retired List at age 45. He appeared to have led a successful business career since he was made a Freeman of the City of London. HIs only son, Lt Edward Peregrine Stuart Russell RNVR, was drowned on the 9 May 1942 while trying to save a shipmate on HMS

Eskimo

(for which he was posthumously awarded the Albert Medal). Captain Russell died of a perforated ulcer at his home in Camberley, Surrey, in 1946.

His Service Record (
ADM 196/48/124
) can be downloaded online from the National Archives: http://discovery.nationalarchives.gov.uk/details/r/D7604028

Lt Cdr Lewes George Gardner RN (1886-1957)
Service Record (Officer) ADM 196/144/108 & ADM 196/51/60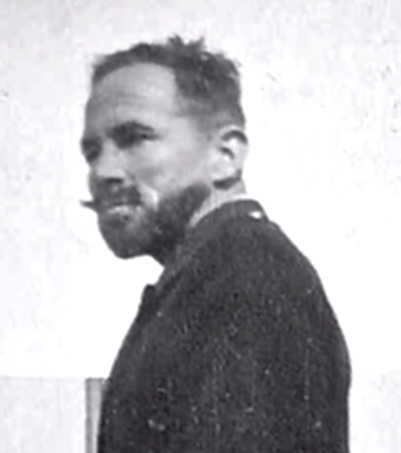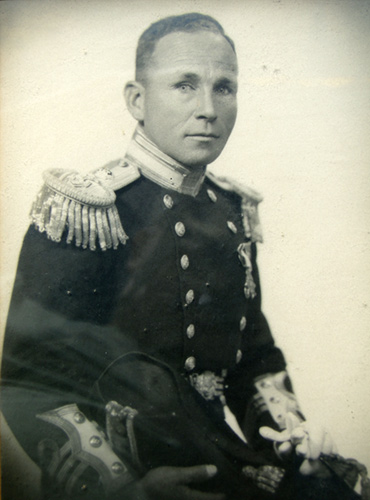 Lt Cdr Donal Scott McGrath RN (1891-1978

)


Service Record (Officer) ADM 196/53/96

Donal McGrath was born on his father's plantation, Charlemont in the wealthy Parish (akin to an English county) of St Catherine, west of Kingston, Jamaica. He was a younger son of the Hon. George McGrath who owned fourteen estates, farmed cattle, sugar and pimento, bred horses and established the Jamaican racing industry. The family had lived in Jamaica since 1834.

Donal McGrath began his naval training as a thirteen year old in 1904 and qualified as a Midshipman four years later. He was a lieutenant when the war started and was given his first command, the Torpedo Boat, HMS TB4, in January 1917. He was mentioned in dispatches (MID)
for attacking an enemy submarine
"with great determination"
in December 1917
while commanding HMS

Foxhound,

a torpedo-boat destroyer (TBD).

He was given command of HMS

Venomous

, a member of the 4th Destroyer Flotilla at Malta, on 23 October 1923. Malta was the home of the Mediterranean Fleet and McGrath enjoyed an active social and sporting life ashore.
He was an excellent polo player, good boxer and keen footballer. He was photographed with the ship's company of HMS

Venomous

and his six year old son, wearing a sailor suit, at Valetta, Malta, in 1924. On 2 November entering harbour rather recklessly he ran down and sank a picket boat from HMS

Calypso

but the family aboard were rescued by HMS

Umpire

.
After leaving

Venomous

on
18 February 1925
he commanded six more V & W Class destroyers in the 1920s: HMS

Whirlwind, Wanderer, Wild Swan, Woolston, Vanquisher

and

Viceroy.

Between 1926-8 he commanded HMS

Woolston

and

Wanderer

on the China Station at Wuhan.

He was assigned to the Naval Intelligence Division of the Admiralty just prior to the Second World War and then sent to Brazil as the Naval Attaché of Rio de Janeiro and Caracas with the rank of Captain. He initially retired as a Captain in September 1941 but was recalled and given command of HMS

Ulster Queen

, a former Liverpool to Belfast ferry, after her conversion to an auxilliary anti-aircraft cruiser and was with HMS

Venomous

part of the escort for Arctic Convoy PQ15 to Murmansk in April 1942 described in Chapter 11 of

A Hard Fought Ship

(2017).

He was the CO of HMS

Glengyle

, an infantry landing ship and was mentioned in dispatches "for gallantry, daring and skill" during Operation

Jubilee

– the raid on Dieppe in August 1942. In August 1943 he was the first CO of the escort carrier, HMS

Tracker

. In 1944 he was MID a third time when in command of the repair ship, HMS

Albatross

, during the D-Day landings. His final command in July 1945 was HMS

Adventure

, a minelayer. He then retired with the rank of Captain and returned to his native Jamaica.

Throughout his naval career he was known as a strict disciplinarian and an avid sportsman who kept himself and his crews super fit As he got older he continued to run or walk at least 3 miles a day. During the forty-two years he spent in the navy he was juggling two other life styles with a Jamaican cattle station and his country house and family near Upham in Hampshire. His later years were spent between these two properties until he finally moved in with one of his daughters in Bishops Waltham in Hampshire. On his death the family's link to Jamaica ended. This brief account of his life was written by his grandson, Timothy McQuoid-Mason, in Australia.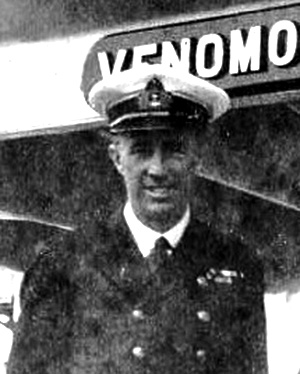 Lt Cdr Lawrence Frederick Nelson Ommanney RN (1891-1963)
Service Record (Officer) ADM 196/53/36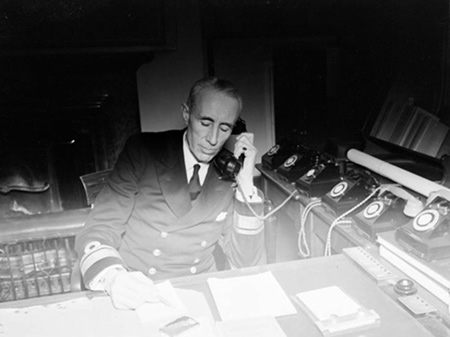 Lt Cdr Edmund Gerard Noel Rushbrooke RN (1892-1972)

Edmund Rushbrooke, the son of Capt William Rushbrooke RN, was an Acting Sub Lieutenant by 1913 and was commended by his CO for his good conduct in action when four German TBDs were sunk in October 1914. He was attached to HMS

Dido

, a cruiser converted for use as the depot ship for the Harwich Force and served on several TBD. His award of the DSC and MID (for the sinking of a TBD) was followed by the award of the

Croix de Guerre

. At the war's end he volunteered to join the Australian Navy but asked to be relieved in 1920 in order to accept an appointment as ADC to the Governor of Singapore, but without pay and with loss of seniority.

On his return to Britain he spent three years on the staff of the Britannia Royal Naval College, Dartmouth. He was promoted to Lt Cdr and given command of HMS

Vanoc

, part of the Reserve Fleet at Chatham. He joined HMS

Venomous

in the Mediterranean in December 1926, a month after his marriage at the Brompton Oratory to Ada Scott Moncrieff. Sub Lt Colin Donald RN found him an ill-tempered and impatient CO critical of mistakes but readers of

A Hard Fought Ship

might be amuse d by their fractous relationship. Despite this they found themselves serving together again when Rushbrooke was apointed CO of HMS

Versatile

in July 1929 and exactly a year later in July 1930 newly promotedd Lt Colin G.W. Donald joined

Versatile.

On this occasion they got on much better despite Lt C.G.G. Donald's resentment at being called Colin instead of being addressed by his rank. Rushbrooke commanded eight V & W Class destroyers between 1925 and 1930:

Vanoc, Venomous, Vimiera, Whitley, Vesper Versatile, Warwick

and

Vesper

.

By 1936 as Captain Rushbrooke he was in Hong Kong running the Eastern Intelligence Service, a post perhaps earned by his earlier service as ADC to the Governor of the Straits Settlements in Singapore. After the outbreak of war he commanded the carriers HMS

Argus

and HMS

Eagle

from 1940-2. In 1943 Rear Admiral Edmund Rushbrooke replaced
Rear Admiral John Godfrey (who had fallen out with Churchill)
as
Director of Naval Intelligence (
DNI) responsible for the two thousand staff (including Ian Flemming) of the Naval Intelligence Division (NID):


"By the time Rushbrooke took charge, SOE was well established and SIS had at least in part recovered from its disastrous start to the war - consequently the work NID typically undertook under Rushbrooke was considerably less glamorous, but ultimately more focused and effective. By the end of 1943 NID had broken the back of the U-Boat conflict, and began planning for the invasion of France" (
Nick Brownlow's brief History of the Naval Intelligence Division)
See also:
Room 39, a Study in Naval Intelligence
; by Donald Mclachlan (Atheneum, 1968) and Rushbrooke's
Service Records (Officer) ADM 196/55/188, ADM 196/93/17, ADM 196/127/439 & ADM 196/145/503. The photograph is one of four of Rushbrooke as DNI in the collection of the Imperial War Museum.

Lt Cdr
Cecil Athos Newcome
Chatwin RN (1898-1974)
Service Record (Officer) ADM 196/120/125







The Commanding Officers of
Venomous in Reserve
1929-39

Cdr Peter Grieve RN (1882-1933)
Service Record (Officer) ADM 196/135/8
http://www.unithistories.com/officers/RN_officers_nonWW2.html#Grieve_P

Lt Cdr Harry Martin Allen RN (1889-1973)
Seaman's record: ADM 188/437/272027
http://www.unithistories.com/officers/RN_officersA4.html#Allen_HM

Cdr George Nicholas Goodyear RN (1890-1944)
Service Record (Officer) ADM 196/136/147
http://www.unithistories.com/officers/RN_officersG2.html#Goodyear_GN

Lt Cdr Thomas Herbert Hunter RN (1891-1988)
Service Record (Seaman) ADM 188/437/272400
http://www.unithistories.com/officers/RN_officersH7.html#Hunter_TH



The complete list of officers and men serving on HMS Venomous on specific dates during her three wartime commissions
have been extracted from the Pay and Victualing Ledgers and can be downloaded from this web site as PDFs

The ship's company of HMS Venomous on the 31 May 1940 at the height of the Dunkirk evacuation when John McBeath was the CO
The ship's company of HMS Venomous on the 12 November 1942 when HMS Hecla sank and Falcon-Steward was the CO
The ship's company of HMS Venomous on the 14 May 1945 after arrival at Kristiansand, Norway, to accept the surrender of German naval forces when Guyon Prideaux was the CO
Find out how to obtain service records for officers and men on HMS Venomous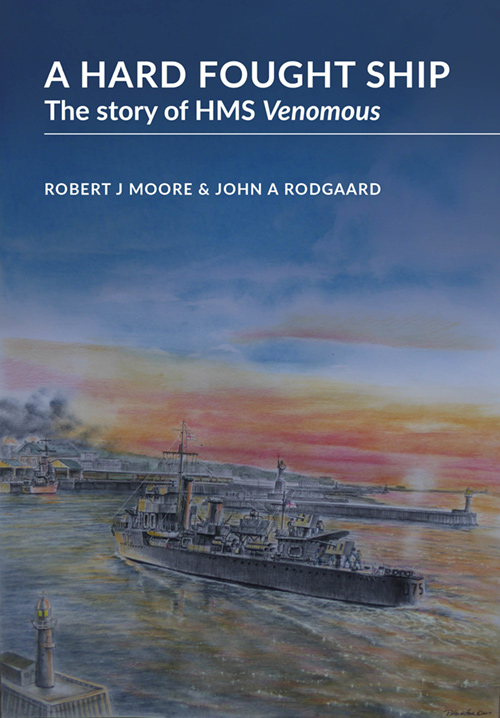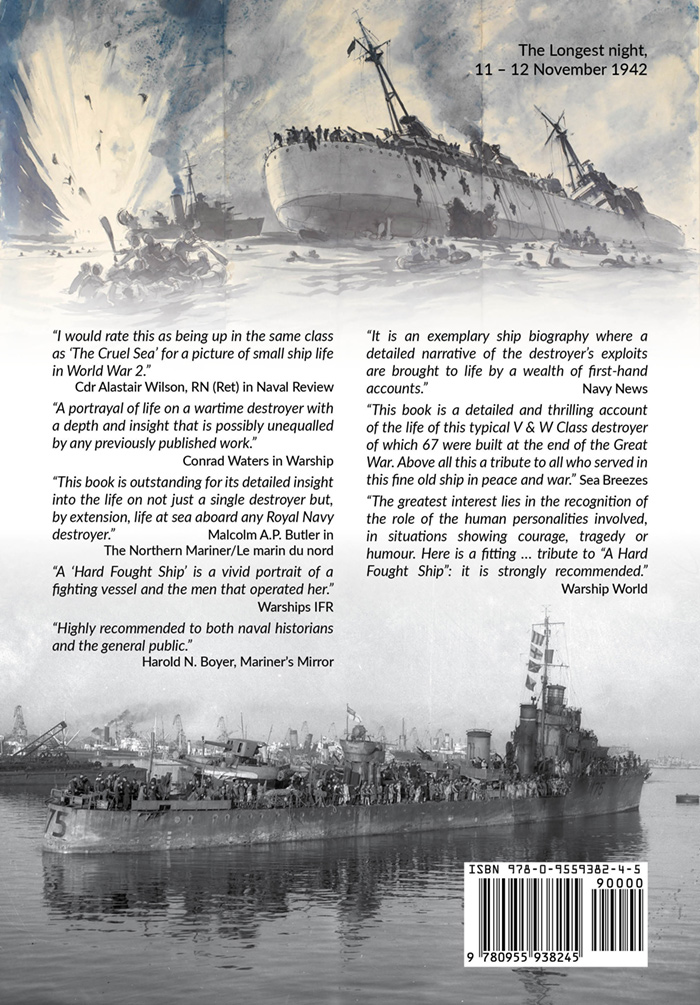 ---
Holywell House Publishing
88 Holywell Hill, St Albans, Hertfordshire AL1 1DH, Britain
http://holywellhousepublishing.co.uk
Telephone: +44 1727 838595
contact online
---