The story of HMS Venomous
Lt Cdr Arthur Guyon Prideaux RNVR
CO of HMS

Venomous

at Kristiansand in May 1945

6 February - 31 May 1945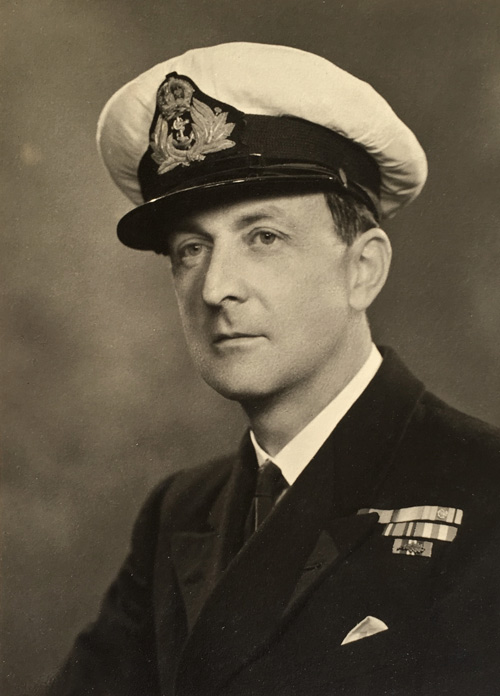 Arthur Guyon Prideaux was born at Colombo, Ceylon, on the 19 January 1904 the son of Arthur Ashburner Prideaux (1868-1948), a tea planter. His father was born in Acton, west London, arrived in Ceylon via Canada and the USA and married Rene Isabel Bell whose father, H.C.P. Bell, was the head of the Department of Archaeology at Anuradhapura. Arthur had two younger sisters, Iris Renee Prideaux and Laura Sabine Prideaux.

He was educated in England at Clifton College, Bristol. He was fourteen when he went to Clifton in January 1918 and was a member of Brown's House, named after its first master, T.E. Brown. Clifton had a great many boys whose parents were in the services or civilian occupations in the far reaches of the British Empire and they either spent their holidays with relatives or as paying guests with families. Prideaux was a Cornish name and he may have spent his holidays with relatives in the West Country. He did well, specialising in the classics (he was in the middle stream of the Classical Fourth), representing the College at shooting and becoming a Praepostor (Prefect) in the VI Form. He left when he was nineteen in the summer of 1923 and went to Hertford College, Oxford, where he took Preliminaries in History in his second year before studying Jurisprudence. He passed his Second Public Examinations in Jurisprudence in Trinity 1926, achieving 3rd class honours, and had the degree of BA conferred on him on 21 October 1926. By then his father, described as an East India Merchant, was living at 2 West Hill Road, London SW18. He joined the old established firm of Alfred Bright & Sons in London and remained with them for the rest of his working life with the exception of his wartime service in the Royal Navy.

By 1927 he was living with his parents in Wandsworth but the family retained their links to Ceylon making trips "home" by liner. On the 7 April 1939 his two unmarried sisters returned to England from Colombo on Bibby Lines' Derbyshire, traveling First Class, and disembarking at Plymouth but giving their occupation as being on "home service" and their address as 38 Lexham Gardens, London W8. War was imminent and the quiet life Guyon had lived as a lawyer in London was soon to change.

The 200 pp memoir of his wartime service in the Royal Navy was edited after his death by Virginia Novarra, a colleague and junior partner at his law firm, who described his memoir as "a memorial to a brave, modest and lovable man". She deposited a copy in the Library of the Royal Navy Museum at Portsmouth.

Royal Navy Museum, Ref. 1997.55

A collection of the naval papers of Lieutenant Commander Arthur Prideaux covering his naval service, 1938-1945.
Consists of 2 drafts of typescript memoir, diary with transcription, 3 loose documents

.

Guyon (he was always referred to by his friends as 'G') began his memoir by describing how soon after Munich in 1938 he stepped onto the pontoon connecting the Victoria Embankment to HMS President, the headquarters of the London Division of the RNVR to enquire about joining the Royal Navy Volunteer Supplementary Reserve a body designed to attract yachtsmen into the Navy. His ignorance of all things nautical and poor eyesight counted for less than sharing mutual friends with the commander and he was welcomed as a member of the RNVSR with a drink in the wardroom. In February 1940 he took his Yachtesmans Certificate while convalescing from an operation and was finally posted to HMS King Alfred for officer training. His first posting was as Lieutenant on the Stella Sirius, a converted Hull trawler, one of a Group of newly commissioned anti-submarine trawlers based at Dover manned almost entirely by ratings from the Patrol Service recruited from the fishing fleet. The Group was sent to Scapa Flow where the Stella Sirius ran ashore on Hoy - one of twelve trawlers that ran aground that night.

He transferred to the Wolborough with his CO and was soon en route to the Mediterranean where they were based at Alexandria and Guyon was "fortunate in having the most delightful of homes-from-home at Port House, where Admiral and Lady Wells kept open house for those of us who were lucky enough to know them". The Eastern Med was to be the theatre where Prideaux was to spend most of his wartime service. Lt Cdr Alan Ramsay DSC, RN took over as CO, "a shy man with grey hair and one eye" who had won his DSC as a sub-lieutenant in the first war and had the macabre habit of taking out his glass eye and rolling it along the bar counter like a marble. Prideaux learned a great deal from him and "he instituted proper service routine and discipline and the ship's company finally got the fish scales off their hands and became real naval ratings".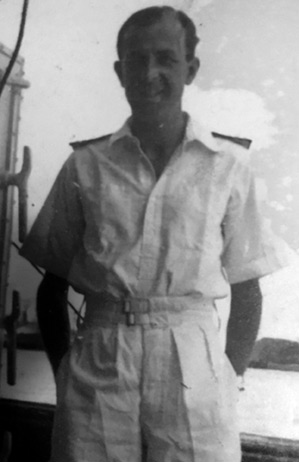 On the 19 March 1941 he joined the D Class destroyer HMS Decoy as its first RNVR officer but was made very welcome and "never made to feel he was an amateur amongst professionals". An operation to land commandos to blow up the Libyan coast road to disrupt the enemy supply lines to their forces besieging Tobruk had to be hurriedly abandoned when Decoy ran ashore. HMS Decoy and HMS Hero were then ordered "to an obscure cove on the south coast of Crete to pick up Important Personages ... who turned out to be the King of Greece and the British Minister and their entourages". In November Prideaux and his fellow officers received a rude shock when they witnessed the battleship, HMS Barham, blow up near Tobruk with the loss of 859 men when its magazine exploded after being torpedoed. The explosion was filmed by a Pathe News cameraman on a nearby ship.

A collision with a Polish merchant ship led to Decoy being sent from Alexandria to the besieged island of Malta as part of the escort for Breconshire and she remained there under repair until February 1942. Parties were almost as frequent as air raids and their time in Malta welded the ships company into a team. Repairs completed Decoy was moored near the Tribal Class destroyer HMS Maori at the entrance to French Creek for their last night in Malta when a bomb set Maori ablaze and threatened to spread to Decoy. They shifted berth and after further repairs left for Alexandria on Friday 13 February 1942.

After the fall of Singapore HMS Decoy was attached to the Eastern Fleet and Prideaux found himself in Colombo, his birthplace, and was royally entertained by an aunt at her bungalow in the quiet hilltown of Kandy, soon to become the headquarters for SEAC. From there HMS Decoy moved to Mombasa to help protect the sea route up the east coast of Africa to the Red Sea and Egypt. In September they escorted a convoy to the Cape and called in at the South African naval base of Simonstown where HMS Hecla was under repair after hitting a mine on the Agulhas Bank. HMS Decoy headed north and was paid off in Jarrow on the Tyne where Prideaux had the pleasure of a long talk with the King of Greece at the Station Hotel in Newcastle about his rescue from Crete the previous year.

His leave was cut short when he was "volunteered" to join the Greek destroyer Miaoulis as a liaison officer en route to his new appointment as First Lieutenant on the Hunt Class destroyer HMS Beaufort at Alexandria, a big step up for an RNVR lieutenant. Beaufort took part in Operation Retribution to prevent the remnants of the Axis forces in North Africa from escaping by sea. They took on board prisoners from the Africa Korps who blamed their defeat in north Africa on lack of petrol, had not heard the news from Stalingrad and confidently predicted that "in three months we shall have defeated Russia and in six we shall invade England".

Beaufort left Alexandria on the 5 July as part of the escort (which included Venomous) for the convoy of liners carrying LSI (Landing Ships, Infantry) to the invasion of Sicily, Operation Husky. The LSI landed against light opposition shortly before dawn on the 10 July while the escorts patrolled offshore. Beaufort picked up some fifty airborn troops clinging to their gliders which had ditched in the sea. "The hospital ship ship Talambo which was embarking wounded close to the beaches was bombed and quickly sank blazing fiercely".

The sinking of the hospital ship HMS Talambo, Sicily 1943 - by Herbert H. McWilliams
"All British hospital ships were clearly marked with the Red Cross in many places, several of which were illuminated at night", Herbert H McWilliams
Lt H.H. McWilliams SANF, the South African architect and war artist, was the naval officer aboard a merchant ship carrying supplies to the invasion beaches.
Courtesy of the Ditsong National Museum of Military History, Johannesburg

Syracuse was captured the next day and on the 12 July Beaufort escorted the monitor Erebus to bombard Augusta. Its 15 inch guns were directed at a coast defence battery and "when the target had disappeared in a billowing cloud of dust an old lady leant out of the upper window of a small house on the beach nearby, carefully hung out a large white table cloth and then came out of the front door and waved us indignantly away." After returning to Alex Beaufort was despatched with an assault convoy to Tripoli arriving on the 5 September to take part in Operation Avalanche, the landings at Salerno, south of the Bay of Naples. Italy had surrendered but the war against German forces in Italy continued.

In October Beaufort returned to Alexandria and took part in the disastrous attempt to take control of the Deodecanese island from the Italian occupying forces which was thwarted by the strong German garrison on Rhodes and their command of the air. Beaufort helped supply British forces on Leros but was withdrawn to Alex on the 14 November two days before Leros surrended to the German invasion force, Germany's last significant victory of the war. Prideaux was Mentioned in Despatches (MID) for his role at Leros.

In March 1944 Prideux was posted to HMS Lookout, a modern L Class destroyer (the only British destroyers to have their 4.7 inch guns in enclosed turrets like a cruiser) which was undergoing amajor refit in the naval dockyard at Taranto. "Instead of a glorified cubicle under the bridge I had a large cabin in the after flat, complete with a divan bed and hot and cold running water". He spent nine happy months on Lookout until January 1945 and took part in the landings on the Riviera coast of France in July 1944 before being relieved and returning to Britain on the troop ship, Alcantara.

In January he was promoted to Lt Cdr and given command of his first destroyer, HMS Venomous on the 6 February 1945. Lt Cdr A.G. Prideaux RNVR was the last CO of HMS Venomous before it was sent to the breakers yard.
The Epilogue to his memoir describes the four months he spent as the Commanding Officer of HMS Venomous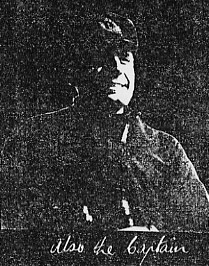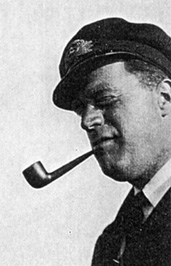 "This record really ends here, as my days as a watch keeper were about to come to an end. On arrival in London I reported to the officer of NA2SL [Naval Assistant, Second Sea Lord] the Admiralty, where I found the staff as genially avuncular as ever, and then went off on a glorious spell of idle leave. After Christmas came the inevitable round of courses, at the end of which I found myself appointed in command of the elderly destroyer
Venomous
, on routine duties in the North Sea, based at Rosyth. Although, since it was not actually my first command and I did not think our routine was likely to be very interesting, I was not unduly excited by my appointment I in fact passed several very happy months in
Venomous
and found myself greatly enjoying a "quiet number" after five fairly eventful years."
His newly appointed First Lieutenant, Jimmy Blair, described joining the ship and her duties:
"
Venomous
had been stripped of most of her useful equipment and was serving as the target ship to the Fleet Air Arm, I went aboard and dropped into the wardroom to be greeted by the officers with words 'welcome aboard No.l' which was a complete surprise to find that I was the eldest of them at 31. Our usual drill was to leave Rosyth on Monday morning out into the North Sea as target ship for the Fleet Air Arm, assess the several attacks, recover the dummy torpedoes, then back to port on Friday."
Thomas "Yorkie" Russell, a stocker, described the daily routin
e:
"It was April and the days were often cold and grey. We would go down the Forth to the practice range and then afterwards, the exercise came alongside. Sometimes, the torpedoes fired would take some spotting and at times they must have given our captain a lot of anxiety, for to lose a 'fish' entailed the loss of around a £1000, a large sum in those days. The sea boat's crew and the cutters would curse at the time taken to spot the nose of the torpedo as it bobbed in the troughs, especially if rain had set in."
Guyon Prideaux continues his account of his time as CO of
Venomous
"Our only expedition of interest in
Venomous
was, immediately after the German surrender, to Norway, which we visited with a squadron of our Rosyth destroyers under Captain Ruck-Keen, our Captain (D). There was keen competition among commanding officers to be included in this party and I stressed to Captain (D) my considerable experience of carrying stores in destroyers during the Tobruk and Leros affairs. I doubt if he was impressed, but
Venomous
was eventually among those selected and was detailed, with
Valorous
, to proceed to Kristiansand South.
Valorous
embarked Captain Lord Teynham, DSC, who was NOIC [Naval Officer in Command] designate of the port, and we both had a number of British and Norwegian army officers, as well as stores.
The squadron split up on arrival off the Norwegian coast, and our party steamed up a narrow fiord, passing close by several large German guns, whose crews were gathered round their weapons. We hoped none of them would suddenly decide to repudiate the surrender. In Kristiansand's large natural harbour we found a number of German merchant ships, each with the Swastika flag at the stern. These were sullenly dipped as we passed, but they were soon hauled down for good and confiscated. As in the case of the Italian destroyer at Bizerta it felt like stepping through the looking-glass to see the enemy's ensign openly displayed by ships peacefully anchored.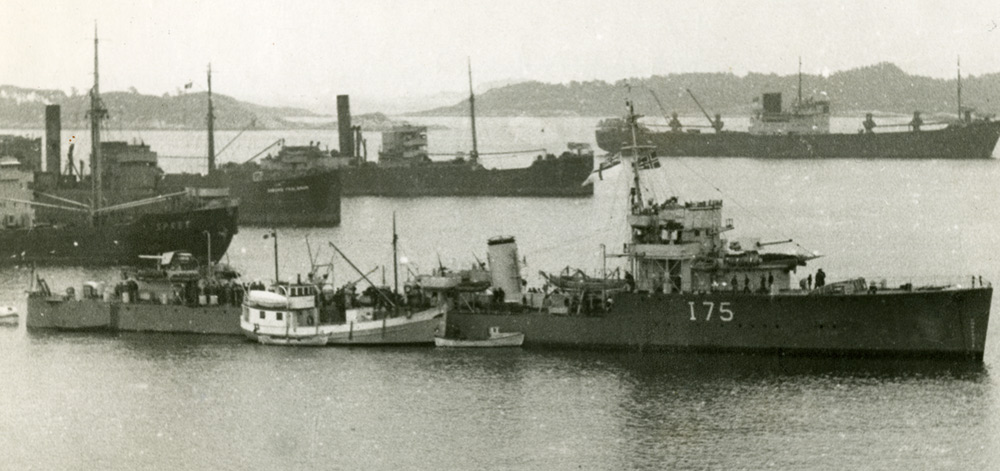 HMS

Venomous

(I75) moored in the harbour at Kristiansand on the 14 May 1945
The Norwegian flag and the White Ensign are flying at the masthead and a fishing boat is moored alongside with a boatload of visitors
The photograph was given to Bob Moore by Lt Cdr A.G. Prideaux RNVR
The shores of the harbour, despite the cold wet weather, were crowded with cheering Norwegians, and as soon as we had anchored a tender came alongside us crammed with highly excited children, who rushed the ship and were soon swarming everywhere. The sailors, always in their element on such occasions, cleared the canteen of its stocks of sweets and chocolate for our young guests (many of whom had never seen chocolate before and at first regarded it with some doubt). The din was terrific.
Later in the day the wardroom entertained a party of more mature visitors. They were all anxious to celebrate the occasion, largely by consuming alarming quantities of whiskey in the gayest and most rapid possible manner. Most of our visitors spoke English and we had plenty to talk about. As the evening wore on I found myself in conversation, on a wide range of subjects, with a most disarming Norwegian Journalist. Next day this gentleman came alongside with a local paper carrying a headline, "The captain of the Wanamoos (sic) speaks." As we had strict orders to make no statements to the Press I was quietly disturbed, but luckily NOIC apparently did not see that particular journal and I heard nothing about it officially. As I lost the article before I could get it translated I shall now never know exactly what I did say that evening.

On the day after our arrival, we were at luncheon, the quartermaster came in and announced the arrival or a boatload of Norwegians. As visits from the shore had by now been forbidden he was told to send them away. He looked worried and said he had already tried to do this but they refused to go without seeing the captain personally. I decided to deal with them myself and went sternly up the ladder to do so. On the upper deck I was taken aback to find a bevy of lovely blondes waiting for me, carrying flowers, and surrounded by an appreciative crowd of sailors. As soon as I appeared the leading lady dashed forward, thrust a large bouquet into my arms and embraced me warmly. The sailors were delighted.

The ladies turned out to be a hospitality committee of the local residents, but unfortunately we were unable to attend any of the parties they arranged for Valorous and ourselves, as we were ordered back to Rosyth after two days. We did manage to get ashore one afternoon to the little wooden-housed town, and it was more than strange to walk round the streets rubbing shoulders with German soldiers, who still carried side arms while we were as usual quite unarmed. Their officers, too, were driving round in staff cars while we had to walk. It occurred to us that things would have been different if our roles had been reversed.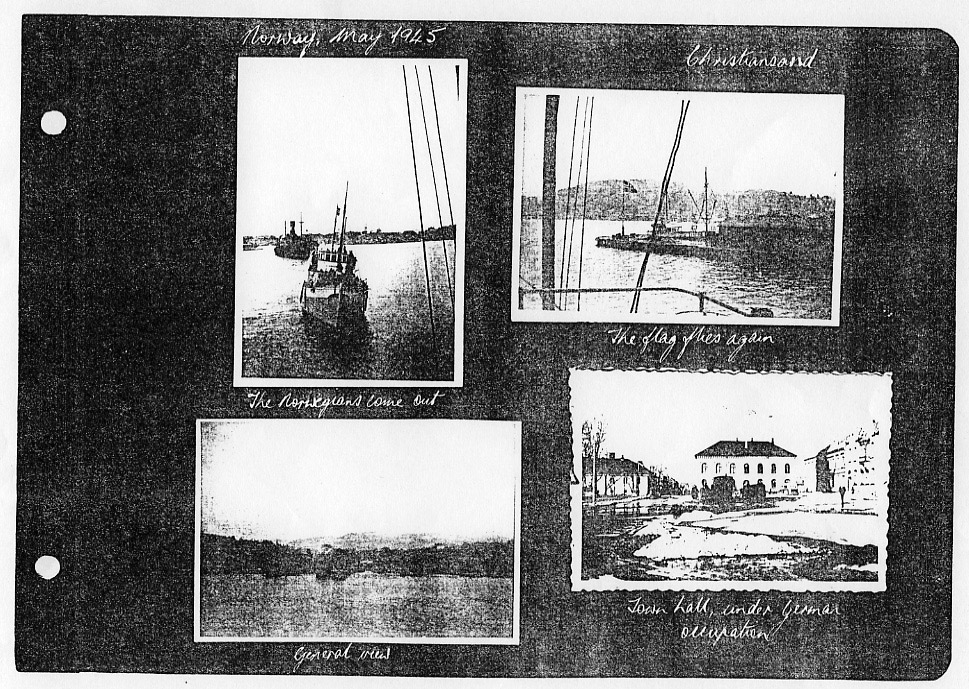 A photocopy of a page from the album of Lt Derek Caudle RNVR - the original has been lost
A
photocopy of the album was found in the papers of Robert J Moore after his death in 2007
On returning to Rosyth I found orders waiting to take Venomous up the river to Grangemouth to pay off, and not long afterwards we said a sad farewell to the old ship, whose days of active service were obviously over for good.

From Venomous I went straight back to Rosyth to take command of Havelock, which was one of four destroyers that had been in course of building for Brazil when the war started and which the Admiralty then took over. In this comparatively modern and very comfortable ship I spent the rest of my active service in great ease trying to get used to the strangeness of meeting ships at sea with navigation lights burning again and of lying in harbour with a 'spine' of blazing electric."

Strangely, Prideaux made no mention of the surrender ceremony on HMS Venomous described by Bog-Tobiassen, a young Norwegian visitor at Kristiansand who later became a Captain in the Royal Norwegian Navy:

On the 15th of May German Officers came on-board Venomous – they had to row their own boat – to sign over the necessary handover documents. Present on board on the occasion were the Allied Naval Area Commander, Capt Lord Teynham, and the Norwegian Navy District Commander, Commodore Landgraff, who actually followed Venomous from England.

Fred Mercer, a rating on Venomous, was cox of the whaler which brought the German Admiral at the Marvika U-boat base to Venomous for the surrender ceremony and was congratulated by him on his seamanship. He returned to Britain on one of the surrendered U-boats.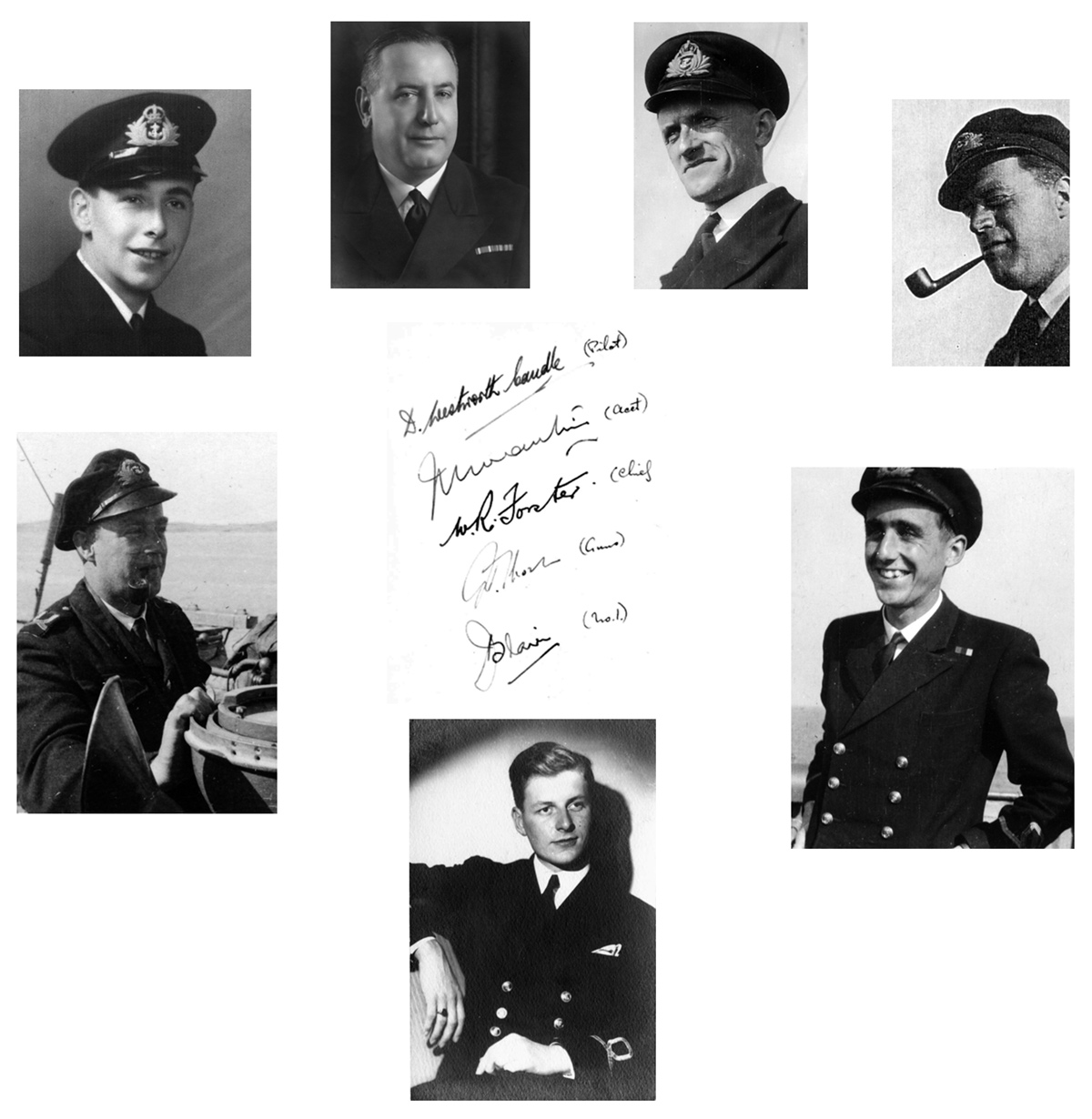 The officers on HMS Venomous at Kristiansand
From top left: Jimmy Blair (No 1), W.R. Forster (Chief), Martin, Prideaux (CO), Thorp (Guns), Caudle (Pilot), Mirolslav Lansky (centre)
To find out about the officers on HMS

Venomous

when it accepted the surrender of German naval forces click on the links below:
The list includes officers despatched for service at Kristiansand:
Lt Cdr C.P. Evenson RNVR
Lt Cdr N.A. Hayman RNR
Lt Cdr O.H. Pulman RNR
Sub Lt D.G. Staniland RNVR
Lt R.J. Phelps RNVR
There were also nine Marines, four members of the RAF and four members of the Army aboard HMS
Venomous
when she arrived at Kristiansand.
The removal of one of its two boilers had freed up space for HMS

Venomous

to carry stores. The Civil Affairs Unit established by the Army st Kristiansand reported that the two destroyers brought "21 tons 10 cwt of coffee, chocolate, soap, canned meat and tinned milk. Also on this shipment were six cases of medical supplies, a gift from Scotland" (NA Ref WO. 171/8449).
**** **** *
**
* **** **** ****

After being released from the Navy in July 1945 Arthur Prideaux resumed his pre-war career with Alfred Bright & Sons which acted exclusively for National Westminster Bank Ltd. He was the senior partner after Alfred Bright & Sons merged with Walton & Co., which specialised in shipping and insurance law, and was renamed Walton Bright & Co. He lived in Kensington Close with his two spinster sisters and retired to the Old Rectory in Longparish, a picturesque village in Hampshire on the banks of the River Test, famous as a trout fishery. " 'G' Prideaux (as he was universally known) was a most friendly and sociable man who was a keen fly fisherman and an enthusiastic dancer of Scottish reels" (Virgina Novarra).

Bob Moore, the CO of TS Venomous at Loughborough and author publisher of the first edition of A Hard Fought Ship: the Story of HMS Venomous (1990) contacted Lt Cdr Prideaux in 1986 and was sent a copy of the Epilogue describing the period when HMS Venomous and HMS Valorous were sent to Kristiansand South in Norway to accept the surrender of German naval forces. Bob Moore drew on this and other material including Derek Caudle's memories and those of a young Norwegian, Christian Bogh-Tobiassen, when writing the final chapter. Lt Cdr Prideaux and some of the men who served on HMS Venomous were guests of Charnwood Borough Council at a celebratory dinner at Loughborough in 1992 on the 50th anniversary of her adoption.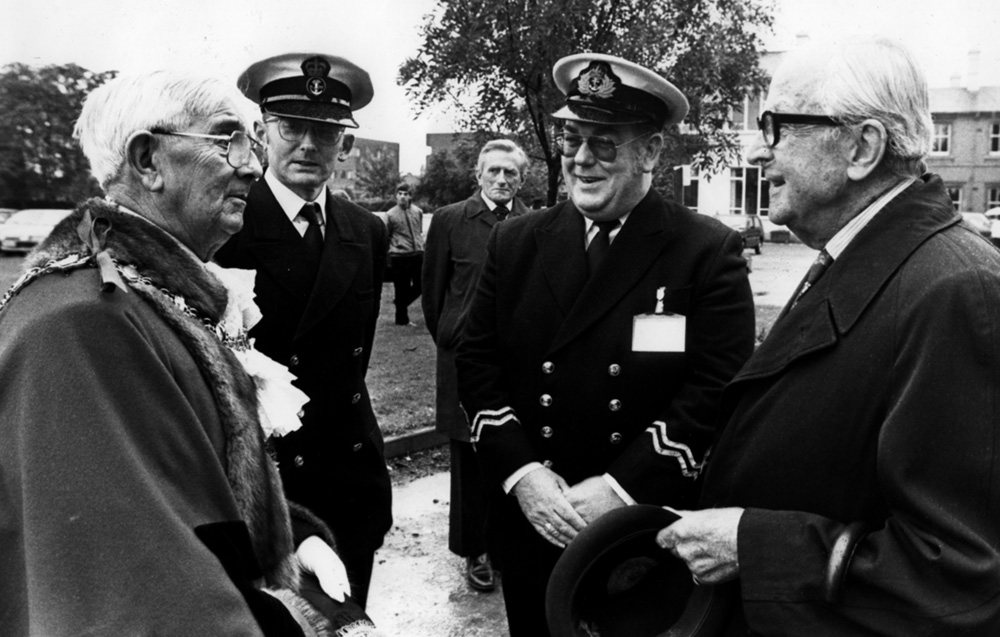 Lt Cdr A.G. Prideaux RNVR and some of the men who served on HMS Venomous were guests of the Mayor of Charnwood in 1992 on the 50th anniversary of her adoption
From left: the Mayor of Loughborough, Bob Moore, the author of A Hard Fought Ship, Malcolm Turner, the former CO of TS Venomous and Guyon Prideaux, the last CO of HMS Venomous

Arthur Guyon Prideaux was 90 when he died on the 9 March 1994. The older of his two sisters died in 1986 aged 78 and his youngest sister, Laura Sabine Prideaux, died six weeks after him on the 30 April 1994 and is buried with her brother in the parish church of Longparish. Neither he or his sisters married. His unpublished memoir is in the Library of the Royal Navy Museum, Portsmouth, but apart from the portrait at the top of this page provided by Fiona Davis, the God daughter of Guyon Prideaux, I have no photograph of the last commanding officer of HMS Venomous.

---
Holywell House Publishing
88 Holywell Hill, St Albans, Hertfordshire AL1 1DH, Britain
http://holywellhousepublishing.co.uk
Telephone: +44 1727 838595
contact online
---