The story of HMS Venomous
Tangled Lives
Kurt Victor Mayer, Liselotte Drukker and Dr Simon Weyl / Weijl
Passengers on the

Zeemanshoop




Kurt Victor Mayer was a German businessman, a Jew, living in Rotterdam married to Liselotte Drukker and Dr Simon Weijl was a Dutch psychologist and neurologist in love with Liselotte. Victor Mayer's daughter by his second marriage found her father's name and that of Simon Weyl (Weijl) on the list of the Zeemanshoop's passengers and traced the daughter of Liselotte and Dr Simon Weijl. The two families are now in contact after sixty years and have told me the story of their parents' lives.

It is a complicated personal story which illustrates the influence of politics and war on private lives under National Socialism. Pommy Farcy, the daughter of Dr Simon Weijl and Liselotte Drukker (known as Lotje in Holland and Lottie in England), explains how her parents met:

"My mother first met my father in 1924 when she was a school girl of fourteen. My mother's house was on the 's-Gravendijkwal in Rotterdam just opposite my father's surgery. My mother knew his family quite well and my grandmother always greeted him. My mother developed a bit of a crush on him although he was 16 years older but I don't think that he was at all impressed! My father was married and a father at that time. When my mother was sixteen she was diagnosed with TB and sent to Switzerland for two years and upon her return home at eighteen she was quite grown up! This was around the time that she met Kurt Mayer."


Kurt Victor Mayer was known as Kurt by Liselotte but in later life after his second marriage in the USA he preferred to be called Victor. His father, Albert Mayer, was a steel merchant in Cologne and Kurt enjoyed a privileged childhood and pursued his lifelong passion for music, playing several instruments including the violin. He had a fine singing voice and as a child sang in a boys' choir in Cologne and was good at mathematics and drawing which led to him choosing engineering as a career. He was an avid sailor, skier and ice skater. In 1935 when he was twenty-five he and his brother Walter were sent to the Netherlands to look after their father's business interests. Kurt and Liselotte were both born in 1910 and were ?? when they married.

Pommy Farcy continues her story:


"After their courtship they were married and all went smoothly until my father reappeared, now divorced. What followed is romantic but complicated. My mother, father and Kurt were often seen together, it was certainly not the norm for the times. In my mother's defence she could not divorce Kurt because of Holland's compliancy policy of deporting German Jews; he had been protected through his marriage."


These were the heady days when interest in the new science of psychoanalysis created by Freud was intense in European intellectual circles and Liselotte came to know many of the leaders in this new science:
"My mother was not involved with medicine but she did accompany my father to several early psychoanalytical meetings. One was in Baden-Baden, another in Paris organized by Marie, Princess Bonaparte, a forerunner in her field and the person who paid for Freud's exit ransom from Vienna in 1939. It was during these meetings that my mother first encountered Anna Freud, Melanie Klein and Eddy Glover who became her supervisor in didactic analysis beginning during the war years in 1940 through to 1947."


Kurt's father Albert Mayer and his wife Wilhelmina ("Minna") had fled from Cologne in 1937 and were living at Maastricht, Holland, when Germany invaded on the 10 May 1940. Albert died of a heart attack soon afterwards but his wife was hidden on a Dutch farm and survived the war.

Kurt and Liselotte Mayer lived next to the British Consul's residence in Rotterdam and this played a significant role in the events of the 14 May. That morning the Consul received a phone call and they saw him leave in a hurry so they knew something was up. They drove to Kurt's brother to try and persuade him and his family to join them in an attempt to escape to England but found them dead, they had taken poison. Kurt, Liselotte and Dr Weijl set off to drive to the fishing harbour at Scheveningen. They ran out of petrol and a complete stranger exchanged cars and papers with them so that they could continue their journey. Fifty years later that stranger returned their car. On reaching the harbour Kurt and Liselotte boarded the

Zeemanshoop

but Simon Weijl had became separated from them. The

Zeemanshoop

was already pulling away from the quayside when he returned and although unable to swim he tried to leap aboard, fell in the water and was hauled onto the lifeboat, soaking wet, the last passenger to join before it left the harbour and headed north west towards England.

Harry Hack, the engineering student at the University of Delft who took command of the

Zeemanshoop,

asked Dr Weijl to keep a close watch on the passengers for any sign of panic which might threaten the safety of the overcrowded and unstable lifeboat. Some had brought poison with them and when the engine seemed in danger of breaking down discussed whether now was the time to take their own lives before they were captured. After standing all night holding onto the rails, staring out to sea, many of the passengers hallucinated and thought they saw church steeples in the bright sunshine on the far horizon of the calm sea.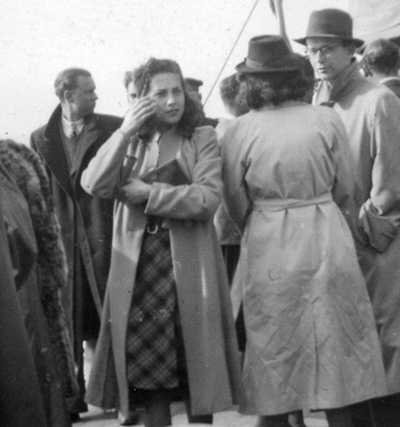 The handsome bareheaded man with the tie
in the heavy overcoat
glancing to his left
in the photograph taken on the deck of HMS

Venomous

has been provisionally identified as Kurt Mayer. The women in the fur coat on the far left might be his wife, Liselotte.

On disembarking from HMS

Venomous

at Dover Dr Weijl was allowed to continue with the other Dutch passengers to London where they were taken care of by the Netherlands Emergency Committee.
Liselotte had lost her Dutch nationality by her marriage to Kurt Mayer and they
were detained overnight in the police station with the other German nationals. The following morning they went by train to London where men and women were separated, the men going to Pentonville and the women to Holloway prisons. Kurt and Liselotte were "enemy aliens" and were interned
on the Isle of Man in the Irish Sea. Conditions were good and for some this period of enforced idleness was seen as an extended holiday with educational lectures laid on but when Nazi sympathisers and Jewish refugees occupied the same guest house there were problems.
It is at this point that their lives take different courses. Dr Weijl soon left for America (he already had an American visa) where he had to re-qualify as a doctor before he could practice medicine. When America entered the war after Pearl Harbour he joined the US Army where his knowledge of languages (he spoke English, French and German as well as Dutch) and his qualifications as a psychiatrist led to an appointment in Army Intelligence with the US Counter Intelligence Corps (CIC). As Captain Simon Weijl he travelled widely on intelligence business and, a routine precaution, always with cyanide capsules. The exact nature of his work is not known.

In June 1940 Kurt Mayer was one of several hundred internees on the Isle of Man who were sent to Canada on a former Polish liner, the MV

Sobieski.

The liner also carried German POWs, including members of the SS who had strong anti-semitic views. Since most of the internees were German Jews there were outbreaks of violence and barbed wire had to be strung across a communal area to keep them apart. The ship berthed at Quebec City. His son in law, John Sevy, described what happened next:


"The passengers were split into several groups, German POWs and Jewish 'enemy aliens' were sent to separate camps. Kurt travelled by train to Trois-Rivieres where the prisoners were impounded on the local fairground, then onward to a forest camp near Minto, New Brunswick. He worked in the camp's kitchen, and returned to civilian life with a real talent for baking."


The camp compound containing 52 timber buildings enclosed by two rows of barbed wire fences and watch towers manned by Canadian soldiers was set in thick forest twenty miles east of Fredericton. Hans Reichenfeld, the seventeen year old son of a doctor from Vienna, has written a vivid description of the voyage and the camp.

Wendy Bradshaw, a childhood friend of Liselotte, used her influence as secretary to Lord Chandos, President of the Board of Trade in Churchill's war cabinet, to secure Lottie's release from internment on the Isle of Man. Pommy Farcy describes how when being interviewed for a job as secretary to a Minister in the Dutch Government in Exile her mother's ability to catch a fly which was irritating the Minister got her the job. She sold the fur coat she wore when she left Scheveningen on the

Zeemanshoop

to buy a carpet for her flat in Richmond. Pommy described how "she quickly rekindled connections with the psychoanalytic personalities she had known before war. Glover helped her to work with Dutch pilots who came back from sorties over the Netherlands deeply traumatized by the act of bombing their own towns, homes and consequently people they knew. My mother had an extraordinary time during the war and found it exhilarating and ironically liberating".

Their lives began to converge again when the internees at the forest camp in New Brunswick were given the option of remaining in Canada or the US if they could secure sponsorship or returning to the UK if they agreed to work in the war effort. Kurt returned to Britain and is thought to have worked in a munitions factory. He was billeted in an apartment in south London or Surrey above a plant where food was irradiated which may have caused the cancer (soft tissue sarcoma) from which he died fifty years later. He described his position as "a sort of 'house arrest' or 'day release' - allowed to go to work and back, but with limited freedom of movement otherwise" (John Sevy). He resented being treated as an enemy alien and potential "fifth columnist" by the British government and there is no doubt that he, along with so many others, could have made a more valuable contribution to the war effort had this not been the case. It is not clear whether he and Lottie resumed married life but they must surely have got back in touch. Simon Weijl visited Lottie on at least two occasions, on one of which he brought her some Satsumas, unknown in wartime Britain, which "she devoured in seconds much to my fathers chagrin, I suppose he imagined her relishing them elegantly" (Pommy Farcy).

When the war ended Captain Simon Weijl, a naturalised US citizen, was discharged from the US Army and travelled to London in 1946 to see Liselotte. For the first time since they boarded the

Zeemanshoop

they returned to the Netherlands. "The shock of Holland's devastation coupled with an odd sense of resentment that those who had fled had not suffered the misery of occupation was a lot to take in. My father had two daughters, Liesje and Mirjiam, from his first marriage and he saw them after a long separation (they returned to Holland from Palestine). My mother was born in Rotterdam, her father was a professor of economics and her mother was born in Danzig, Prussia. Sadly, they did not survive the occupation" (Pommy Farcy).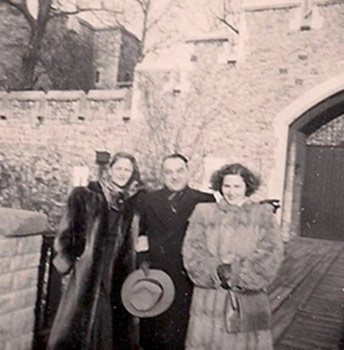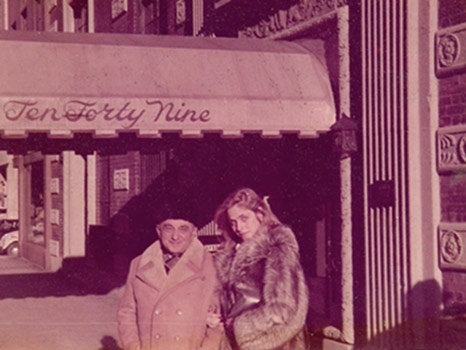 Rotterdam, the city where they lived, had been devastated by the bombing during the German invasion and had been bombed a second time - by the US Army in March 1943. Simon drove her through the city on a foggy night and "near her family home she couldn't bear to look and covered her eyes with her hands and looked through her fingers" (Pommy Farcy). He was photographed with Liselotte and his sister in Belgium (left). They cheered themselves up by driving through Belgium to France "on a long holiday and were bitten by fleas in every hotel from Paris to Nice".
Dr Simon Weijl returned to New York and Kurt and Liselotte, still married, applied to emigrate to the United States giving his name as their sponsor. When their application was successful Simon Weijl returned to Britain and on the 15 February 1947 they embarked together on the SS

America

at Southampton and set sail for New York to start a new life in the USA. Kurt and Liselotte divorced later that year (in Nevada, where the residency requirement was only six weeks) and Liselotte was free to marry the man she had loved since before the war. They had a daughter, Pommy-Naomie (known as Poeia), in 1950 when Liselotte was forty and Simon Weijl fifty-six. Dr Weijl continued to practice as a psychoanalyst in New York and became one of the leading members of the New York Psychoanalytic Society. The photograph with his daughter (above right) was taken in the 1960s outside his apartment building at 1049 Park Avenue.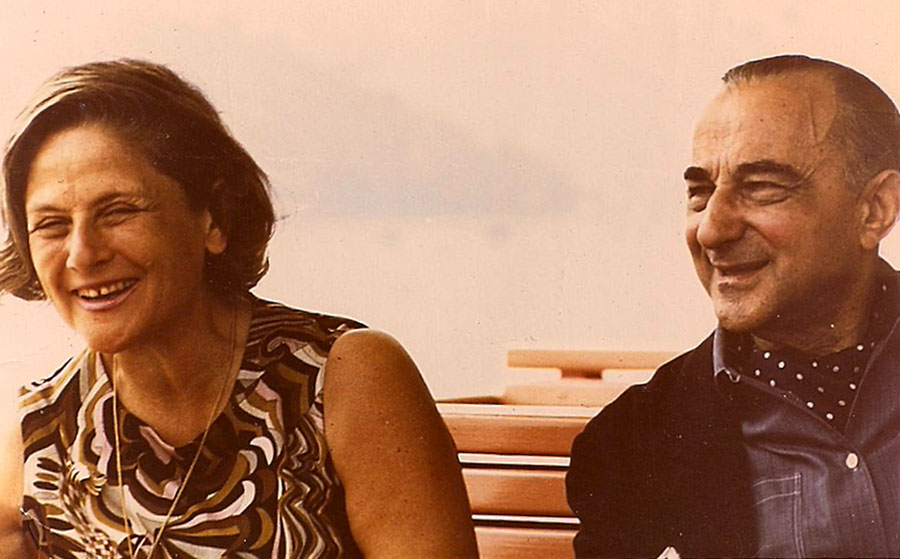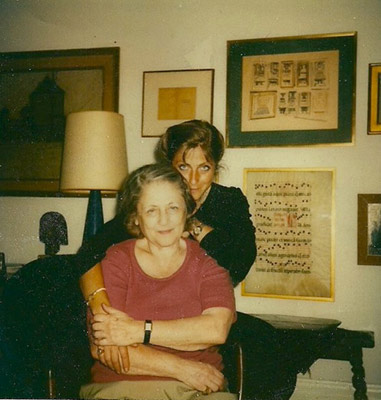 Dr Simon Weijl and his wife, Liselotte in the 1960s (left) and Pommy with her mother Lottie Weijl in 1976

After his arrival in America Kurt Victor Mayer was known as Victor. I shall let his future son-in-law and family historian, John Sevy, tell his story: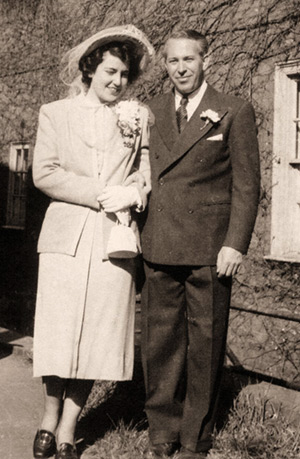 "Victor obtained employment in the engineering field in Portland, Oregon, where he met his second wife, Franziska (Frances) Weiss. She was born in Vienna but was sent to Palestine by her parents following the Austrian
Anschluss
. She went alone by boat from Trieste at the age of sixteen and remained there throughout the war and came to the US upon learning that her parents had survived the war and were living in Portland, Oregon. They married in 1949 and my wife, Miriam, was born in 1950.
The family relocated to Seattle in 1962 where Victor worked for a prominent architectural and engineering firm and Frances as a school teacher and private language instructor. In addition to my wife Miriam, Victor and Frances had two other children, Eli (1953) and Daniel (1960)."
After marrying and starting families on opposite coasts of the United States they lost contact with each other and Victor's children grew up knowing very little about his past. His eldest daughter, Miriam, only discovered by chance when she was in her late twenties that he had been married before.
Simon Weijl was 93 when he died in 1987 and Lottie 92 when she died in 2002. Victor died in 1992 aged 82 and his widow Frances in 2002, the same year as Liselotte.
The story came full circle when John and Miriam Sevy researching their family history came upon the story of the voyage of the
Zeemanshoop
on this web site and realised that the "Mayer and wife" on the list of passengers was Miriam Sevy's father and his first wife and "Weyl" (Weijl) was the name of the man his wife had married after their divorce. Within days the daughter of Victor Mayer was speaking to the daughter of Simon Weijl in New York. By coincidence they were both born in 1950.

Left:
Victor and Frances on their wedding day in 1949.
I also have a tenuous connection to this story since my father, Lt(E) William Redvers Forster RNR, served on HMS
Venomous
later in the war - the motivation for publishing
A Hard Fought Ship: the story of HMS
Venomous.

---
Holywell House Publishing
88 Holywell Hill, St Albans, Hertfordshire AL1 1DH, Britain
http://holywellhousepublishing.co.uk
Telephone: +44 1727 838595
contact online
---