The story of HMS Venomous
Leading Stoker A.R. Cripwell, KX 88496
Sunk five times and died aged 92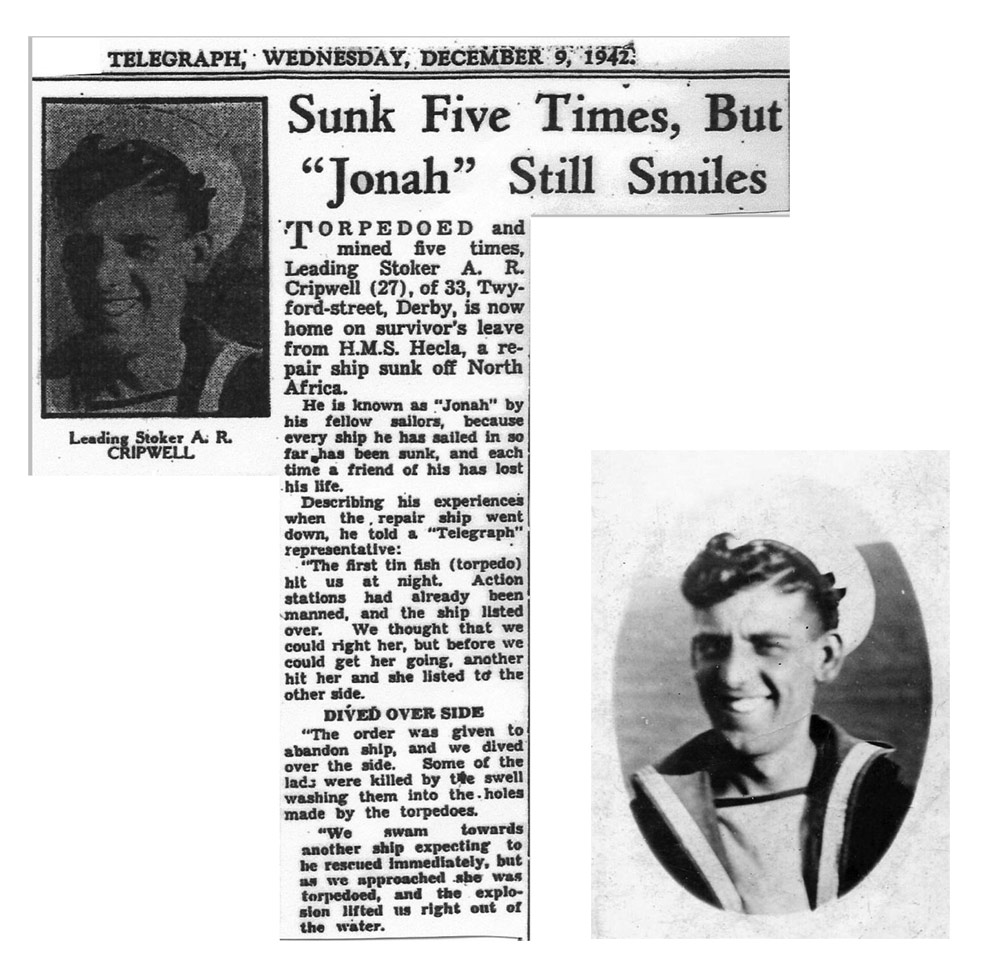 Arthur Robert Cripwell was a Leading Stoker on HMS

Hecla

when she was torpedoed and sank on the night of the 11 - 12 November 1942 off the coast of North Africa. He had been severely wounded when

Hecla

struck the mine off Cape Town and spent several months recovering in the Simonstown hospital. Arthur Cripwell hd joined the Navy
in 1934
and had previously served on HMS

Wessex, Jersey, Douglas, Worcester

, and the battleship,

King George V

. He was in the

King George V

when she took part in the hunt for the Bismarck and sinking. His shipmates would not have been happy when they heard his story on joining their ship.


He left the Navy in 1948 but was recalled during the Korean War and finally left the service in 1952.
He died three months short of his ninety-third birthday in December 2007.


Astonishingly, there were 190 stokers serving on HMS
Hecla
when she was torpedoed but only one of them, Charles Brearley, has left an account of the loss of the ship and how he was saved but we have brief accounts of the lives of Petty Officer Stoker Henry McAulay and Leading Stoker A.R. Cripwell. The names of all the stokers are recorded on the crew list compiled by TNT Data Services. Their rates range from Petty Officer Stoker, Chief Stoker, Leading Stoker and Stoker 1st Class to Stoker 2nd Class but there were also Acting and Temporary
Acting
rates. The most common rate was Stoker 1st Class. There were only eleven Leading Stokers but if one includes to the Acting and Temporary Acting Leading Stokers there were thirty-one.
---
Holywell House Publishing
88 Holywell Hill, St Albans, Hertfordshire AL1 1DH, Britain
http://holywellhousepublishing.co.uk
Telephone: +44 1727 838595
contact online
---