The story of HMS Venomous
A letter from Charles Brierley
Ex Stoker and shipmate of Bill Keating

This letter was lent to me by Simon Skelhorne who met Charlie Brierley at one of the renions of the HMS Hecla, HMS Marne and HMS Venomous Association. Simon thinks it was written for the children of a school near where Charlie lived in Rochdale which would explain the jocular tone.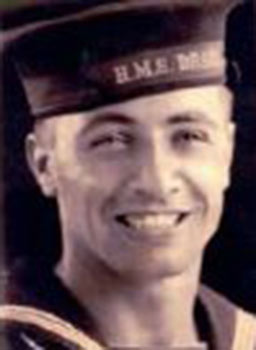 I joined the Navy in early 1940. I always wanted to go to sea but I was one of a family of five boys and one girl, very poor but happy. Times were bad and money was scarce so I had to wait for a war before I got my wish.

I enjoyed training at "Butlin's Holiday Camp", at Skegness. There I made friends with a young chap from Airdrie, not far from where you children live now. He had stomach ulcers when he joined but he managed to pass his medical and got stuck with me as a "Chalet mate". We got on fine as he could not eat his food and I was a real glutton, but apart from that we were real pals.

We had two weeks at "Butlins, and were then sent to Butlin's Phwelly, North Wales. We had problems there because it hadn't yet been built and we were billeted in bell tents, if I remember correctly, ten in each tent sleeping with our feet to the middle. Thank God the weather was kind to us for the month we were there. We were given a 1914 rifle and told "If the Germans invade throw stones at them." That gave us food for thought and I started to get some running in, to get fit to fly past those sheep on the hills behind me if Gerry did invade.

From there we went to an old orphanage in Bristol for another month and then on to Devonport. At last we were in the Royal Navy.

My first ship was HMS Hecla, 800 men and officers, leaving Devonport by train, locked in a carriage all the way up to "Bonnie Scotland", to Glasgow and then to Govan Docks, where she awaited. I had never seen one as big and beautiful and I thought that I would soon be going to sea. Not right away away though as John Brown's workmen were still on board; she wasn't finished yet.

We did all the trials a new ship gets, which included sea trials. Trials finished, I thought we would be going to sea right away, but no, she was a "Depot Repair Ship", to be anchored in the Clyde, off Greenock. We were there for seven months. As a stoker, my job was to clean the boilers of the Destroyers coming in from sea for a well-earned rest. We were one of the few crews who were allowed to wear the name of our ship, HMS Hecla, on our cap Tallies. Every time we went ashore all the girls would wish that HMS Hecla would never move, so I was glad to get away from Scotland.

We did move, but only as far as Iceland, to a Fiord, for another seven months, where the nearest town was forty miles away and there was only an army camp and millions of sheep for company. After this, we returned to the Clyde and John Brown's. That's how I felt - 'John Brown's Body'. We had all the barnacles scraped off the ship's bottom and went back to sea. This time heading to Madagascar in the Indian Ocean. We had an uneventful trip until we were rounding the Cape of Good Hope in South Africa. I was on deck using my free time when a ship in front of us suddenly disappeared in a ball of flames and sank ... no survivors. I went down to the mess deck for a cup of tea and had Just begun to drink it when the alarm rang for Action Stations, I was reaching for my lifebelt when the light went out and fuel oil came spraying through the mess … we had hit a mine. I managed to get on to the upper deck where everyone was dashing about. If you have ever heard anyone say "There was no panic", don't believe it; anyway, we were still afloat. One leading Stoker grabbed my arm and told me that a lot of our mates were trapped below, so down we went, back where I had just come from. It was pitch black, waist high in water, and we were getting men free by moving lockers and tables. They could not help themselves so we were passing them from one to another up the ladders. We had passed a few up when the emergency lights came on. We managed to get some 50 more out, some half drowned. Altogether there were 25 dead, 90 injured.

We managed to reach Simon's Town dock and were there for six months under repair. We left Simon's Town for Algiers, but never made it. At 23.30 on November 11th 1942 U-Boats six torpedoes sent us to the bottom.

As the ship sank slowly, the Captain ordered "Abandon Ship"; I couldn't swim believe it or not, but I had my life belt on, so I closed my eyes and jumped … straight into one of the torpedo holes in the side of the ship. The ship lifted with the sea and I came out like a cork with the seawater. I started to drift round the stern of the ship and as I did so it was hit by another torpedo, which exploded the rear magazine. I was peppered with 'Hot Metal'.

I got roughly 100 yards away from our escort ship, HMS Marne, a destroyer when she too was torpedoed in the stern. I did not think she would make it, but she was eventually towed to safety.

I was left floating in the sea, and looking around, I could see little red lights of other life jackets bobbing up and down in the water. I bumped into a little square life raft that had ropes dangling from it; I grabbed and held on for dear life. Within the next hour or so there were 24 of us all hanging on to each other. From that point, it was survival of the fittest as I watched first one, then another float away until there were only four of us left. Early next morning another one of my mates died and floated way, then out of the blue, someone swam towards us making four again.

That afternoon, we were rescued by the crew of HMS Venomous. I was so exhausted I could not make the ship, the P.O. seaman who dived into the sea and saved my life, had apparently been doing the same thing all day, and he went to his hammock exhausted. He died later in hospital.

We were taken to Casablanca and put on to the USS Augusta, where we took a shower and were given some new clothes and shoes. From there we were taken by our rescuers, HHS Venomous, to Gibraltar.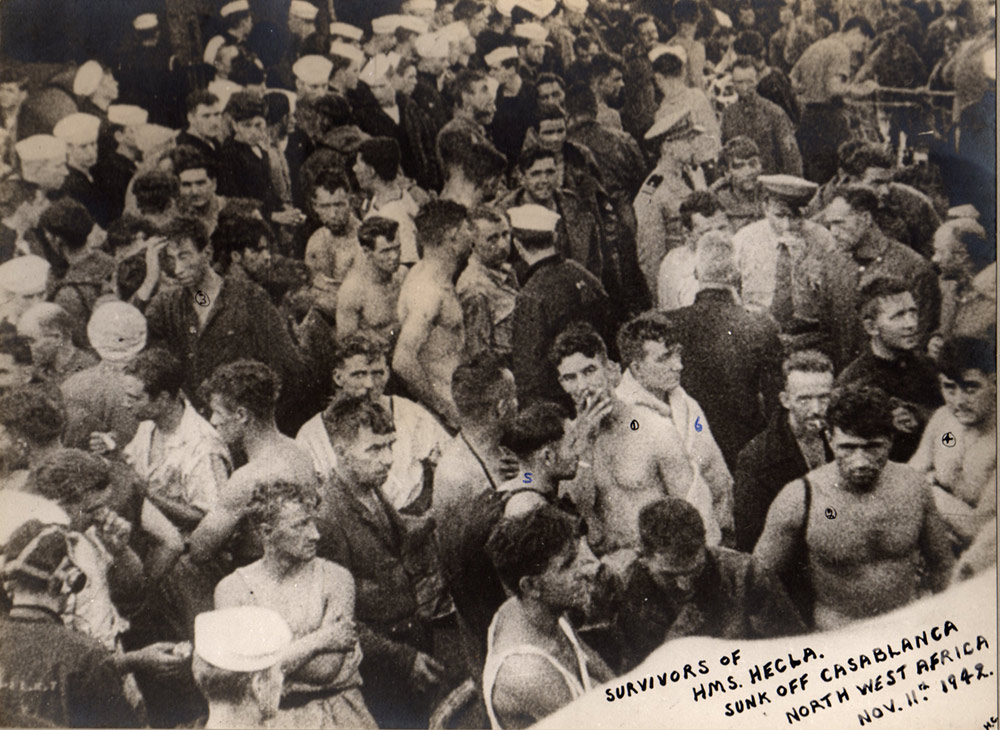 Charles Brierley is one of the survivors identified by Harry Cliffe in this photograph taken on USS

Augusta

at Casablanca on the 13 November 1942

The key: (1) Harry Cliffe AB; (2) Charlie Brierley Sto; (3) T J Chambers Sto; (4) R Hoile; (5) Harold Howells Sto; (6) G W Vaughan Sto; (7) Harry Wareing AB (Waring)
Courtesy of Marie Cliffe
I was the drafted to HMS Lowestoft , which was damaged with only one boiler. We came home to Falmouth then on to Devonport for two months.

I was sent to America to commission an American built Destroyer K473, HMS Domett. The Americans were building one each week. I was on the Domett for more than two years. That's where I met my shipmate Bill Keating, I'm sure he will tell you all about the Domett.

I am now 77 years old and I'm feeling fine, just tired as I've written this letter late at night.

Good night children,

Charlie Brierley


The "Petty Officer" who saved the exhausted stoker was the Anti-submarine Bosun on HMS Venomous, Warrant Officer Herbert J. ("Jimmie") B. Button RN whose story is told on this web site. Forty survivors of HMS Hecla returned home on HMS Lowestoft, a sloop which had been rammed by the French cruiser, Leopard, and could only steam at 6 knots making it very vulnerable to attack. It was commanded on the voyage by A/Cdr D'Oyly RN of HMS Hecla. Arthur Ching also returned to Britain on HMS Lowestoft and described the hazadous voyage to Falmouth.

After his survivors leave Charlie was sent on the turbo electric course at Chatham and then to the Boston Navy Yard in the USA where the Captain Class Frigate, HMS Domett, was under construction. His shipmate, Norman Johns, went on the diesel electric course at Chatham and then to America for the building of HMS Duff. The Captain Class frigates were built in the USA under the Lend Lease Agreement and used diesel electic (Buckley Group) and turbo electric (Evarts Group) power to speed up the production process by eliminating the need for gearing. They were slower than the Royal Navy's steam turbine powered destroyers (23 knots as against the 36 Knots of the V & W Class) but had "long legs" (long range). The shipyards worked 24 hours a day, employed women welders and were eventually able to turn out two destroyers a week.
In 1946 Charlie left the Navy and joined the ambulance service in his home town of Rochdale. Charley Brierly played rugby for HMS Hecla and for Rochdale Hornets. He married, had children and lived into his late eighties.
Astonishingly, there were 190 stokers serving on HMS Hecla when she was torpedoed but only two of them, Norman Johns and Charles Brearley, have left accounts of the loss of the ship and how they were saved but we have brief accounts of the lives of Petty Officer Stoker Henry McAulay and Leading Stoker A.R. Cripwell. The names of all the stokers are recorded on the crew list compiled by TNT Data Services. Their rates range from Petty Officer Stoker, Chief Stoker, Leading Stoker and Stoker 1st Class to Stoker 2nd Class but there were also Acting and Temporary Acting rates. The most common rate was Stoker 1st Class. There were only eleven Leading Stokers but if one includes the Acting and Temporary Acting Leading Stokers there were thirty-one.

Return to the
"Home Page"
for HMS
Hecla
to find out more about its history and the stories of other survivors

The story of HMS Venomous and the sinking of Hecla is told by Bob Moore and Captain John Rodgaard USN (Ret) in
A Hard Fought Ship
Buy the new hardback edition online for £35 post free in the UK
Take a look at the Contents Page and List of Illustrations
---
Holywell House Publishing
88 Holywell Hill, St Albans, Hertfordshire AL1 1DH, Britain
http://holywellhousepublishing.co.uk
Telephone: +44 1727 838595
contact online
---