The story of HMS Venomous
Loet Velmans and his family

escaped aboard the

Zeemanshoop

only to become prisoners of the Japanese

Loet Velmans' family had been living in the Netherland for 150 years when he was born in 1923 and he was ten years old when his parents, Joseph and Anna Velmans, "moved to Scheveningen, a fishing village bordering The Hague" and the Nazis came to power in Germany.

His grandparents still lived in the old Jewish quarter of Amsterdam where 80,000 Jews lived before the war (but only 5,000 remained when it ended). His grandfather "a shy taciturn man who became eloquent when Father was his sole audience ... was a diamond polisher by profession and a devoted member of his union". His mother, a buyer at the largest department store in Amsterdam, the Bijenkorf (Beehive) travelled to Europe's fashion capitals and embarrassed her son by dressing him in the latest fashions.

They were "Yom Kippur Jews", token Jews, who celebrated the great festivals but did not attend services. This would not have saved them from the concentration camps had they not escaped from Scheveningen on the Zeemanshoop on the day the Netherlands surrendered to German forces.
Loet Velmans was 92 when he attended the reunion at Scheveningen on the 14 May 2015 of the families of the men and women who escaped on the Zeemanshoop 75 years earlier. I am sorry to have to report that his long life came to an end at his home in the United States with his wife Edith by his side on 11 November 2016. He lived a long fulfilling life described briefly on this page but he told his own story far better in two books.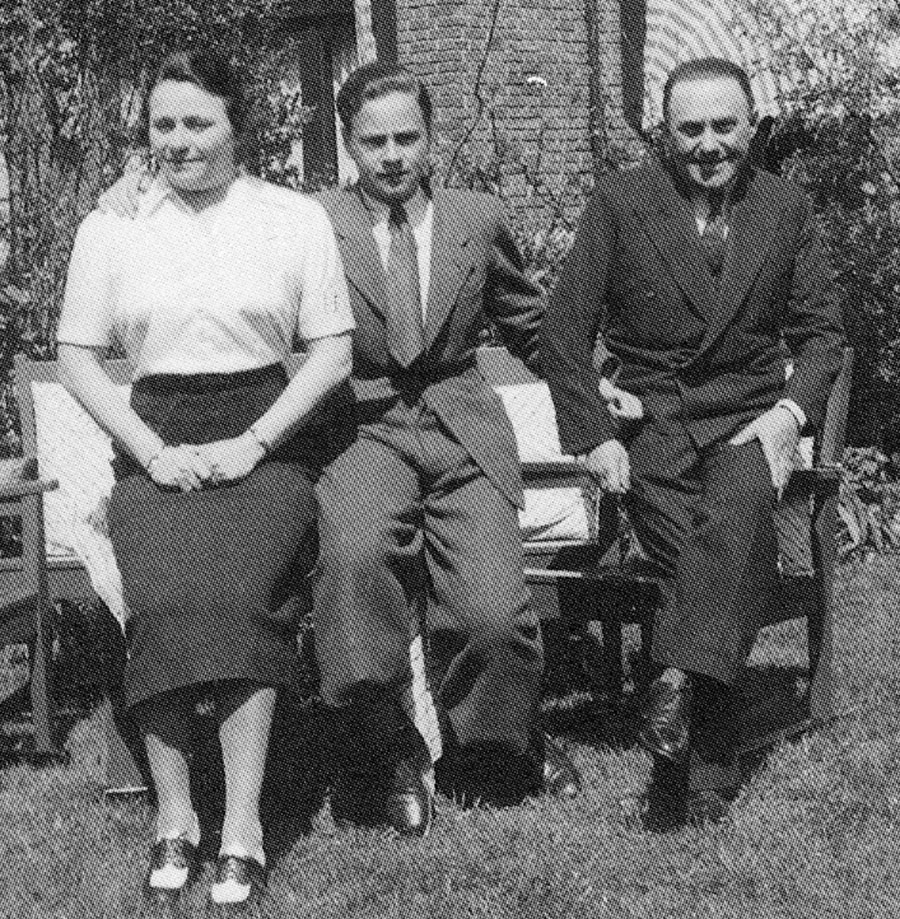 Loet Velmans with his parents, Joseph and Anna Velmans, outside their house in Scheveningen in 1938
Loet Velmans

was a 17 high school student when he and his cousin, Dik Speijer, cycled to the harbour on the day that the Netherlands surrendered to try and find a boat to take them to England. His family joined them by taxi and on arrival in London they lived for four months with the other passengers on the

Zeemanshoop

in a small hotel off Russell Square. Loet spoke good English and helped his Mother, Anna Velmans, make herself understood when she visited her business contacts seeking help - and flirted with the girl on the hotel's telephone switchboard.

After rejecting the diamond trade as a profession two under-employed former ministers took an interest in his future. They advised him to get as far away as possible from Hitler's Europe by completing his high school education in the Dutch East Indies, at that time considered (by the Dutch) to be an integral part of the Netherlands. The "Minister for Justice, Professor Gerbrandy, who sported a thick walrus moustache, agreed with the plan and authorised a government loan for the passage." Pieter Sjoerds Gerbrandy (1885 – 1961) became Prime Minister of the Dutch Government in Exile in September 1940. That month the entire family with the exception of Aarl Drukker and her husband Max took the train to Liverpool and embarked on the Cunard liner

Viceroy of India

for Singapore. The voyage round the Cape took seven uneventful weeks enlivened by stopping to pick up the crew of a merchant ship torpedoed by the

Graf Spee

and the "education" about girls he and his cousin Dick received from the two RAF sergeants who shared their cabin.

They rented a large white villa in Batavia and employed four native servants but found that "the highly hierarchical and undemocratic white society neither cared for, nor took an interest in, the small group of refugees from the home country". It was "different at school. Most of the teachers were Dutch but the majority of my class-mates - all except two Dutch boys and one girl - were either native Indonesian, Eurasian or Chinese." After passing his high school exams in Spring 1941 he worked for a couple of months as an apprentice trader with the Borneo Sumatra Trading Company before being drafted into the Royal Dutch East India Army and billeted at the barracks in Bandung. He was given a tough time in training and could not escape his Mother who visited every weekend. They were ill-equipped and the officer corps were smug and complacent, totally unprepared for the fall of Singapore and the Japanese invasion of Java. On the 8 March 1942, a week after the invasion began, the army capitulated without Loet having fired a shot. They were confined to barracks by their own officers until the Japanese arrived to make them Prisoners of War (POW).

They were treated with contempt for surrendering and became accustomed to saluting their guards, bowing in the direction of the Imperial Palace in Tokyo and being beaten with rifle butts on any pretence. After eight months as POWs in their own barracks they were transported by train to Batavia's main port and spent four hellish days in the hold of a Japaese freighter bound for Singapore. They joined thousands of British and Australian captives in Changi internment camp, a place so large that it resembled a small town, where the POW pursued a wide range of activities and traded money, watches and rings for food. From the last months of 1942 onwards they were sent north on successive rail transports along the Malay peninsula and into Thailand to be used as slave labour building the infamous "death railway" along the Thai-Burma border immortalised by the film,

The Bridge on the River Kwai

. The Japanese used 61,000 allied troops and 200,000 natives to build this railway to supply Japanese troops during the invasion of India. There is no need for me to describe the hellish months he spent at "Spring Camp". Sixty years later he returned to the River Kwai to come to terms with his past and wrote a book about his wartime experience,

The long Way Back from the River Kwai

(Arcade Publishing, 2003) which was published in Dutch as
Terug
naar de River Kwai

,

Herinneringen aan de Tweede Wereldoorlog

(Walburg Pers, 2005).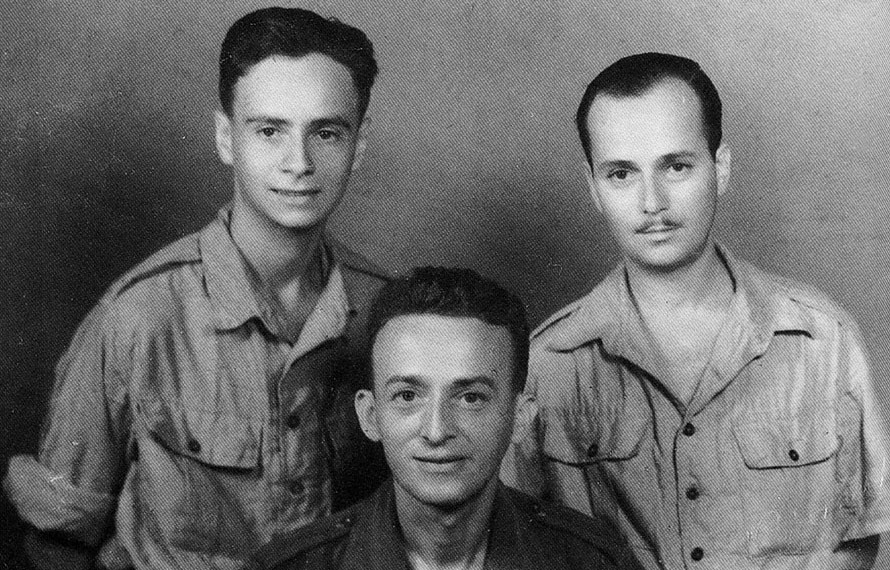 Loet Velmans (left) with Chaim Nusbaum (centre) and Eddie Rappaport, Singapore 1945

The railway completed they were returned to Singapore where he shared a cell at Changi with Chain Nussbaum, a Dutch Orthodox Jew with a doctorate in physics who was an ordained rabbi. For the first time Loet took an interest in the Jewish faith, "enjoyed the warm sense of belonging to a community" and became the editor of the

Changi Jewish Chronicle.



The Japanese surrendered on the 15 August 1945, a week after the dropping of the atom bomb on Hiroshima. British and Dutch troops arived to look after them and "our euphoria reached its zenith when Admiral Mountbatten came for a visit" and addressed them from a soapbox just inside the gates. Then came the news of the Holocaust and the realisation that family members in the Netherlands were unlikely to have survived. For some months despite recurring bouts of malaria he remained in Singapore, editing

Oranje,

a Dutch version of SEAC, the dailly paper of the British South East Asia Command, and enjoying the heady atmosphere of the liberated city. Finally in February 1946 he agreed to be repatriated to Holland.

Loet mailed me this resume of his life after the war:
"After being repatriated in 1946, I studied political science, a brand new field at the University of Amsterdam. I did not finish my studies and joined a small publishing firm. I emigrated with wife and twin daughters to the U.S. in 1951 and two years later joined Hill & Knowlton, a public relations firm. I headed their international operations for nineteen years from Paris, The Hague, Geneva and London and on my return to New York I became chairman and CEO of the company. I retired at the end of 1986 and served four-year stints on the boards of sixteen widely different non-profit organizations. I am 88 years old, in relatively robust health and still actively involved in various educational project.."


Loet married Edith van Hessem at Amsterdam in 1949. Edith was fourteen when her future husband left Scheveningen on the

Zeemanshoop

and grew up during the German occupation of the Netherlands. She came from an assimilated Jewish family but was sheltered by a Christian family and survived. A brother, her mother and her grandmother went to the gas chambers. She wrote her own book,

Edith's Story

(Bantam, 2001), which weaves together entries from her diaries with reminiscences and letters smuggled between family members during the occupation.

It has been compared with the

The Diary of Anne Frank

and translated into ten languages - including Chinese and Japanese.

Loet Velmans and his family lived in London from 1969 to 1974 and:


"Marianne and Hester, our twin daughters graduated from British universities: Sussex and King's College, London. When my company transferred me back to New York after nineteen years in various European cities Marianne stayed behind and made a career in publishing. She is now managing publisher of Doubleday, U.K. We have two British grandchildren, Jack who works for Working Title, and Saskia who is studying Spanish at Sussex University. Hester, Marianne's twin sister, lives near us and is a commissioned and prize winning translator of Dutch and French literary fiction as well as a novelist in her own right."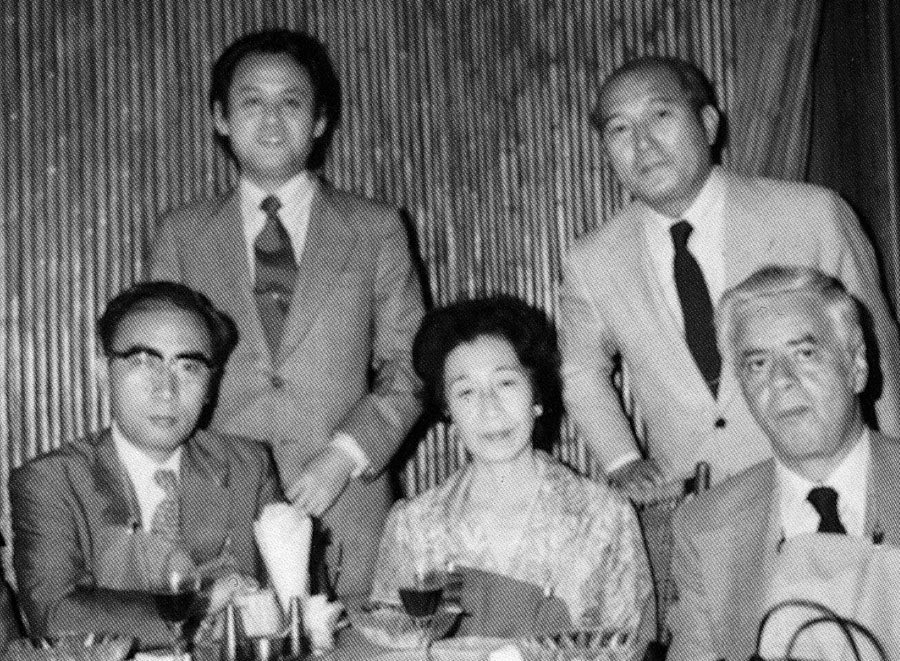 Loet Velmans (right) with former Ambassador Yagi, Chairman of the Hill and Knowlton Tokyo office (standing to Loet's right),
the Chairman's wife and two senior managers of the Tokyo office.
For me the epilogue of Loet's book in which he described his attempts to understand the Japanese during postwar business trips and tried to reconcile their behaviour today with the brutal treatment he received as a POW is of special interest. He contrasted their failure to even discuss the past with Germany's acceptance of responsibility for the Holocaust and America's guilt over the dropping of the atom bombs on Hiroshima and Nagasaki. Although the war crimes committed in China and South East Asia are not discussed or covered in school textbooks the war dead including those executed for war crimes are still honoured at the Yasukuni shrine in Tokyo.




Joseph (Jo) Velmans worked in the Amsterdam diamond business like his father but he switched to the fur trade before his marriage to Anna Cohen. He was a salesman for a wholesale fur trading company in the House of the Seven Heads, a historic seventeenth century building on an Amsterdam canal. The firm specialized in the import of furs from the Soviet Union. After their escape to England aboard the

Zeemanshoop

Jo Velmans and his family went to the Dutch East Indies and he and his brother-in-law, John Blitz, started a successful business importing fashionable women's wear from the U.S. (the Dutch East Indies having been cut of from Europe, its traditional supplier). Conditions were harsh in their internment camp on Java but Jo and Anna survived. On his return to Holland after the war he resumed his old occupation and died at the age of 65.

Anna Velmans (ne้ Cohen) was born into a family of four daughters. Her sisters were Aal, Ro and Jet (who perished in a German extermination camp). Anna started working in the

Bijenkorf

(Beehive), Hollands largest department store, in her late teens and moved up to be buyer of the milinary department.

After her arrival in Jakarta she was made manager of Gerzon, an upmarket dress shop, a branch of Gerzon in Holland. Some months later she was put in charge of the other three branches in the Dutch East Indies. In the Japanese women's internment camp she was acitive in dispensing funds for the purchase of smuggled-in medicines. After repatriation to Holland. she worked again in the

Bijenkorf

. She died at the age of 87.

Ro Cohen was the youngest sister of Anna Velmans and the mother of Dick Speijer. She had divorced her husband and lived with her son and her partner, John Blitz, in the house of her married sister, Aal Drukkker. She worked in the purchasing department of the

Bijenkorf

department store in Amsterdam where her sister Anna was a buyer and department head. Ro Cohen survived three and a half years of imprisonment by the Japanese in a camp for women on Java.

After the war she resumed her job in The Hague branch of the Bijenkorf department store, retired to Amsterdam and died in her early seventies.

Simon Speijer, Loet Velman's cousin, was known from birth as 'Dik', short for dikkert, meaning fat. He was the son of Ro Cohen, the sister of Anna Velmans (below), who was divorced from Dik's father and lived in Scheveningen with her partner, John Blitz. Dik accompanied his mother and stepfather to the Dutch East Indies with Joseph and Anna Velmans and his cousin, Loet Velmans. Dik was a POW in a Japanese slave labor camp on Sumatra. He was extremely badly treated but survived. Shortly after his repatriation to Holland he emigrated to the U.S. where Dik and his wife had a son and a daughter. He was employed by an international trading company in New York. His company assigned him to Haiti and later to Miami. Late in life he studied and counselled in some form of psychology. He died in Amsterdam around the year 2000.
Morris and Alida Drukker. 'Max' and his wife 'Aal', Anna Velmans' oldest sister and Loet's favourite aunt, lived in Scheveningen on the same street as Loet Velmans and his parents. Max worked in the wholesale fur trade.
Antwerp and Amsterdam were the centres for cutting and polishing diamonds, while London was the hub for selling them. As the threat of German invasion grew in the 1930s, some firms moved from the Low Countries to southern England, but were relocated to North Wales to escape wartime air raids.
After arrival in Britain the Drukker's lived in Llandudno where Max had found work as a diamond polisher, a trade he learned as a young man. They stayed in London for a year or two after the war before returning to their house in Scheveningen.

John Blitz was the partner of Ro Cohen, the sister of Anna Velmans. He was the buyer of textiles in the "Bijenkorf" (Beehive), Amsterdam, Hollands largest department store. After arrival in the Dutch East Indies in late 1940 he went into business with Jo Velmans, Anna Velmans husband, importing textiles from the USA. He died in a civilian prison camp during the Japanese occupation of the Dutch East Indies.
This account of Loet Velmans' life is based on his book

Long Way back to the River Kwai

(Arcade Publishing, 2003) which was published in Dutch as
Terug
naar de River Kwai

,

Herinneringen aan de Tweede Wereldoorlog

(Walburg Pers, 2005) and an exchange of e-mails.
But if you have not already done so you should the story of the
voyage of the

Zeemanshoop
and its rescue by HMS
Venomous
.


And then read about the lives of the four student crew members of the
Zeemanshoop
Karel Dahmen and his close friend,
Jo Bongaerts
, the medical student
Lou Meijers
and the "Captain",
Harry Hack
---
Holywell House Publishing
88 Holywell Hill, St Albans, Hertfordshire AL1 1DH, Britain
http://holywellhousepublishing.co.uk
Telephone: +44 1727 838595
contact online
---