The story of HMS Venomous
Simon Alexander Speyer
aka Dik Speijer

Dik Speijer and his cousin, Loet Velmans, and their families escaped from the Netherlands aboard the Zeemanshoop on the evening of 14 May 1940. Dik Speijer's account of their escape is a chapter in an unpublished typescript of an autobiography written in 1987. It was sent to me by his daughter and her brother, Bonnie Rosita Speyer-Lively and Terence David Speyer, who also supplied the scans from their father's photograph album.
***************

Our father was born in Amsterdam February 1922. His parents were Rosette Cohen-Speijer and David Speijer. He was raised in a middle class, liberal Jewish environment with very close family ties. Dad's mother Ro was one of four sisters and his father David had two brothers and one sister. Ro was a career woman and David a chemist.

According to Dad's journal his grandfather Bram Cohen (father of the four Cohen sisters) became a partner in a general merchandise store. The business, located in the heart of Amsterdam, grew beyond all imagination and became the chain known as The Bijenkorf or Bee Hive. Grandfather Cohen pulled out as an active partner and sold his portion of the store when the business became too hectic for his lifestyle. Other relatives and second generation Cohens stayed in. Ro remained on as a head buyer for Couture. Dad was raised by nannies with plenty of family members checking in on him daily.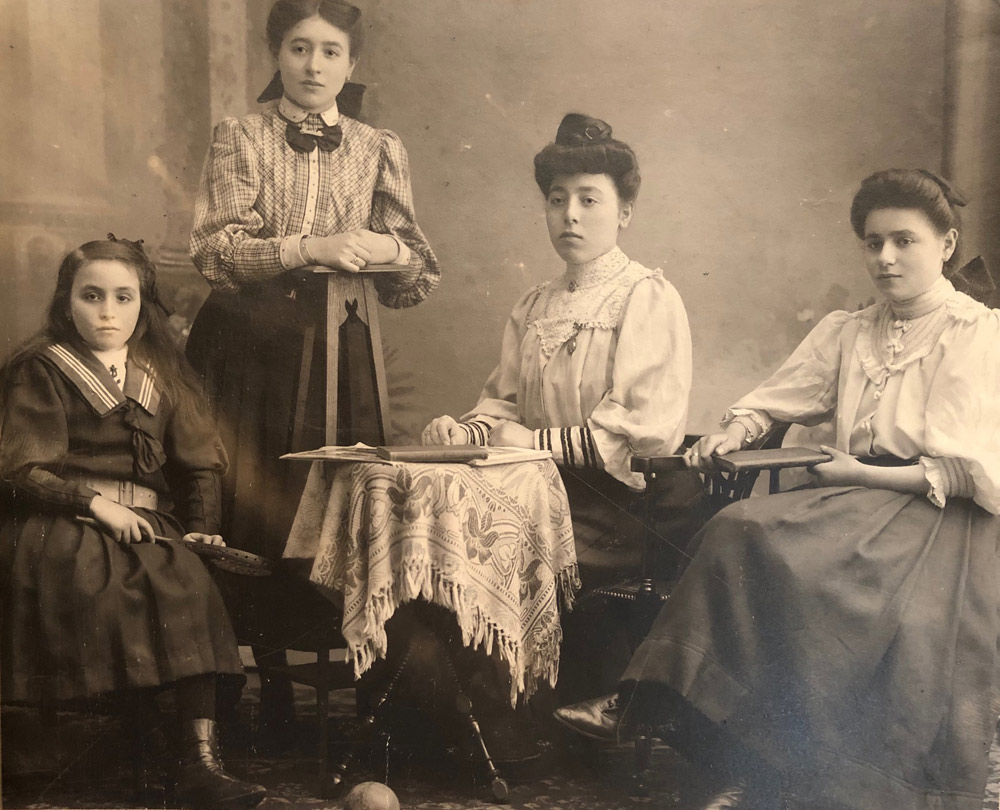 The four Cohen sisters - from left to right Ro, Jet, Alida, Anna - in 1906
Later known as "De Paarden van Cohen" (the four horses)
Strong - they kept the family together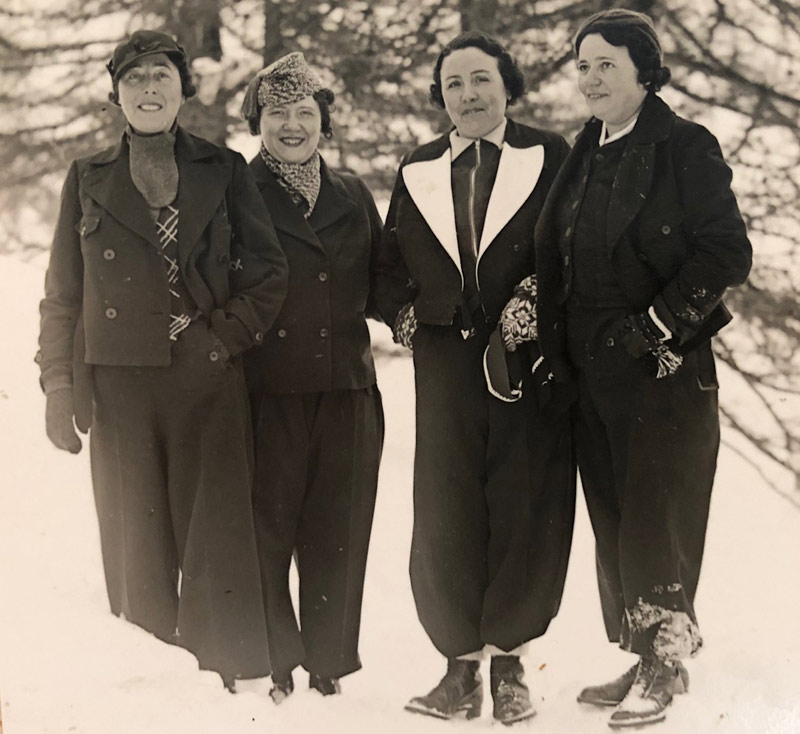 Ski outing for the four Cohen sisters
From left to right: Alida Cohen-Drukker, Jet (Henriette) Cohen-de Swarte, Ro (Rosette) Cohen-Speyer, Anna Cohen-Velmans

Dad's parents divorced in 1933 when he was 11 years old but his father, aunt and uncles remained a big part of his life. Sadly Dad's father, aunt and uncles were all killed in German concentration camps.

The best times for Dad before the war, were the summers and holidays he spent with his cousins, aunts and uncles from both sides of the family on the beaches of Scheveningen. Eventually Ro moved with Dad from Amsterdam to Scheveningen not far from the city of The Hague. Oma Ro's sisters Anna and Alida were already living there with their families. Jet was living with her family in Zandvoort another beach town not far from Amsterdam.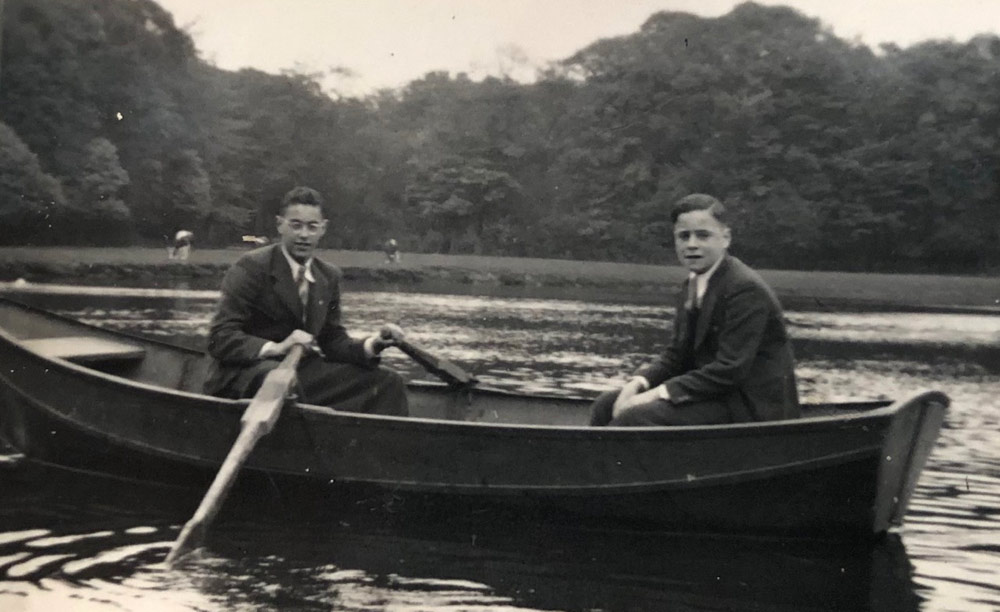 Dik Speijer on the left with his younger cousin Loet Velmans on a boating lake
He was nicknamed Dik, short for
Dikkert
(fat), because he was such a fat baby but grew up to be tall and skinny

When living in Scheveningen Dad attended middle school and eventually he with his cousin Loet went abroad spending time in England, France, Switzerland and Germany. Dad studied languages and philosophy.

Then one night in 1939 while in France, Dad received a phone call from his parents to come home immediately. Germany had declared war!
The following pages in Dad's own words describing the family's escape from Holland to England aboard the
Zeemanshoop
and from there to the Dutch East Indies are from a typescript account made in 1987.
11. WAR

After I came back from France, I went back to work. Because of the war, the atmosphere in Holland was tense. Yet, there was an underlying sense of optimism because in WW1, the Netherlands remained neutral. The expectations were that this might happen again but ......
May 10, 1940 - I was 18 - dark clouds covered a sunny sky ... this is how I saw the bombardment of the City of Rotterdam. The German troops had crossed the border and had begun to invade the Netherlands ... panic! The Dutch flooded their water defence system to stop the Nazi onslaught. It didn't work.
Three of the four sister families, all living in the same street, got together in one house. We were all physically and emotionally drained and above all fearful. We talked in low voices as if we were at a funeral. What to do? Within hours the Grman troops would be here.
I took my cousin Loet to the side and suggested that we "march off" to some place in order to escape the Nazis. Being Jewish was not exactly a reason to stay on and await a very uncertain future. I felt this enormous urge to go. [My fate was taking me by my hand] Loet and I took our bikes and went off in a southerly direction, thinking that we would be peddling down to Brussels, staying ahead of the invading Germans.
We didn't even make it out of town. All roads were blocked. In a roundabout way we ended up at the fishing harbour of Scheveningen. There, we saw hundreds of people trying to get onboard of trawlers and coastal freighters. They tried to buy their way onboard, or steal a ship, anything, to get away from the threat of concentration camp and death.
When I saw all this going on, I happened on a young man, gave him my bike and five bucks and asked him to bicycle down to my house and tell my family to come to the harbour immediately. He did. He must have been Godsent because, half an hour later, all three families arrived. The young man could have easily pocketed the money and my whole family would have been gassed in one or another Holocaust camp. I wish I could thank him. I don't know who he is. I only saw him for a second ...
On the various quays, surrounding the harbour, a lot of panic was going on. Which boat? Who was going? Who not? Where did the next boat take off? Where is my child? It was total confusion. Who would navigate? How much money does this skipper want? Shots werer heard. Are the Germans here already?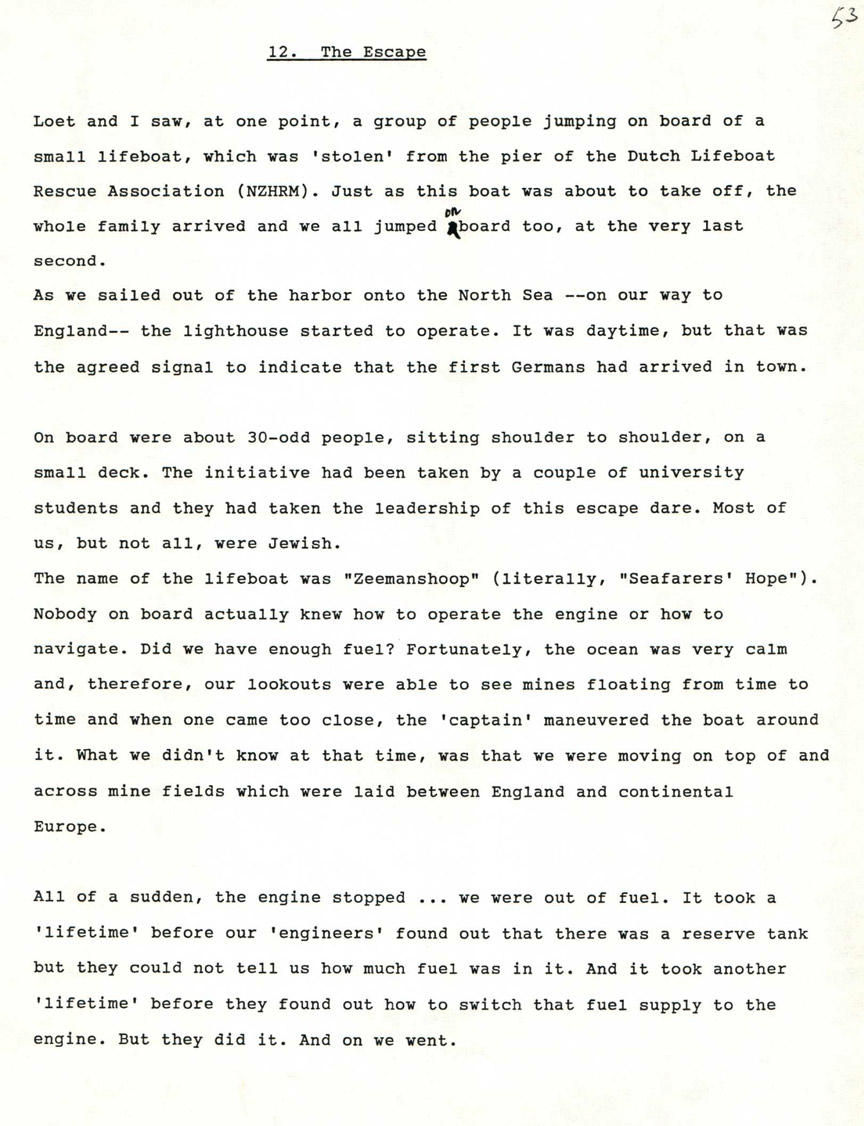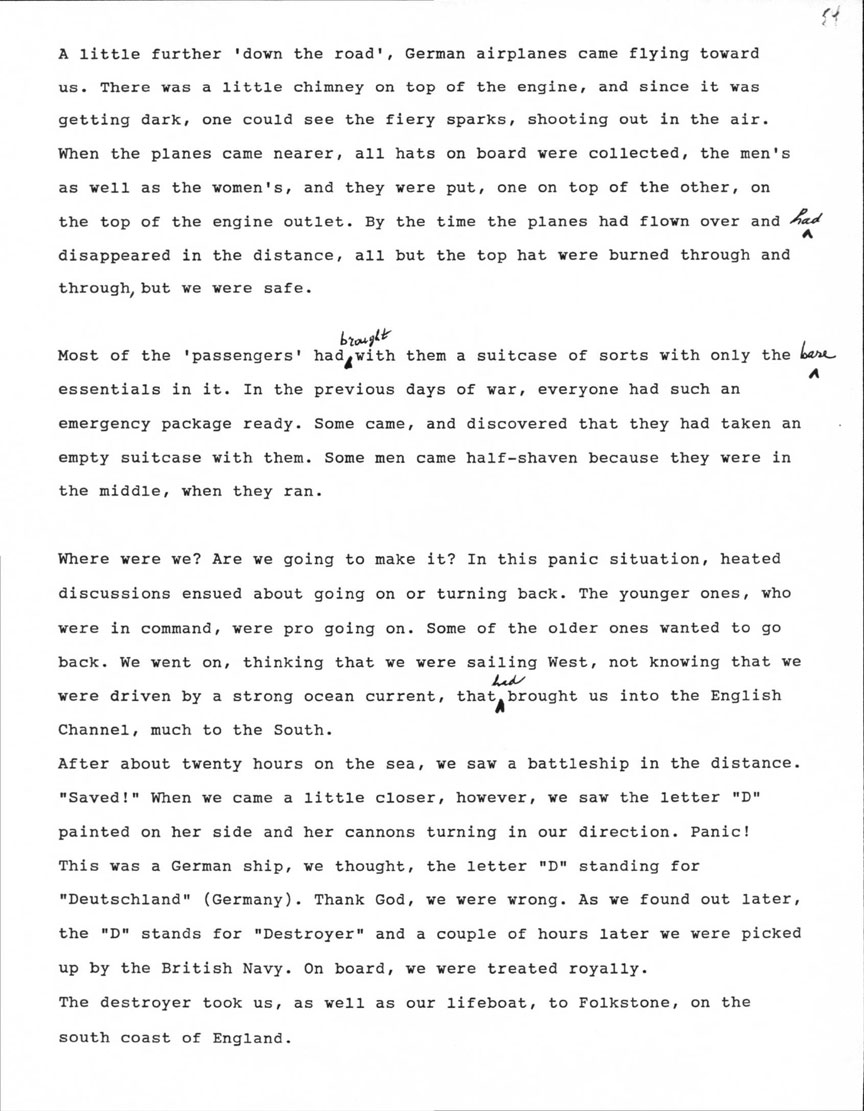 The story of HMS Venomous (D75) is told in A Hard Fought Ship (2017)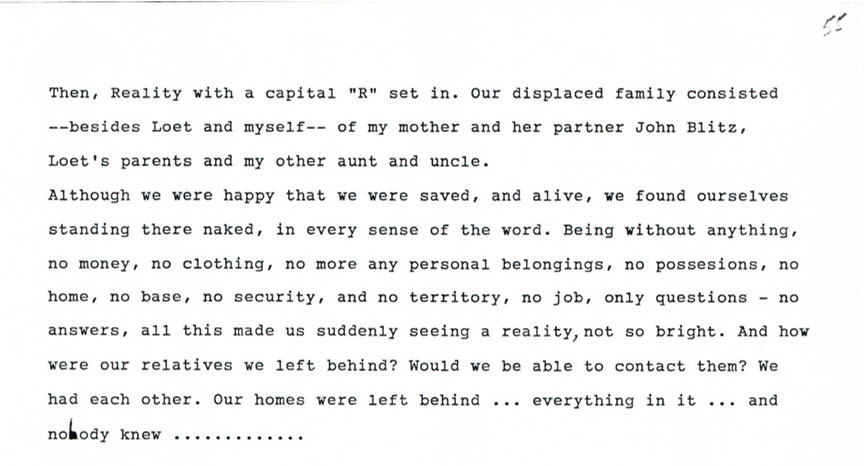 This is the fifth account of the voyage of the
Zeemanshoop
by one of her passengers and crew
You can read the others on the page describing the
"Voyage of the Zeemanshoop"
I have never known where the money came from but we were again – this time in London – royally welcomed and treated. We got clothing, food, shelter in various hotels surrounding the British Museum and even pocket money.

Whether this money came from the Dutch government-in-exile (in London) or from some British government agency, I have never been able to figure out. But, anyway, we settled down and times were really not bad at all. On the contrary, Londoners turned out to be delightful people, helping us when they could and opening up their homes, we were welcome, wherever we went. I even followed classes in physics at the London University.
After the first glow of having survived gradually simmered down, living in a hotel, living off charity and having nothing to do but to sit around and wait, became a burden. When the opportunity came to emigrate to America or to the Dutch East Indies (now Indonesia) we grasped that chance with both hands. I always wanted to go to America, so here, I thought, was my chance.
We went to talk to the Dutch officials who – to my surprise – tried to talk us into going to the Dutch East Indies. And they did a splendid PR job. They painted wonderful pictures of how we would be able to live again in a Dutch environment (Indonesia was, at that time, a colony of the Netherlands), the many business opportunities and they stressed the need for 'white' people because the strings with the Dutch motherland were cut off. In addition, we would travel there, going halfway around the world, around the Cape of Good Hope, no less.
We were talked into it, picked up everything we had and, as so many Wandering Jews before us, hoped to start all over again in another country. Six of us went: Loet and his parents and I with mother and John Blitz. My other uncle and aunt had moved to Wales to work in the diamond industry which, since the occupation of Holland and Belgium, had moved there.

In Liverpool, we boarded the SS Viceroy of India, and started zig zagging the Atlantic Ocean on our way to our first stop, Gibraltar. (All ships zig zagged at the time to avoid being hit by German submarines). From there to the Cape Verde Islands. Our stay there was somewhat scary. The island harbor was shaped in the form of an '8' with an opening in the bottom and one in the top of the '8', as entrances to the two-part harbor. While we were in one side, the German Navy was anchored in the other side of the '8'.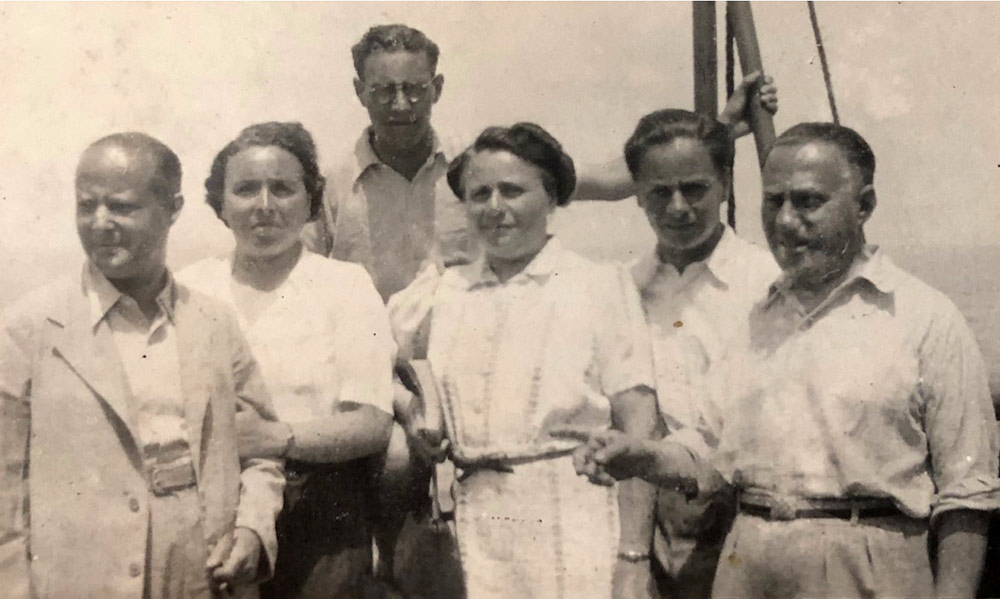 The two Cohen sisters and their families on the SS Viceroy of India traveling from England to the Dutch East Indies.
From left to right: John Blitz, Ro Cohen and Dick Speyer with Anna, Loet and Jo Velmans.
Alida Drukker (nee Cohen) and her husband Max remained in Wales and Jet de Swarte and Meyer De Swarte stayed in Holland and died in the Holocaust.


Now, came a long journey ahead, along the West African coast to Capetown. In South Africa we took a breather. We traveled the country as tourists and amused ourselves with the Afrikaans language, which was like medieval Dutch. (We had to travel around the Cape because the Suez Canal was either closed or too dangerous to use during the war).

Next stop, Mombasa on the East African Coast and on to Colombo, on the Island of Ceylon (now Sri Lanka). In Colombo it was so hot and I saw a man digging a hole in the asphalt with the heel of his foot, put a drop of something in it, broke an egg into the hole, fried it and ate it. Beside this experience, I saw there the most beautiful flowers, I had ever seen in my life.
From Colombo to Bombay, in India. For the first time in my life I saw what being poor really meant. I saw beggars without arms or with one leg, beggars full of open wounds on their skin, I saw a dead horse in the middle of the street, covered with millions of flies, I saw women for sale in animal cages, there were narrow streets where the smell was so bad that I had to turn back to the main road ………. yet, on the other side of the Bombay Bay, there were gorgeous condominiums and wealth aplenty. I had never seen such a contrast between the rich and poor, together in such a relatively small area.
I also witnessed a religious funeral ceremony, which made me physically sick, just looking at it. The dead body was put on a rock near the ocean, waiting to be devoured by birds of prey that had been circling over the entire route of the funeral procession. Once the body was put down, they descended on the corps, tore it open and ripped it to pieces. (As I understand it, the religious significance of this ceremony is that the birds would drop their feces over the ocean and that then became the dead person's final resting place).
Next stop, Kuala Lumpur in Malacca (now Malaysia) and on to Singapore. From there, it was only a short jump to our final destination, Batavia on the island of Java, in the Dutch East Indies.
On board I had met two Jesuit priests. During the entire trip, which lasted, I believe, about two months, the three of us walked the decks every single day. They showed such pleasure to teach me and I couldn't get enough of their knowledge – and believe me, we were not just talking religion but worldly matters as well. For the rest of my life, although I turned into a religious atheist, I have kept respect and admirations for Jesuit priests. I know that I learned more in those two months than I would have learned in that 'missed' fifth grade in high school. It was a sublime lesson in philosophy.
Although I suspect that the Dutch government-in-exile paid for my trip, I never found out for sure. What I did find out, however, after arriving in Batavia, was that the Immigration Inspector, who welcomed us with open arms, said to me personally: "How wonderful to be able to welcome you again on Dutch soil and o, yes, you're 18 years old, I see, you will have to go into the army."

THIS, they never told me in London. I got six months to acclimatize.
Our two families moved into a very beautiful and comfortable house and got important, well-paying jobs, right away. We had maids again and the good life had returned where it had left off in Holland.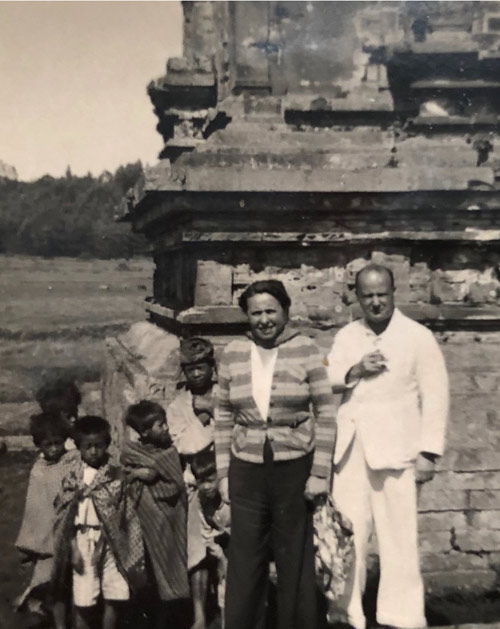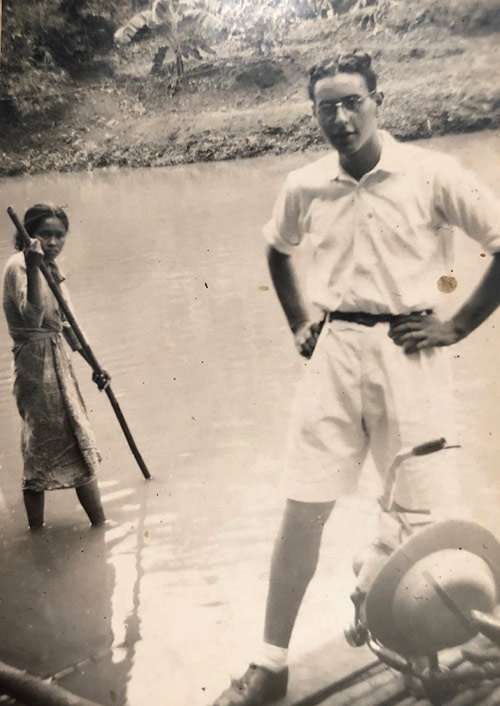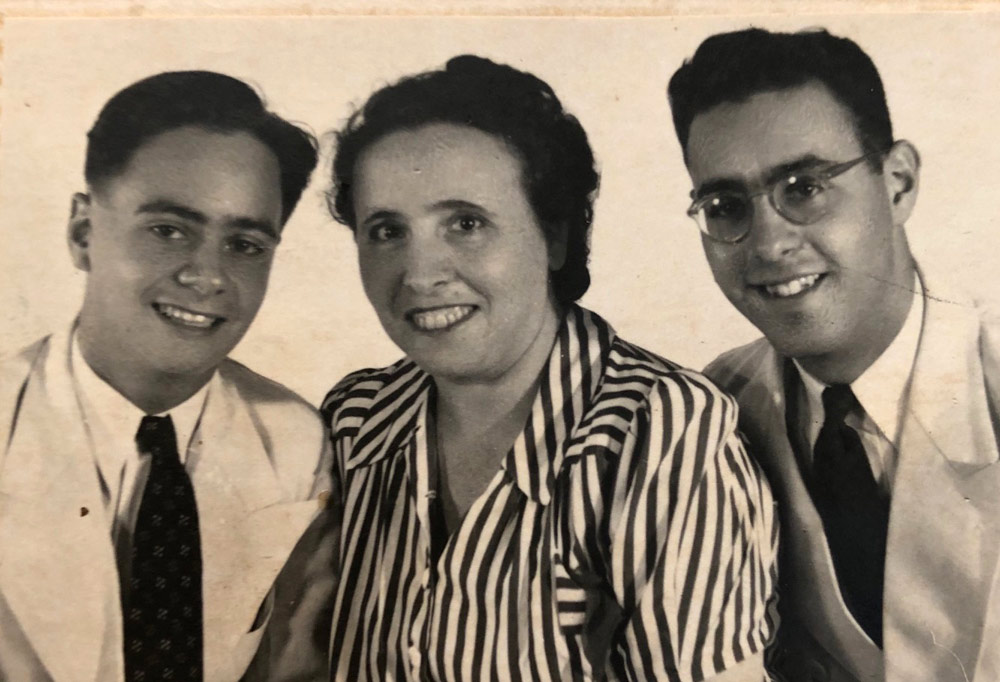 In the Dutch East Indies
Left to right: Loet Velmans with Ro Cohen-Speijer and and her son Dick Speyer

Bonnie Speyer-Lively continues her father's story



Dad started serving in the military in 1941. In 1942 Japan took control of the Dutch East Indies. Dad, along with the rest of his troop, were captured and sent to a POW camp in Sumatra. He remained a POW for 3 ½ years. He spoke very little of his experiences not wanting my brother and I to hear of the atrocities he encountered but did eventually open up a bit about his experience. Dad wrote a poem named "De Sadist". It's written in Dutch and was published in the "Stichting Japanse Ereschulden", Foundation of Japanese Honorary Debts, established in 1990. You can still view their site online describing what happened to the Dutch soldiers and civilians when the Japanese took control of the Dutch East Indies. Dad gave an audio interview in Holland, in Dutch, from the Shoah institution in Holland where he talks about his time as a POW. I remember Dad telling the woman that interviewed him, that if he told her what took place; this would haunt her for the rest of her life. Dad did say that the Japs took pleasure in torture and were sadistic and they were 24/7.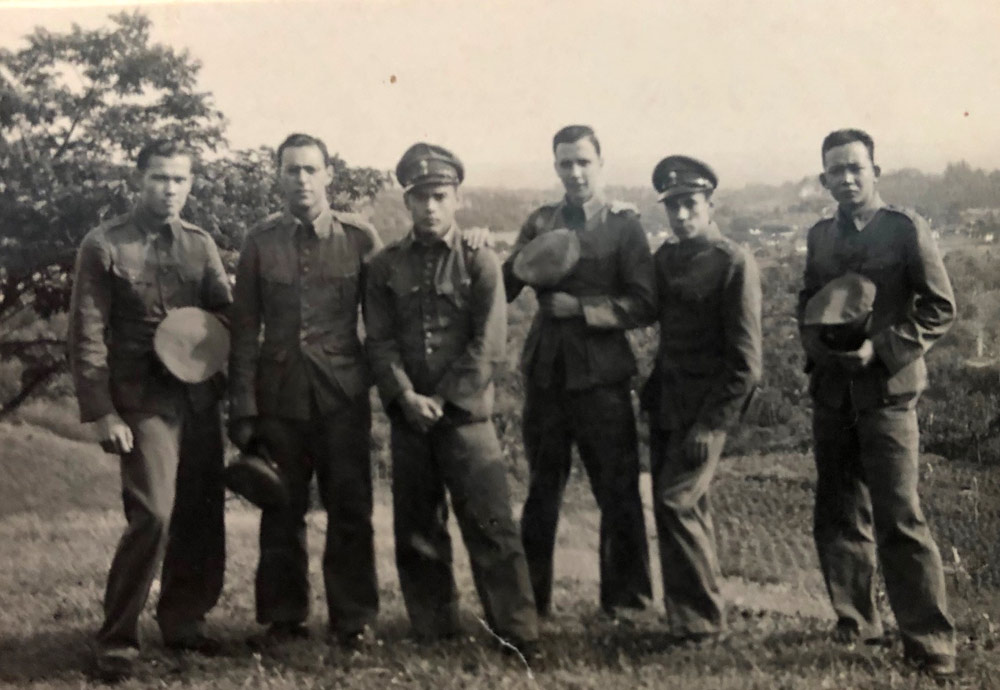 Military Service, 1941-2: Dick Speyer 2nd from left
Dad gave me a copy of his poem. I read the first two paragraphs but couldn't go on. It literally made me sick to read the words. It took me years before I finally could sit down and read through the whole poem. There are no words to describe the brutality of the treatment afflicted on these prisoners.
Recently my brother located another chapter among Dad's writings describing his experiences as a prisoner in the Japanese POW camps. I have yet to read this chapter but am determined to do so however difficult it may be to read. His Mother's partner, John Blitz, died in a civilian prison camp during the Japanese occupation of the Dutch East Indies.


After the war Dad and his family returned to Amsterdam. He met our mother Lea Valencia. They were married in Amsterdam in 1950. My mother and her parents were living in Amsterdam when the Nazi's took control. Mom was nine years old in May 1940. She and my grandparents were sent to Westerbork concentration camp in Holland around 1942 and were then transferred to Theresienstadt concentration camp where they remained for several years but survived. On returning to Amsterdam they found out that the rest of their family had died in the Holocaust. Willy (Wils) Polak-De Jonge, the daughter of Leo Polak who escaped on the Zeemanshoop, was also in Theresienstadt and survived. I wonder if they knew each other. Willy married Leonard de Jong and they had three children, Peter, Lucie and Elizabeth. Wils de Jong was 95 when she died in 2014.


Mom and Dad immigrated to the U.S. where Dad was offered a managerial position as a link between Haiti and U.S. owned mining operations in Haiti where they lived for two wonderful years.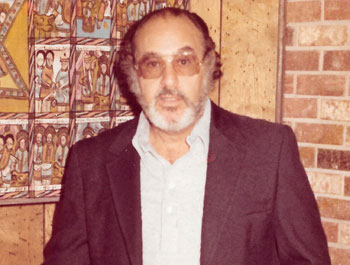 From there they went back to New York where I was born in 1953. Dad was soon offered another position at McKee Jungle Gardens in Florida. We moved to Vero Beach where my brother was born in 1955. I recently found a business card of my Dad's: "Dick" S.A. Speyer/ Manager Wild Animal Compound / McKee Jungle Gardens.
The portrait on the right was taken a Vero Beach in 1980 when he was 58.
Dad's interest in psychology started in the POW camps while listening to intellectuals (prisoners) discussing psychoanalysis and for a while they were privy to books that were smuggled into the camp. After the war Dad continued to follow up this interest and eventually received his degree in psychology and psychotherapy.
From Vero Beach we moved to Miami where Dad worked as a psychology advisor for a company in Miami. The company's area stretched from Atlanta to Havana. During this time Dad also consulted with individuals who were troubled with personal and family problems that were affecting their jobs.
My parents divorced when my brother and I were quite young. He continued his interest in psychology, trying to find a way of helping people resolve their issues more quickly than by conventional methods.
He traveled and lived in many parts of the USA and also in Europe, Africa, Asia, South and Middle America working in positions that required his knowledge of psychoanalysis and where he could further his research on human behavior.
That led to Dad developing his own 10 day neuro-psychotherapy method about which he wrote several books in Dutch and English. Persons could be helped via self-help therapy or via a therapist who was taught the Speyer Method. His method is essentially for normal people with emotional problems due to something happening to them as a young child that affected them through life.
His method was introduced to the University of Leiden in 1973 by Professor Bastiaans. Dad eventually had several clinics in Europe and the States that were using his method for their patients.
As my dad aged he became less involved in his therapy method and left that up to his followers.

He returned to Amsterdam where he passed away in February of 2000, three weeks before his 78th birthday.
As told by Simon Speyer's children:
Bonnie Rosita Speyer-Lively and Terence David Speyer

---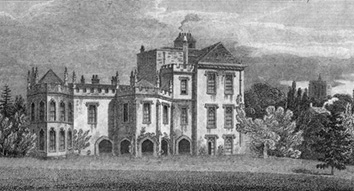 Holywell House Publishing
88 Holywell Hill, St Albans, Hertfordshire AL1 1DH, Britain
http://holywellhousepublishing.co.uk
Telephone: +44 1727 838595
contact online
---