The story of HMS Venomous
Sub Lt Miroslav Stanley Lansky RNVR
Part 3: HMS

Venomous

and the surrender of German naval forces at Kristiansand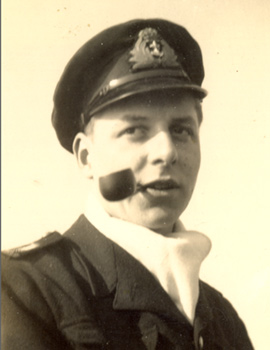 After survivors leave Sub Lt Miroslav Lansky RNVR was posted to HMS Venomous at Rosyth on the 20 February 1945 in response to a puzzling but urgent request for an officer who could speak Russian. Venomous was an elderly V & W Class destroyer built in 1919, twenty five years before HMS Cassandra. Stripped of most of its armament and with one of its two boilers (and funnels) removed she had spent a dull six months in the Irish sea towing targets for Barracuda aircraft based in the Isle of Man to attack with unarmed torpedoes before nearly being lost with all hands in a hurricane on the East coast of Scotland.

Lt Cdr Arthur Guyon Prideaux RNVR had replaced Lt Cdr Derek Lawson RNVR, both lawyers in civilian life, as the commanding officer of HMS Venomous on the 6 February 1945 and Miroslav joined his new ship on the 20 February, replacing Sub Lt Wilfred Beckerman RNVR whose alertness helped save Venomous from disaster during the east coat hurricane. There was also a new "No. 1", "Jimmy" Blair who replaced Greenaway and was surprised to find himself at thirty-one the youngest officer in the wardroom.
Miroslav had joined an elderly V&W Class destroyer destined for the breaker's yard but she had one more mission to perform. Germany formally surrendered on the 8 May 1945 but the German Naval Commander in Norway would only surrender to the Royal Navy. The decision was taken to send destroyers from the Rosyth Escort Force to accept the surrender of German naval forces in four coastal towns: Stavanger, Bergen, Trondheim and Kristiansand South. There was a lot of competition amongst the commanding officers to be selected by Captain Ruck Keene, Captain (D) of the Rosyth Escort Force, for this last wartime mission, Operation Apostle. Lord Teynham, appointed as Naval Officer in Command (NOIC) at Kristiansand, briefly commanded HMS Venomous in 1942 and may have used his influence to see Venomous was selected along with HMS Valorous to go to Kristiansand South on an inlet off the Skagerak the strait between Norway and Denmark.

The photograph on the left is dated June 1945 on the reverse

.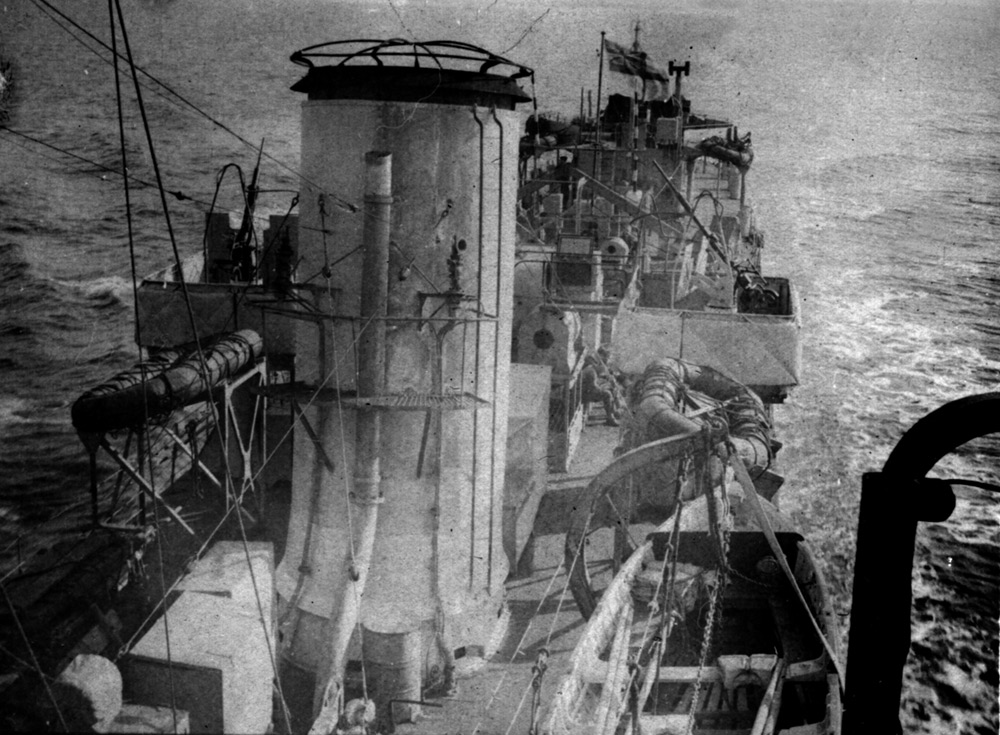 HMS

Venomous

in the Irish Sea in 1944
Courtesy of Caroline Turner, daughter of Lt Cdr A. Derek Lawson RNVR
Lt Cdr Prideaux was born in Colombo, Ceylon, and returned to Britain with his mother and two unmarried sisters in 1939 and joined the Royal Navy. His 300 page memoir of his wartime service in the Royal Navy Museum contains the most detailed description we have of this "final chapter" in the life of this elderly V & W Class destroyer.

Derek Lawson was a keen photographer who owned a Leica and his family album contains photographs of the officers under his command.Most remained with Venomous when Prideaux took over as CO. They were all RNVR with the exception of my father, Lt(E) William R. Forster RNR, a Chief Engineer in the Merchant Marine, who described the ship's engines as "shot" and needed all his twenty years experience as a marine engineer to keep them running. There were three lawyers in the Wardroom, Prideaux himself, Derek Caudle and Martin. Thorp was a bank manager in Lancashire.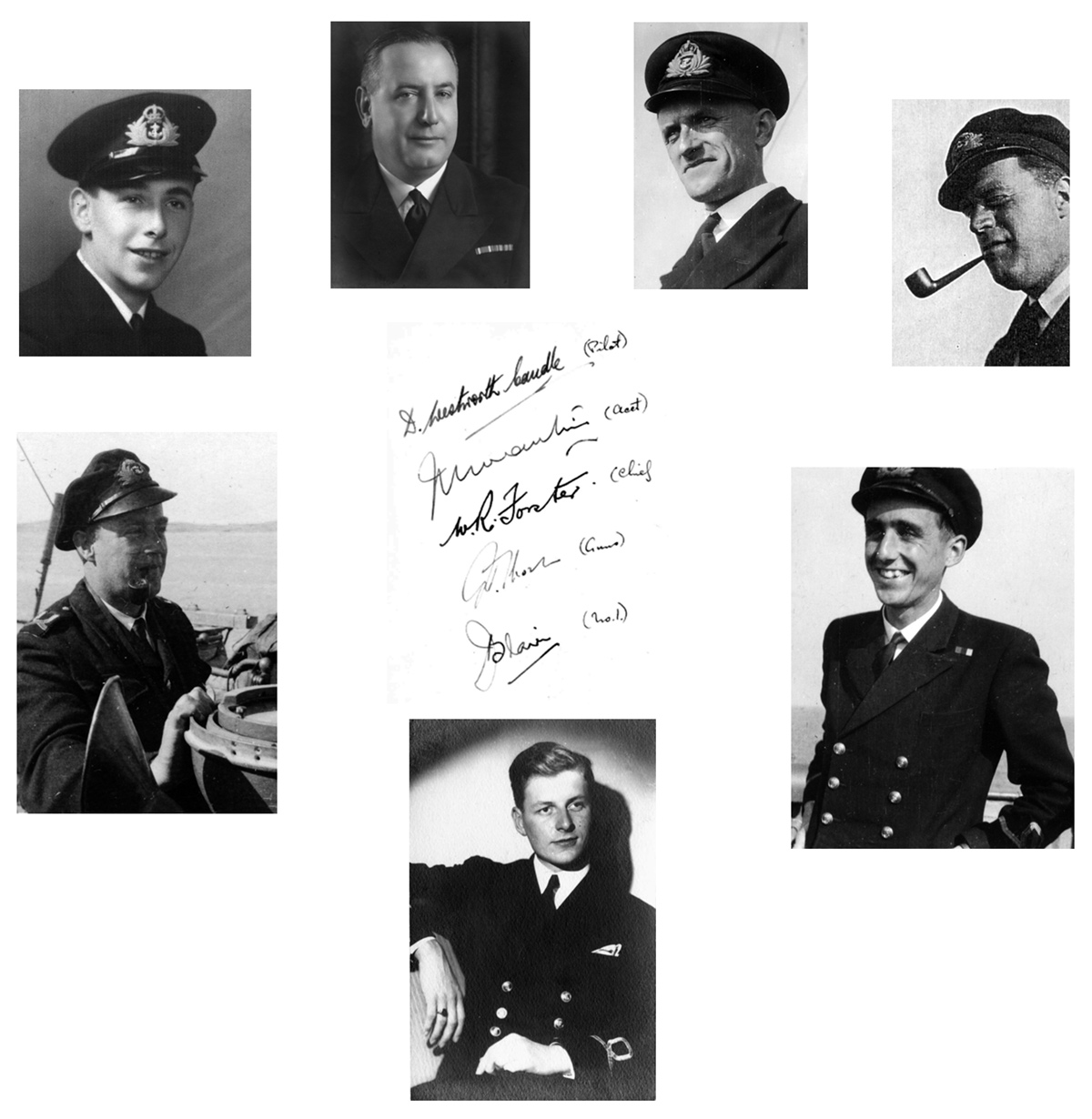 The officers on HMS Venomous at Kristiansand
From top left: Jimmy Blair (No 1), W.R. Forster (Chief), Martin, Prideaux (CO), Thorp (Guns), Caudle (Pilot), Mirolslav Lansky (centre)

To find out about the officers on HMS

Venomous

when it accepted the surrender of German naval forces click on the links below:
Venomous loaded supplies into the space freed by the removal of one of its two boilers, took onboard a number of non naval personnel including Marines, Army and Leading Aircraftsmen (RAF), embarked German pilots to conduct them through the coastal minefield and left Rosyth in company with Valorous and accompanying minesweepers on the 12 May. The two destroyers reached Kristiansand's large natural harbour on the afternoon of the 14 May and were greeted rapturously by boatloads of Norwegians who clambered aboard. In later years a young Norwegian recalled the atmosphere:

"To anyone who was not there it is impossible to understand what the sight of these ships meant to the Norwegian people of the town, and for me it is impossible to describe the enthusiasm that greeted the ships and ships' companies - it was all joy."

The events of that day made a big impression on the officers and crew of Venomous: children tasting chocolate for the fist time and more mature visitors emptying the wardroom's supply of Scotch, young Norwegian women making a sailor blush when directed by his shipmates to where he was bathing, the handsome lady leading the official welcoming delegation who embraced Lt Cdr Prideaux RNVR to the delight of his men made a fitting end to five long weary years of war.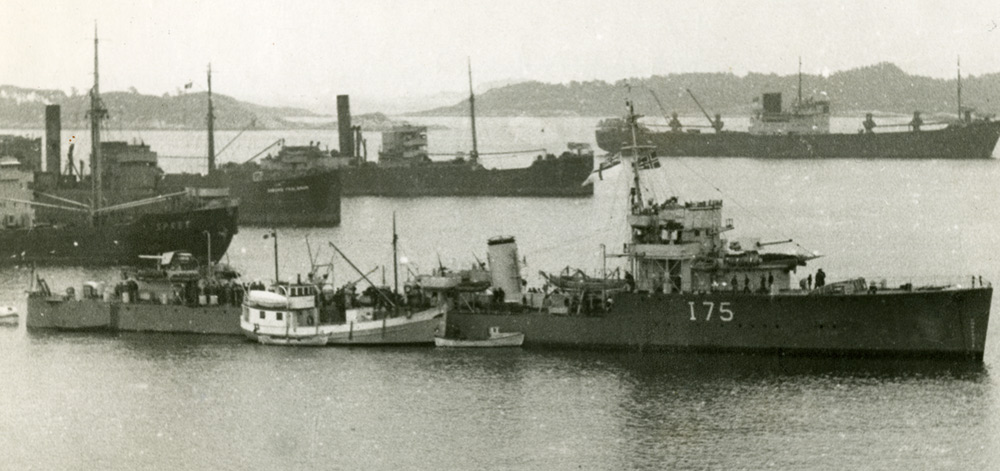 HMS

Venomous

(I75) moored in the harbour at Kristiansand on the 14 May 1945
The Norwegian flag and the White Ensign are flying at the masthead and a fishing boat is moored alongside with a boatload of visitors
Can anybody identify the German merchant ships?
The photograph is from the collection of Robert J Moore
The first surrender ceremony was held aboard HMS Valorous on the day the destroyers arrived and the following day AB Fred Mercer was sent in the ship's whaler to bring the Admiral from the Marvika U-Boat base to HMS Venomous for a second ceremony. It was the proudest moment of Fred's life when the Admiral congratulated him on his seamanship. Several officers acquired Mauser's, the standard handgun of officers in the Kriegsmarine. Sub Lt Miroslav Lansky RNVR taking a stroll through the small town of timber buildings met a "terribly shy figure", a "decent looking soldier" with the rest of his platoon hanging back behind, who handed over his two hand guns as a symbolic act of surrender. Miroslav still has them today. His German came in useful but the Russian he picked up while stranded in Murmansk after HMS Cassandra was torpedoed was not required. There were thousands of starving Russian POWs in camps at Kristiansand and one was smuggled aboard by a rating and fed with food from the ship's Galley but Miroslav was not asked to act as an interpreter.

HMS Venomous was ordered back to Rosyth after two days but her sister ship, HMS Valorous, with Lord Teynham aboard and commanded by Lt Cdr J.A.J. Dennis RNVR remained at Kristiansand for three weeks. Fred Mercer also stayed behind and returned on one of the German U-Boats with a Royal Navy crew. Venomous left on the 17 May, Norway's National Day, as the bands were striking up for the parades in which the officers and men of HMS Valorous marched with the SAS unit commanded by Brigadier "Mad" Mike Calvert. Some months later the officers and crew of Venomous and the other Royal Navy ships sent to Norway were presented with a handsome scroll signed by King Olaf thanking them "for restoring Freedom to our Land".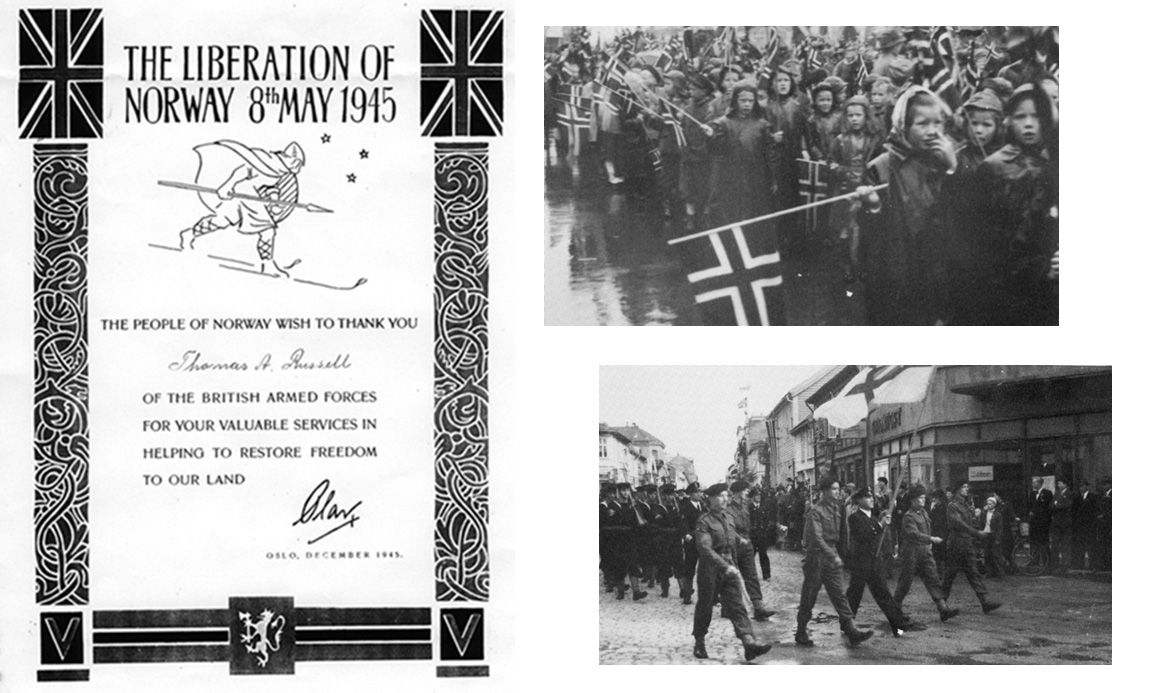 Soon after Venomous returned to Rosyth she was towed up river to Grangemouth, flooded and left in the shallows no more than a hulk with Lt(E) William R Forster RNR as the sole officer aboard. The breakers yards were busy and it was November 1948 before she was scrapped at Charlestown. Her name is kept alive by the Sea Cadet unit at Loughborough, TS Venomous.

The officers and crew of HMS Venomous transferred to HMS Havelock which took over from Venomous towing targets for Barracuda aircraft to attack with practice torpedoes. The war in Europe was over and attention shifted to the war in the Pacific against Japan. The ability of the young Sub Lieutenant with the foreign sounding name to master obscure languages had been recognised and in July the Admiralty sent him to the US Navy's Japanese language school at the University of Colorado. At its peak there were 600 students and 125 teachers, mostly women born in the US of Japanese parents. For most students this was the most intense period of study of their lives. The murderous schedule focussed on reading, conversation and dictation - including Japanese calligraphy - and they faced a three hour exam at the end of every week. The atom bomb and the surrender of Japan brought an end to his studies at the University of Colorado and he returned to Britain, a drab country after America, and was discharged from the Royal Navy in March 1946.


On returning to Britain and being discharged from the Navy he resumed his studies at Oxford and as a former serviceman was allowed the flexibility to complete his degree in two years. His tutor, John S Fulton (1902-86), later Lord Fulton of Fulmer, became a prominent public figure. Britain seemed dreary and sad after America and faced years of rationing and austerity. He enrolled for a post graduate course in international affairs at the University of Virginia - and persuaded his parents to join him in the States. They had never applied for British nationality and were still registered as aliens. They had left Czechoslovakia in 1920 within two years of it being created by the Allies at the end of the Great War and had seen it swallowed up by Nazi Germany and then by Stalin's Soviet Union. Although they retained their Czech passports Olga's would expire in March 1948.

His father had five brothers, all living in the States. Emmanuel and Vlasta Lansky had emigrated in 1923 and lived in Cicero (best known as the town where Al Capone and Frank Costello operated in the prewar Prohibition era) near Chicago with their three children and were willing to sponsor Joseph and Olga's application for US Citizenship. Miroslav traveled in style to New York on the Queen Elizabeth on the 16 September 1947 not long after graduating and his parents, Joseph and Olga Lansky, flew to New York two days later. Miroslav lived with overseas students at the University of Virginia's International House on the Campus at Charlotteville.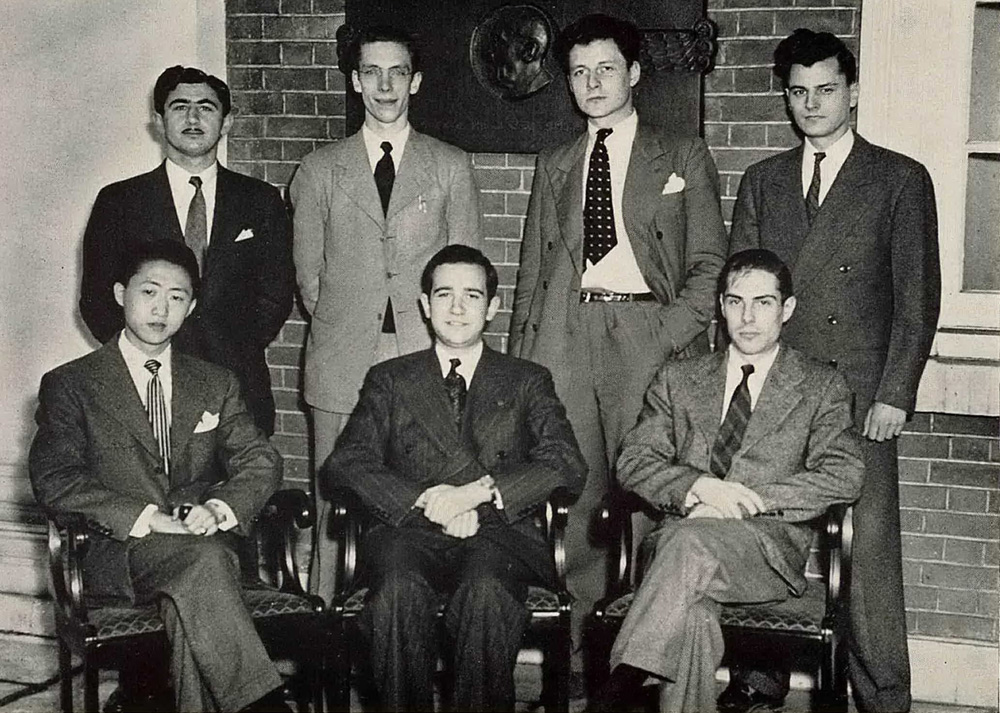 The Student Committee of the University of Virginia's International House, 1948


Rear row: James Deen (Lebanon), J.R. Slotemaker de Bruin, (Holland) Miroslav S. Lansky (Czechoslovakia) and Oliver Chalifoux (Canada)
Front Row: Sidney Chang (China), Emanuel Marcoglou (Greece), Frank Parlier (France)
Bur Lansky was, of course, British and retains his British citizenship to this day.
From

Rotunda

, the University's magazine

Miroslav continued to study Russian, a potentially useful language during the Cold War. He had hoped that studying international relations would help him secure a job at the UN, but found that little importance was given to that subject. In order to earn a living he took a job for a time with the Arthur Murray School of Dancing in New York. He loved classical music and the opera and frequently went to the Metropolitan Opera House. He was also very interested in the stock market.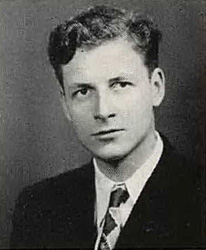 His parents, Joseph and Olga, bought a large house in fashionable Long Beach in New York state. His Mother took a close interest in his social life and wrote to him offering advice on his choice of girl friends. He was a good looking self assured young man who did not take life too seriously and must have found it unsettling to be questioned about the girls he took out. He had a Chinese girl friend, Ihming (Ming), whom Olga strongly disapproved of, but with whom he remained good friends. He tried to learn the Chinese characters through a system of cards which he carried around everywhere but he never became completely fluent in Chinese. Then, as his daughter Tamara explained, "he put his name down for the UN Translators' exam which he took in French and Russian and got first place and he joined the United Nations as a translator in 1955. Olga was overjoyed - finally her son had succeeded in joining the UN. Now she was going to make sure he married the right woman!"

In 1957 he was sent with a team from UN New York to cover a regional meeting of the Economic Commission for Latin America at La Paz, Bolivia, and met a young English woman from Bolton, Evelyn Neary, whose parents had moved to Lima to manage a cotton mill during the Depression. She described their first encounter when "this gorgeous man" was dictating his translations to her. He was thirty two, ten years older than her. They eloped and got married within two weeks without notifying his parents and Olga was presented with a fait acompli.

In 1958 he was transferred to the UN Economic Commission for Asia and the Far East in Bangkok, Thailand, where two of their three children were born. The contrast could not have been more extreme. "There were only a handful of hotels and the one we stayed at when we first arrived - the Rattanakosind - was near the main Bangkok market and one of the more important temples, the Reclining Buddha. The bathroom consisted of a huge earthenware 'ong' full of water with a scoop to slosh water over oneself - very satisfying in that heat. The toilet, a hole in the floor, seethed with mosquitoes. There were bedbugs - my only ever encounter with those creatures" (Evelyn Lansky).

"He spent his spare time and money chasing insects, putting them to sleep in chloroform and then pinning them in boxes. We have one of the most amazing collection of what must now be extinct species of butterflies, beetles and spiders!" (Tamara Lansky). "We had a series of exotic pets - particularly a couple of gibbons - and he made a vast number of 16 mm movies of everything. Mark was born in December 1959 and learned Thai words and little songs from the Thai nursemaid and the cook, and the Latin names of insects and butterflies from his father before he was two. Tamara was born in 1961 just before we left for Geneva" (Evelyn Lansky).
They returned to Europe when he joined the United Nations Office in Geneva (UNOG) just after
Tamara was born in 1961
and their second daughter, Alexandra, was born soon afterwards. The
children grew up in a renovated farm house at Fillinges about sixty miles south west from Geneva. He took a great interest in both cooking and gardening but his taste in food was not always shared by the family: "He cooked such weird things: tripe, and kidneys, and stuff like that. The worst was brain. He loved the taste and texture of brain, we did not like it one bit! Can you imagine as a nine year old being served brain? He spent most of his free time gardening and walked at least twice a day, every morning and afternoon, in the woods, fields, wherever he could. He loved to go mushrooming, and that is a skill he did transfer to my brother and myself" (Tamara Lansky).


Joseph and Olga left the States soon after the family moved to Fillinges and bought a villa on the Mediterranean coast of Spain at Malaga which they named

Villa Olga

. Joseph Lansky (1893-1967) was 74 when he died at Fillinges in 1967 a few months before Olga (1888-1967) died of a heart attack at Malaga aged 78 while trying to sell their home.


Mark Lansky inherited his father's talent for languages. He studied Russian, Arabic and Chinese at Leeds University but gave up on Chinese as too much of a challenge. His sister
Evelyn worked at the International Labour Office (ILO) in Geneva and Mark also joined the ILO and is Editor of the

International Labour Review

.
Their youngest daughter, Alexandra Lansky, is an Assistant Professor in cardiology at Yale.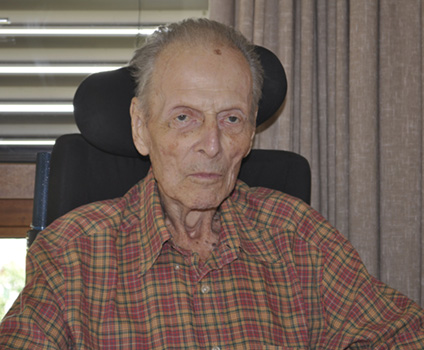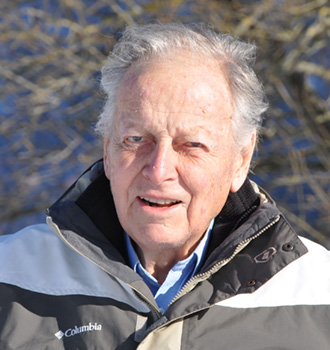 Miroslav spent the last few months of his life convalescing at the home of his daughter Tamara following surgery on a very badly fractured leg. I received the following message from his daughter on the 16 July 2014:


"Last night, at 1145 July 15, in the University Hospital in Geneva, my Dad took his last breath in this world. He was a wonderful and amazing person, with so many interests and passions, painter, poet, nature-lover, linguist, collector, traveller, teacher, who touched and inspired so many lives, across cultures, and time. We will miss him very much."

The photograph on the left was taken on the day he turned 89, the 19 June, 2014

,

and the one on the right in 2012

.
Both are courtesy of his daughter, Tamara Lansky.
Acknowledgments

Miroslav Stanley Lansky was the last officer alive who served on HMS Cassandra when she was torpedoed on the 11 December 1944 and on HMS Venomous when sher accepted the surrender of German naval forces at Kristiansand in Norway on the 15 May 1945. He was in poor health when I contacted the family and I relied on his wife, Evelyn Lansky, and daughter Tamara, to help me tell his story.

It did not seem appropriate to give a detailed description of events at Kristiansand since this can be read in A Hard Fought Ship: the story of HMS Venomous but details received since publication including Miroslav's own memories are given here and it is hoped that this will lead to further contacts with crew members of HMS Venomous. Lt Cdr Arthur Guyon Prideaux's unpublished memoir of his wartime service in the Royal Navy can be seen in the Library of the Royal Navy Museum in Portsmouth (Ref 1997.55).

All the V & W Class destroyers which survived the war went to the shipbreakers yards for scrapping soon afterwards but
the stories of the ships and the men who served in them are told on the website of the
V & W Destroyer Association
---
Holywell House Publishing
88 Holywell Hill, St Albans, Hertfordshire AL1 1DH, Britain
http://holywellhousepublishing.co.uk
Telephone: +44 1727 838595
contact online
---