The story of HMS Venomous
HMS

Hecla
- the last photographs
taken from destroyer escort
HMS

Active
by AB Tom Davis RNVR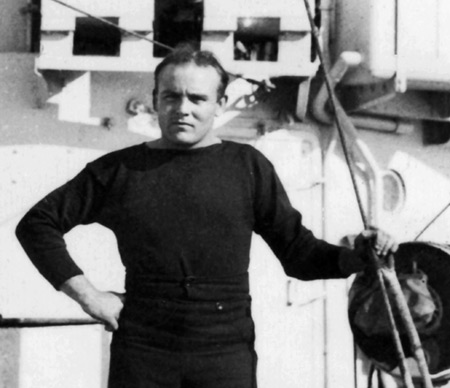 Tom Davis (left) was a member of the gunnery department and the ship's writer on HMS Active when he took these final photographs of HMS Hecla before it was torpedoed and sank on the 11 - 12 November 1942.

HMS Active was a destroyer escort for Convoy CF.7A which left Freetown for Liverpool on the 4 November. The convoy included the two destroyer depot ships, HMS Hecla and HMS Vindictive, which detached for Gibraltar on the 8 November and were being escorted by HMS Venomous and HMS Marne to take part in Operation Torch, the invasion of north Africa, when Hecla was attacked and sank by U-515. The photographs were, therefor, taken between the 4 and 8 November less than a week before Hecla sank.

Thomas Davis was born on the 22 May 1917 at Avonmouth and having been a member of the Sea Cadets as a boy was categorised as Royal Navy Volunteer Reserve (RNVR) when he joined the Royal Navy shortly before the outbreak of war. AB Thomas Davis RNVR (D/BDX 1679) served throughout the war on the 'A' Class destroyer, HMS Active (H14). His prewar employment as an office worker led to his appointment as ship's writer in addition to being a member of the gun crew.

He joined HMS Active, commanded by Captain Errol "Flash Alf" Turner, at Gibraltar in 1939 and as part of the 13th Destroyer Flotilla took part in fleet operations with capital ships, escorting convoys in the Atlantic and Mediterranean, anti-submarine sweeps, the 'stop and search' of neutral ships and enforcing the blockade by intercepting merchant ships returning to Germany. After a refit HMS Active escorted convoys between Gibraltar and Liverpool until June 1940 when it transferred to Force H and took part in action against the French fleet at Mers el Kebir in Algeria.

In August HMS Active transferred to Western Approaches convoy defences as part of the 12th Destroyer Flotilla and in November rescued survivors of the converted Armed Merchant Cruisers (AMC), HMS Laurentic and HMS Patroclus, torpedoed by Otto Kretschmer in U-99 off Northern Ireland's infamous "Bloody Foreland". After a two month refit at Liverpool HMS Active commanded by Lt.Cdr. Michael Wilfred Tomkinson RN, took part with the Home Fleet in search operations for the Bismark and in July provided cover for the disastrous Fleet Air Arm (FAA) attack on Petsamo in Northern Norway in support of our new ally, Soviet Russia. In August HMS Active escorted the first of the Arctic Convoys to Northern Russia, Operation Dervish.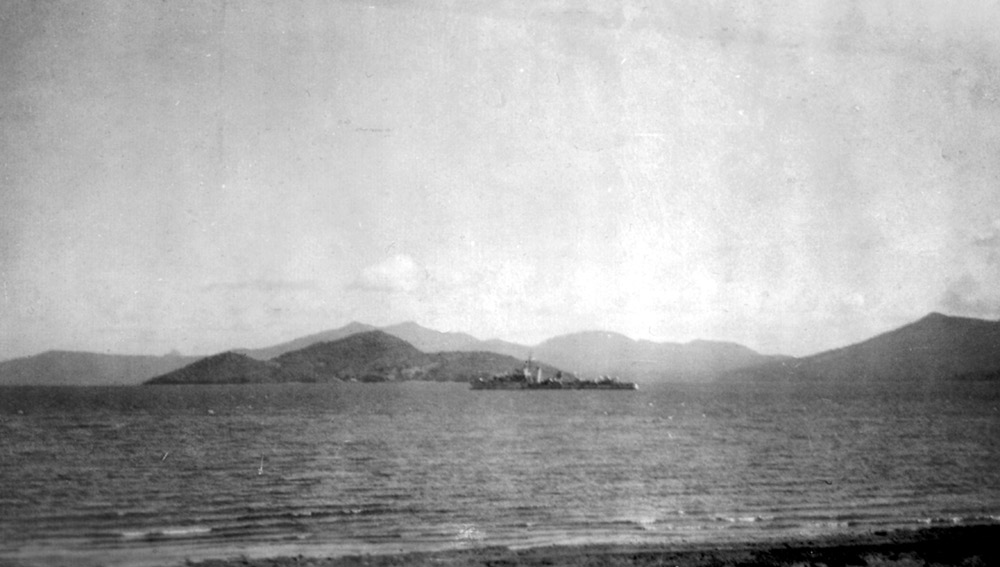 HMS

Active

photographed by Tom Davis off Madagascar
After a further refit in November Active was sent to Gibraltar as part of the 38th Destroyer Division but returned to the Clyde in February 1942 to escort Convoy WS.16 to fly off aircraft from HMS Eagle and HMS Argus to relieve Malta. On the 8 May, while supporting the alied invasion of the French colony of Madagascar to prevent it becoming a forward base for Japanese submarines, HMS Active sank the French Vichy submarine Monge, the first of four submarines that Active sank in the next eighteen months. On the 8 October 1942 she sank U-179 west of Cape Town and was returning to the UK with Convoy CF.7A when Tom Davis took these wonderful photographs of the two destroyer depot ships, HMS Hecla and HMS Vindictive, before they detached for Gibraltar and the invasion beaches off Algiers on the 8 November.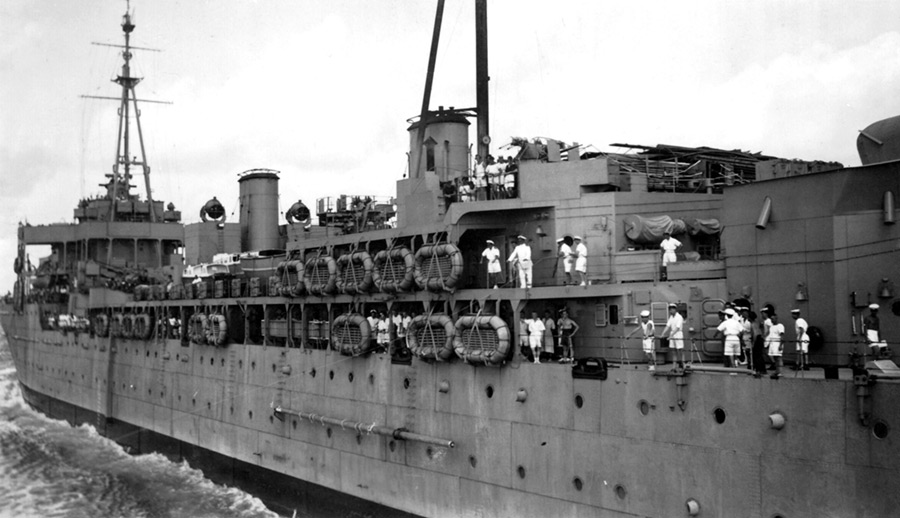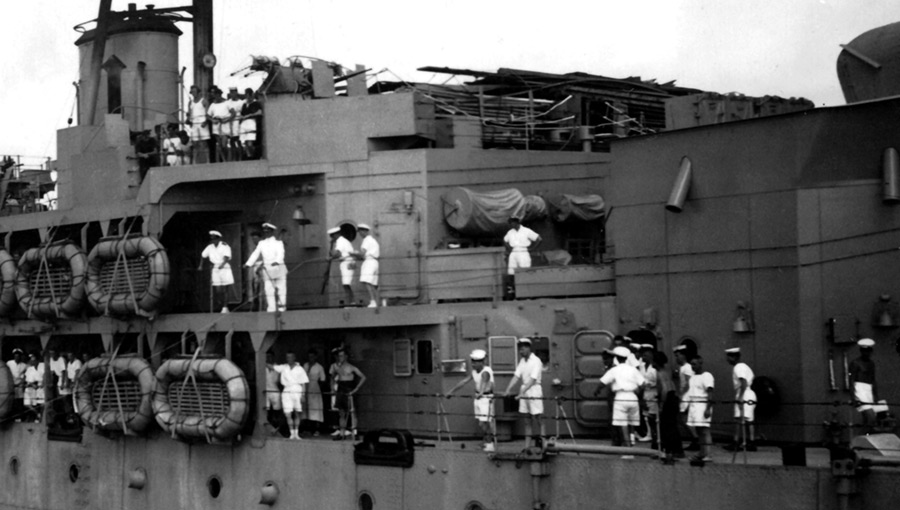 HMS
Hecla
left Freetown in west Africa as part of Convoy CF.7A and was photographed by Tom Davis. the ships writer on HMS
Active
The officers and ratings are wearing "smart whites, the rig of the day in the tropics" instead of the working shorts or overalls worn when steaming at sea (
Fred Lemberg
) so must have just left Freetown
Courtesy of Steve Davis, the stepson of Tom Davis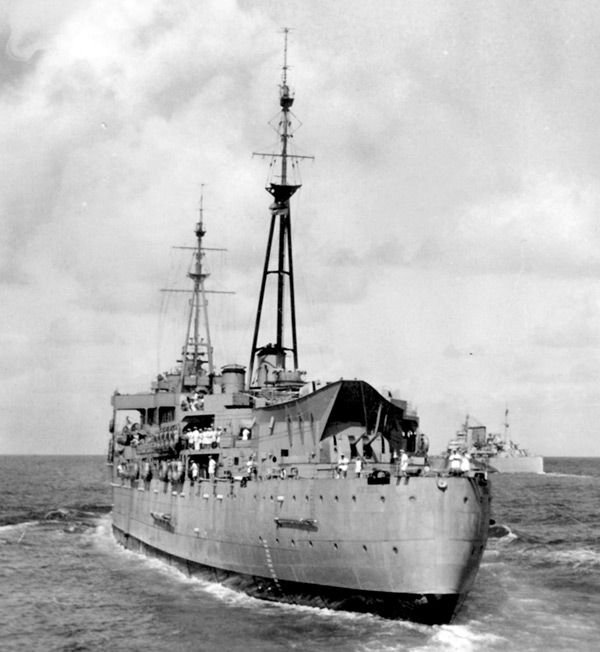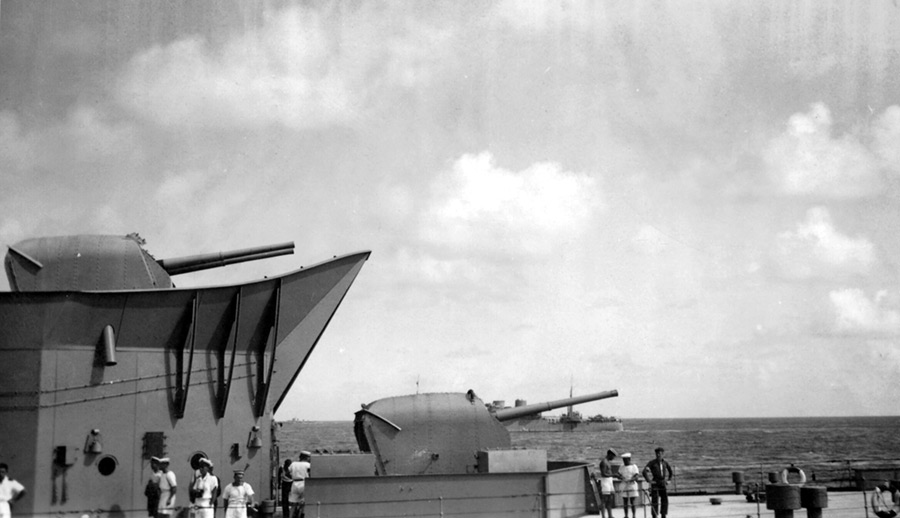 HMS
Hecla
left Freetown in west Africa as part of Convoy CF.7A and was photographed by Tom Davis. the ships writer on HMS
Active
The County Class cruiser, HMS
Shropshire
, is visible in the background
Courtesy of Steve Davis, the stepson of Tom Davis
Tom Davis also photographed the other much older destroyer depot ship, HMS Vindictive, commanded by Captain H.G.D. Ackland RN, the senior officer in command after the two depot ships detached from Convoy CF.7A and headed for Gibraltar. The navigating officer on HMS Hecla, Lt Cdr H.C.R. Alexander RN, blamed Captain Ackland's judgment for the disaster which followed.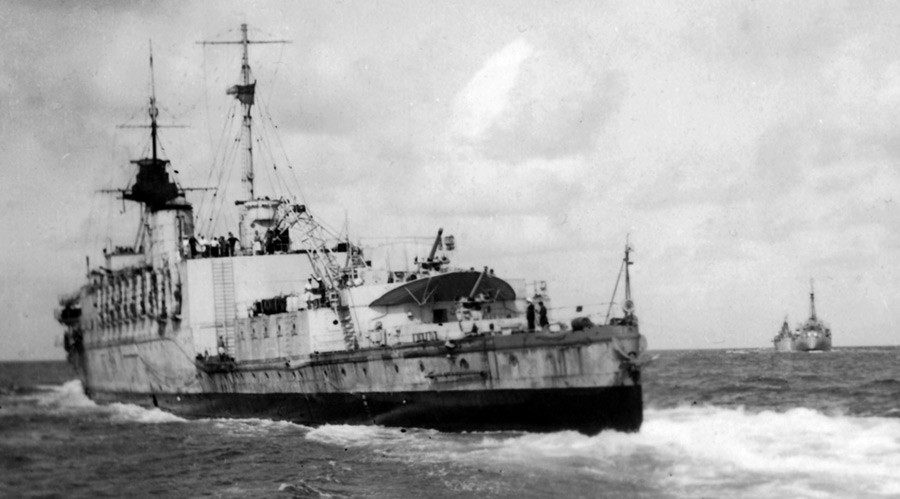 HMS
Vindictive
before she and HMS

Hecla

detached from Convoy CF.7A and headed for Gibraltar

Photographed by Tom Davis, a young RNVR rating on the destroyer escort HMS Active
On returning to the UK Active was under refit until April 1943 and Lt.Cdr. Peter Gordon Merriman RN took over as CO. HMS Active sank her third submarine, the Italian Leonardo da Vinci, on the 23 May off Finisterre and less than six months later on the 1 November sank U-340, east of the Spanish enclave of Ceuta in North Africa, and rescued all but one of her crew. After a further refit in the UK now with Lt. John Aylmer McClure DSC RN in command she rejoined the 3rd Destroyer Flotilla at Alexandria in January 1945 and took part in mopping up operations against German garrisons in the Greek islands, a quiet end to a highly successful war as a destroyer escort.

Tom Davis was released from the Royal Navy on the 14 November 1945 and HMS Active suffered the fate of most inter-war destroyers when she went to the breakers yard on the 7 July 1947.


Steve Davis supplied these scans of his stepfather's photographs and outlined his life after the war: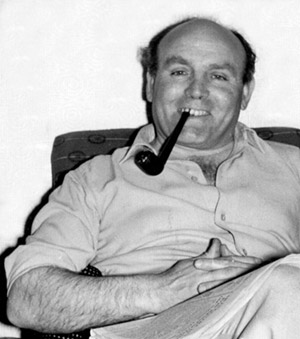 "HMS
Active
was a lucky ship but the stress of six years continuous service took a heavy toll on Tom Davis and at the end of the war he spent some months as a voluntary patient in Barrow Gurney Mental Hospital which had been requisitioned by the RN.
He began work as a docker on Avonmouth Docks but having trained in office-work prior to the War became involved with the Trade Union (TGWU), initially as Avonmouth Docks Branch Secretary, and finally as Bristol Docks Group Secretary, and Chairman of the Bristol and Severn Dock Labour Board. He was an unlikely Trade Union Official - did not believe in strikes, voted Conservative - and was solely concerned with improving the Dockers' employment conditions.
He married my divorced Mother in 1949 when I was eight years old. They had no children. My name was changed by Deed Poll, and I could not have had a better Father. He died on the 10 April 1977 in Bristol."

A Hard Fought Ship contains the most detailed account of the loss of HMS Hecla yet published
Find out more about the book and read reviews of the book.



Return to the"Home Page" for HMS Hecla
to find out more about its history and the stories of survivors


---
Holywell House Publishing
88 Holywell Hill, St Albans, Hertfordshire AL1 1DH, Britain
http://holywellhousepublishing.co.uk
Telephone: +44 1727 838595
contact online
---