The story of HMS Venomous
Commander J A J Dennis DSC RN
The Liberation of Norway: Operation

Conan



May1945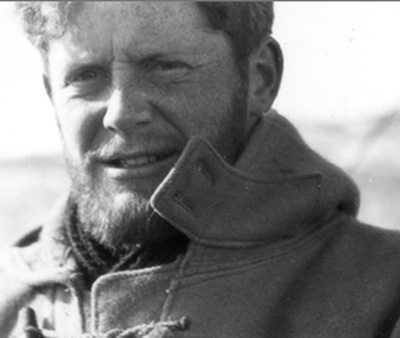 Alec Dennis is mainly remembered today as the young lieutenant on HMS Griffin who captured the secret papers from the German Q Ship Polares (disguised as a Dutch trawler) off the coast of Norway in April 1940 which helped crack the Enigma code.

John Alexander Jeffreys Dennis was born at Caversham, Reading, on the 18 February 1918, the son of a doctor, and went to Dartmouth as a cadet in 1931. He served on battleships and cruisers during the 1930s and on destroyers throughout the war. He joined HMS Griffin in January 1939 and took part in the Norwegian campaign and evacuations from the Netherlands and St Nazaire. In the Mediterranean Griffin escorted convoys to Malta and took part in the Battle of Matapan and the evacuations from Greece and Crete, where he won his DSC, and after Japan entered the war in the Indian Ocean. He became First Lieutenant on HMS Savage in February 1943, escorted Arctic Convoys to Russia and was Mentioned in Despatches (MID) in March 1944 for his part in the sinking of the Scharnhorst at the Battle of North Cape. In June 1944 HMS Savage supported the Normandy landings.

In December he was given command of the V&W Class destroyer, HMS Valorous, escorting East Coast convoys from Rosyth on the Firth of Forth to Sheerness on the Thames estuary. He married in January 1945, was promoted to Lt Cdr on the 1 May and MID for the third time on the 8 May for fighting off E-Boats attacking a convoy on the 21 February 1945. After the surrender of the German forces at Oslo on the 9 May HMS Valorous was one of eight destroyers selected to go to "entry ports" on the west coast of Normay as part of Operation Conan. HMS Valorous and HMS Venomous, were sent to Kristiansand South.

His wartime service is well documented in his unpublished memoir at the Imperial War Museum and on six reels of recorded interviews at the IWM made in 1988. He emigrated to Canada after the war, became a businessman in Montreal for ten years but turned down the offer of a seat on the board to retrain as a teacher and move to Vancouver. He was 91 when he died in 2008 leaving a son and daughter.
**** **** **** **** **** ****
Operation Conan was the Royal Navy's contribution to Operation Apostle, the occupation of Norway after the formal surrender of German forces at Oslo on the 9 May:
"On the 13 May, the Royal Navy initiated Operation Conan, sending two destroyers to each of the intended ports of entry, Oslo, Kristiansand, Stavanger, Bergen, Trondheim and Tromso and numbers of MTBs from Lerwick to smaller towns along the coast. The destroyers carried with them the naval officers in command (NOIC) of the various ports, naval disarmament parties and small elements of air and military staffs from Britain". British Policy and Strategy towards Norway; Christopher Mann (Palgrave Macmillan, 2012), page 209.

The entry ports and their NOIC were: Oslo (Capt C.R.V. Pugh RN), Stavanger (Capt R.St.V. Sherbrooke RN), Kristiansand (Capt Lord Teynham RN), Bergen (Capt B D Nicholson RNVR) and Trondheim (Capt J H Ruck-Keene RN). On the 12 May the Flag Officer Norway, Rear Admiral J.S.McL. Ritchie RN, left for Oslo with the cruiser HMS Devonshire, the minelaying cruisers Apollo (with Crown Prince Olaf on board) and Ariadne, and four destroyers (Iroquis, Savage, Scourge and Arundel). On the 13 May eight destroyers in the Rosyth Escort Force were sent to Kristiansand South (HMS Valorous and HMS Venomous with three Norwegian minesweepers), Stavanger (HMS Wolsey and HMS Wolfhound), Bergen (HMS Woolston and HMS Vivacious) and Trondheim (HMS Mackay and HMS Viceroy). Local surrender ceremonies were held aboard these destroyers of the Rosyth Escort Force in the harbours on Norway's west coast.
The events at Kristiansand were described by Dennis in his memoir and are reproduced here by permission of his son and daughter.

"Then word went around that the Rosyth Escort Force was to 'liberate' Norway, and there was much speculation about which ships would go. Being in Ruck-Keene's good books, I was lucky (so was Tom Boyd). On May 12th we embarked two or three tons of stores, some solders equipped with walkie-talkies and, eventually, Captain Lord Teynham, RN, who was to be the Senior Naval Officer, Kristiansand (South). Next morning,

Valorous

and

Venomous

(Guyon Prideaux) embarked a German naval pilot with charts of the minefields off the Norwegian coast, and off we set at 20 knots for Kristiansand. Early next morning. May 14th, we rendezvoused with some German minesweepers at the entrance to the swept channel and felt our way along the coast. We were, of course, at action stations, prepared for a nasty reception in case the local command wanted to go out in a blaze of glory. On the approach we could see some very large coast defence guns, reputed to have been taken from the

Scharnhorst

's sister ship the

Gneisenau

, which had been written off after mine and bomb damage. But everything went quietly as we entered Kristiansand fiord at 1800 to find a group of quite large camouflaged merchant ships at anchor, and a large number of U-boats, minesweepers and small craft at Marviken, around the corner. Hoisting a large Norwegian flag as well as our White Ensign at the fore and a Commodore's Broad pennant at the yardarm, I found a convenient anchorage not far from the jetty.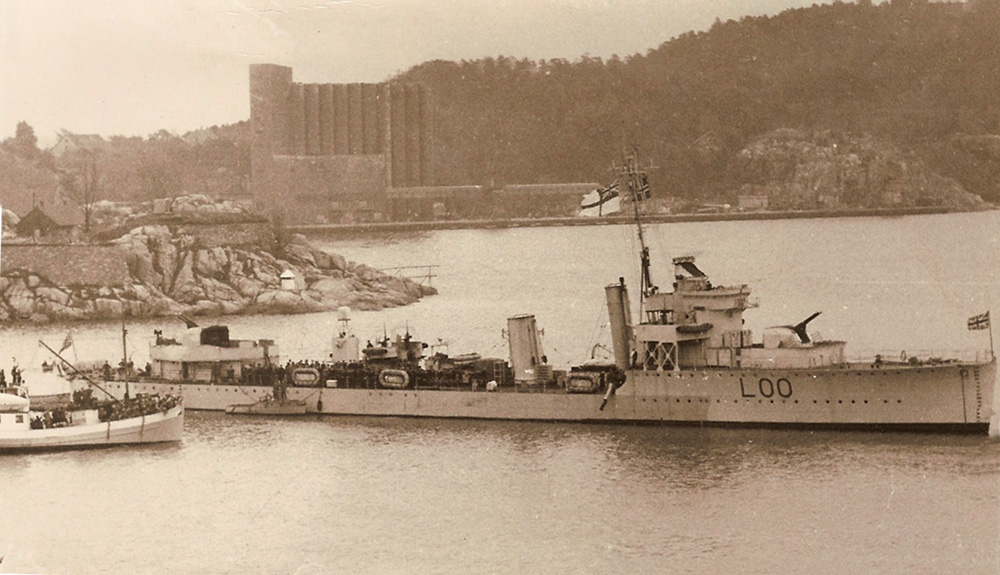 HMS

Valorous

, pennant number L00 ("Lucky Loo"), moored in the harbour with White Ensign and Norwegian flag at the mast-head

A Norwegian trawler crowded with visitors is coming alongside
Courtesy of Alan Dennis

Almost at once a stream of Norwegians appeared in small boats, giving us a pretty good welcome in rather a restrained Scandinavian way. I went ashore with Teynham, to get in touch with the powers that were - Norwegian, German or British. The latter consisted of a few hundred Special Air Service men, commanded by Brigadier Mike Calvert, long known as 'Mad Mike, with a distinguished record in the war in Burma. The SAS had been flown in about four days earlier and had already got a fair grip of the situation, though vastly outnumbered. It turned out that there was a division of German soldiers - some 15,000 men, a Lieutenant General, a Vice-Admiral with 26 U-boats, and no less that 40,000 Russian prisoners of war in a camp near by. The Norwegians were already rounding up the

Quislings

for summary justice, and cropping the hair of such ladies as had been over-friendly with the Germans. There were quite a lot of these and at one stage we received a rather presumptuous invitation from the U- boat base to meet some of them. No reply.

I didn't like to be away from the ship too long, so I returned on board, leaving Teynham ashore to make his contacts. In due course he returned in a Norwegian boat manned (among others) by some nice-looking blond girls. He asked them down to my cabin for a drink, together with some civic dignitaries.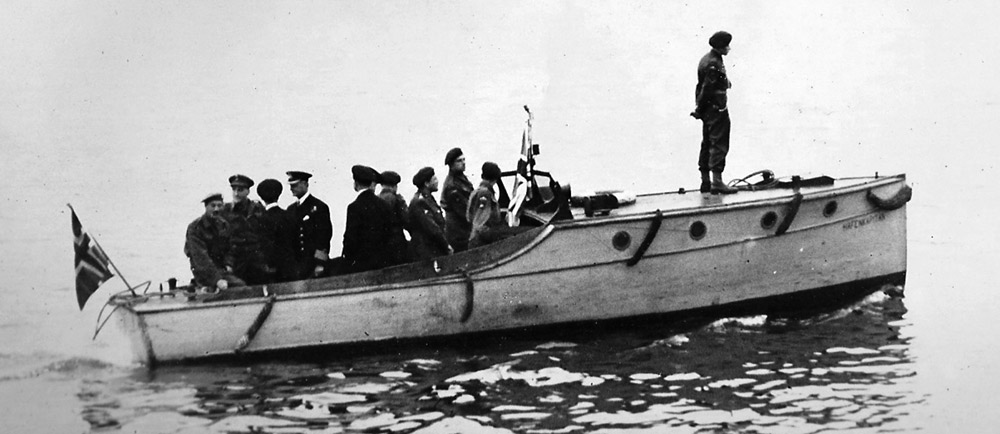 Lord Teynham, fourth from left,
goes ashore to "get in touch with the powers that be"

Courtesy of Alan Dennis



Surrender



Almost as an afterthought he told me that he had arranged for a German surrender delegation to repair on board in half-an-hour's time. This didn't give us much time to set up a suitable venue for such high-priced visitors, ex-enemy or no. Teynham thought they'd never make it on time, anyhow. But, being German, they were on the dot and I had to keep them kicking their heels on the quarterdeck while we cleared away the Norwegians, the girls, the drinks and the tables.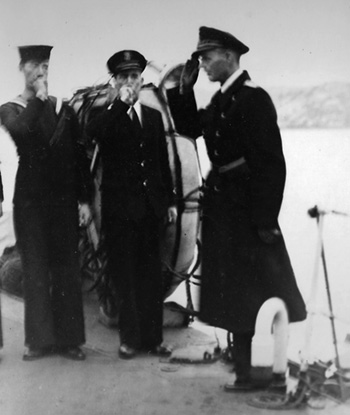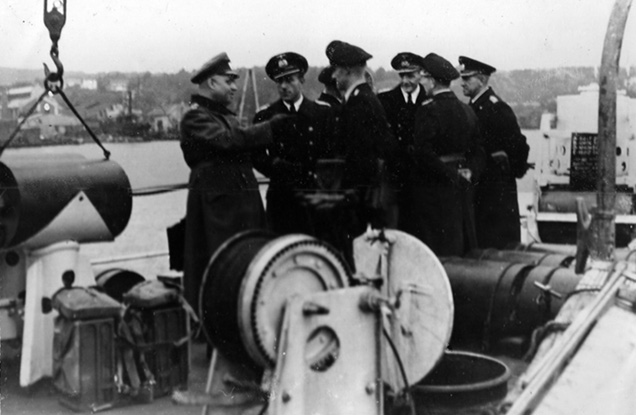 Officers of the Kriegsmarine are piped aboard (left) and kept waiting on the quarter deck (right) while the wardroom is cleared for the surrender ceremony
The officer in the greatcoat on the left in the group picture appears to be in charge and may be Captain Heinz Kiderlen, the naval commander for Kristiansand
Courtesy of Alan Dennis

It was quite a moment. The Germans were, as always, punctilious, correct, straight-backed, and poker-faced though clearly crest-fallen (mixed though the metaphor may be). There was no question of resistance and they were going to co-operate. Later we found that the Navy, at any rate, were half-expecting to join us against the Russians.

In general, as had already been arranged by Mike Calvert, the Germans were to ' keep their arms, take care of their own discipline while they evacuated the town and started on the road trip to Oslo and thence back to prisoner of war status in Germany. So off they went in their trucks and lorries. The SAS being clever people, set up a road block several miles out of town, and stripped them of all forms of "loot" — liquor, fur coats, binoculars, cameras and so forth. We lived for several days on champagne and liquor from all over Europe.

Next day we had a similar surrender meeting for the U-boat flotilla. There were 26 in all. I still have some numbers: U 281, 299,369, 712,1163 (TypeVII C): U 2321,2325,2334,2335,2337,2350,2353, 2354,2361,2363 (Type XXIII): and U 2529 (Type XXI). The Type XXIII and XXI were the very latest, streamlined and very fast underwater. We were indeed lucky that they had hardly been in service long enough to affect the war at sea."



Lord Teynham, NOIC Kristiansand, listed seventeen U-Boats in his report to CiC Rosyth on the 16 May 1945

U-2529 was a 1,600 ton Type XXI diesel electric U-Boat which transferred to the Soviet Union and remained in service until 1972
Lord Teynham's report has not been located and this brief entry is from the Admiralty War Diary (ADM 199/2318, 15/5 - 31/5 1945)

Lt J.A.J. Dennis and Lt Cdr A.G.A. Prideux were mistaken in believing there was a U-Boat base at Kristiansand
but there were seventeen U-Boats moored at Marviken across the bay from Kristiansand.
Captain Heinz Kiderlen had been appointed naval commander for Kristiansand South on the 6 January and may have been the senior officer at both surrender ceremonies.
The surrender ceremony for the U-Boats took place aboard HMS

Venomous

on the 15 May. Lord Teynham, Lt J.A.J. Dennis RN and the Norwegian commander Landgraff attended. Lt Cdr A. Guyon Prideaux RNVR, described

events and the ceremony
in his unpublished memoir in the
Royal Navy Museum (Ref. 1997.55
)
. AB Fred Mercer was sent in the ship's whaler to collect the "Vice Admiral", was complimented by him on his seamanship and stayed behind in Kristiansand after
Venomous
left for Rosyth and returned on one of the U-Boats.
The U-Boats were manned by submarine crews sent from Britain and
escorted by Royal Navy ships
but with a German crew member aboard to assist (except in the case of the Type XXIs e.g. U-2529 at Kristiansand). Operation

Pledge

planned their transfer from Norwegian ports to Loch Ryan in Scotland or Lisahally near Londonderry where they were laid up and then either
allocated to allies or
scuttled
in accordance with Operation

Deadlock
.

"I walked around some of them and was tremendously impressed with their equipment, their cleanliness and the high morale of the officers and men. This was indeed remarkable considering the appalling losses they had suffered (something like four out of five of all U-Boat men). They did have a superb rest camp set-up with nothing spared in the way of comforts — far better than anything we ever saw — and were treated as heroes, something that didn't seem to happen much at our end. They wanted to join us to fight the Russians whom they regarded as barbarians. I wonder whether they were aware of their own performance in the concentration camps. Our own SAS troops certainly were, having recently been through Belsen, which did not endear them to our present prisoners.

Thus we had no compunction in playing a rather dirty trick on them a few days later. Enough crews arrived from England to take the U-boats away. On the pretext of some announcement or other, all the German crews were got up on deck without warning. They were not allowed below again, and the boats in due course went off to the U.K. with no danger of being scuttled or destroyed, (c. f. Scapa Flow in 1919!). In fact, one went to the Russians, one to the Norwegians, the Americans and the British and the rest were eventually sunk in deep water off the Hebrides.

The Russian prisoners were another problem, fortunately not one for the Navy. 40,000 were a lot to look after. I never discovered who fed them. Many got hold of wood alcohol and drank themselves to death. German guards shot a few when they tried to break out. We were told that many had no desire to return to the USSR suspecting no doubt the fate, which waited them. But in due course they were cowed by the Commissars who wasted no time after being brought in, and I believe they were all returned to Stalin's cold embraces.


Kristiansand

The Norwegians were, naturally, pretty friendly. Once things settled down a bit and it was clear there would be no trouble from Germans or Russians we got little sleep. Norwegians only sleep in the winter, it seems. In a way it was hard being a recently married man. I liberated a monstrous BMW motorbike from the Germans and was able to get around the countryside a bit at the price of a few white hairs and knuckles. To tell the truth, running it on those curvy roads scared me rigid and I never got it up to full throttle.

The days were busy as we got things sorted out. But there were many parties in the evenings. One I particularly remember was a stag party at the SAS mess, which had been established on the top floor of a block of flats. There was a memorable gathering of wild men. Mike Calvert who had been a Chindit in Burma, blowing things up. Colonels Paddy Mayne, Esmond Baring and Miller-Mundy, all well known characters: and Roy Farran, a major who had once been Montgomery's ADC and after the war couldn't stop fighting and went to Israel (on whose side, I forget). I believe he later farmed in Saskatchewan, which should have cooled him down a bit. There was a lot of champagne and lobsters as usual. In some juvenile horseplay, Calvert got a large black eye, which he had to take to call on the General in Oslo the following day. I don't suppose General Urquhart minded. This was followed by some rowdy attempts to throw sandbags from the balcony onto a jeep far below. This turned out to be the Brigadier's. At this stage some sentries below, sensing a serious disturbance, fired a few shots. I retired to the inner sanctum.

It was about now that I got what was called a "Quasi-permanent" acting half- stripe, which at last lifted me out of the humble rank of Lieutenant. So many contemporaries in the other services were majors or colonels or wing commanders that it had become rather galling, especially as regards the pay, observing that many of us were in command of fair sized ships. The Admiralty were slow to do anything about it, reluctant, I am sure, to find themselves top-heavy after the war.

There were two other ceremonies of note during our stay. Norwegian National Day on May 17th was a great celebration during which we marched through the town with fixed bayonets and listened to long, incomprehensible speeches followed by some splendid parties late into the night.


| | |
| --- | --- |
| | |
The 4 inch
twin barrels of "A" Gun
point menacingly at the peaceful crowd (left) and the White Ensign is held aloft as the crew parade on Norway's National Day (right)
Courtesy of Knut Męsel (left) and Alan Dennis (right)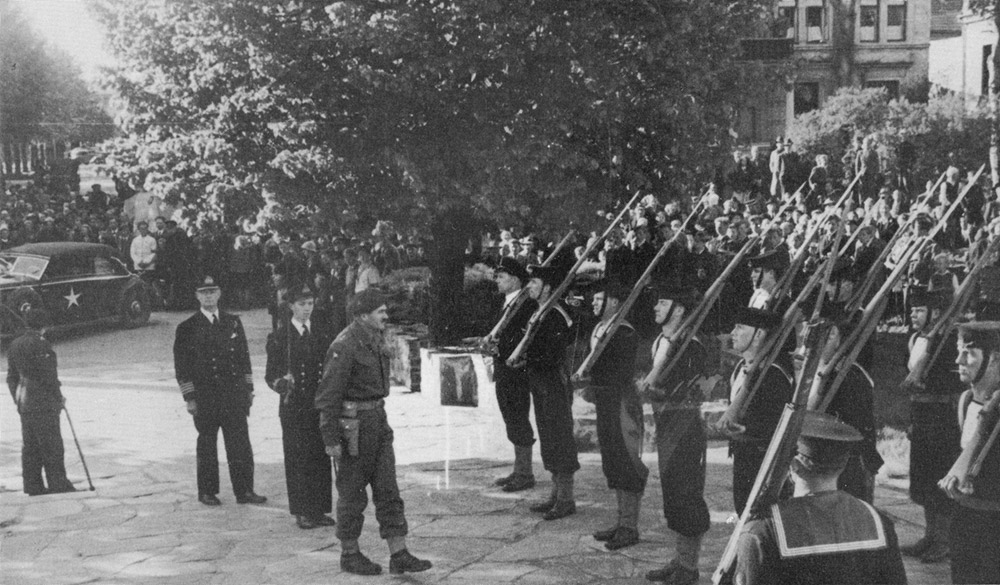 General Urquhart and Lord Teynham, NOIC Kristiansand, inspect ratings
on Norway's National Day
From
A picture book of Kristiansand: Southern Norway in War and Peace, 1940-45,
edited by Erik Lauritzen (Prolibro, 1988).

Then there was the funeral of some German soldiers whose car had overturned on a bend in the road. It was very well done by the Norwegians at a little, simple chapel with a violinist playing some haunting music from Grieg. That tune stays with me still. We all felt sad for those fellows who had survived everything else. Otherwise one hadn't much sympathy for the rest of them as one walked around the various barracks and posts, littered with the debris of a defeated army and smelling as always of stale cigar smoke. I picked up a Luger and a radio as a bit of loot. The radio never worked very well and eventually I threw away the Luger, which I could see no use for. It would fetch a good price today.

On May 26th we left Kristiansand for Bergen, having embarked our friends the 2nd SAS. Starting at 0300, the trip took all day and was most enjoyable. The fiords were lovely although some of the channels were tricky. Next day, it was back to Kristiansand. I was glad to be back as I had made some good Norwegian friends there, especially Asbjorn Asbjornsen, with whom sadly, I have lost touch."


Alec Dennis' memoir of his wartime service in the Royal Navy in the library of the Imperial War Museum in Londonwas published in November 2017 as

Action with Destroyers 1939-1945:The Wartime Memoirs of Commander J A J Dennis DSC RN
;
edited by Anthony Cumming (Pen & Sword Maritime, 2017). ISBN 1526718499
Officers on HMS
Valorous
at Kristiansand
| | |
| --- | --- |
| Lt. J.A.J. Dennis, RN - Commanding Officer | Surg Lt C.R. Redwood RNVR |
| Lt. A.E.P. Deane, RN - First Lieutenant | Sub Lt S.E. Brine, RNVR |
| Lt R.W.Wallis, RNVR - | Sub Lt R.K. Wylie, SANF |
| Lt G.F. Pettit, RNVR - | Sub Lt(E) J. Bedford, RNVR |
| Lt(E) W.F. Galletly, RN - Engineering Officer | |
John Garforth's story ...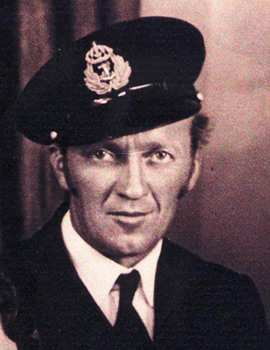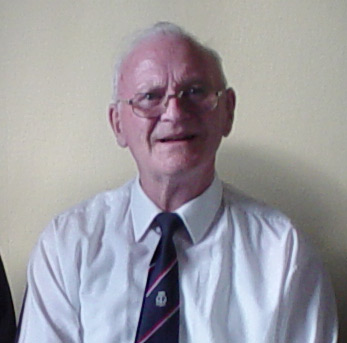 A young seaman, AB John Garforth, was lookout on the bridge w
hen HMS
Valorous
entered the harbour at Kristiansand South on the 14 May 1945. Once moored he
went down on the "iron deck" (amidships) to look at the boats drawing alongside, their passengers calling out greetings and asking for cigarettes, chocolates, and other luxuries not seen for years.

As he leaned on the guard rail a launch drew alongside and a one handed man with a gun at his waist leaped aboard and headed for the wardroom. John chatted with his secretary, Kari, who was
having a drink
in the cabin and she explained that
he
was a leader of Milorg, the Norwegian resistance, who went by the name of Greggo Greggersen. I was told by Greggo's son that his father's real name was Gunnar Arnfinn Gundersen (on left) but not even Milorg knew this. He had escaped to England, been trained by the Kompani Linge and worked for the SIS. H

e had made about fifteen trips from Peterhead or Shetland to the West coast of Norway
by fishing boat
. At the end of April he came from Stockholm by fishing boat and was landed at Hovag near Kristiansand to organise a sabotage campaign code named

Polar Bear

. Milorg had given him eighty men and by the time the two British destroyers arrived he had taken control of the harbour. When Greggo returned to the launch John was invited to join them for a drink in the cabin and encouraged to visit them ashore.
As soon as HMS

Valorous

had berthed John Garforth and two ratings were sent to man a telephone exchange at a communication centre abandoned by the "Stappo" (state police) at 30 Festningsgaten to provide communication for the military and civil authorities. They were joined by a soldier from a Welsh regiment of Engineers who shared their watches. Paddy Mayne, a "huge bloke with a ginger beard", and the officers of the 1st SAS (Special Air Service) Regiment occupied an upper floor and held wild parties every night, dropping the empty bottles out of the window.

John organised a dance at the

Soldatenheim

, the social centre for German troops, with music provided by a gramophone found in the basement and records from

Valorous.

Greggo was there with friend and Karli, his secretary, and John joined them afterwards on his launch and they went up the fjords drinking. John was proud to have also organised the first football match between a team from HMS

Valorous

(see below) and a team from Milorg, the Norwegian Resistance, on the local sports ground known as "Idda" (Idrettsplassen). The visitors won 3-2 in front of a crowd of 1,500.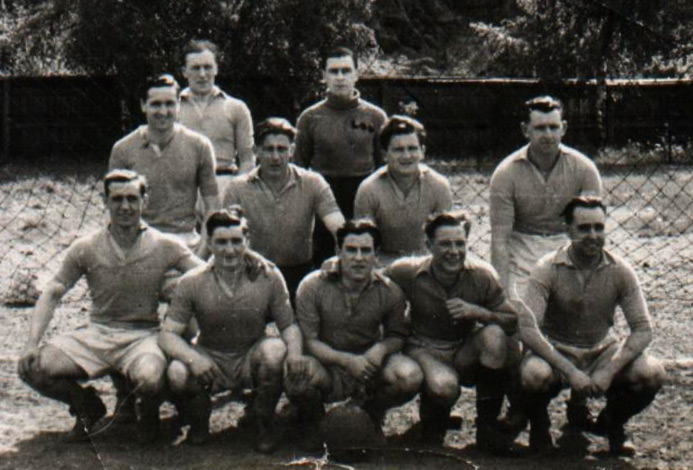 John Garforth was in Kristiansand for three weeks before rejoining HMS

Valorous

to return to Rosyth and in 1990 returned there with many other veterans and met some of the many friends he made. On a later visit in 2006 he met one of the members of the Milorg football team, Per Rosanda, and recalled that "our captain, a bloke called Dalglish, presented their captain with a bouquet of flowers, and I was surprised to be given orange juice after the match." He made many more visits to Kristiansand until his death in 2010 aged 85.


British Policy and Strategy towards Norway;

by Christopher Mann (Palgrave Macmillan, 2012)
The Royal Navy and German Naval Disarmament, 1942-1947; by Chris Madsen (Psychology Press, 1998)
En Billedbok fra Kristiansand: Sor-Norge i Krig og fred, 1940-45
(Prolibro, 1988)
Translation:

A picture book of Kristiansand: Southern Norway in War and Peace, 1940-45

,
edited by Erik Lauritzen (Prolibro, 1988).


Two eggs on my plate

; by Oluf Reed Olsen (Allen & Unwin, 1952)


Imperial War Museum
Bound copy of a 312 page memoir of Cdr J.A.J. Dennis RN (ID Number: 95/5/1)
Recorded interview with Cdr J.A.J. Dennis RN on six reels; reel five covers the liberation of Norway (ID No. 18378, 1995)



Internet




The Liberation of Oslo and Copenhagen: a Midshipman's memoir

; by C.B. Koester. The Norther Mariner / Le Marin du Nord 1993 3(October) 48-60.
Command structure for the German Kriegsmarine, North West coast of Norway
U-boats That Surrendered - The Definitive List; by Derek Waller and Dr Axel Niestlé
U-Boats that Surrendered - Operation Pledge; by Derek Waller
The U-Boats that Surrendered: Operation Deadlight; by Derek Waller
Norway's Liberation;
by Tom Dagre.
Commander Alec Dennis
; Obituary,

The Telegraph

, 20 July 2008.
---
Holywell House Publishing
88 Holywell Hill, St Albans, Hertfordshire AL1 1DH, Britain
http://holywellhousepublishing.co.uk
Telephone: +44 1727 838595
contact online
---