The men who were saved when HMS Hecla was torpedoed and sank off the north African coast on the 11 - 12 November 1942 formed the "HMS Hecla, HMS Marne and HMS Venomous Association" which held its first reunion at Stratford on Avon on the fiftieth anniversary of her loss in 1992.
Some left written accounts and Norman Johns, the Secretary of the Association, put me in touch with others who recalled their memories of that long night. The lengthy chapter in A Hard Fought Ship weaves together their stories with the facts given in the reports of proceedings written by the commanding officers and the memories of the officers and men of HMS Venomous. The publication of the previous edition of A Hard Fought Ship in 2010 led to me being contacted by survivors in Australia, Canada, New Zealand and the UK as well as by the families of some of those who died.

Norman John "crossed the bar" on January 3rd 2016, aged 92 years and the Association he formed no longer exists but the publication of the new edition of A Hard Fought Ship in May 2017 has led to further contacts with the families of the men on HMS Hecla 75 years after her loss on Armistice Day 1942. Whether they lived or died the events of that night changed their lives and the lives of their families.

R

obert Alan Lancaster, Acting Engine Room Artificer 4th Class MX75372





I was contacted by Beth Lancaster, his grand daughter, who bought a copy of

A Hard Fought Ship

as a Christmas gift for her father:





Robert Alan Lancaster was born at Starbeck, a large village three miles east of Harrogate on 28 April 1923. He was the oldest of three sons of an engine driver who had gone to East Africa with his family to work as a train driver for Tanganyika Railways leaving his eldest son behind. Robert Lancaster (all first born sons of the Lancasters were named Robert) had left school and started work as an apprentice fitter and erector in the locomotive works of the LNER at Doncaster. Bob was called up for service in the Navy when he was eighteen in 1941. From May - August 1941 he did his basic training to become an Engine Room Artificer (ERA)
at HMS

Drake

in Devonport, Plymouth,
and in September was drafted to his first ship, HMS

Hecla

.

Hecla

was a newly commissioned 12,000 ton Destroyer Depot Ship based at Havelfjord, Iceland, to repair and service the Atlantic escorts for the convoys which kept Britain supplied with food, fuel and armaments to fight the war.

Hecla

was never in danger in this secure sheltered harbour but Bob Lancaster would have been kept very busy repairing the elderly V & Ws like HMS

Venomous

which berthed alongside their "Mother ship".
Click on the link for a detailed illustrated account of events while Bob Lancaster was serving aboard HMS

Hecla

in Iceland.


USS

Vulcan

replaced

Hecla

as the depot ship for the Atlantic escorts and in March 1942 she returned to the Clyde for a short refit. HMS

Hecla

left Greenock on the 15 April 1942 with Capt E.F.B. Law RN in command as part of Convoy WS.18 "outward bound" for Freetown and South Africa to round the Cape of Good Hope and join the Far Eastern Fleet at its new base in Mombassa, a welcome change from the cold and tedium of Havelfjord.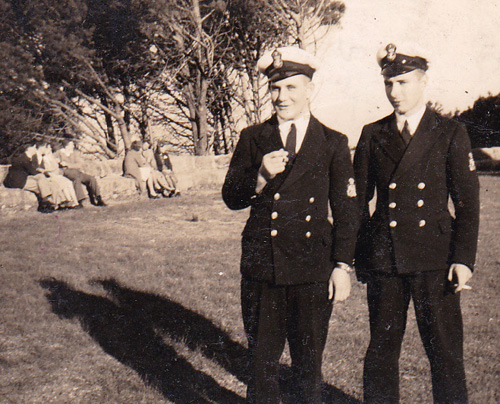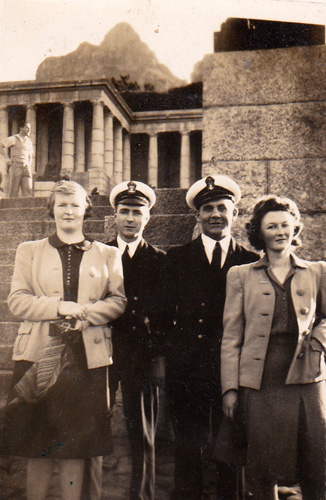 Disaster struck as she crossed the Agulhas Bank to the East of the Cape and detonated a mine killing 21 men and severely injuring over a hundred.

Hecla

was lucky not to sink and limped back to the South African naval base of Simon's Town on False Bay and was in dry dock under repair for six months. This was a happy time for the ship's complement. They enjoyed the sun and the hospitality of South African families who invited them to stay on
"uphomers".

Bob Lancaster helped with repairs and was promoted from ERA 5 to ERA 4 and became a Petty Officer. The two photographs were taken
on a run ashore
to Cape Town, a short train journey north from Simon's Town, with his shipmate Jackie Thompson, PO John P Thompson, Acting Engine Room Artificer 4th Class (MX75368), who was killed when

Hecla

was torpedoed. Bob is on the left in the photograph on the left and on the right in the photograph with the two girls in front of the Rhodes Memorial on the right.

HMS

Hecla

did not resume her journey round the Cape to join the Eastern Fleet at Mombassa when her repairs were completed. She received new orders to head north to support the allied landing in North Africa, Operation

Torch

. She left Simon's Town in October, called in briefly at Freetown where she was joined by her destroyers escorts, an elderly V & W Class destroyer, HMS

Venomou

s, and the modern M Class destroyer escort, HMS

Marne.



The events of the "longest night" when HMS

Hecla

was torpedoed and sunk and

Venomous

rescued 500 men while fighting u-boat ace Werner Henke in U-515 are described in detail in Chapter 13 of

A Hard Fought Ship

(2017).

Warrant Engineer J.H. "Henry" Hathaway RN tells the story of HMS

Byard

in
"Reminiscences of
The Spirited Horse" (1945) with illustrations
by Robert T Back who had previously served in HMS

Venomous

and obtained postwar fame as a marine artist. The two paintings of Captain Class Frigates by Robert Back are privately owned and are not in "The Spirited Horse"
. The pennant number K315 identifies the one at sea as HMS

Byard

but the harbour scene painted in 1944 (censors stamp on reverse) is probably also of HMS

Byard.






CPO Lancaster remained in HMS

Byard

until 8 November 1945 when he returned to HMS D

rake

at Plymouth prior to his discharge from the Navy on 20 July 1946. He met his wife, Phylis Louise Amery, at Plymouth in 1946; she was in the ATS at York. They married and had one son who in accordance with family tradition was given Robert as his first name. Bob returned to his old job at the Locomotive Works of the LNER at Doncaster where his son still lives today.





Bob still had a hankering for his life in the Navy and enrolled in the Royal Fleet Reserve at Devonport on 4 June 1948 and was recalled to service during the Korean War in June 1951. He served in HMS

Caesar

, a Fleet Destroyer in Maintenance Reserve, and was given responsibility for the generators providing power and lighting to all the Reserve Fleet Destroyers. He then joined HMS

Illustrious

, a carrier carrying out aircraft trials with the Home Fleet. He reverted to Reserve status in December 1952 and worked as an engineer for a variety of employers including the Ford Motor Company, Thorp Marsh Power Station and British Nylon Spinners, Doncaster. He

died on 23 Feb 2008 aged 85.



U-534 was built at Finkenwerder on the Elbe near Hamburg in late 1942 and was sunk off the coast of Denmark near Elsinore on 5 May 1945 while heading for Kristiansand in Norway. She was discovered in 1986 by a Danish wreck hunter, Aage Jensen, and raised on 23 August 1993 by the Dutch salvage company Smit Tak.

U-534 was part of the Warship Preservation Trust's collection at Birkenhead Docks until the museum closed on 5 February 2006. In 2007 the Merseytravel Transit Authority acquired the submarine and cut it into sections to allow visitors better visibility without entering the U-boat. It opened to the public as the U-Boat Story exhibition at the Woodside Ferry Terminal on 10 February 2009. Former Chief Petty Officer Robert A Lancaster was photographed by his son on on the deck of U-534 at Birkenhead before it was cut into sections.
It is an astonishing sight to see a veteran on the deck of a u-boat and his son wearing the lifejacket which saved his father's life when
Hecla
was torpedoed.


Harry Lavender, Temporary Leading Stores Assistant MX82035

By the time my father, Harry, was 10 years old his Mother had passed away and the whereabouts of his father was unknown. Fortunately, this small boy was found living on the streets of Oldham by a kindly District Nurse who persuaded her married sister to take him into her family and adopt him. His Mother's name was Giles but he took the name of his adoptive parents when he was a young man. Time passed and the boy grew into adulthood, married my Mother and War, ironically, was declared during their honeymoon. Very soon after this my father was called up and his father in law, a career Royal Navy man, suggested he apply for the Navy. He did his training at a requisitioned Holiday Camp on the Yorkshire coast and subsequently sent to Devonport. He managed to get extra time off whilst hospitalised after injuring his knee in a Navy Football Match. But soon it was time for active service - I believe he served in corvettes (

Morpeth Castle)

before being assigned to HMS

Hecla

at Greenock.





Shipmates, Havlfjord, Iceland, 19 October 1941


Rear row from left:

"Harry Lavender, Don Preece, Reg Hall"


Front row from left:

"Perkins (Tavistock), Sturgess (Wales), Wood (Lancs)"

Leading Supply Assistant, Eric Wood (D/MX.65093) died when

Hecla

sank

Courtesy of Christine Denovan-Smith, daughter of Don Preece




Supplies Assistants on HMS

Hecla

at Iceland, dated 2 November 1941

"Perkins, George D. Deller, Wood

(astride Lavender)

, Plummer, Russ and Don Preece below"

Leading Stores Assistants George D. Deller (

MX68964)

and Supplies PO George Plummer (D/X.126(U) died when

Hecla

sank

Courtesy of Christine Denovan-Smith, daughter of Don Preece

The

Hecla

hit a mine off South Africa, lives were lost but she managed to get to the Naval Base at Simon's Town. Several happy, relaxing months were spent here while the ship underwent repairs. My father had wonderful memories of Cape Town where he enjoyed the hospitality of welcoming South African families. It was noticeable that the local population were either warm and friendly or hostile, he discovered later the Afrikaans were officially supportive of the Germans. I discovered recently while in Simon's Town that the

Hecla

was registered into the dry dock on three separate occasions during the summer of 1942 finally leaving in October.

The rest of the story involves the sinking of the

Hecla

by torpedo off North Africa. His Action station was in the Magazine Deck and by the time he arrived there he found no one else on duty so he went up top and found the highest point of the ship. He stayed with the ship for as long as he could before he decided to leave, the ship was listing so much he walked down the hull as if he was walking down a beach. He was in the water a long time bobbing up and down before eventually he saw the lights of a ship and made for her. Someone shouted "Jack, catch hold of the rope", he missed it the first time but got it on the second attempt and climbed up the scrambling nets onto what he remembered as a very hot deck. It was HMS

Marne

whose stern had been blown off by torpedo, lost her steering and was floating around aimlessly.

Not much more is recalled, he spent the rest of the War on North Atlantic convoys then minesweeping in the English Channel towards Calais - a decoy for the forthcoming Normandy landings.

My father returned to civilian life working in Shipping, import and export, in Manchester. We were a family of five, three well cared for children and wonderful loving parents. He was born on 12 September 1910 and passed away peacefully in 2000 just before his 90th birthday, predeceasing his wife, our Mother, who reached the age of 97.


Leonard Charles Lee, Stoker 1st Class KX104873 MPK

Leonard Lee grew up
at Ilford in Essex
and he and his wife Vera had a son, Robert Leonard Lee, who was born on 3 December 1942, three weeks after his father's death.


Charles Reginald Levein, Temp. Leading Seaman J113851 MPK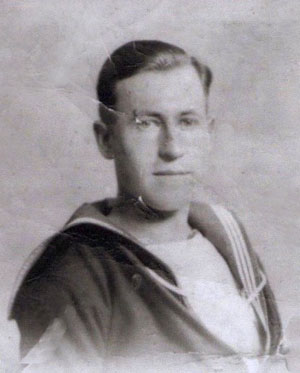 It is mainly the grand-children of the men who served in

Hecla

who contact me these days. Ian Levein ordered a copy of

A Hard Fought Ship

(2017) and explained by e-mail that:



Ian Levein sent me this photograph of his Grandfather - but nothing else.



Terence A
Mahoney, Able Seaman JX237247 MPK

Laura Tawn e-mailed me as follows:



Terry Mahoney's sister, Mrs V.J. Jeatt and her son Matthew, travelled from Windsor to attend the reunion at the Falcon Hotel in Stratford on the 11th November 1992. Terry Wardle and his daughter Laura Tawn would very much like to hear from them.

Edward "Ted" John May, Telegrapher SR 8184



Ted May was a Telegrapher in HMS

Hecla

from first commissioning to her sinking. His daughter, Julie Turner, bought

A Hard Fought Ship

to find out more about how

Hecla

came to be lost and sent me a copy of his Service Certificate and scans of his photographs so that I could tell his story on this website.




Ted May was born at Bristol on 2 July 1918. He was brilliant at mathematics and was offered a scholarship at Bristol Boys Grammar School but his father insisted he left school at 14 and started work in a saw mill. Ted's father had been traumatised by his service in the Great War and Ted was determined that he would not follow his father into the Army. He volunteered to join the Royal Navy Special Reserve (RNSR) on 28 June 1939, before the start of the war and compulsory conscription. The RNSR had been introduced at the insistence of the Admiralty to avoid the conscription into the Amy of merchant seamen, dock workers and other young men with the background and experience to be of greater value to the Navy than the Army. Volunteers had to sign up for four years service and undergo six months training. Despite having started an apprenticeship as a plasterer, the trade he was to follow after the war, Ted was accepted into the RNSR and was trained as a Telegraphist. Ted gave his Mother, Hannah Mary May, as his next of kin.

On the 19 June 1940 he joined HMS

Centurion,

one of four King George V-class dreadnought battleships built for the Royal Navy in the early 1910s. She had been converted into a radio controlled target ship in the 1920s maintained by a crew of 242 who sailed her to the firing range and them disembarked.

Centurion

was armed with a variety of weapons in June 1940 as the threat of German invasion increased and was then modified to serve as a repair ship for the local defence ships based in Devonport.

On 14 September his service certificate records that Ordinary Telegraphist Ted May was at HMS

Dolphin

, Gosport, home of the Royal Navy's submarine service which is near HMS

Hornet

, the base for the Motor Launches and MTB of Light Coastal Forces.
The rather poor photograph is of the crew of Fairmile B Motor Launch ML 116 built at Tarbert on Loch Fyne, Scotland, in September 1940. It seems probable that he was a member of the commissioning crew sent to Tarbet for her trials and to bring her south to Gosport.
HMS

Dolphin

in now the site of the Royal Navy's Submarine Museum.
Ted May spent Christmas Day 1940 in the Devonport Barracks (and kept the printed Christmas menu for Breakfast, Dinner, Tea and Supper) before leaving Plymouth on 28 December to join HMS

Hecla

while she was being fitted out in John Brown's shipyard on the Clyde before the start of her first Commission. In March 1941 HMS
Hecla
was sent to Havelfjord in south west Iceland as the destroyer depot ship, repairing the destroyers escorting the Atlantic convoys to northern Canada. HMS
Venomous
was always breaking down and was a frequent visitor.

There was growing Icelandic resentment of British and Canadian forces occupying their land. President Roosevelt agreed to take over the defence of Iceland from Britain and in June 1941 dispatched 36,000 troops (Project

Indigo

). Winston Churchill stopped off at Havelfjord
on the 16 August while returning home on the battleship, HMS
Prince of Wales,
after signing the Atlantic Charter with Roosevelt at Argentia in Newfoundland. He was photographed coming aboard aboard HMS
Hecla
where he attended a service
in the ship's chapel.
AB Ernest Victor Frowde
,
known as "Fingers Frowde", played the organ.
The two photographs below taken on

Hecla

are quite well known and can be seen elsewhere on this website but Ted May also had two other photographs taken during Churchill's visit to Iceland on the 16 - 17 August 1941. One of Churchill on the balcony of the Iceland Parliament building in Rekjavic addressing an audience below and the other, probably taken on the same occasion, of a senior officer in the Royal Navy with a younger officer in the USN. Both are wearing aiguillettes on their uniforms, a type of fancy braid work worn by an an equerry, ADC or Naval Attache. The youthful officer in the United States Navy (USN) has been identified as Lt Franklin Delano Roosevelt USN, the son of the American President. At the request of his father he and brother Elliott Roosevelt attended the summit at Argentia with Prime Minister Winston Churchill. He returned from Argentia with Churchill in HMS
Prince of Wales
and stood with him at parades in newly American-occupied Reykjavik, Iceland, to symbolize American solidarity with Britain. The senior RN Officer with the foreboding look is Cdr Charles Ralfe "Tommy" Thompson, military aide to the Prime Minister.

USS

Vulcan

replaced

Hecla

as the depot ship for the convoy escorts and on 11 December 1941, four days after the Japanese attack on Pearl Harbour, America entered the war. In early 1942 Hecla returned to the Clyde for a short refit and with Capt E.F.B. Law RN in command, she left Greenock on the 15 April 1942 as part of Convoy WS.18 "outward bound" for South Africa to join the Far Eastern Fleet in the Indian Ocean, a welcome change from the tedium and cold of Havelfjord.


On the 15 May 1942

Hecla

rounded the Cape and as she crossed the Aghulhas Bank just east of False Bay struck a mine at 15.59 hours killing 21 of the crew (with 3 missing and 116 injured).
HMS

Hecla

spent six months under repair at Simon's Town. The offiicers and crew were welcomed into the homes (on"uphomers") of hospitable South Africans and formed friendships which in many cases lasted for decades - or were cut short by death when

Hecla

was torpedoed.



Ted May and his two shipmates were welcomed into the home of Mr and Mrs Bain in Cape Town, a short train ride along the coast from Simon's Town where

Hecla

was under repair. Ted became a close friend of the family and stayed in touch after the war. The Bain family had a small construction business and they invited Ted, a plasterer by trade, to take it over when they retired in the 1950s but Ted was not happy about the political situation in South Africa and did not take up this generous offer. In 1970 Leni Bain was a guest at the wedding of Ted's daughter, Julie Turner, who told the story of her father's wartime service in HMS

Hecla on

this website.

In October HMS

Hecla

finally left Simon's Town for Gibraltar. After a short stop over at Freetown

Hecla

left with HMS

Vndictive

on 4 November. The two destroyer depot ships were joined by the destroyer escorts, HMS

Venomous

and HMS

Marne

, near the Canaries on the 8 November and detached for Gibraltar to support the ships taking the troops to the invasion beaches at Algiers as part of Operation

Torch

.

Ted May left no account of how

Hecla

was sunk and he was rescued but his daughter, Julie Turner, describes what she remembers being told:



Five out of the fifteen Telegraphers in HMS

Hecla

were reported as "Missing Presumed Killed" (MPK). Ted May would have been given two weeks "survivors' leave" on his return to Britain and would then have returned to HMS

Drake,

Devonport Barracks, Plymouth, to await a new posting. According to his Service Certificate he spent six months at HMS

Skirmisher

, a shore base in the small cathedral city of St Davids, in reality no more than a village in the south west tip of Pembrokeshire, which appears to have mainly functioned as a communications centre where bilingual WRNS "eavesdropped" on German naval communications.

In July 1943 he joined Naval Party 1071, a large draft of communication ratings which took passage on a troopship, possibly the former Union Castle liner,

Llanstephan Castle,

to Bombay, India, via South Africa. For administrative purposes he was based ashore at HMS

Excellent II

, HMS

Excalibur

and HMS

Braganza

until 19 August 1944 but nothing is known about his actual duties during the year he spent at Bombay.


By August 1944 he was back in Britain on MTB based at
HMS

Hornet,

the Light Coastal Forces base at Gosport.
Undoubtedly, the most critical period in his wartime service was the voyage to disaster aboard HMS

Hecla

which might so easily have brought his story to a premature end on Armistice Day 1942 but in later life he looked back on his time in ML 116 in 1940 and with the MTB at Gosport, Portsmouth, between August and October 1944 as the most interesting period.


His service certificate records him as being at Sirate (sic) from October 1944 to July 1945 and at Colombo for a month and then returning to HMS
Drake
at Plymouth but nothing is known about his duties during this time. He was discharged from the Navy on 26 November 1945.

He married Dorothy Davey (nee Shepherd) in 1947. Dorothy's first husband also served in the Navy. AB Alfred Thomas Davey (Service No. D/J 99230) had joined the Navy when he was 18 in 1920 and was on the aircraft carrier
HMS
Glorious
when she and her two destroyer escorts were sunk by the
Scharnhorst
on 8th June 1940. There were only 43 survivors and Davey was one of more than 1,200 men on the

Glorious

whose lives were lost. His widow was left with two children, Brian and Beryl (known as Kay). Ted acquired a family as well as a wife when he married Dorothy. They had a daughter, Julie Turner, and two grand children, Elizabeth and Sam.
Ted took up his prewar trade as a plasterer and taught at Bristol Polytechnic for a while but spent a good part of his working life with the Co-operative Building Company as a foreman on large projects in Bristol, including the Bank of England.
He was General Secretary of the National Association of Operative Plasterers, later amalgamated with the TGWU. He had his own building firm for a short time and also worked with his brother at St. Anne's Board Mills.

Ted loved rugby and was very involved with Barton Hill Rugby Club. He helped build their clubhouse in the 1950's and was Chairman for a while. He and his brothers, Sam and Harry, were life-long supporters of Bristol Rugby Club. Ted's final job was with Burroughs Computers, taking customers' calls and allocating engineers. After retirement he kept very fit, and did plastering for family and friends. Ted died from a heart attack on the 29th September 1997.

PO Stoker Henry McAuley K7498
"My Great Uncle Harry (Henry McAuley) was a Stoker Petty Officer on HMS
Hecla
. Harry was probably one of the oldest men on the ship at 51 years. He was born on 27 June 1891 and had joined the Navy in 1910 and served through until 1930 and was then recalled 1939 to 1945. He died in 1973 at the age of 83. Sadly I was too young when he died to know any of his history although I do remember him. It is only in the last couple of years while doing family research that I found his records and made the connection to HMS
Hecla.
"

David McLaughlin has sent me the following outline of the life of his "Great Uncle Harry":

"Henry, known as 'Harry', McAuley signed on for 12 years service in 1910 as a stoker and after shore training served through most of 1911 on the Scout class cruiser HMS

Sentinel

followed by the armoured cruiser HMS

Argyll

. From Aug 1912 to March 1914 he served on the pre-dreadnought battleship HMS

Cornwallis

in the Mediterranean. After a short service of 3 months on the survey ship HMS

Hearty

Harry was transferred to the battleship HMS

Ajax

in September 1914 and served through most of the war in this post, seeing action at Jutland. During his time on

Ajax

he rose from leading stoker to Stoker Petty Officer.

From late 1917 to early 1920 Harry appears to be mainly shore based before being posted to HMS

Ice Whale

in Gibraltar. He remained on this small whaler for 2 years. Harry continued his service in the navy until July 1932 doing 2 years with HMS

Resolution

and 3 years on HMS

Capetown

plus various shore postings.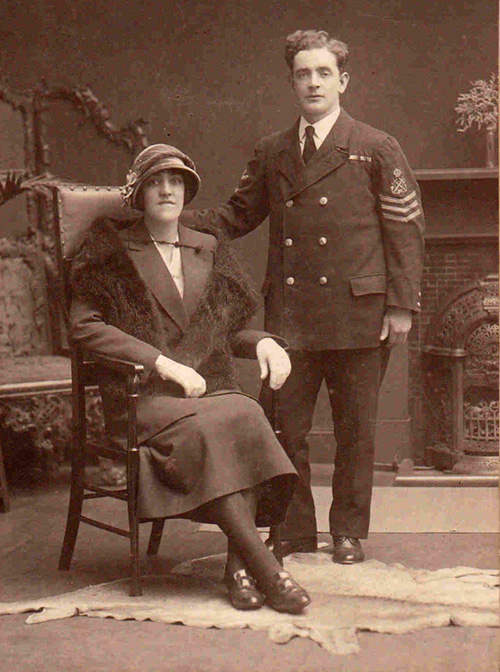 On leaving the navy Harry returned to his pre-service trade of Sawyer in the same Paisley sawmill where his father had worked, but on the outbreak of war he returned to Navy service as Stoker Petty Officer and was posted to HMS

Hecla

in Dec 1940. In early 1941 he served a month on the Corvette HMS

Picotee

before returning to

Hecla

. Harry was one of the lucky ones to be rescued when

Hecla

was sunk.

He returned to the UK and continued to serve in the Navy until July 1945 although he never served at sea after the sinking.
After

Hecla

he had short spells at HMS

Drake

and HMS

Rosneath

(Helensburgh) followed by two years at HMS

Hopetoun

, a shore station on the Firth of Forth near the rail bridge, before his final post in 1945 was three months at HMS Drake (Devonport), the same place he started his service in 1910.

Harry married Maria (Molly) Docherty in 1923 and had one child, Daniel, born in 1924. Unusually, Harry is related to me in two ways. His wife, Molly, was my Grandfather's sister while my Grandmother, Margaret, was Harrys sister. I am one of the youngest of my generation in our extended family so these people were all quite old in my early memories.

It is only in recent years through discussions with older members of the family that I was able to make the connection that the small, well dressed man, wearing a trilby and driving a Triumph Herald was Harry. I am told he was always impeccably dressed with shirt and tie. Harry and Molly must have looked a slightly odd couple as he was only 5' 4" while Molly was very tall at 6' or more. I have attached the unedited photo of them together in the late 1920's, and even sitting, Molly is at shoulder height on Harry. Looking at his navy record for the second war there is a small note "caught smuggling whiskey on board".



Astonishingly, there were 190 stokers serving on HMS
Hecla
when she was torpedoed but only two of them, Norman Johns and Charles Brearley, have left accounts of the loss of the ship and how they were saved but we have brief accounts of the lives of Petty Officer Stoker Henry McAuley and Leading Stoker A.R. Cripwell. The names of all the stokers are recorded on the crew list compiled by TNT Data Services. Their rates range from Petty Officer Stoker, Chief Stoker, Leading Stoker and Stoker 1st Class to Stoker 2nd Class but there were also Acting and Temporary
Acting
rates. The most common rate was Stoker 1st Class. There were only eleven Leading Stokers but if one includes the Acting and Temporary Acting Leading Stokers there were thirty-one.

AB Daniel McLoughlin
JX212871

"My father Daniel McLoughlin was born at Liverpool on 15 January 1922. He was the youngest of nine children and the family lived off the Scotland Road in a very deprived area of Liverpool, where, in order to survive, a man needed his wits and his fists, and only drink helped a person to forget their poor circumstances. When he was eight his mother went off with another man, leaving her kids behind. Two years later his father, a stoker in merchant ships, died of a respiratory illness and Daniel was looked after by the wife of his older brother Edward.

He was a lagger at the Tate and Lyle sugar refinery in Liverpool when he joined the Royal Navy in July 1940 and was an AB on the

Hecla

for the whole of her short service life.
He was aboard

Hecla

the night she was sunk, and the story passed down through the family is that he was rescued only to find himself swimming for his life again when that ship was also torpedoed, so he may have been one of the few men who managed to swim to the

Marne

just prior to her being torpedoed, but I don't know that for certain. He got his head burnt at some stage in the proceedings, I don't think it could have been too serious a burn, although his hair never ever recovered properly.

My mother told me how upset Dad had been at losing a very close friend and shipmate the night

Hecla

was sunk, so much so that he took a train up to Scotland to offer condolences to the lad's parents. Another story Dad told mum was of a man in the water who reckoned the

Hecla

wasn't going to sink any time soon and that he had plenty of time to get back on board to retrieve his gambling winnings from his locker. Despite Dad advising him against it he went anyway and while he was down below the

Hecla

was hit by another torpedo and he lost his life. Whether the two stories are about one and the same person I don't know.


The photograph top right taken in 1943 is of my father and his girlfriend Elizabeth Devitt, soon to be his wife and mother of their five children including me. Five who would not have been born were it not for the crew of HMS

Venomous

plucking my father from the sea!


This amusing tale told by my mother illustrates the life he led at this time:



His service records (besides showing he blotted his copybook by going 'on the run' a couple of times) indicate that he spent the rest of his time training in one 'Combined Operations establishment' or another until finally being transferred to the army in August 1944. Men transferred from the Navy had a 149 prefix to their Army Service Number. He found himself serving with the 2nd Battalion of the Black Watch (No 14995166) at Malir near Karachi in India where he got his 'Airborne' wings.
The Battalion was training as parachute unit for the planned invasion of Malaya, Operation

Zipper

.
He landed badly during a parachute jump carrying full kit and his leg had to be heavily bandaged. Earlier in the war the Army had learned to cease recruiting taller heavier men for parachute regiments because so many men back then had broken their legs on landing. He was a keen boxer as a boy in Liverpool and won medals for boxing and rifle shooting in the Army.



His brother Martin was a motorcycle dispatch rider attached to the Chindits brigade in Burma. He was captured by the Japanese and spent the remainder of the war in a POW camp. On one occasion, for a minor infringement, he spent days curled up in a bamboo cage in the blazing sunshine. He came home skeletal and never ever put on weight again.

My father was discharged from active wartime duties in July 1946, and relieved from reserve TA duties in June 1959. He died aged 49 in March 1971 after several years of ill health which started after cutting a toe in work which did not heal properly (poor circulation to his feet after years of smoking) and eventually turned gangrenous. This led to a series of operations involving several amputations of his lower limbs. His ill health was further complicated by inhalation of asbestos during his working life as a lagger, and not helped by the Malaria he picked up serving in the Army. His medals and Commando knife, prized possessions went missing soon after his death.

The McLoughlin's were originally from Ireland and when I retired from my job as a chemical plant operator (at ICI Runcorn) I moved to Ireland and began tracing my family history which revived interest in my father's story"



Edgar Steele McMinn, Stoker 1st Class (KX105564)


On the 6 February 2021
Alexa Wignall, the grand daughter of Edgar McMinn, sent me this compelling account of the memories which traumatised her Grandfather:
Edgar McMinn (1917-2000) lived another 58 years. He was probably rescued by HMS

Marne

which was torpedoed by the same u-boat which sank HMS

Hecla

.
A child "born with the caul" has a portion of a birth membrane remaining on the head which is immediately removed upon delivery of the child.
Bob Hargreaves was also born with a veil (or caul) over his face which the midwife removed and his Mother kept. Bob and his two brothers had fragments of the caul sewn into their clothing as a lucky charm to save them from being drowned, an old sailors' superstition. All three brothers returned safely from the war.
Bob Hargreaves
served in HMS
Venomous
which rescued most of the survivors from
Hecla.
Charles Henry
Mitchell, Able Seaman (J25918) MPK



Charles Mitchell was born at Weston-super-Mare in Somerset on 9 February 1898 and was a school boy when joined the Navy as a 15 year old boy sailor on 4 July 1913. He would spend the rest of his life in the Navy and fight in two World Wars.

George Morrell, Sick Berth Attendant (MX 58991)

George Morrell's son, David Morrell, got in touch via the maritimequest.com forum on 27 June 2017: "I believe my father was a crew member on HMS

Hecla

. He died in 1975 but the family story is that he was torpedoed and rescued by an American ship (a common mistake as

Venomous

berthed alongside the USS

Augusta

on arrival at Casablanca). He was in the water with Edward (Eddie) Diggines who came from a village on Dartmoor and was a cook. He would later marry one of my fathers' many sisters.

"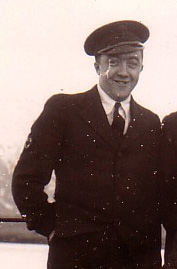 "George Morrell was born on 3rd July 1920 in Newton Abbot, Devon. He was one of eight children. On leaving school he began working for the railway in Newton Abbot and in February 1939 he joined the Royal Navy. He trained at

Drake

as a Sick Berth Assistant and joined the crew of HMS

Hecla

on 25th December 1940. The photograph is cropped from a group photograph of the members of the Sick Bay team while

Hecla

was the destroyer depot ship at Havelfjord, Iceland in 1941. He was promoted to Leading SBA in January 1942.


I think the

Hecla

was his first and last ship. His future postings were all to Royal Navy hospitals.
After surviving the sinking of the

Hecla

he was posted to the hospital of the Royal Marine Depot at Lympstone on the Exe estuary in south Devon. At some stage towards the end of the war he was posted to HMS

Royal Arthur

, near Skegness. It was around this time that he met my mother, Joan Baker, who was living in Bathford, a village near Bath. They married in 1947. Other postings then followed to Drake, Plymouth and Helston. They also traveled to Malta together and by the time they went to Sri Lanka (Ceylon) around 1955 I had been born and spent a couple of years with them while he was at the RN hospital at Diyatalawa in the central Highlands. Finally we moved to Stonehouse in Plymouth where my brother, Richard, was born. My father left the RN as a SBCPO in 1961."

My parents ran The Ham Tree in Holt, Wiltshire, until 1966 and then took over The Seven Stars in Winsley, Bradford on Avon, until his death in 1975. My mother continued to run the pub for a further ten years until she retired.

He was very fond of sport and played Rugby, Cricket and Hockey. I believe he managed Devonport Services RFC when they went on tour."

Brian Carrick Moss, Cook (MX70330) MPK

Les Rowles nentioned Brian Moss in a letter to Bob Moore on the 12 February 1988:



I was contacted by his nephew, Andrew Clark, via the Facebook page for

HMS Hecla

in December 2021 and he sent me these photographs of his uncle:








Brian C Moss with his sister

Alan Clark's Mother




Brian C Moss "on duty"as cook aboard

Hecla


Brian C Moss "off duty"


Brian C Moss in unifom on leave





William John White Nairne, Acting Leading Seaman, D/SSX 18737 MPK
When I began telling the stories of the men who served in HMS
Hecla
I either went to see them and or spoke to them by phone but the opportunity for that is now long gone and it is usually their sons or daughters who stumble on this website by Googling the family name + HMS Hecla + 1942 and get in touch by e-mail to tell their stories. Disconcertingly, this year I am more likely to be contacted via social media by their grand chilren who are much younger than me! This can be confusing as they may contact me by one of my four Facebook pages or by Facebook Messenger and with dozens of notificationa they may go unoticed.
Debbie Nairne Morse contacted my by one of these many avenues and sent me the splendid studio photograph of her grandfather and the confirmation of his death received by her Grandmother in Inverness on 16 July 1943. Debbie explained below how it was that she came to be born and live in Canada as a result of her Grandmother's remarriage:
Bill Nairne was born at Inverness, Scotland, the son of Thomas Nairne, a carpenter, and his wife Kate (nee Macrae) and had two sisters, Mary and Elizabeth.
It is unlikely that any first hand account of her grandfather's wartime service will exist but she has contacted the daughter of one of his two sisters in Australia and hopes to find out more.



Brian William Coulson Shaw, Leading Sick Berth Attendant (D/KX.64151)



Their story, much expanded and revised, has moved to a new page about the experience of crew members who spent time as guests of South African families on "uphomers".



Lt John Steavenson RNVR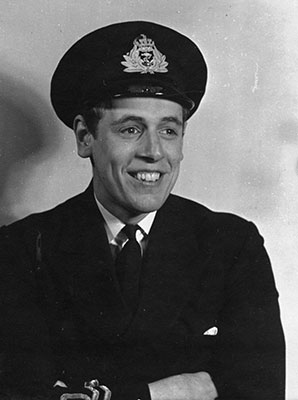 The Steavensons "are an old Berwick family and a previous John was Mayor several times and I am a Freeman of the town by descent as a result" (Hugh Steavenson) but Hugh's father, John Steavenson, was born on 7 July 1918 at Darlington in County Durham. He was the third child and second son of Dr Charles Stanley Steavenson and Edith Lucy Pease Steavenson (nee Robinson). His father was the local doctor at the nearby village of Middleton St George and also had a TB sanatorium while his Mother was a talented writer and artist. He and his brother were keen dinghy sailors before the war and the brothers also built and raced cars. He was educated at Giggleswick School, an independent boarding school near Settle in North Yorkshire which was founded more than five hundred years ago.


Both parents were magistrates and h
is father considered the only acceptable profession for his son was medecine or the law and John was articled to the Town Clerk of Darlington. He joined HMS

Calliope

at Gateshead on 19 January 1938 as a Probationery Midshipman. She had been built in 1887 as a sailing corvette but given a powerful screw engine and was now the base for the Tyne Division of the RNVR. On 23 June he joined the out of date Revenge Class Battleship HMS

Royal Oak

at Portsmouth but left her on 5 June 1939 three months before she was sunk in Scapa Flow, Orkney, by U-47 wth 835 men, two thirds of the ship's company, killed. He joined the mine-laying destroyer HMS

Express

(H61) on 5 June 1939 and was promoted to Sub Lt on 21 August but left a week later to join the Town Class Light Cruiser HMS

Southampton

(83).

On 5 September 1939

Southampton

intercepted the German merchant

Johannes Molkenbuhr

off Stadtlandet, Norway, but her crew scuttled the ship before she could be captured. On 16 October 1939 she was struck by a 500 kg bomb released from 490 ft by a Ju 88 of I/KG.30 which passed through three decks at an angle and exited the hull, detonating in the water. She was repaired and took part in the hunt for the German battleships

Scharnhorst

and

Gneisenau

after the sinking of the armed merchant cruiser

Rawalpindi

.

Southampton

joined the
18th Cruiser squadron at Scapa Flow
in February 1940 and on 9 April 1940 while operating off the Norwegian coast was damaged in a German air attack. It was probably not a coincidence that he was promoted to Acting Lieutenant that same day. After repairs

Southampton

was on anti-invasion duties on the south-coast until she returned to Scapa Flow in October.


He received good reports from Captain Drew (HMS

Royal Oak

) and Cdr Oliver (HMS

Express

) but, how can one put it, rather "mixed reports" from HMS

Southampton

despite being promoted to full Lieutenant.
Captain Jeans: "This officer has deteriorated in recent months, In spite of having every facility for learning he does not seem to be able to absorb knowledge. No energy or zeal, untidy and does not appear to be blessed with any brains". Captain Brooke: "An officer who is a good mixer and very popular. He is, however, an unreliable watchkeeper and an ineffective executive officer for, though he is keen to do his best, he uses no forethought and little common sense; he is in fact a pleasent feckless individual."

In November and December Lt John Steavenson was at shore bases, HMS

Victory

at Portsmouth, and HMS

Spartiate

, at Glasgow, before being posted to HMS

Hecla

on 23 December 1940 before she was commissioned on 6 January 1941. He would remain aboard HMS

Hecla

until she was lost off the coast of Morocco on the night of 11 - 12 November 1942 and received a favourable report from Captain Coltart who had a reputation for strictness with the crew but was known as "Uncle Cyril" by his officers and was in command of

Hecla

when she was the destroyer depot ship at Havelfjord in Iceland. He received favourable reports from Captain Law who took over command during for the voyage south to join the Eastern Fleet
when

Hecla

detonated a mine on 15 May 1942 after rounding the Cape
and
from Cdr D'Oyley who was CO while

Hecla

was under repair at Simonstown in South Africa.



John Steavenson owed his life
when HMS

Hecla

was torpedoed on Armistice Day 1942
to Lt Cdr H.C.R. Alexander, the Navigation Officer, who vividly described events in an unofficial report on the disaster and its cause written much later which was sent to me by his son in Canada and can be read in full on this website. He attributed the loss of HMS

Hecla

to the decisions made by Captain H.G.D. Ackland RN, CO of HMS

Vindictive

, the senior Officer in the Convoy.

This is the part describing how Alexander saved his own life and that of "
a young Lieutenant called Steavenson":

The entries in his service certificate after

Hecla

was sunk are difficult to read and interpret but he may have returned to Britain from Gibraltar on HMS

Duke of York

before going on two weeks survivor's leave and being posted to the Gunnery Schools at HMS

Usk

and HMS

Beaver

, shore bases in Glasgow. In February 1943 he was posted to HMS

James Cooke

, a Combined Operations training base occupying the remote Glen Caladh Castle on the shore of the Kyles of Bute which became the Beach Pilotage School for landing craft flotillas for the landings in Normandy. This appears to have been a mistake but he remained there until April 1943 when he was sent on the eight months "long gunnery course" at HMS

Excellent,

the Gunnery School at Portsmouth. His eldest son, Hugh Steavenson, recalls he was then posted to the Admiralty at HMS

President

in Bath "as an Assistant to the Director of Naval Ordnance" where:


"He met my mother, Daphne Pratt, whose family owned a boot and shoe factory in Kingswood, Bristol, called Holdfast Boots, and they married on 19 April 1947. He told me that he was made an offer which he could not refuse to join the Pratt family firm. He worked for C and J Clark in Street to learn the shoe trade before joining Holdfast. It certainly helped that he was related to the Clark family through his mother, one of a long line of Peases, one of many great Quaker families. Holdfast was sold to another firm of Bristol shoe manufacturers where he stayed on for a few years until that firm went bankrupt under questionable circumstances. Further jobs at other shoe factories continued until the early 1970's
He had three children, Hugh
Pratt Steavenson, Angela Bridget Steavenson and Charles Martin Pratt Steavenson.
His younger brother Charles joined the Navy and served in submarines;
"a keen Ocean racer, he was one of the unlucky 13 to perish at sea in the 1979 Fastnet race".
Hugh is the only one alive today.
John Steavenson has seven grand children but his early death meant they never got to know him.

This is not the end of the story as John Steavenson's widow "married another former RNVR officer, Adrian Butler" who served in two V & W Class destroyers, sister ships of HMS

Venomous

which rescued John Steavenson when HMS

Hecla

was torpedoed in 1942. "Adrian was also a Bristol businessman who made the boxes into which the shoes made by my father's firm were packed. Coincidentally, he raced cars pre war and also sailed!" (Hugh Steavenson). Daphne Steavenson's second husband, Lt Adrian H.G. Butler RNVR, served in HMS

Westminster

and HMS

Woolston

, and tells an amusing story about the eccentric 1st Lt of

Westmister

, Lt John A.H. Hamer, and "monkey business in the Wardroom". Strangely, Hugh Steavenson shared a flat with John Hamer's son for two or three years and met his father shortly before his death.


F
or further details of the life and wartime service of Lt John Steavenson RNVR see his entry on the unithistories.com site.


Leading Stoker William James Taylor
(D/KX.108222)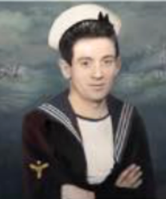 "My only brother aged 22, D/KX.108222 Temporary Acting Leading Stoker William James Taylor, was reported Missing Presumed Killed when HMS

Hecla

sunk off Morocco in the Mediterranean on 11 - 12 November 1942, I was only 4 years old but will always remember this tragedy.

I attended the 1992 reunion at Stratford upon Avon and took some old pictures of my brother Bill, showed them around to some survivors and he was recognised by his shipmates, who told me Bill was seen swimming and helping others to the ship attempting to rescue the stricken crew in the water. It transpired that he was exhausted by his efforts to save his shipmates and was lost, killed by drowning."

His sister, Jean Bell, attended the book launch for

A Hard Fought Ship

on the 9th May 2017 and met members of other families who had lost relatives when HMS

Hecla

sank on the night of 11 - 12 November 1942.






Albert J Thick Leading Stoker (K57784)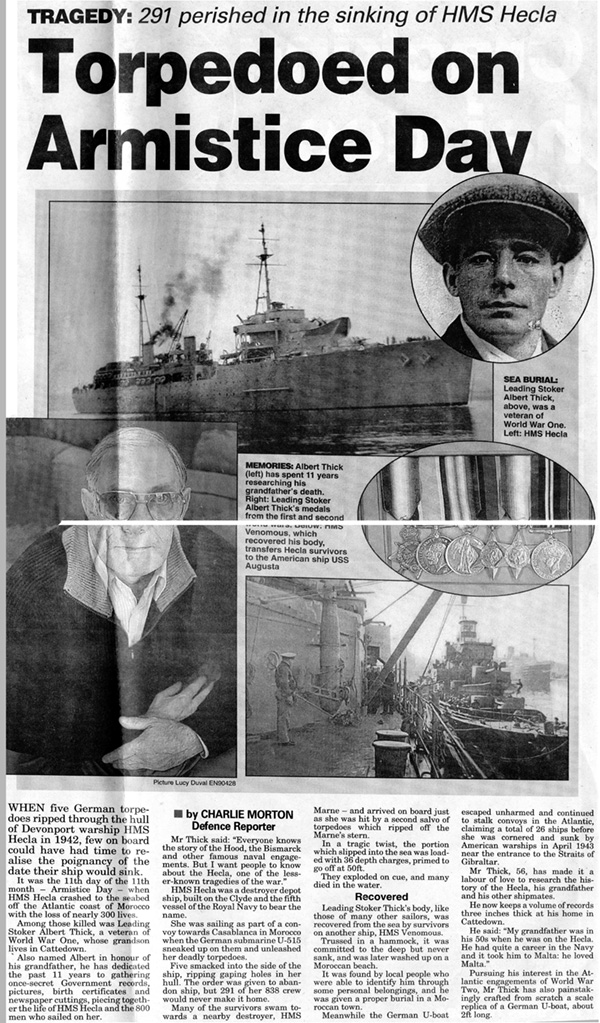 Leslie Thomson Ordnance Mechanic 5th Class (MX90541)

I was contacted in January 2019 by Leah Berry in Australia about her father's Uncle, Leslie Thomson, who was "Missing Presumed Killed" (MPK) when
Hecla
sank:

George Thomson's daughter Leah Berry sent me this charming wedding photograph of her father's Uncle Leslie as a surly looking 12 year old (seated cross legged on the the right of the front row) at the marriage of his sister May Winwick Thomson (1894-1963) to William Allen Edge in 1919

.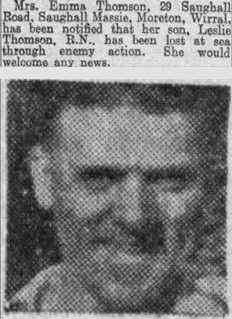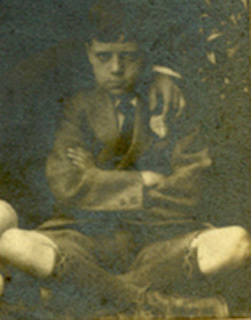 Leslie Thomson had two brothers and three sisters and was the youngest of the six. The family moved from Liverpool to Saughall Massie on the Wirral and Leslie was working on a nearby farm when he was conscripted into the Navy "for the period of the Hostilities" in 1939. He was 32 and unmarried but Leah is hoping that distant relatives in England can provide a photograph and further details of his life.

At the time of his death he was a Petty Officer Air Fitter in HMS
Hecla
with service number D/MX.90541 (Plymouth Naval Memorial). He may have joined
Hecla
when she was first commissioned in January 1940 and spent a year in Havelfjord, Iceland, while she was the Destroyer Depot Ship for Atlantic Convoys. HMS
Venomous
often berthed alongside
Hecla
during this period. After returning to the Clyde for a refit
Hecla
headed south to round the Cape and join the Eastern Fleet at Mombassa but after detonating a mine spent six months under repair at Simon's Town in South Africa before meeting her end off the coast of North Africa on Armistice Day 1942.








Thomas David Arthur Waldock (KX97148), Stoker 1st Class MPK

"Tommy" Waldock was born at Plumstead in London SE18 in 1920 and was 22 when

Hecla

sunk. He was a keen boxer. He was the eldest of four children, the others being Harold, who also served in the Royal Navy, Iris, and James. The brief details of his life given here were supplied by his youngest brother, Jim Waldock, born twenty one years later at Greenwich, London SE10, in 1941. The body of Thomas Waldock was not recovered and he is marked as Missing Presumed Killed (MPK) on the crew list and his name is also on the official casualty list issued by the Admiralty. Jim Waldock was one year old when his brother died and does not even have a photograph of him and has lost contact with his siblings. If a member of his family or the family of Tommy Waldock's shipmates in

Hecla

have photographs of stokers on HMS

Hecla

do please get in touch via the e-mail address of the publisher at the foot of this page.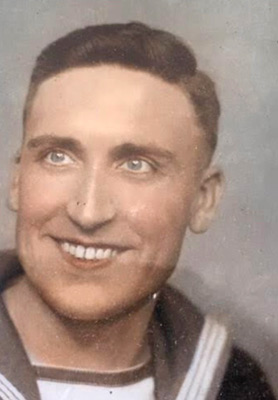 AB Fred W.J. Wardle (JX237211) and AB Terence Mahoney

(JX237247)



Laura Tawn e-mailed me as follows:


Terry Mahoney's sister, Mrs V.J. Jeatt and her son Matthew, travelled from Windsor to attend the reunion at the Falcon Hotel in Stratford on the 11th November 1991. Terry Wardle and his daughter Laura Tawn would very much like to hear from them.
Chief Petty Officer William J Triggs (BEM) JX138571 MPK
William Joseph Triggs was born at Bootle, Liverpool, the son of Reginald R.A. Triggs, a merchant seaman and his wife Harriet in December 1916 and was two years old when his father died at sea a month after the war ended leaving his Mother a widow with no income and a two year old child and his baby brother George to support. The two children were placed in the Liverpool Seamen's Orphan Institute.

He was a 16 year old hairdresser from Bootle, Liverpool, when he joined the Navy as a boy sailor at HMS

Gange

s in 1933, the year his widowed Mother remarried, but by December 1934 he was an Ordinary Seaman on the Battleship HMS

Rodney

and by July 1936 an Able Seaman on HMS

Defiance.

His advance was rapid and on 28 March 1940 he was rated Leading Seaman at HMS

Badger,

the HQ of the Flag Officer in charge at Harwich. HMS

Badger

was based at Parkstone Quay and by the end of 1940 when LS Triggs left to join
Hecla
it serviced a destroyer flotilla, a submarine squadron and a Coastal Forces Motor Torpedo Boat base, and became the largest base for small craft in the United Kingdom.

He joined HMS

Hecla

on 28 December 1940 at John Brown's shipyard on the Clyde shortly before she was commissioned on the 6 January 1941 and took up her post as the destroyer depot ship for the convoy escort ships at Havelfjord in Iceland, in March.

Hecla

remained at Havefjord until March 1942 when the USS

Vulcan

replaced her as the depot ship for the Atlantic escorts and

Hecla

returned to the Clyde for a short refit before leaving to become the depot ship for the Far Eastern Fleet a
t Mombassa on the east coast of Africa. Hecla was rounding the Cape of Good Hope and crossing the Agulhas Banks when

she detonated a mine and
was severely damaged

with 21 men killed and many more wounded. LS Triggs was the most senior of the six Petty Officers and ratings awarded the BEM for their bravery in rescuing the survivors and helping save their ship.
Hecla
limped back to the South African naval port of Simons Town where she spent five months under repair. This was a good time for the men in
Hecla
who enjoyed the sunshine, fresh food and hospitality of South Africans who welcomed them into their homes as guests on "uphomers".
David Triggs, the grandson of William Triggs younger brother, George Alexander Triggs, told me about William Triggs two years ago and got back in touch on 21 October 2021, on the eve of this year's 79th anniversary of the sinking of HMS
Hecla
to send me his Great Uncle's service certificate and tell me all he knew about the life - and death - of William Joseph Triggs. The photograph below is the only one he has of his Great Uncle William and he would be delighted to hear from the families of men who served with Chief Petty Officer Triggs. David has written his own personal account of his Great Uncle's service aboard HMS
Hecla.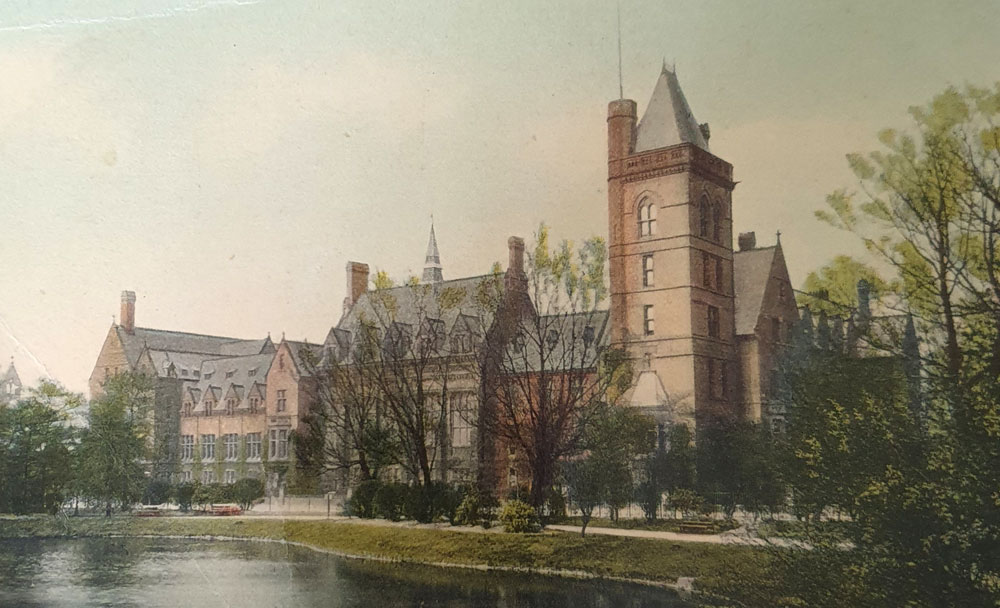 The Liverpool Seamen's Orphan Institute overlooks an angling lake in Newsham Park

"Chief Petty Officer William Joseph Triggs, D/JX138571, was awarded the British Empire Medal (Military Division) for 'outstanding bravery' on HMS
Hecla
– but, tragically, his young life was cut short before he could collect the honour in person.
Liverpool-born William was among the 273 men 'missing or presumed killed' when the Hecla was torpedoed and sunk by a German U-boat off the coast of Morocco in the early hours of November 11, 1942. He was just a few weeks away from his 26th birthday and was approaching a decade's service in the Royal Navy.

Just six months earlier, on May 15, 1942, William and five other 'ratings' had distinguished themselves when the Hecla suffered extensive damage after striking a mine, off the coast of South Africa. Twenty-one men were killed, but many more were saved, and numerous cases of individual heroism were observed as the crew worked through the night to rescue survivors in difficult and dangerous conditions (the ailing depot ship was loaded with torpedoes, depth charges and other ammunition).
William and five others were praised by Captain Law in Appendix 1 of his Report of Proceedings (ADM 199/802) for 'outstanding bravery, complete disregard of their own safety, untiring energy with repair and rescue work and first aid throughout the night'. The badly damaged Hecla was able to limp into the naval port of Simonstown, where she spent several months under repair.
The award of the British Empire Medal to William was announced in the London Gazette on January 12, 1943 – exactly two months after Hecla's sinking. Of the six awarded the BEM for their bravery in May 1942, only three survived the torpedo attack of November 1942.
William was born on December 18, 1916, and his hometown was Bootle, a stone's throw away from Liverpool's bustling docks and the River Mersey. His father, Reginald Triggs was a merchant seaman who died at sea in 1918, when William was just two years old and his younger brother, George, a couple of months old. The two boys were placed into the Liverpool Seamen's Orphan Institute in Newsham Park, an imposing Grade II listed building which still stands to this day, and would have shared a close bond throughout their childhoods.
William was a hairdresser by trade before joining the Navy as a boy sailor in February 1933 aged 16, when he was sent to HMS Ganges for training. He served on board HMS Hecla from December 1940, throughout 1941 when she was based in Iceland and operated as mother ship for the destroyers escorting the Atlantic convoys which brought vital supplies into Britain.

William's death meant it was left to his mother, Harriet Jones, who had remarried in 1933, to collect his BEM at Buckingham Palace on October 26, 1943. Meanwhile, William's younger brother George was serving with the Royal Army Ordnance Corps and REME through the war, seeing action in Persia, North Africa and Italy. Following the war, George married and settled in Chester. His family still live locally.
William's BEM and other medals were effectively lost for many years, having never been in the possession of the Triggs family. In recent years, after some 'detective work' online, it emerged that they had been donated to the National Museum of the Royal Navy in Portsmouth.
In the circumstances it was perhaps inevitable that the families drifted apart when William and George's Mother remarried and started a new family. David Triggs has never seen his Great Uncle's medal set but has established that it was donated to the National Museum of the Royal Navy at Portsmouth and I am hoping they will supply a photograph of his BEM for this website where it can be seen by the families of the shipmates he rescued when
Hecla
was torpedoed as well as his brother's family. William never married and left no children.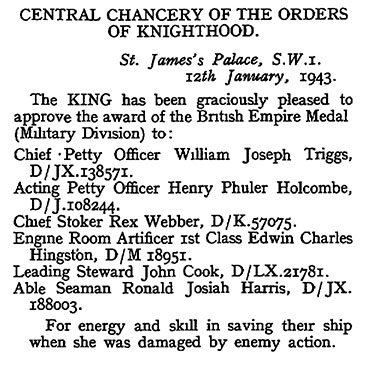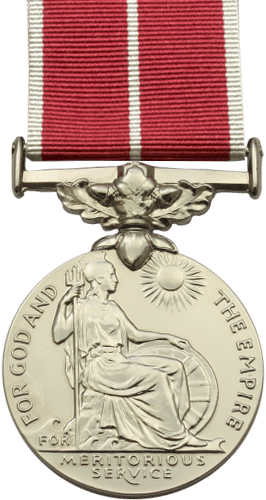 As the most senior man CPO William Joseph Trigg appears at the top of the list of men awarded the British Empire Medal (BEM) in The London Gazette
I hope to create entries for all these men on this website and link to them from their names below.
Do get in touch if a member of your family is on this list.

Acting Petty Officer Henry Phuler Holcombe D/J.18244 MPK
Chief Stoker Rex Webber, D/K.57075 MPK

Engine Room Artificer 1st Class Edwin Charles Hingston, D/M.18951
Leading Steward John Cook, D/LX.21781
Able Seaman Ronald Josiah Harris, D/JX.188003
AB James Coulton: "My best friend aboard Hecla was Ron Harris (JX188003) who got the BEM, lived in Neath, South Wales. Great character, good at sport, all sports."
Stoker 1st Class Leslie William Turner KX97149 MPK

Lesley Smith in Brentford mailed her only photograph of:
"Leslie William Turner, Stoker 1st Class age 23. The uncle I never knew, a much loved son and brother who lost his life on HMS Hecla".

Leslie was the oldest son of a large family of five brothers and two sisters, the children of George Ernest Turner and his wife Daisy from Essex. Lesley Smith was given his name and is his closest living relative apart from his sister, her "Aunty Peggy", who was a young girl when her brother joined the Navy. Leslie Turner bore a striking resemblance to his father, who was badly injured while serving in the Essex Regiment in the Middle East during the Great War. Lesley Smith's father, Dale (known as "Jasper") Ivor Turner, the second son born in 1926, failed his entrance exam for the Navy and went into the army.
Leslie Turner was one of 190 stokers aboard HMS Hecla.
He survived the mining of Hecla while rounding the Cape of Good Hope in May 1942 but died when she was torpedoed off the coast of North Africa on Armistice Day 1942.






Leslie Turner's last letter home to his Mother

on 21 October 1942

Sent from south Africa three weeks before his death




Sidney Ernest Turner in the uniform of the Essex Regiment

He was 57 years old when he died on Christmas Eve 1939
Leslie William Turner's Service Certificate is not on the website of the National Archives and, puzzlingly, he appears not to have an entry on the Commonwealth War Graves Commission site. I have been sent copies of two poignant last letters from South Africa before
Hecla
left on her fatal voyage which ended with his death off the coast of North Africa on 12 November 1942 and three formal letters to his Mother after he was reported missing. Leslie Turner's father, Sidney Ernest Turner had died aged 57 on Christmas Eve 1939 leavng his Mother a widow; she had now lost one of her five sons and the next two in age were serving in the Army and the Navy. Roy Turner, a stepson, George's son by his first marriage, served in the RAF.

The bureaucracy of death
click on the images to view full size in separate windows




"Missing on War Service"
The first news on 5 December 1942 from Commodore RN Barracks Chatham





"it has become necessary to presume the death of your son"

Confirmed by the Commodore on 15 July 1943




Letter from Inspector of Seamen's Wills

From the Admiralty, Bath, on 27 July 1943
Chief Stoker Rex Webber BEM, D/K.57075 MPK

Rex Webber was born at Plymouth on 24 November 1901, the son of Francis Henry and Annie Webber. His occupation was given as "Farm Labourer" on his Service Certificate when he "signed on" for 12 years on 24 November 1919. By March 1929 he was an Acting Stoker Petty Officer (SPO) in the Cruiser HMS Emerald on the East Indies Station.

Rex Webber was nearing the end of his second long service engagement and approaching pensionable age when he joined HMS Hecla on the Clyde in August 1940 as Chief Stoker before she was commissioned. He was one of three Chief Stokers in charge of the 190 stokers on HMS Hecla when she was torpedoed. The names of all the stokers are recorded on the crew list. Their rates range from Chief Stoker to Petty Officer Stoker, Leading Stoker and Stoker 1st Class to Stoker 2nd Class but there were also Acting and Temporary Acting rates. The most common rate was Stoker 1st Class. There were only eleven Leading Stokers but if one includes to the Acting and Temporary Acting Leading Stokers there were thirty-one. He would have felt a personal responsibiliity for his men and those injured and trapped below decks when Hecla detonted the mine rounding the Cape in May 1942 and many of them were stokers. Only two of the stokers, Norman Johns and Charles Brearley, have left personal accounts of the loss of the ship and how they were saved but we have brief accounts of the lives of Petty Officer Stoker Henry McAulay and Leading Stoker A.R. Cripwell
Rex Webber was forty years old at the time of his death and married to Dorothy Laura Webber, of Plympton, Devon, who may have collected his BEM from Buckingham Palace on October 26, 1943. His name is recorded on the Plymouth Naval Memorial. Please e-mail me, Bill Forster, if you can add a photograph or further details of his life to this brief entry.

Go to Part One (A - L) to continue browsing the life stories of the men in Hecla on 11 - 12 November 1942
Or return to the index of names at the top of Part 1

Remembering HMS Hecla
on the 50th and 75th anniversaries of her loss
Return to the "Home Page" for HMS Hecla
to find out more about its history and the stories of other survivors
Return to the Crew List for HMS Hecla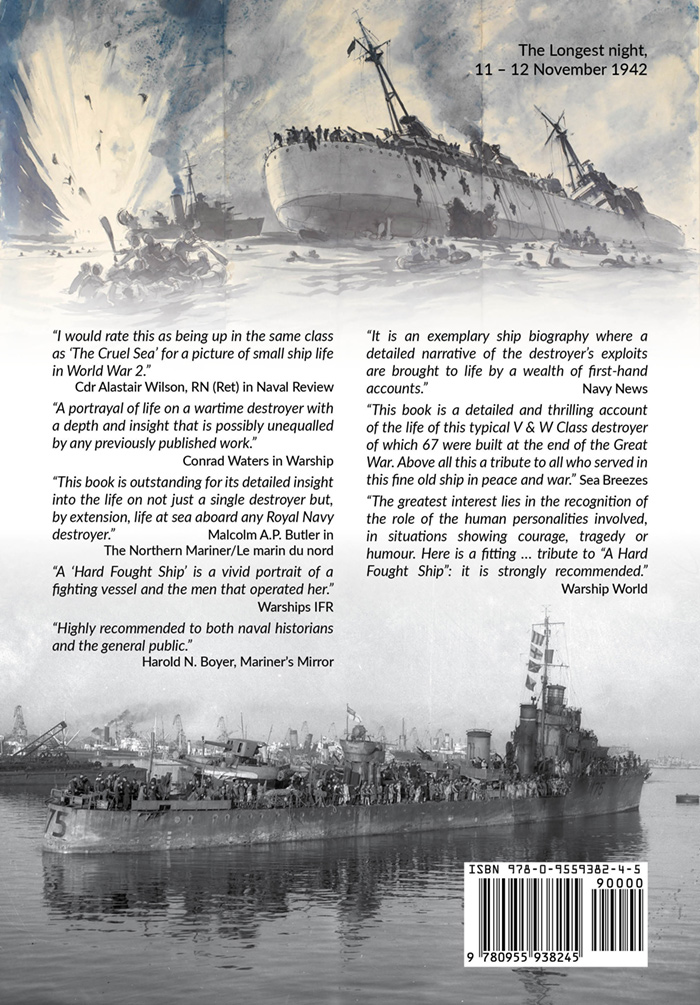 Contribute your family's anecdotes or photographs about HMS Hecla by contacting the publisher - see below - or posting on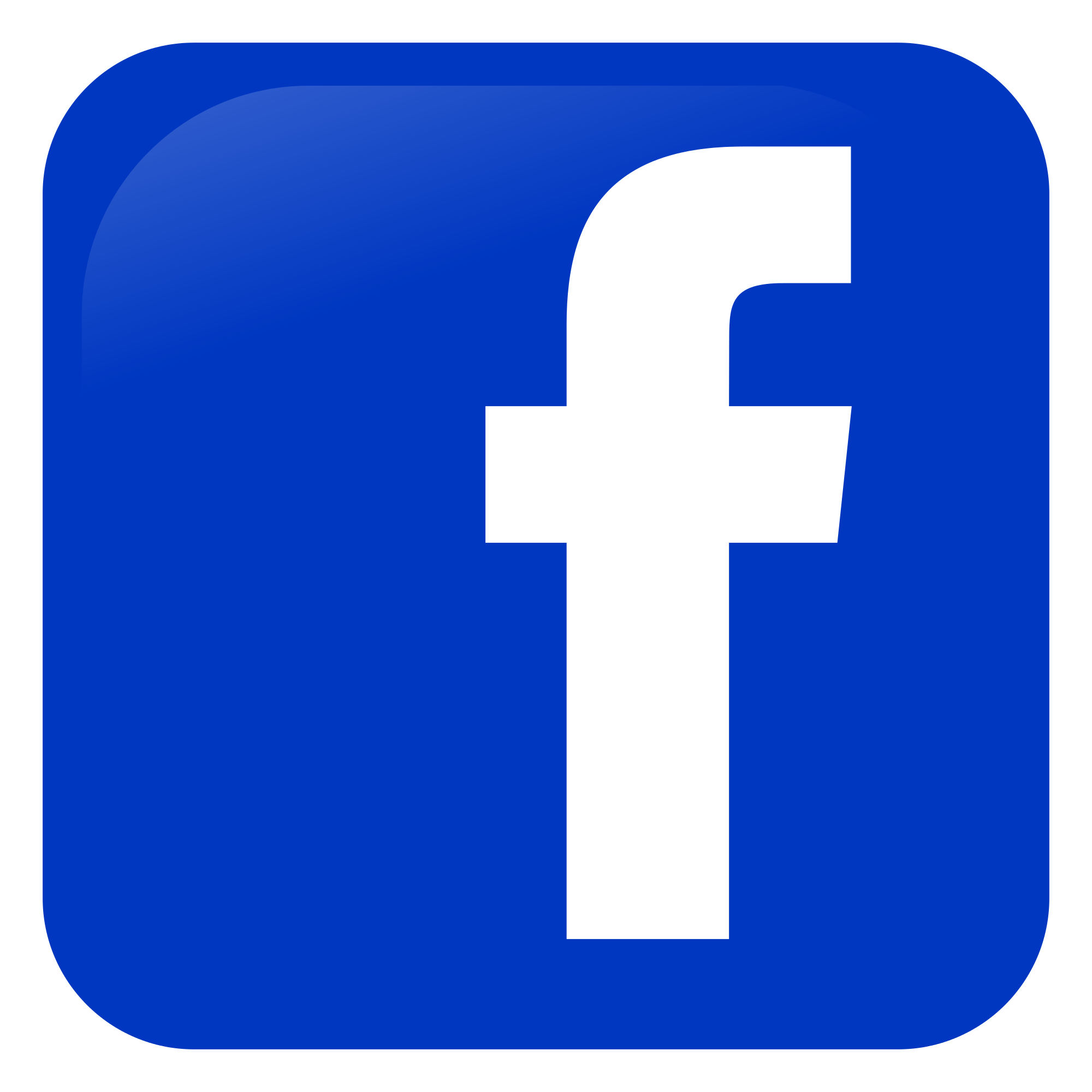 click to view the facebook page for HMS Hecla