The story of HMS Venomous
LONDONDERRY
and the Battle of the Atlantic

The Battle of the Atlantic was the longest continuous military campaign in World War II lasting from 1939 to the defeat of Germany in 1945. It was at its height from mid-1940 through to the end of 1943. The Battle of the Atlantic pitted U-boats and other warships of the Kriegsmarine (German Navy) and aircraft of the Luftwaffe (German Air Force) against Allied merchant shipping. The convoys, coming mainly from North America and mainly going to the United Kingdom and the Soviet Union, were protected for the most part by the British and Canadian navies and air forces. These forces were aided by ships and aircraft of the United States from September 13, 1941. The 70th Anniversary of the Battle of the Atlantic (BOA) was commemorated in May 2013 with a series of events in the cities of Londonderry, Liverpool and London. The Londonderry Branch of the Royal Navy Association are planning this year's events on the 75th Anniversary in May 2018 and visitors are expected from ports on both sides of the Atlantic where the escorts were based.
Derry is particularly significant to sailors during the Battle of the Atlantic for providing much needed rest and relaxation to Allied sailors following convoy duty. By April 1943 the shore base at Londonderry, HMS Ferret, was responsible for 149 escort and anti-submarine patrol vessels, two thousand shore-based personnel and twenty thousand British and Canadian seamen.

HMS
Venomous
at Londonderry
From late 1940 to early 1942 HMS Venomous was part of the First Escort Group at Londonderry, Northern Ireland, which with the ships of the Royal Canadian Navy (RCN) escorted the convoys across the Atlantic during the longest battle of the Second World War. HMS Venomous remained an Atlantic escort until April 1942 interrupted by major repairs after detonating a mine in Liverpool bay on New Year's Eve 1940 and repairs and refit after a collision with the flotilla leader, HMS Keppel, in November 1941. After a major refit Venomous escorted Arctic Convoy PQ.15 to Murmansk on the Kola Inlet in Northern Russia and returning convoy QP.11 in April and May 1942.
Find out more about the convoys escorted by Venomous while based at Londonderry.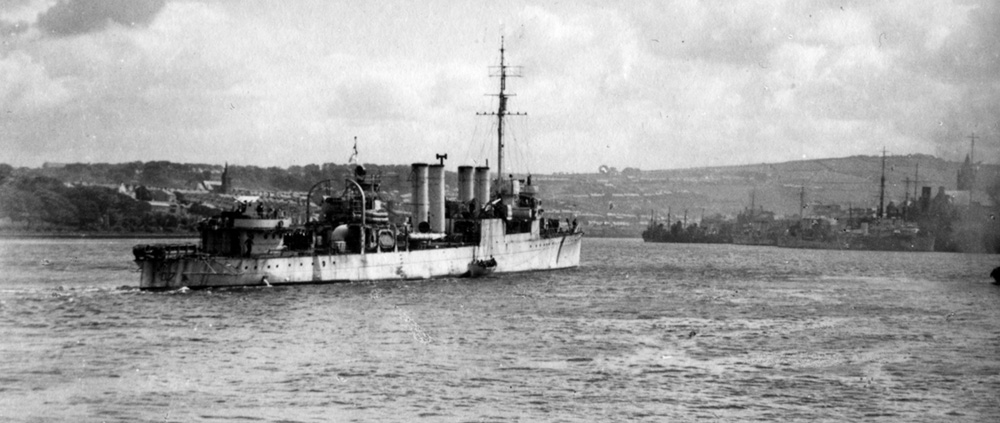 HMS

Beverley

on the River Foyle at Londonderry in 1941 (top) and four Algerine Class minesweepers moored alongside
The outer minesweeper, J277, is HMS
Orestes
Courtesy of Bill Martin
Lt Homer McPhee RN (1919-2006) was a popular Canadian officer on HMS Venomous in 1941. He was born at Vancouver in 1919 and worked his passage across the Atlantic to join the Royal Navy as a boy sailor in 1936. He transferred to the Royal Canadian Navy (RCN) after the war, lived for a time in Northern Ireland with his family and retired from the RCN in 1979 as its longest serving officer. He shared a cabin with Sub Lt John Tucker RNR (1920-2011) who described the convoy system in A Hard Fought Ship.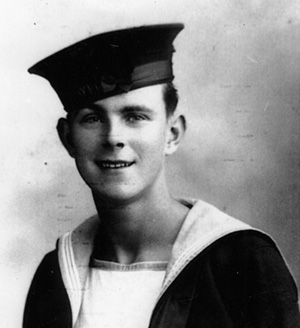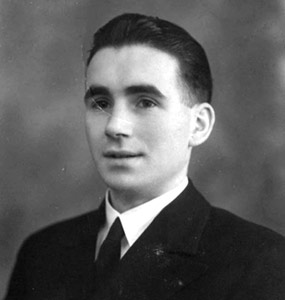 Some crew members came from Northern Ireland and others met their future wives there. And some like Jack Bolton (near left) did both. Jack did not fancy being a foot slogging soldier so travelled the twenty miles from his home at Strabane to Belfast for a medical and joined the Royal Navy. After basic training at HMS Arthur in Skegness (wheree eight men were killed in a bombing raid) and a three month course as a torpedoman at Devonport he was drafted to HMS Venomous at Londonderry. Venomous was at sea escorting Arctic Convoy PQ.15 to Murmansk and Jack stayed in a boarding house for a month until her return. The girl he was courting and later married was working in a shirt factory across the road from the naval base. Jack joined Venomous in June 1942 as Seaman Torpedoman, AB(ST), Official Number D/JX 342131. He will be 93 on the 22 February 2016 and lives in Telford, Shropshire, but still has family in Northern Ireland.
Eric Pountney, a wireless Telegrapher on Venomous, learned to drive in Derry and one of his fellow telegraphers, PO James Andrew Tonner (in suit, right), met his wife in Derry. His widow and their children still live there today. Eric's elder brother, Sydney Russell Pountney, was serving in Northen Ireland with the Royal Corps of Signals and also married an Ulster girl, Eileen.
Jack Bolton was in the same mess as "Micky" (Joseph) Addis, a Bosun's Mate, ON SSX17322 (below left), who joined Venomous when she came out of Reserve in 1939. Addis came from Belfast and having been on the ship so long tended to throw his weight around and was regarded as a bit of a bully by the younger ratings. He had his own place in the mess where nobody else was allowed to sit and on one occasion "saved up his daily tot of rum, went on a binge, hit a sailor and was locked up for a few days".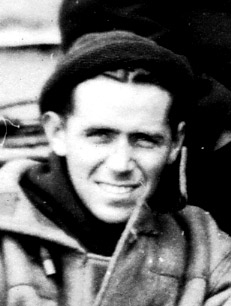 Arthur Battersby (AX/19952) on right was born in Coleraine, fifty miles east of Londonderry, and was in the Merchant Marine (as a cabin boy) before joining the Royal Navy Reserve in March 1938. He was in the armed Merchant Cruiser, HMS Hector, on the Eastern Station for two years. After she was bombed and sunk by Japanese aircraft at Colombo he was posted to Venomous in August 1942 in time to take part in Operation Pedestal, the relief of Malta. By then he was a 23 year old Leading Seaman, older and more experienced than the Hostilities Only (HO) ratings on the lower deck. He was on "B" Gun Crew with Cyril Hely and appeared in some of his photographs (right) and remained with Venomous until she de-commissioned at Falmouth in October 1943. He was made a Petty Officer and spent two years at HMS Ferrett, the shore base at Londonderry as a gunnery instructor. He returned to the Pacific with the repair depot ship, HMS Artifex. One of his shipmates on the Artifex was PO Kenneth Collings, a Sick Berth Attendant on HMS Hecla rescued by Venomous when Hecla was torpedoed off the coast of North Africa on 11 November 1942.

William J. ("Dolly") Gray was described by shipmate Harry Haddon as a "likeable Irishman with strong political opinions" from Belfast. He is seen below with Cyril Hely (who is playing the ukulele) and is third from right in the photograph of the crew of B Gun "fooling about" taken in the Mediterranean in 1943. Dolly Gray was killed when his next ship HMS Albatross was torpedoed on 11 August 1944. It would be nice to hear from the family of this likeable Irishman.

Left:
Cyril Hely playing the ukele with "Dolly" Gray, "the likeable Irishman with strong political views" from Belfast
Right: The crew of "B" gun appear to be practising loading the 4.7 inch gun on the bow of
Venomous
But Cyril Hely wrote on reverse
"Having a skylark, October 42"
and gave their names (from the right) as Cyril Hely, Tom Davies (Liverpool), Dolly Gray (Belfast) and (part hidden) "Ginger" Hargrave
Photographs courtesy of AB Cyril Hely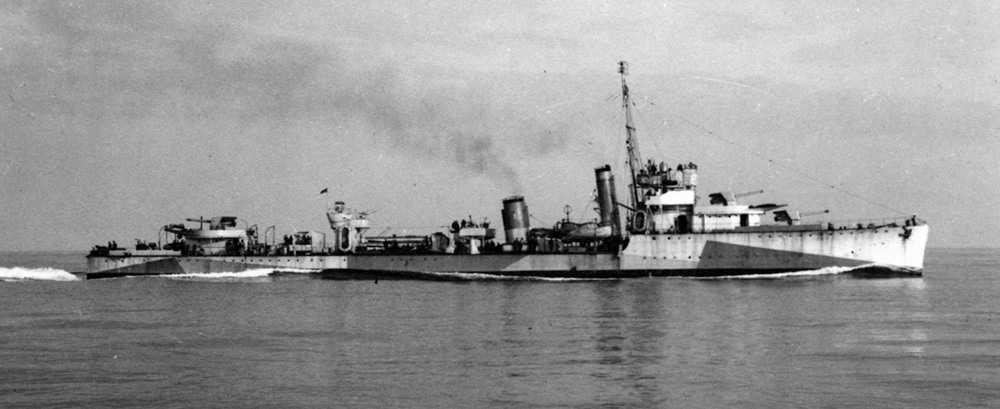 HMS

Venomous

as an Atlantic escort in 1941 its Y Gun replaced by depth charge rails at the stern
Not a single V & W Class destroyer exists today - they all went to the breakers yard at the end of World War II
HMS

Cavalier

at Chatham Dockyard is the only surviving World War II destroyer in Britain

Photographed by Lt Peter Kershaw RNVR



John Carson was one of six CW Candidates who joined HMS Venomous In September 1942
for six months sea time on the lower deck before being sent to HMS KIng Alfred for officer training.

John Carson came from a farming family in County Down but worked at banks in Dublin and Belfast before enlisting in the RNVR on the 27 May 1942. He was thirty when he joined Venomous as one of the CW Candidates in time to escort Arctic Convoy PQ.18 to Archangel. PQ.17 had been a disaster and nerves must have been on edge as they set off for Iceland where the convoy assembled but once again their elderly worn out boilers let them down, "condensoritis", and they had to go to Belfast for repair (200 boiler tubes had to be replaced) making it impossible for them to escort PQ.18. His fiancee lived in Belfast and he invited his fellow CW Candidate, Alex Campbell from Edinburgh to visit her house where they had a much needed hot bath. There is a recording of Alex Campbell being interviwed by the IWM in 2009 which can be heard online.

The six CW Candidates were aboard Venomous when HMS Hecla was torpedoed off North Africa on the 11 November and left Venomous at Gibraltar in February 1943 to return to England for officer training. John Carson was commissioned and as Sub Lt J. Carson RNVR his first posting was to LSE 1 (above) commanded by Lt Geoffrey N. Spring RNR who had been rescued by Venomous in November 1942 when his previous ship, HMS Hecla, was torpedoed. Lt Spring credited John Carson with his rescue and asked for him as one of his officers. LSE 1 had seen action off the D-Day beaches as an LST (Landing Ship Tank) but had been converted into a landing craft repair ship, an LSE. In September 1944 John Carson was promoted to lieutenant but remained on LSE 1 until 28 February 1946 when he transferred to HMS Sefton at Singapore for two months before returning to Britain and being discharged from the RNVR in August.

John Carson saw his year old daughter for the first time when he returned to Northern Ireland in the late summer of 1946 and resumed his career in banking. He retained his link to the Navy during the Cold War. The Royal Naval Mine Watching Service, a civilian organisation, was formed in 1952 as part of the auxiliary forces of the British Naval Service. Its intended role, should war break out again, was to man observation points overlooking ports and strategic waterways in order to report mines dropped by aircraft. In January 1952, John Carson became the Mine Watching Service Officer for Belfast. This branch of the RNMWS was based on HMS Caroline, a cruiser which took part in the Battle of Jutland during World War I, and was the last floating training ship of the RNVR. The ship was restored for the 2016 centenary commemorations of the Battle of Jutland and is open to the public. In 1962 the RNMWS was transformed into the Royal Naval Auxiliary Service, intended as a short-notice response force to help disperse shipping in British ports in case of a nuclear strike. John Carson's retirement from the Bank was all too short, as he succumbed to bowel cancer just before his sixty-ninth birthday in 1981. He is survived by a son and a daughter.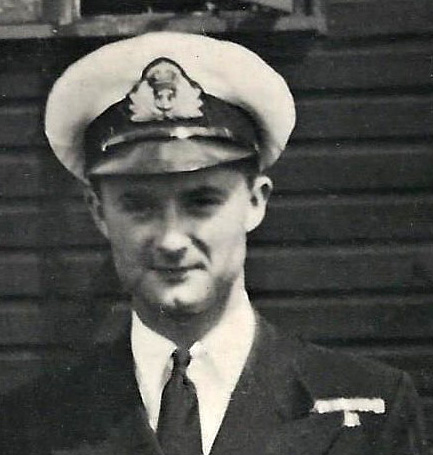 Ian Maxwell was born at Kircubbin in Northern Ireland on 21 June 1919 and educated at Queens University, Belfast. He replaced Sg Lt Milner RNVR at Londonderry on the 25 August 1942 and remained aboard as the "Doc"until October 1943.


He was aboard
Venomous
at Iceland when she aborted from escorting Arctic Convoy PQ.18 due to problems with blocked boiler tubes. When HMS
Hecla
was torpedoed off the coast of north Africa on the night of 11 - 12 November he cared for the injured survivors and Jimmy Button, the ASW Bosun in
Venomous,
who lost his life as a result of injuries he incurred diving in repeatedly to rescue the men struggling in the oily water.


"Herbert James Button did not live. After his rescue efforts he was exhausted and stayed in the bunk next to mine. After several hours he started groaning and seemed to be in a coma so I got our Surgeon Lieutenant Maxwell to examine him. We put into Algiers and he was lowered in a special stretcher and then taken ashore and by ambulance to hospital, and death through meningitis. Great sadness to us all, and certainly not the way to end a story." Lt Tony Sangster RNVR

He was on the first through convoy from Gib to Alex and at the landings on the south east coat of Sicily near Syracuse in July 1943. He would have been in great demand during this period but in the following months life became more routine as

Venomous

escorted supply convoys along the coast of north Africa.
He left Venomous when she limped back home to Falmouth in October 1943 for conversion to an Air Target Ship and joined SS Serapis, a new S (Savage) Class destroyer laid down in January 1941 at Scotts of Greenock on the Clyde and, finally, about to start her sea trials. She was commisioned on the 23 December and worked up with the Home Fleet at Scapa Flow in January before escorting three Arctic Convoys to the Kola Inlet in Northern Russia.
In May Serapis transferred with ships of 23rd Destroyer Flotilla for support of the landings in Normandy, Operation Neptune, escorting Convoy S2 to the Eastern Task Force area where she provided gunfire support, patrol and defence of the assault area. In September and October she operated off the coast of Norway and in November she was part of the escort for Convoy JW61A returning Russian POWs "liberated" in Normandy to Murmansk where they facedan uncertain future. Further operations off the coast of Norway were followed by two further convoys to the Kola inlet in Northern Russia.

Dr William Maxwell, Senior Lecturer in Human Anatomy at the University of Glasgow until his retirement, mailed me the following details of his father's subsequent life:
"I believe that my father met my mother at HMS Raleigh when they were both stationed there 1945/46. They married at Cloghy in N. Ireland in June 1947. My father joined a General Practice with Jocyelin, Heron and Hayes as Junior Partner some time in late 1947, at 237 Gloucester Road, Bishopton, Bristol. Dad worked there until his death in 1973. He became deputy Police Surgeon in 1959 and Chief Police Surgeon in 1965."

HMS Venomous at Halifax, Nova Scotia

Venomous was a Short Range Escort (SRE) which left the "empties" at Iceland and met the next incoming convoy. But Fred Thomas, the RDF operator, and Lt John Tucker RNR recalled that on several occasions they made a quick dash into Havelfjord to refuel before rejoining the convoy and continuing westward to the ports on the Atlantic seaboard of Canada: Saint John in New Brunswick, St Johns in Newfoundland and Halifax in Nova Scotia.

The "No 1" on HMS Venomous in 1941 was Lt Angus Mackenzie RNR, a strong willed decisive character known affectionately as "Bloodie Mackenzie". In 1971 Mackenzie visited his daughter Sheena at Halifax, Nova Scotia, and looking down on Bedford Basin from the newly built bridge across the narrows recalled how different it was when Venomous was there in 1941. The Basin was so packed with ships that he could go ashore by walking from ship to ship. Some years after his death at Majorca in 1975 Sheena Mackenzie arranged for her father's ashes to be scattered in Bedford Basin, where the convoys assembled for the Atlantic crossing.
HMCS
Sackville
, the last surviving Canadian built wartime corvette, now a museum ship in Halifax
Centre: Sheena Mackenzie, the daughter of Lt Cdr Angus Mackenzie RNR, "No 1" on

Venomous

, 1940-1, and long time Halifax resident with Captain John Rodgaard USN (Ret)
The Canadian launch of the previous edition of A Hard Fought Ship took place at the Maritime Museum of the Atlantic in Halifax on the 18 June 2011. Moored alongside the Museum on the waterfront at Halifax is HMCS Sackville the last survivor of the 120 Canadian built corvettes which escorted the convoys to Londonderry.

The 70th Anniversary of the Battle of the Atlantic 2013


By 1942 many of the Escort Groups at Londonderry were made up of ships from the Royal Canadian Navy and d
uring the course of the war at sea approximately 20,000 British and Canadian sailors made Derry their home-away-from-home, more than any other British port.
In 2013, the seventieth anniversary of the turning of the tide against the U-Boats in 1943, Canadian naval veterans of the Second World War and their families attended the commemorative events in London/derry.



View of the Guildhall from the deck of HMCS

Kamsack




Courtesy of Library and Archives Canada




Ratings on HMCS

Royal Mount




Courtesy of Library and Archives Canada
The Londonderry Branch of the Royal Naval Association (RNA) raised the funds to install on the site of the stone frigate HMS

Ferret

(renamed HMS

Sea Eagle after

the war) a replica of the Sailors' Monument on the Halifax waterfront (above centre). The Sailors' Monument was sculptured by Peter Bustin from Halifax, Nova Scotia, and cast in bronze by a foundry in Wales. The monument is a tribute to the thousands of sailors from the Royal Navy, Royal Canadian Navy, US Navy, Free French, Free Dutch and Royal Indian Marine that called Londonderry home during the Second World War.


The 75th Anniversary of the Battle of the Atlantic 2018

The Londonderry Branch of the Royal Naval Association (RNA) commemorates the Battle of the Atlantic every May and is the only organisation in the UK that continues to do this on an annual basis, despite being one of the smallest branches of the RNA. The Project for 2018 involves having a ships bell cast, suitably engraved and transported to Londonderry. The bell will be dedicated in St Columb's Cathedral on Sunday 20th May 2018 during the RNA's three day Battle of the Atlantic Commemoration event. The Bell will then be presented to St Johns Newfoundland in early September in recognition of the service and sacrifice of the Convoy Escorts that worked out of there during WWII.

For eighteen years the Londonderry Branch of the RNA have encouraged Veterans of the Convoy Escort Ships from all nations involved in the 'Longest battle of WWII' to gather at events in Londonderry, Halifax Nova Scotia and St Johns Newfoundland. The draft programme for this year's events is given below.



Thursday 17th May 2018:


19.00 Meet and greet the visitors: Waterside Royal British Legion, Hosted by the RNA.



Friday 18th May 2018:


Times to be confirmed. *Venue in Co Donegal, Southern Ireland*
HMS

Laurentic

WW1 Commemoration and unveiling of Memorial: Hosted by Ulster Canada Initiative, assisted by RNA.



Saturday 19th May 2018:


10.00 to 16.00 WW2 Exhibition by Museum Services in Londonderry's Guildhall and Guildhall Place.
15.00 Wreath Casting Ceremony on River Foyle. P2000 TBC.
18.00 Mayors pre-dinner Reception in Tower Museum.
19.00 Battle of the Atlantic Commemoration Dinner, City Hotel Derry.



Sunday 20th May 2018:


10.00 Parade to St Columb's Cathedral.
11.00 Battle of the Atlantic Commemoration Service and Dedication of the Bell.
12.00 March Past and Wreath laying at the War Memorial in the Diamond.
13.30 Lunch



Early September 2018: (Date to be finalised)


Bell to be transported and presented to St Johns Newfoundland.

Pat Jessup describes the background to the casting and presentation of three bells to "commemorate the Canadian naval and merchant sailors and airmen who lost their lives between September 1939 and May 1945 while maintaining the vital supply lines from North America to Europe" on page 21 of the Winter 2018 issue of

Action Station

, Canada's Naval Memorial Magazine.

The first bell was consecrated at St Columb's in 2005 and presented to St Brendan's Church in Halifax and the second bell was consecrated in the Anglican Cathedral of St John the Baptist in St Johns, Newfoundland, and hangs in the Tower Museum in Londonderry. A large Canadian delegation will attend the blessing of the bell for St Johns in St Columb's on Sunday 20 May. The Battle of the Atlantic Society and the museum ship HMCS

Sackville

, the only surviving Canadian corvette, keep the memory of the Candian contribution alive today.


---
Holywell House Publishing
88 Holywell Hill, St Albans, Hertfordshire AL1 1DH, Britain
http://holywellhousepublishing.co.uk
Telephone: +44 1727 838595
contact online
---